In the early days of corporate travel management, businesses relied on travel agents to book business trips. While this process worked, it was obviously time-consuming and inefficient. 
Corporate travel management has come a long way, thanks to online booking tools, travel management software, expense management technology, and mobile apps. Today, modern travel management companies (TMCs) help all kinds of business travel programs with the entire process: travel booking, real-time policy compliance, traveler support, travel data, and risk management.
Corporate travel management has continued to evolve, especially in the past three years, and new tools and processes are essential now that global business travel has come back in a big way. Navan data shows that business trip bookings for fall travel are up nearly 6x year-over-year. With that increase, business travel management has become a top concern for global companies, and leaders are looking for tech-first providers that can handle today's unique challenges, which include team travel, business travel, and blended leisure and business travel.
Key Factors to Consider
Here are some key factors to consider when considering a corporate travel management solution.
Dynamic Travel Policy
With dynamic travel policy, companies can adjust travel spend limits for hotel rooms based on the market's best available prices. Leveraging a dynamic policy removes the need to set static booking price caps, which fail to consider seasonality and other causes of price fluctuation.
What is dynamic policy?
A dynamic policy allows you to apply cost controls to your company's travel policy by calculating a fair market price for every search based on travel dates and destinations.
High Traveler Adoption
A solution with high traveler adoption gives travel managers the visibility they need into traveler safety, travel cost savings, and more. Navan customers see higher than 90% adoption rates.
Live Travel Agent Support
In today's uncertain travel climate, arming employees with reliable support is integral to duty of care and risk management. Plus, it boosts employee well-being because they know they're only a message away from travel experts who can help solve all of their business needs.
Best-In-Class Global Inventory
To minimize leakage and increase adoption, travel platforms must provide broad access to the most desirable inventory, including airfares, car rentals, hotel rooms, rental cars, ground transportation, and business class options at the best prices.
Travel Inventory: Look Under the Hood
Look for a corporate travel tool with a broad travel inventory from multiple sources, including Global Distribution Systems, New Distribution Capability (NDC), direct connections, aggregators, and online travel agencies (OTAs).
Optimized for Safety and Compliance
Modern travel management services can go far beyond what was possible with a traditional travel agency in order to minimize travel risks.
What is duty of care?
Duty of care is an organization's moral and legal obligation to ensure the safety of traveling employees while on business trips.
Sustainability Features
Businesses can rely on corporate TMCs to provide the real-time data required to make emissions decisions, educate travelers on their carbon impact, and build tools designed to help companies meet their business travel sustainability goals.  
Designed for Use
Businesses and travelers expect a consumer-grade, personalized, mobile-first, chat-enabled, AI-augmented interface. Outdated interfaces will lead to external bookings, decreased adoption rates, and the inability to gain visibility and insights.
Integrated Expense management
While expense reports were once a drawn-out process after a business trip, today, they can be automated and intuitively check corporate travel policies so that errant charges are declined before the money is spent. During the trip, traveling employees are empowered with a corporate credit card that they can use on travel expenses.
Expenses: Managed
With integrated expense management tools, expenses are intuitively accepted or declined.
Cost Optimization
With new software programs, businesses can get the best deals on corporate travel and save money on their overall travel budget. With real-time visibility, they can see which departments are spending the most on business travel and make adjustments.
Increased Efficiency
New technology has made corporate travel management much more efficient, so business travelers can get more work done while on the road.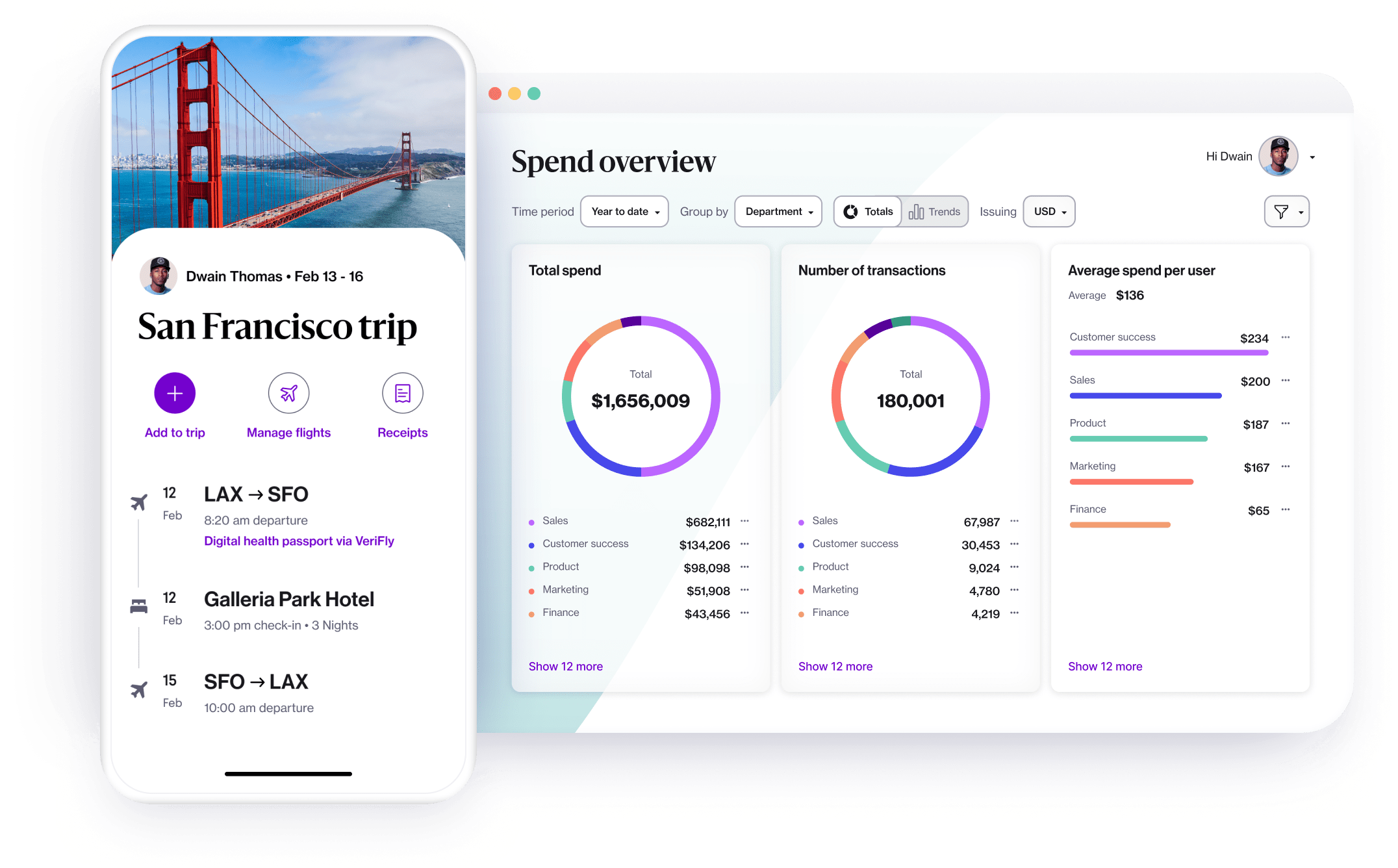 The Navan Difference
The travel industry is tackling the challenge of how modern corporate travel programs should evolve. Many modern travel management solutions claim to improve the travel experience, provide a 360-degree TMC, offer a smooth UX for itineraries, and provide support. While Amex GBT, Egencia, and others are trying, Navan has already produced an innovative, all-in-one travel, corporate card, and expense management solution.
With Navan, finance and travel teams can easily configure and auto-enforce policy to ensure compliance while leveraging real-time reporting to ensure traveler safety and a unified view of all spend. As a result, organizations can achieve high adoption rates and get real-time spend visibility to make the best business decisions to drive cost savings, productivity, and compliance. Navan delivers an experience that employees love while giving finance teams real-time spend visibility and control. With a consumer-grade user experience, employees can easily book travel, manage itineraries, and manage expenses.
Thousands of global customers trust Navan with their travel, corporate card, and expense management programs. Learn more about Navan today.
Free Corporate Travel 101 E-Book
Further Reading