The Navan Guest Invite solution streamlines the process for booking guest travel and empowers those who book guest travel to invite company guests to book their own travel arrangements while following company travel policies. 
Why invite non-employees to book through a company's travel management partner? There are several potential business purposes: They might be candidates, new hires, interns, clients, or contract workers. The Guest Invite solution minimizes the back and forth necessary to book travel for non-employees and provides a better overall experience for both travel arrangers and guests.
By simplifying travel arrangements, Navan also helps HR and recruiting teams save time and energy while giving their guests and candidates the best first experience with their company—no messy reimbursements or expense reports are needed for travel expenses.
Travel arrangers save time with straightforward custom travel policy and spend limit controls for expense reimbursement; employees and non-employees enjoy booking on a best-in-class platform backed by 24/7 expert global support.
Potential non-employees booking travel through a company travel program: 
Interviews and candidates
New hires
Contingent workers
Field and crew workers
Interns
How it helps:
Removes the complexity of arranging travel
Sets great impressions with new hires and guests
Manages costs for guest travel
Offers 24/7 support for guests, candidates, and teams
How to Use Guest Invite Solution
The Guest Invite tool is a self-serve mechanism for individuals to invite non-employees and employees to use Navan to book travel.
Before an employee can begin inviting guests, they'll want to ensure their travel manager has given them the correct permissions to access the Guest Invite tool. Once they have the proper permissions, they can click the top right-hand corner of the Navan homepage to access the guest invite tool.
Here are the six steps to managing guest travel through Navan:
1. Add Guest Details
The first step is to create an invite for the non-employee traveler to book travel services by entering basic contact information for a single guest, such as date of birth, address, and trip purpose. The invite creator can also upload this information in bulk for multiple non-employees by clicking the Upload Info tab and uploading a CSV file with the guests' information.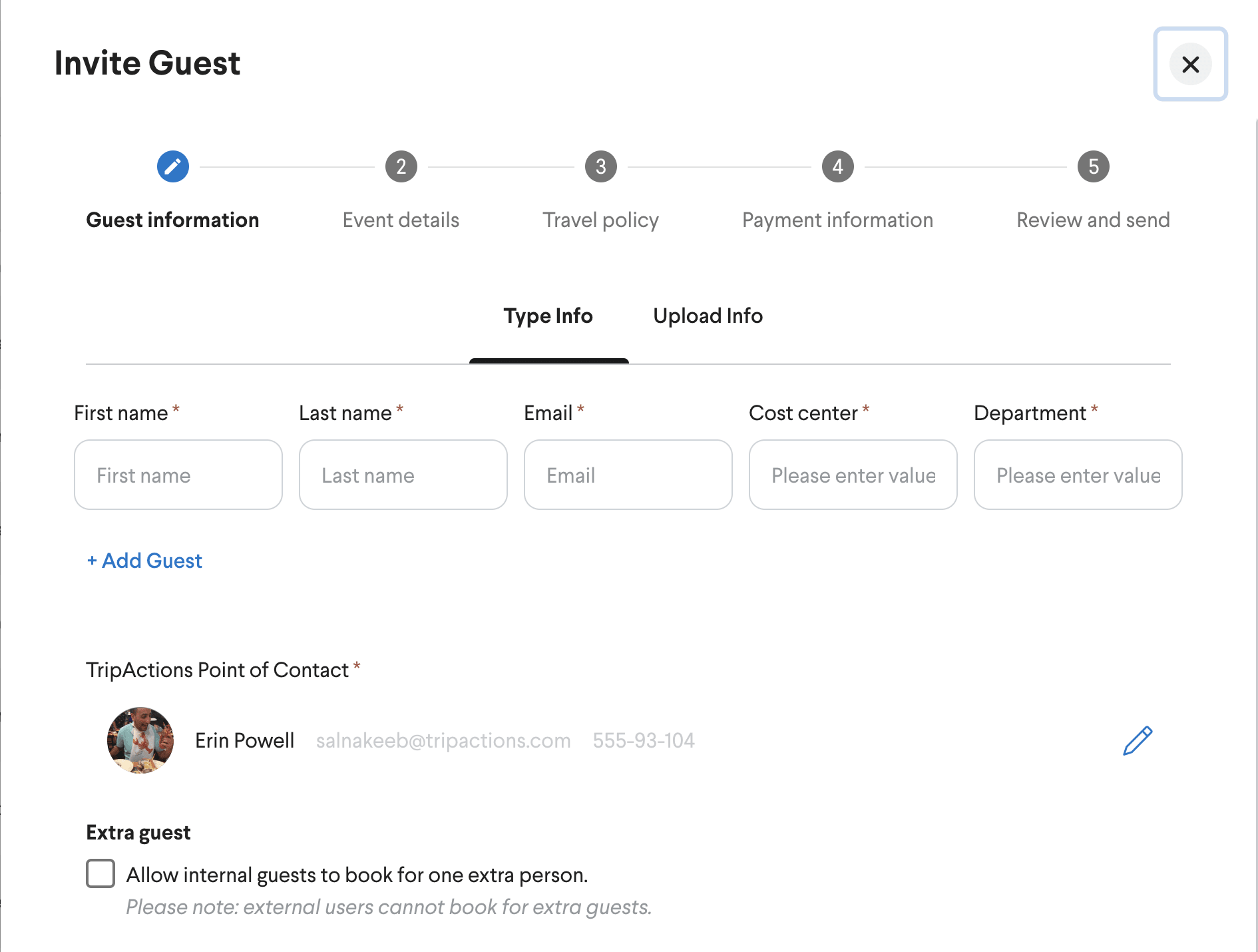 2. Provide Event Details
From here, the employee types in the event name, sets event date, and enters the meeting location. Navan provides travelers a 5-day window outside the event dates to allow for reasonable flexibility. Whether they want to arrive early to combat jet lag or stay late to enjoy the weekend, guests can choose dates that accommodate their needs. Hotel check-in and check-out dates will be locked for the days the creator selects. Guests needing additional nights at a hotel for personal reasons may do so by booking those nights separately and will not be able to use the company credit card for payment.
3. Select Policy
This section allows the facilitator to set the traveler's booking policy by selecting an existing policy (configured in Navan for each company) or creating a new allowable custom policy for the guest for added flexibility.
The platform lets guests book airfare, hotels, car rentals, and train tickets. The facilitator can also recommend airports for guests to fly into and suggest preferred hotels. They may also leave notes for the guest if there is a preferred arrival time or additional information they would like the guest to see.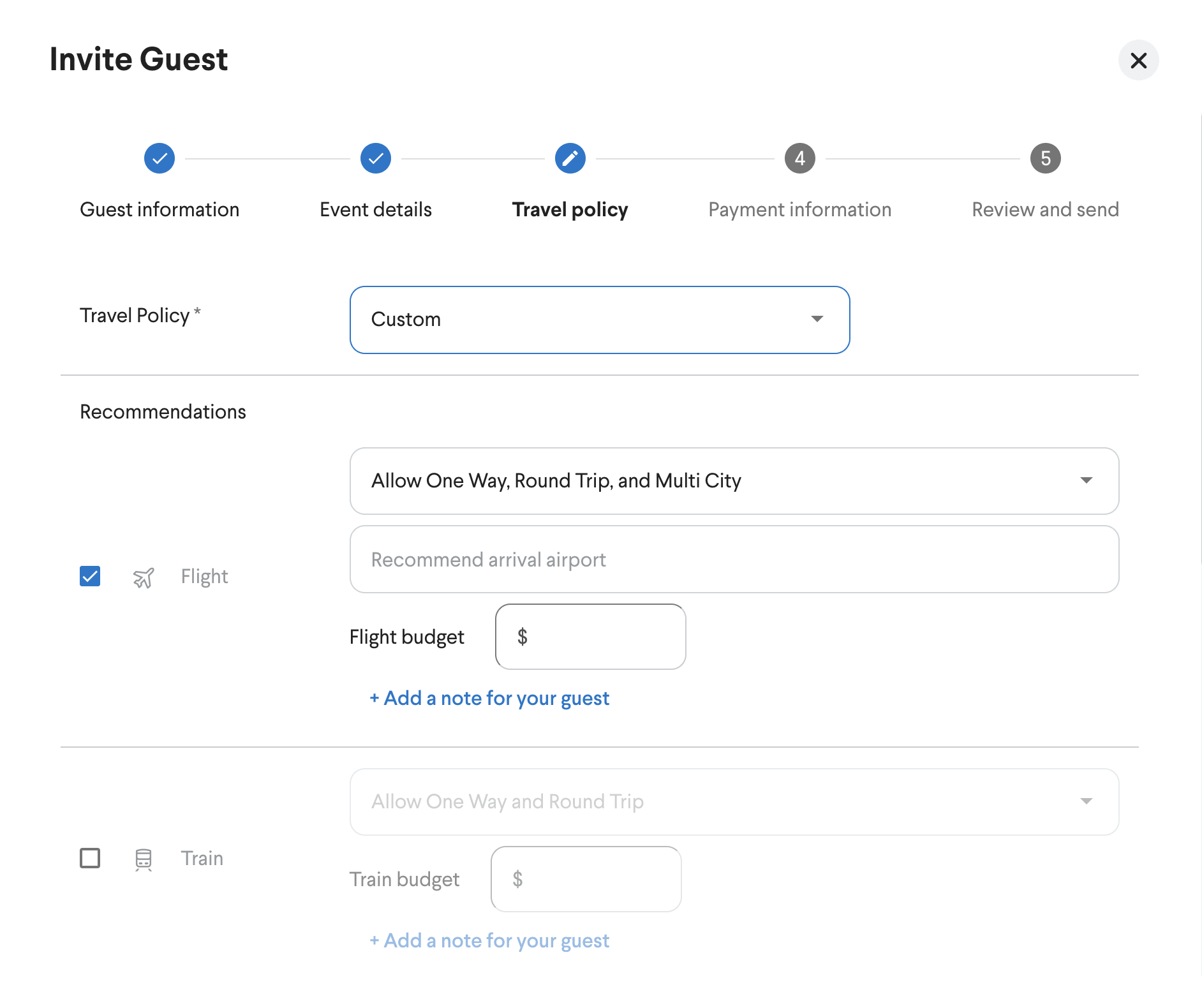 4. Set Payment Information
In the payment information section, select a corporate credit card on file or allow the guest to pay with their own preferred method of payment. If the invite creator chooses to use the organization's corporate card, the guest will not be able to view credit card details at any point.
For internal reporting purposes, enter a trip purpose or choose from the dropdown menu. Choose a hotel billing method by selecting hotel rates (prepay, pay at the hotel, pay now, or all options available).
If Pay Now Only is selected, guests can only book rooms that the company prepays. Note: The guest will still be required to present a credit card upon check-in at the hotel for incidentals.
If Pay at Hotel only if Corporate Discount is selected, guests can only book hotels where the company has a corporate rate, and will need to use a credit card to pay for their stay upon check-in. This will require a reimbursement process after the trip.
If Pay Now + Pay at Hotel only if Corporate Discount is selected, guests can book a prepaid room or a pay-at-hotel room at properties where the company has a corporate rate.
If All is selected, the guest may choose any available rate type. For any Pay at Hotel rates, the guest will be required to present a form of payment at the hotel and should request a direct bill for their stay.
If the company has configured custom checkout fields (often used for internal reporting or per diem allocation), they will be available for the invite creator to complete on the guest invite. Typically, custom checkout fields are completed by the traveler upon booking; however, in the guest invite flow, the invite creator will fill them out on behalf of the guest.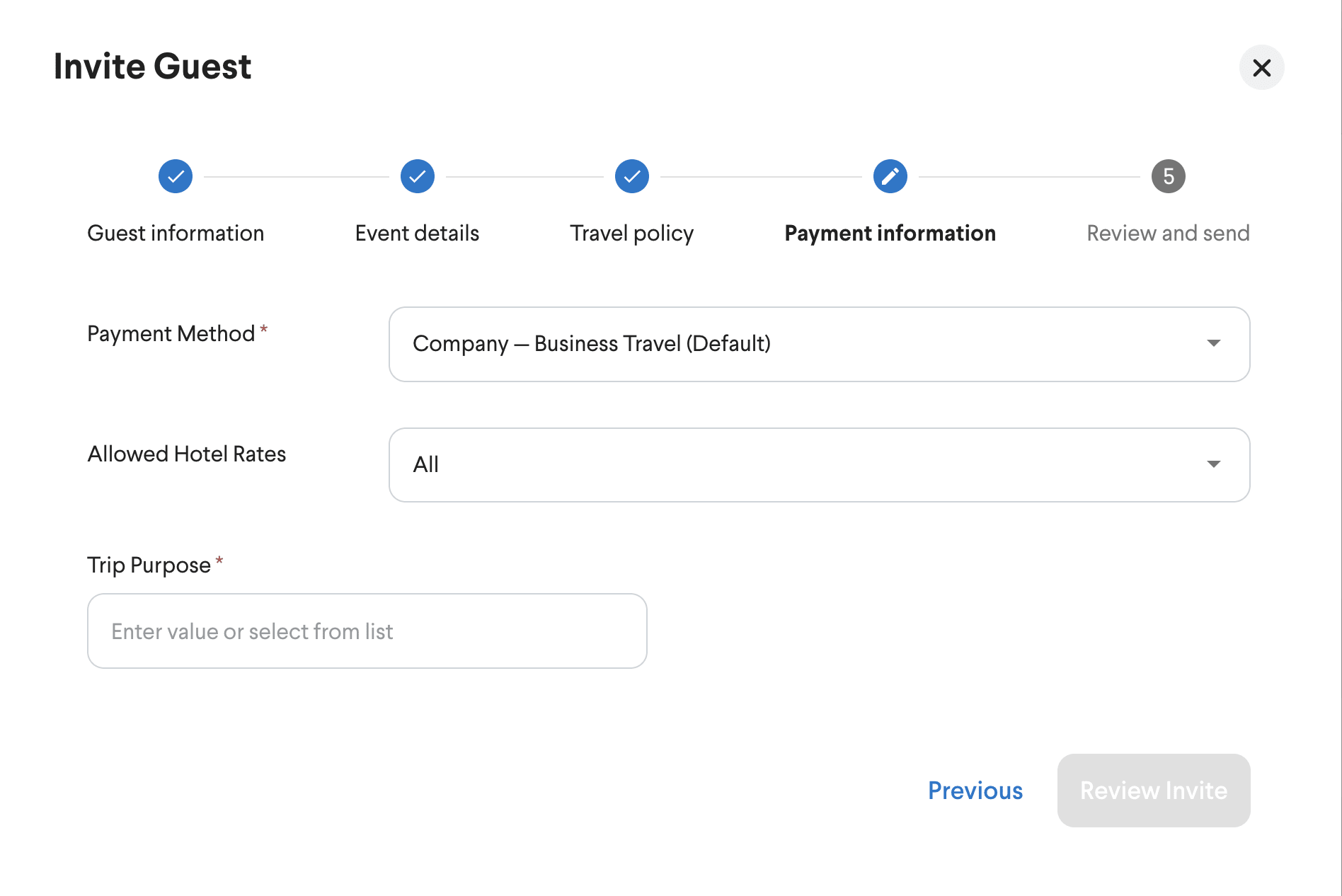 5. Review and Send Invite
The invite is almost complete! Review the invitation and select the preferred delivery method to complete the invitation. If everything looks correct, click the bottom blue button to review and send an email with these details to all guests. There is also an option to copy the invitation message so the invite creator can send their own email and include whatever other context or attachments are needed.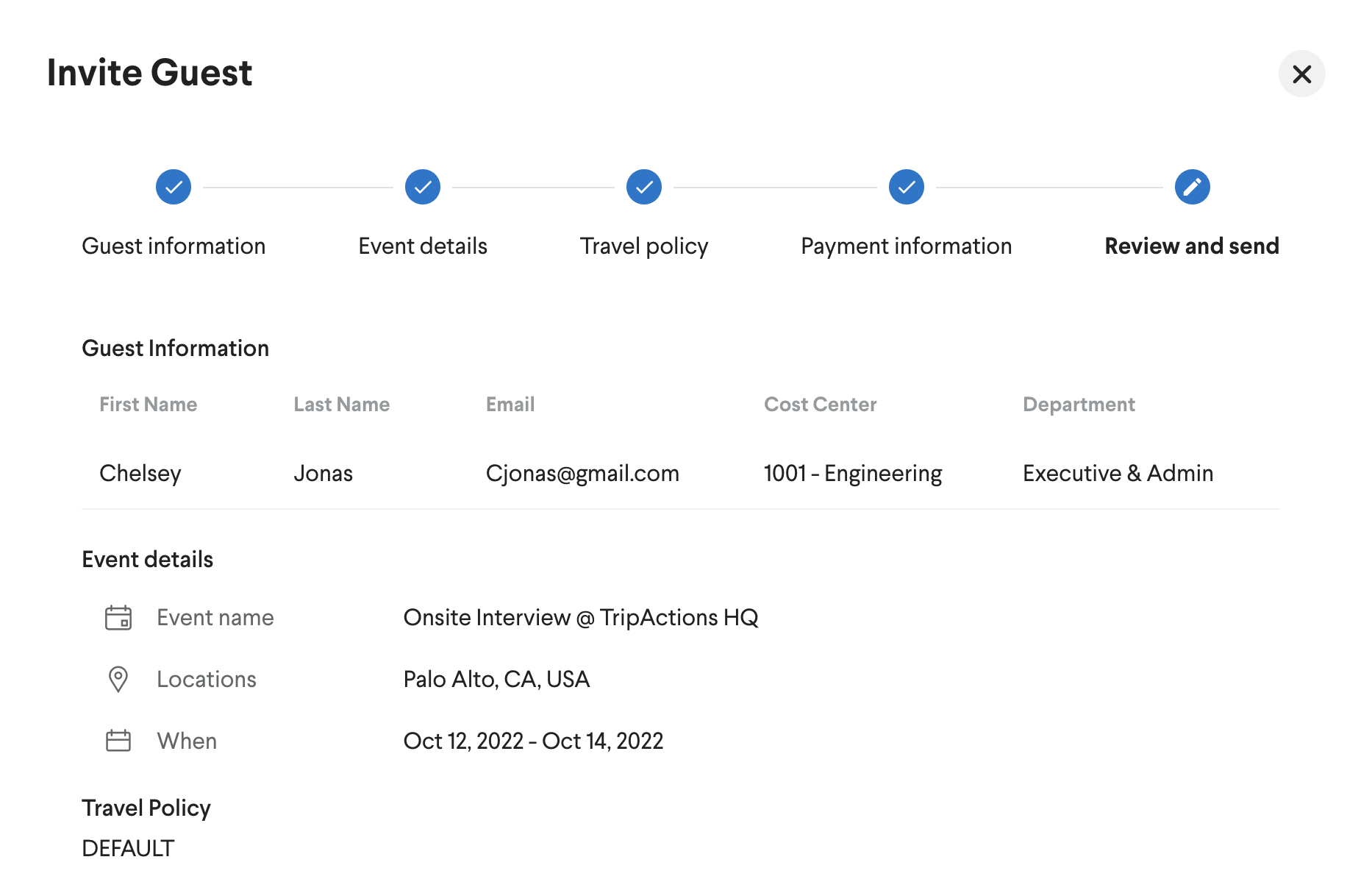 6. Manage Invites
The invite creator can easily manage all their guest invites from within the Navan platform.
Select "Manage Invitations" under the same dropdown menu from the homepage to view and manage guest invitations. This dashboard provides status updates for guest travel bookings and allows the invite creator to edit, copy, resend, and revoke invitations. All of these options are available by hovering over the corresponding icons.
From this section, invite creators can also make edits to existing invitations. If the guest has not yet booked any travel from their invitation, the creator can edit the invite here and a new invitation will be sent. If the guest has already booked travel from their invitation, the invite creator should contact the 24/7 support team for assistance with date changes. 
Alternatively, the facilitator can cancel the existing bookings, revoke the invite, and send a brand new invite. The listed cancellation policies will apply, so be sure to review those details before making cancellations.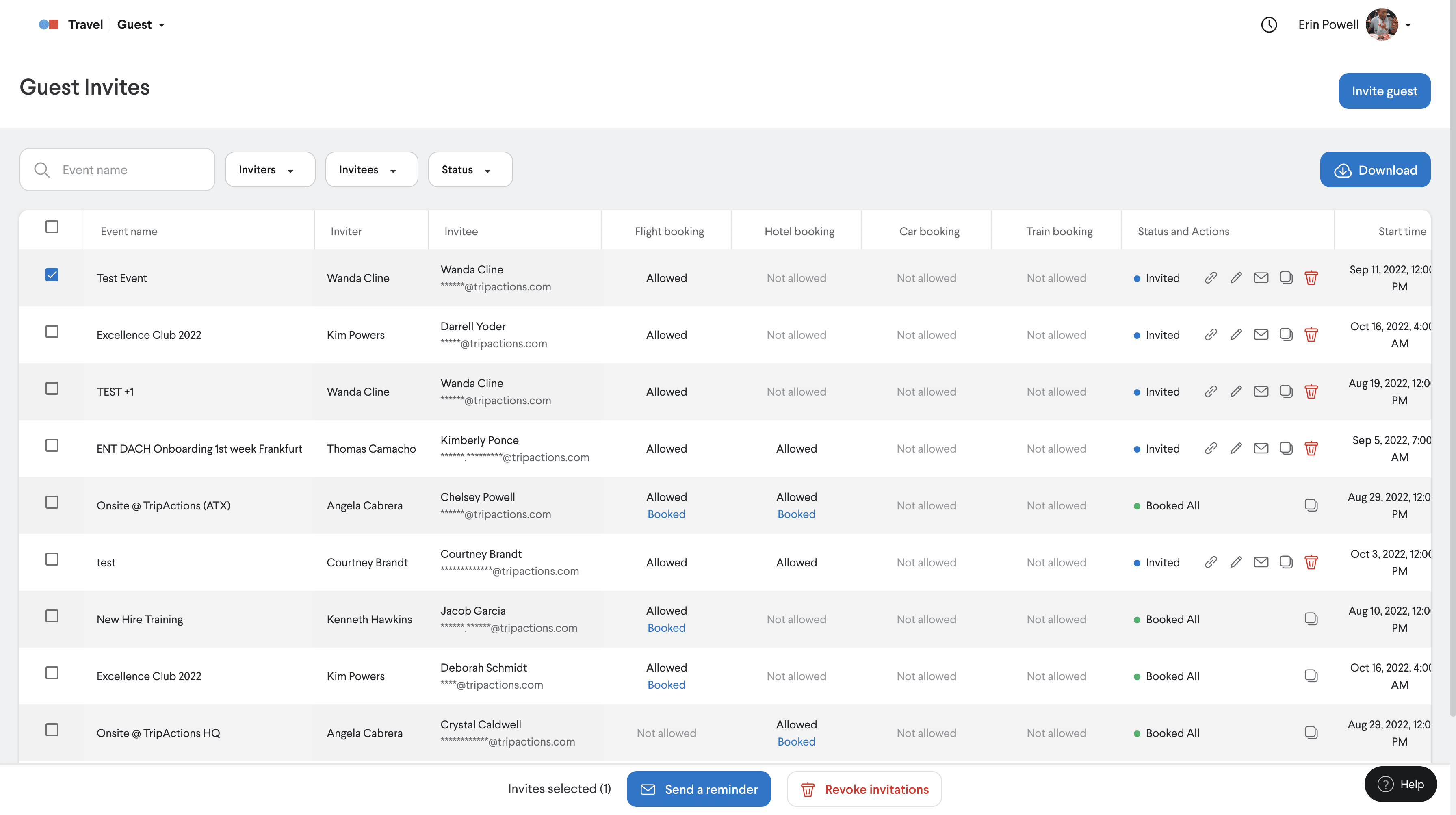 Guest Invite Powers University Travel
Many Navan customers worldwide have used the guest travel tool to ease booking and improve the experience of non-employee travel. But one use case stands out as particularly interesting: University travel.
Universities often invite guests to their campuses to speak, give presentations, and add value to the academic community—but there was never a great way to manage this travel.
These university guests were often tasked with booking their own travel and then going through a lengthy travel reimbursement process. Navan revolutionized this process for these customers.
University employees can now easily invite their guests to book airfare, hotels, car rentals, and rail tickets through Navan on behalf of the university. The host can easily select existing university policies for the guest to follow, including per diems for meals throughout their travels and stays on campus. 
University travel managers can easily give their campus leaders travel authorization to invite guests, which empowers them to decide who would best serve their communities—without asking permission and waiting for the time-consuming approval process. Travel managers can invite world-renowned educators to their campuses without dealing with guest travel expenses after the visit.
While the Guest Invite solution was originally designed for companies inviting candidates and new hires to travel for interviews, organizing travel for a wider pool of non-employees has plagued many organizations for a long time.
Gone are the outdated travel agencies that require dozens of emails and phone calls to book travel, followed by a drawn-out travel reimbursement process when the guest arrives home. With the Navan Guest Invite solution, it's easier than ever to organize the in-person events and meetings that drive businesses and communities forward.