Business travel is back, and getting team members on the road to connect with colleagues and clients is as important as ever. But business leaders are correct to be concerned about getting it right: Business travel needs to be handled with care. 
When run effectively, a business travel program can be a major lever for growth and also improve company culture. Doing that requires a travel management company (TMC), which has become non-negotiable — even for smaller startups.
And while the bottom line is that multiple travel management solutions are on the market, only one has completely reimagined the entire travel and expense management process from the ground up.
Navan is more than an online booking tool or expense management platform: It's an all-in-one travel, corporate card, and expense management solution.
Its founding vision of a simplified business travel experience has expanded to address the intertwined pain points of expense reporting, spend management, corporate cards, group travel, VIP travel, meetings and events, and personal travel. That growth has occurred while crafting a new category of software — Business Software for People — the likes of which the travel industry has never seen.
But this isn't just about enhanced software. It's about working more efficiently and saving time so teams can focus on where they're going and what they're building — not the tasks needed to get there. 
Here are eight perks that come with picking Navan as your travel and expense management provider:
1. Travel and expense in one super app
As the only integrated business travel and expense solution, Navan allows employees to book and manage travel — and process all their travel expenses — in a single app. From booking to reconciliation, the entire process is streamlined.
"Today's enterprises need solutions that increase operational efficiencies, decrease costs, optimize processes, and ensure compliance. At the same time, employees want to eliminate menial and manual tasks that take unnecessary time and energy away from their actual jobs. When done well, it's a magical experience for all involved — that's what users get with Navan," said Navan cofounder and CEO Ariel Cohen.
With the integration of OpenAI throughout the product infrastructure and into the virtual assistant, Ava, Navan becomes the first travel company to leverage generative AI technology to improve the functionality of the entire tech stack.
"Navan brings business travel into the 21st century: fully automated, super smart, and delightful to use," says Andreessen Horowitz cofounder Ben Horowitz. "If Navan was available when I was an enterprise software CEO, I might still be an enterprise software CEO."
2. An intelligent booking process
The key to success for any corporate travel program comes down to adoption, which is best achieved by offering an easy, self-serve experience that exceeds traveling employees' expectations and travel needs.
Navan offers a simple platform that allows employees to manage their business, personal, and blended travel bookings in one place. After selecting from an unrivaled inventory of travel options, employees can quickly book flights, hotels, and car rentals with an intuitive UI that returns personalized results based on their favorite loyalty programs and travel preferences. 
On average, a full flight, hotel, and car booking takes just 6 minutes on the Navan app.
Travelers also have 24/7 access to a global network of expert travel agents or can self-serve with Ava, the AI agent who can always help.
Navan also offers specialized travel services like Navan Pro — a premium, high-touch travel service experience backed by seasoned agents from Reed & Mackay — and Navan Team Travel, an innovative solution for organizing groups.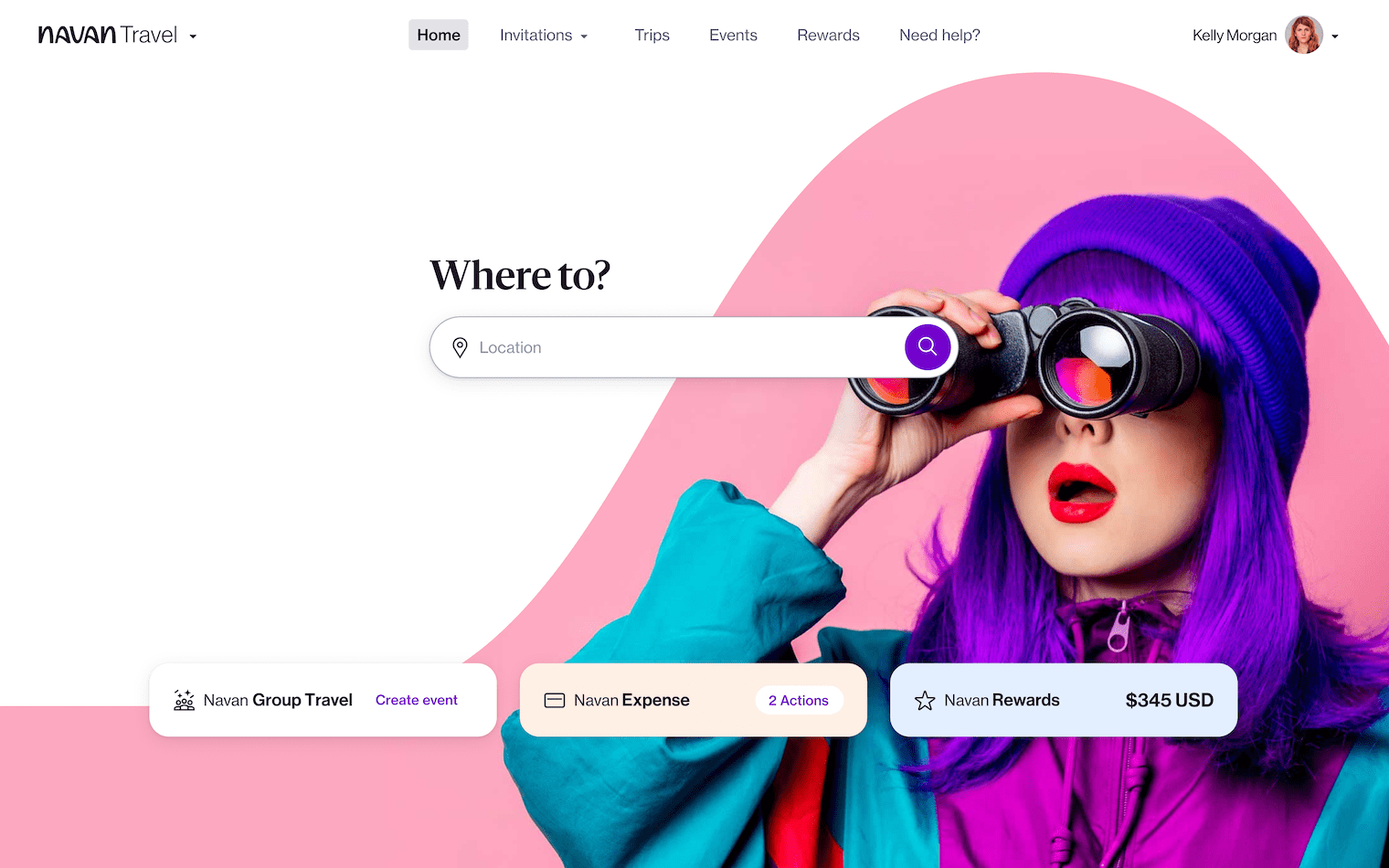 3. Tools built for travel managers
Navan began as a simple business travel management tool built to improve the booking experience for traveling employees and streamline complicated processes for travel managers. Old-school corporate travel management companies required these managers to constantly monitor management tools without gaining real-time visibility or insights into travelers' itineraries, travel costs, or locations. It made cost savings and proper duty of care nearly impossible. Navan completely changed that.
Today, the Navan manager dashboard is designed to give team managers, department heads, group travel organizers, booking approvers, and travel budget owners an at-a-glance view of relevant travel activity and data, including:
Through Navan's virtual assistant Ava, travel managers can personalize recommendations and increase traveler engagement. Admins can ask Ava to perform data queries, provide granular carbon emission details, or order corporate cards.
4. Increased cost savings
Navan's savings tools, like dynamic travel policy, real-time reporting with benchmark data, traveler incentive programs, and Navan Expense's built-in spend controls, empower companies to function at their highest level without letting costs run rampant. Automated features like expense reporting, auto-itemization, and reconciliation ensure that employees can focus on their work — not paperwork. 
Navan's smart corporate card and booking platform enforces corporate travel policies during booking or card swipe, ensuring employees adhere to guidelines and don't exceed designated travel spend.
5. Streamlined safety and compliance
Maintaining duty of care becomes more challenging as organizations expand since the number of employees traveling on the company's behalf increases. Navan streamlines risk management and ensure traveler safety and compliance with real-time visibility into transactions, employee location, and out-of-policy spend.
As a customer-obsessed organization, Navan wants to ensure that travelers using our technology are cared for at every step of the journey. The company's proactive approach to duty of care provides teams with the tools to avoid breach of duty and travel risks.
6. Automated expense management
Navan Expense automates expense management from swipe to reconciliation. It helps control company finances by eliminating out-of-policy spend before it happens, thanks to proactive spend controls enforced at the point of sale. This feature empowers finance teams to focus on more strategic initiatives by automating reconciliation and eliminating expense reports with an innovative corporate card solution.
It also gives leaders access to real-time monitoring of end-to-end travel costs in one place, using real-time analytics to turn insights into action. Companies can now reimburse employees for travel expenses within days instead of weeks across 45 countries and 25 currencies. 
7. An added perk for personal travel
Outside of business trips, companies would be wise to promote the use of paid time off, which has been proven to:
Combat employee burnout
Attract and retain talent
Boost employee productivity
Lower employee healthcare costs
Research has found that for every ten vacation hours a person takes, average performance reviews are 8% higher and that for every 40 hours of free time an employee takes, their tenure at the company increases by eight months. 
Companies that use Navan have the benefit of allowing employees to book personal travel through Navan Personal Travel at no additional cost. Multitudes times better than a personal travel agency, those employees get free access to 24/7/365 assistance from global travel agents, millions of travel deals, and personalized suggestions based on their favorite loyalty brands.
Employees can even earn rewards on business travel and redeem them toward personal travel arrangements.
8. Unparalleled T&E solution
Navan is not the first company to create travel management software to streamline business travel programs,  but we're doing it best. 
Whereas other corporate travel management companies and providers, including TravelPerk, BCD, Egencia, and American Express Global Business Travel, recreated old systems in a new medium, Navan has completely reimagined what the travel and expense management process can be. Where the competition walked, we now fly.
Business trips are easier with Navan. Get started in just five minutes today.
Essential reading: