The most exciting news in travel and expense management this month is the implementation of AI and machine learning inside the software, companies, and minds focused on the next era of innovation.
When TripActions rebranded to Navan on February 7, we announced that we were the first travel company to integrate generative artificial intelligence (AI) across our infrastructure and product feature set.Navan leverages the OpenAI and GPT-3 APIs in its user-facing features, including virtual assistant Ava, and to create efficiencies across our codebase. 
Built on the back of this technology, Navan introduced our streamlined super app — the first enterprise travel and expense (T&E) solution to utilize the cloud, mobile technology, and generative AI. But while Navan is leading the AI charge – we are the only travel company with a solution live today and integrating its capabilities on a scale unseen so far in the travel industry – we're not the only ones using it. 
For example, Tripnotes.ai leverages ChatGPT to present travelers with an entire itinerary, including real-time information, based on a single user question. While Matthew Rosenberg was busy building Welcome, which curates and maps businesses based on users' interests and millions of data points, he realized that the platform could do even more if he integrated AI technology.
"With our travel data and generative AI, we're perfectly positioned to release a consumer app that vastly simplifies how we plan trips, makes reservations, and explore the world," Rosenberg shared on his LinkedIn.
Adaptive pricing platform TakeUp is harnessing AI and machine learning to help boutique and independent hotels optimize room rates and drive higher revenue. With AI integrated into the product's origin, TakeUp reacts to countless variables in real-time, can measure revenue lift, and leverages reinforcement learning to teach itself how to improve continuously over time.
AI has the potential to revolutionize the customer experience, streamline processes, and analyze data. It can be leveraged to power smart booking assistants, personalized recommendations, flight forecasting, facial recognition, baggage handling, and more.
Industry thought leaders with a broad purview of what's new and working note the inflection point. Skift founder and CEO Rafat Ali strongly believes that generative AI is the future of the travel industry, and he shared his excitement about the innovation Navan brings to the travel sector on LinkedIn.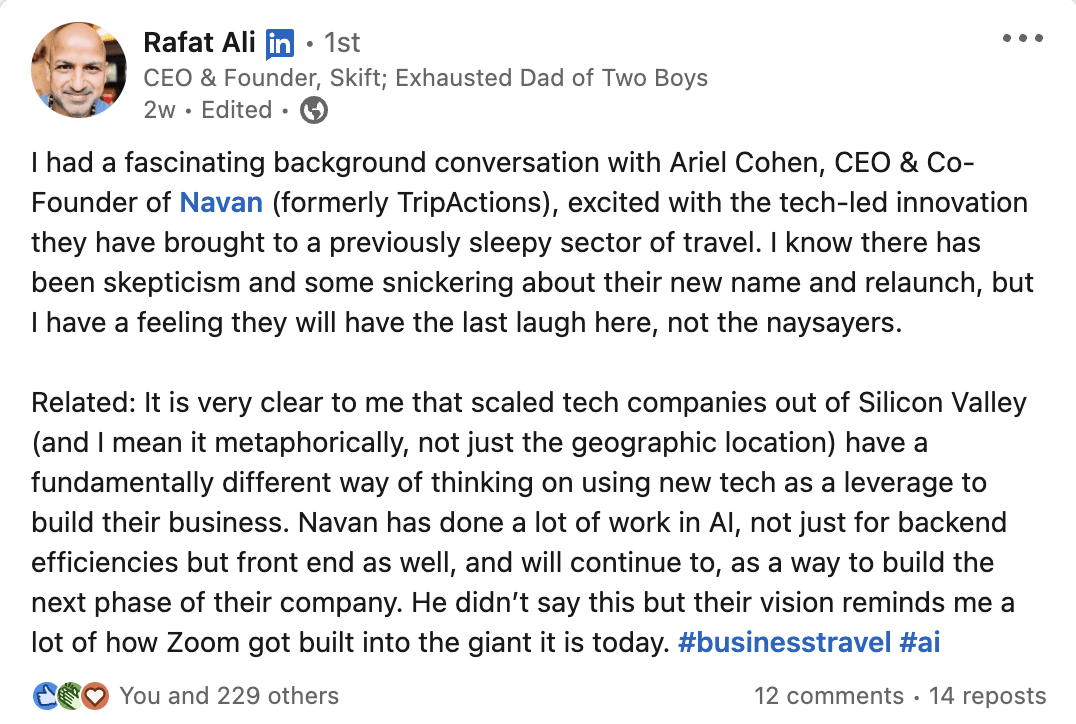 Industry stakeholders have been observing the integration of travel and fintech services for several years, a trend that's accelerated since the pandemic and were largely founded on innovative technology. The Navan brand's emergence and introduction of an all-in-one super app is a clear example of several tech and marketing changes coming together.
While there's clearly been other news throughout the travel and expense world this month, we'd be lying if we said anything excites us nearly as much as living in the future today and building more features alongside our colleagues and industry peers.