The boom in business travel continues in 2023, according to Navan data — but does that trend extend to personal travel?
The short answer is yes. With business travel up, so is bleisure, or blended, travel. And that doesn't come as a surprise. After all, as a survey from Skift and Navan showed, more than 50% of both business travelers and managers agreed that their company encourages employees to take time off before or after a business trip.
Navan has been tracking trends in leisure travel booked through our solution ever since we launched our personal travel functionality in June 2021. For this report, we analyzed personal travel bookings made from August 1, 2022–March 30, 2023, with a trip start date of January 1, 2023–March 31, 2023.
Here's what we're seeing now.
Personal Travel Is On the Rise
Still antsy, perhaps, from the pandemic restrictions of the past couple years, leisure travelers have returned full force. In Q1 2023, Navan saw a 44% increase in personal travel volume compared to Q1 2022.
This surge could be the result of hybrid workers being less tied to their desks and able to WFA. That's also the theory of American Airlines, which says that bleisure travelers are the fastest-growing segment of their business. It's a trend that Navan has been out in front of, by making it easy for travelers to extend business trips with personal travel (while keeping those bookings, as well as payments and accounting, separate from their employers).
Top Leisure Travel Destinations
The growth of blended travel — as well as the increase in group travel for business conferences and offsites — is evident in the most popular leisure travel destinations for Q1 2023. The list includes popular conference hubs like Las Vegas, San Francisco, and Orlando.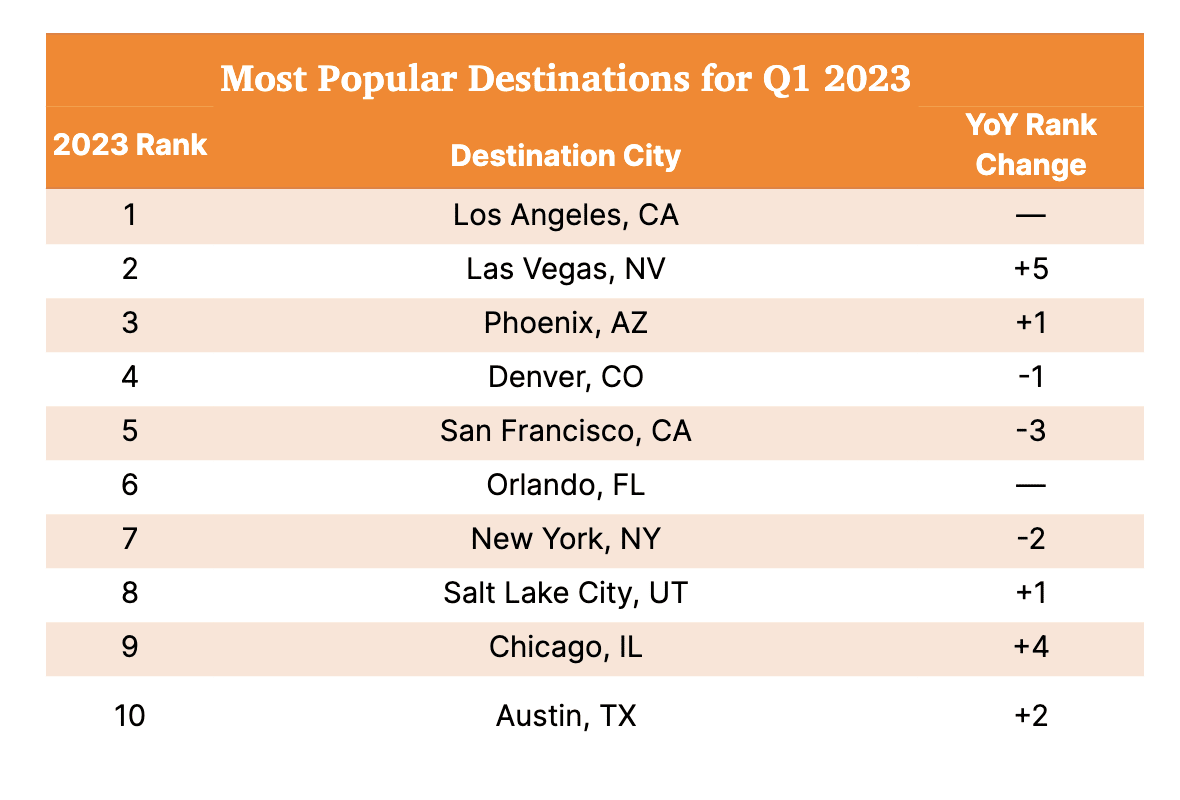 Summer Travel Trends
Last summer's travel volume was high, but the 2023 crowds should be even larger. In fact, the TSA predicts a potential record number of travelers to pass through America's airports this summer.
At Navan, it's not just a prediction: We've already seen a flood of personal bookings for summer travel, which are up 53% compared to this time last year.
Some travelers are paying for the privilege. While YoY fares for domestic flights over the summer remained similar in Q1, international airfares for summer 2023 jumped 82% compared with summer 2022. The increase is likely due to increased demand for international travel following the reopening of borders across the globe.

Leisure Travel: When to Book
With TSA predicting a hectic summer travel season, it's more important than ever to know when to book your next vacation.
The pandemic trend of booking trips on relatively short notice (due, of course, to the level of uncertainty) has changed for both leisure and business travelers. As with business travel, we're seeing a growing lead time for booking personal trips.
The average booking lead time for personal flights was 26 days in Q1 2023, up from 23 days in Q1 2022. The average booking lead time for hotels grew to 11 days in Q1 2023, up from nine days in Q1 2022.
Many travelers are locking their trips in early. In Q1 2023, nearly a quarter (24%) of travelers booked trips 50 days or more in advance. Other travelers are waiting: The second most-common booking lead time was two to six days before the trip.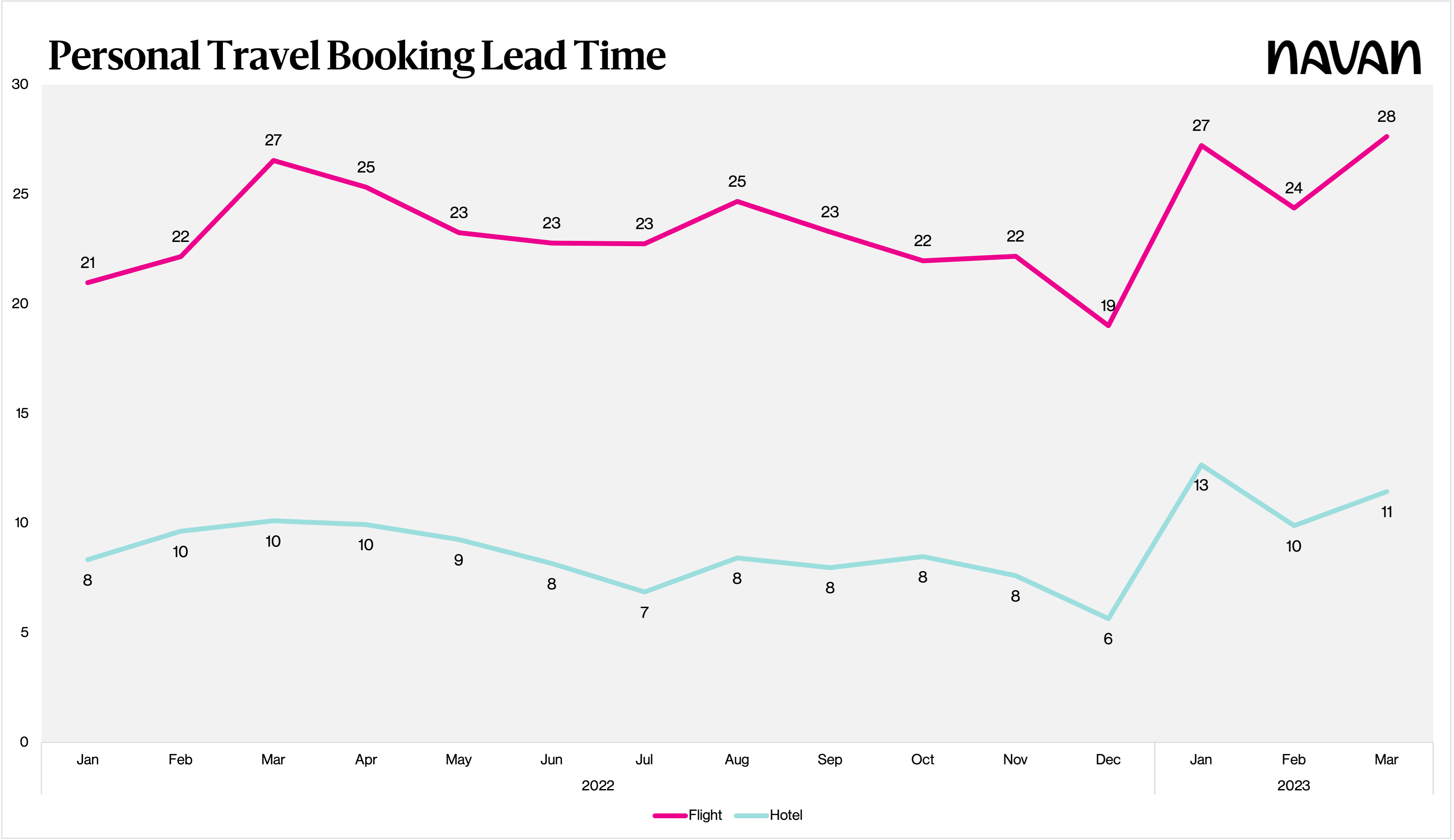 Leisure Travel Fares
When can you get the best fares for personal travel? Navan data shows that travelers can find the lowest average price on Friday, with an average booking price of $420, followed by Thursday, with an average booking price of $437.
Nevertheless, the most popular day to book personal travel is Tuesday, and the least popular is Saturday. The most popular window for booking a personal trip is 9 a.m. – 2 p.m., which is in line with Q1 2022.
Leisure Travel Flights
While the pandemic changed many travel patterns, Navan data indicate that some consumer habits have remained the same. Friday remained the most common day to fly in Q1 2023; Saturday became slightly less popular, dropping 2 percentage points from previous years.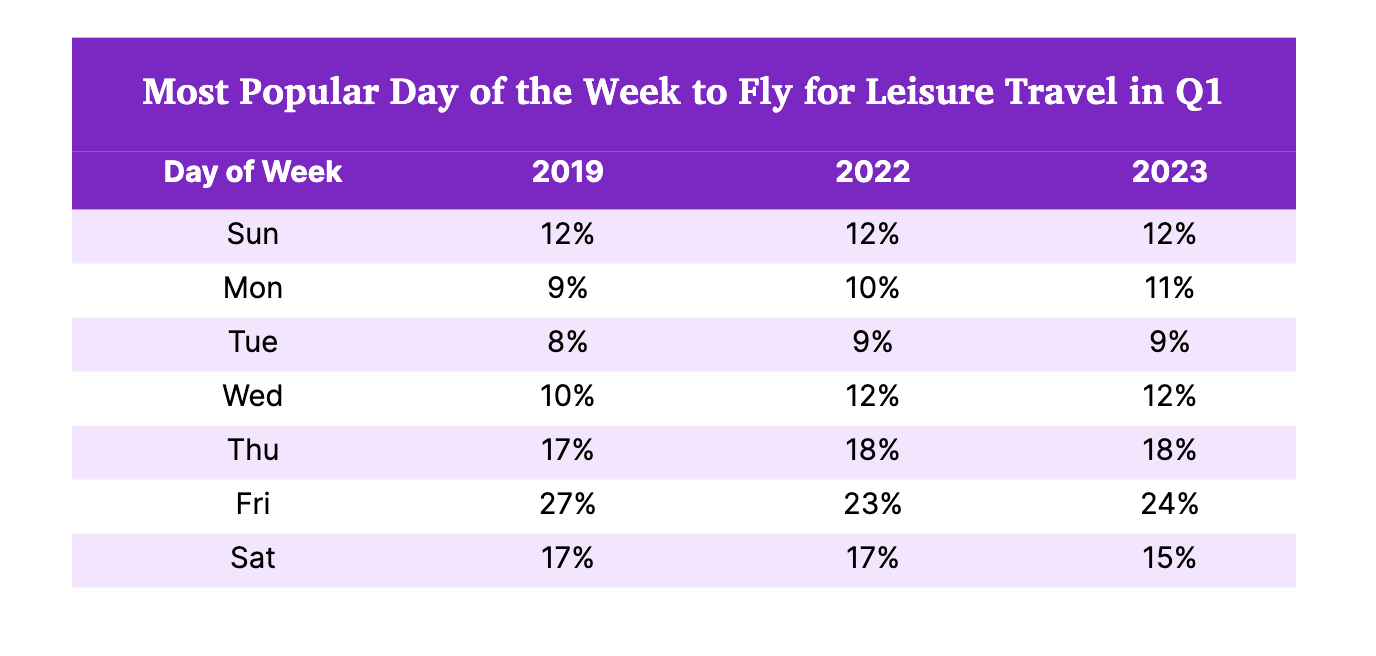 Conclusion
Personal travel is back to pre-pandemic levels; people are anxious to take the vacations they were unable to over the last couple years. Prepare for a super-busy summer.
Of course, with rising travel demand comes rising prices — compared to March 2022, airfares in March 2023 were 17.7% higher, according to the Consumer Price Index. But higher fares aren't deterring travelers, so it's more important than ever to get the most value for your money. Navan can help manage business, personal, and blended travel all in one place. Read more from this series:
The State of Business Travel & Expense: Q1 2023