Summer Travel Preview: Shifting Seasonality
A shift in business travel is underway. That's the takeaway from an analysis of Navan's proprietary data around business travel bookings and spending habits in Q1 2023. Yes, booking volume continues its upward, post-pandemic trajectory. Yes, overall traveler behavior hasn't deviated much from what we've been following recently.
But we see a shift in when business travelers are planning to hit the road. Traditionally, of course, Q1 was when sales teams came out of the gate, kicking off the year with SKOs and client visits. Based on our data, though, that tradition is changing — perhaps permanently. The rise of the remote workforce has led to more in-person events, which has led to changes in traveler demographics — and that has led to a change in business travel seasonality. After all, why would teams assemble offsites in January if they can hold out for better weather? Navan sees this shift in our data:
Business travel bookings on Navan jumped 20% in March after a slight dip in February.
April 2023 was Navan's biggest booking month ever.
On Thursday, May 4, Navan broke its daily booking record.
And we're not the only ones noticing the change. As Skift recently reported, United's CEO said that business travel's historically strong months of January and February hadn't yet returned to 2019 levels. He did, however, expect both business and leisure demand to pick up and peak between March and October. Better weather.
Indeed, business travel bookings for summer travel are up 2x — with large gains in June (up 55%), July (94%), and August (213%) — as compared to an equivalent booking window last year.
And with summer madness predicted on the leisure travel side, adding a slew of business travelers could make warm-weather travel even more challenging. Buckle up.
Let's go.
Bookings
From April 2022 through March 2023, Navan recorded a 3x increase in global business travel bookings as compared to the preceding 12 months — and 17x more bookings compared to the equivalent 12 months in the year prior (April 2020 through March 2021).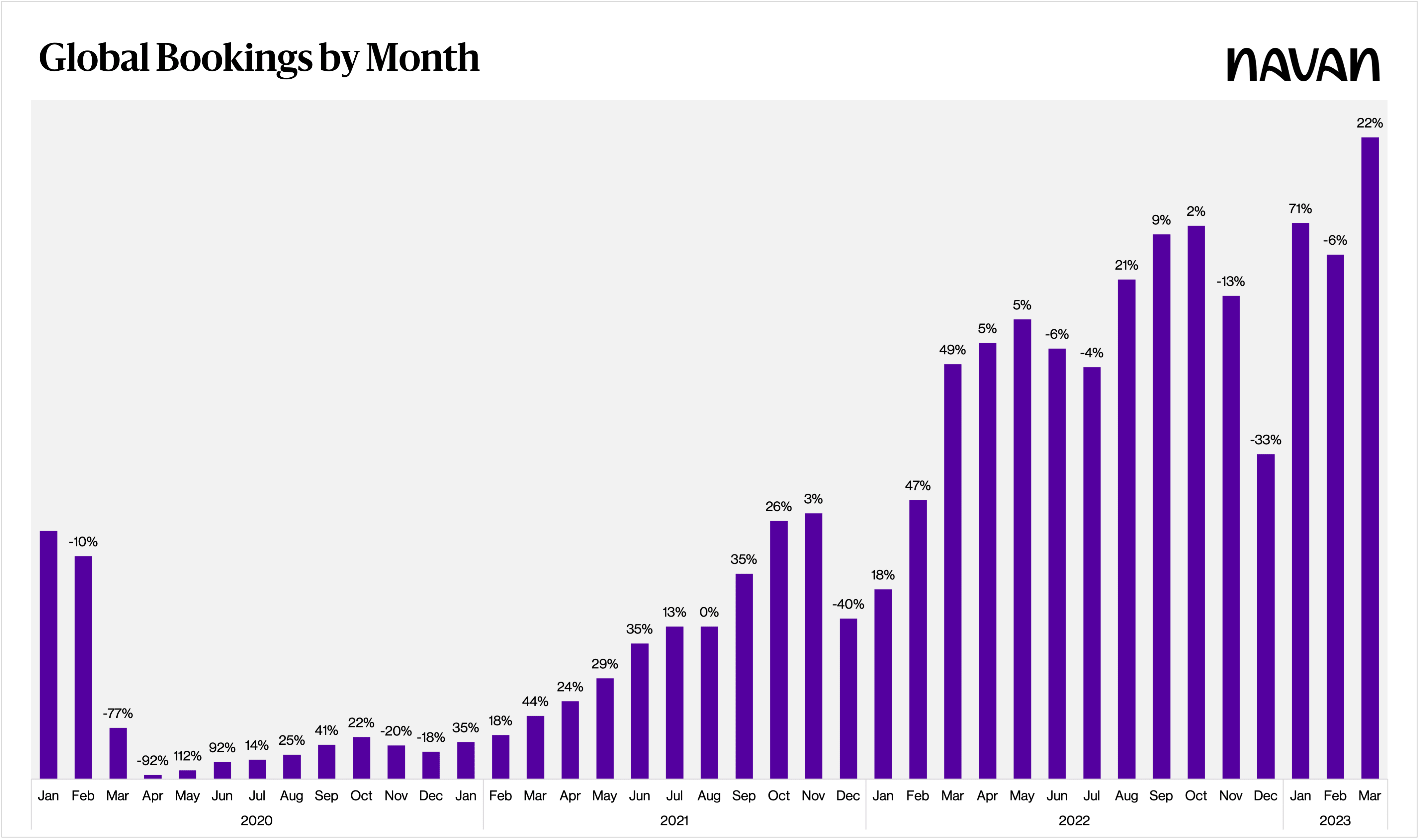 Booking Window Shifts
Company needs and customer expectations have always contributed to how far in advance travelers book their trips. While some leisure travel outlets have reported shorter lead times in the post-pandemic era, Navan's business travelers have increased their booking windows. The booking window has shifted from around 11 days pre-pandemic to 16 days in March 2023. Hotel bookings, too, have increased in lead time — from a week prior to the trip start date (pre-pandemic) to 8–9 days so far in Q1 2023.
Who's Traveling Now?
The landscape of who is traveling for business continues to shift. Sales teams, which represented 54% of the total booking share before the pandemic, now account for just 45% of bookings. Engineers, meanwhile, have increased their share from 9% to 11%. HR, product, and marketing teams are also traveling more, when compared to their pre-pandemic share.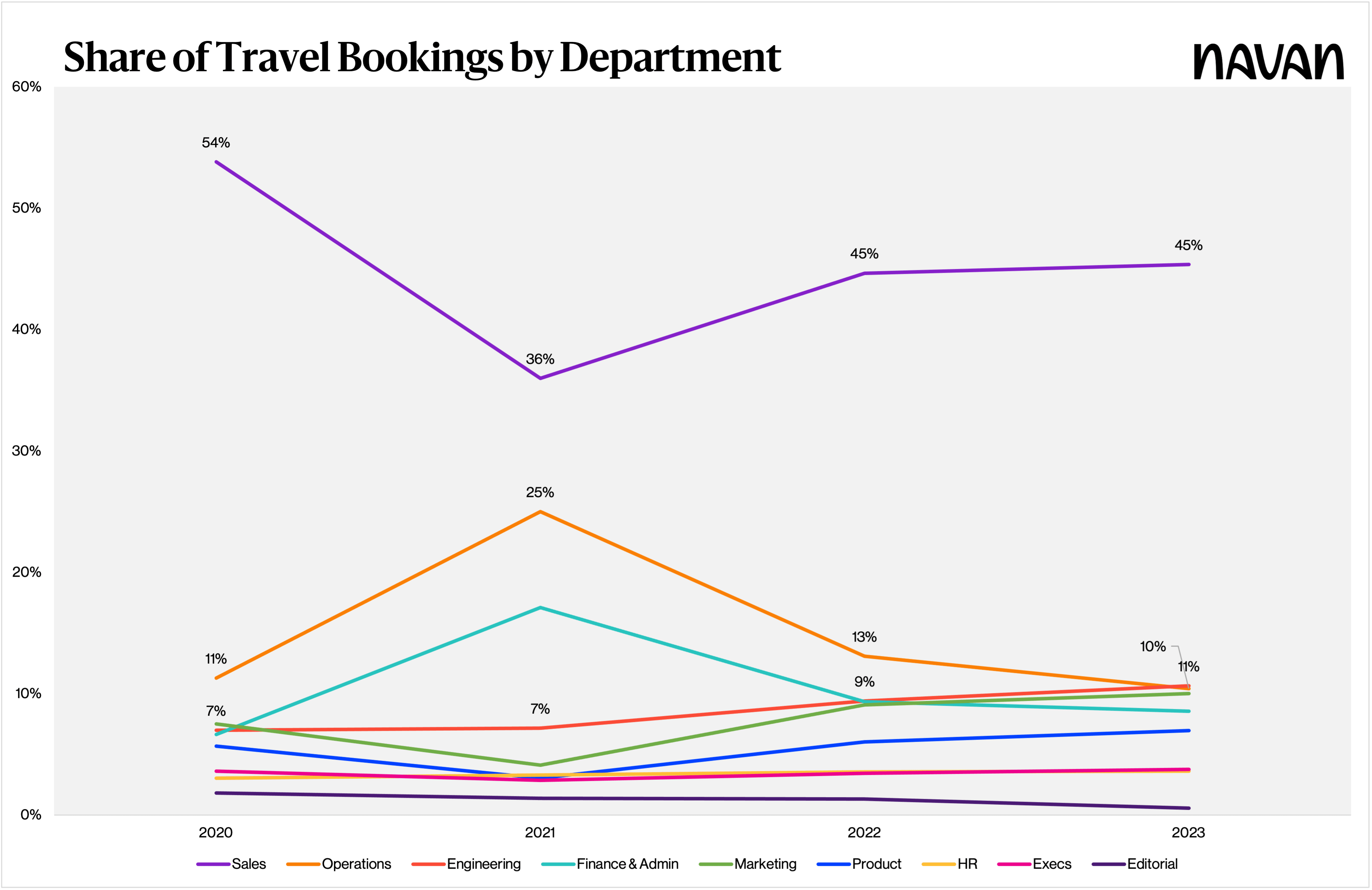 Group Travel
Along with Navan's global business travel bookings and personal travel bookings, group travel is also on the rise: Navan Group Travel bookings increased 5x in Q1 2023, as compared with Q1 2022. Helping to spur this growth was Navan's Group Travel tool, which allows admins to easily book, plan, and manage travel for up to 50 employees at a time.
In fact, as teams continue to benefit from in-person connections, group travel bookings through Navan have seen a steady increase since winter 2022, including a notable 38% MoM increase in group travel bookings in March 2023. Including bookings made with Navan Guest Invites, there was a 66% month-over-month bump from February to March.
Not only are events back, but event spending is up. Looking at customer M&E spend in Q1 2023 versus Q1 2022, 44% of Navan customers spent more as a share of their travel programs on these live events.
Whether it's a remote HR team making up for lost time with an offsite, or an in-person sales department traveling to Vegas for their organization's sales kickoff, team travel continues to be a popular way to maintain a cohesive company culture.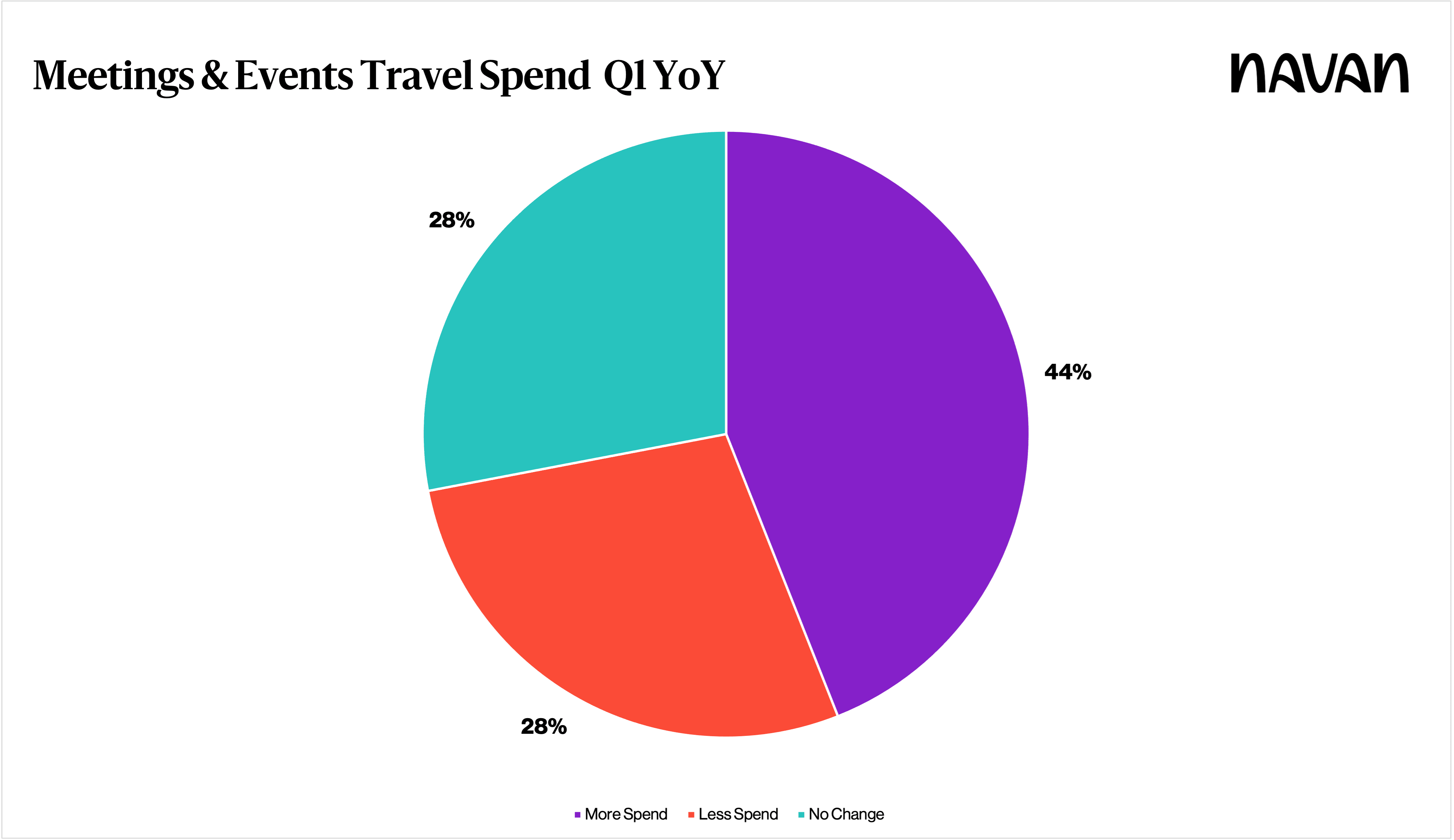 Travel Spend Volume
Travel spend volume processed via Navan Expense in Q1 2023 grew more than 3x compared to Q1 2022 and more than 5x when looking at the 12 consecutive months ending in March 2023, as compared to the preceding 12 months. Following a flat February, travel spend jumped 32% in March to close the quarter strong.
CFOs and finance teams, of course, must weigh the costs of travel with the need to meet sales objectives and maintain a cohesive company culture. To help, Navan created Ava for Admins — an AI-powered data analyst with the capability of unearthing patterns in travel and spend that helps focus a company's cost-cutting efforts.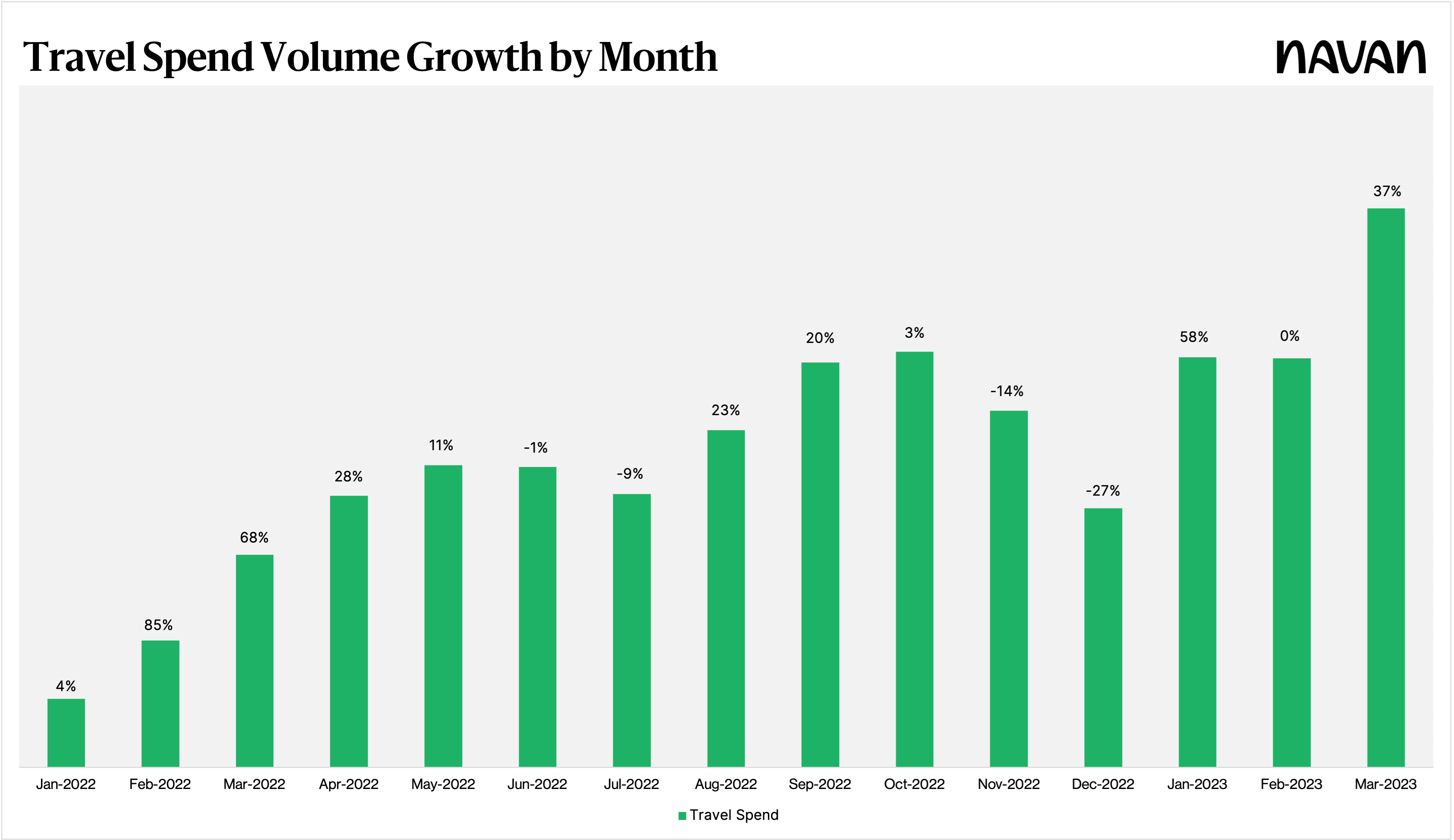 Air Travel Booking Prices
Following a relatively volatile year of steep airfare increases in 2022, U.S. domestic air booking prices have calmed down. The average price of a U.S. domestic flight booking in March 2023 was $452, 8% ($33) more than March 2019 but flat YoY with March 2022.
Average Travel Purchase Price
As businesses look to limit spending in an uncertain economic environment, companies utilizing Navan have effectively been able to keep costs flat or relatively flat, even during a period with inflationary pressures. They've achieved this goal by leveraging powerful tools like proactive, dynamic policy control and by consulting Ava, Navan's generative AI bot that helps CFOs and program admins find opportunities for savings.
The bottom line: Organizations have been able to remain competitive while keeping costs under control and within budget. Maintaining a steady average purchase price has helped companies keep costs under control — without halting business travel.
Most Popular Business Travel Destinations
Compared to Q1 2022, only a couple destinations have seen shifts in popularity with Navan customers. London's move up comes as no surprise, since the UK dropped its remaining COVID-19 travel restrictions in March 2022. Its rise pushed the rankings for L.A. and Chicago down a bit, while Boston moved up two positions to crack the top 10.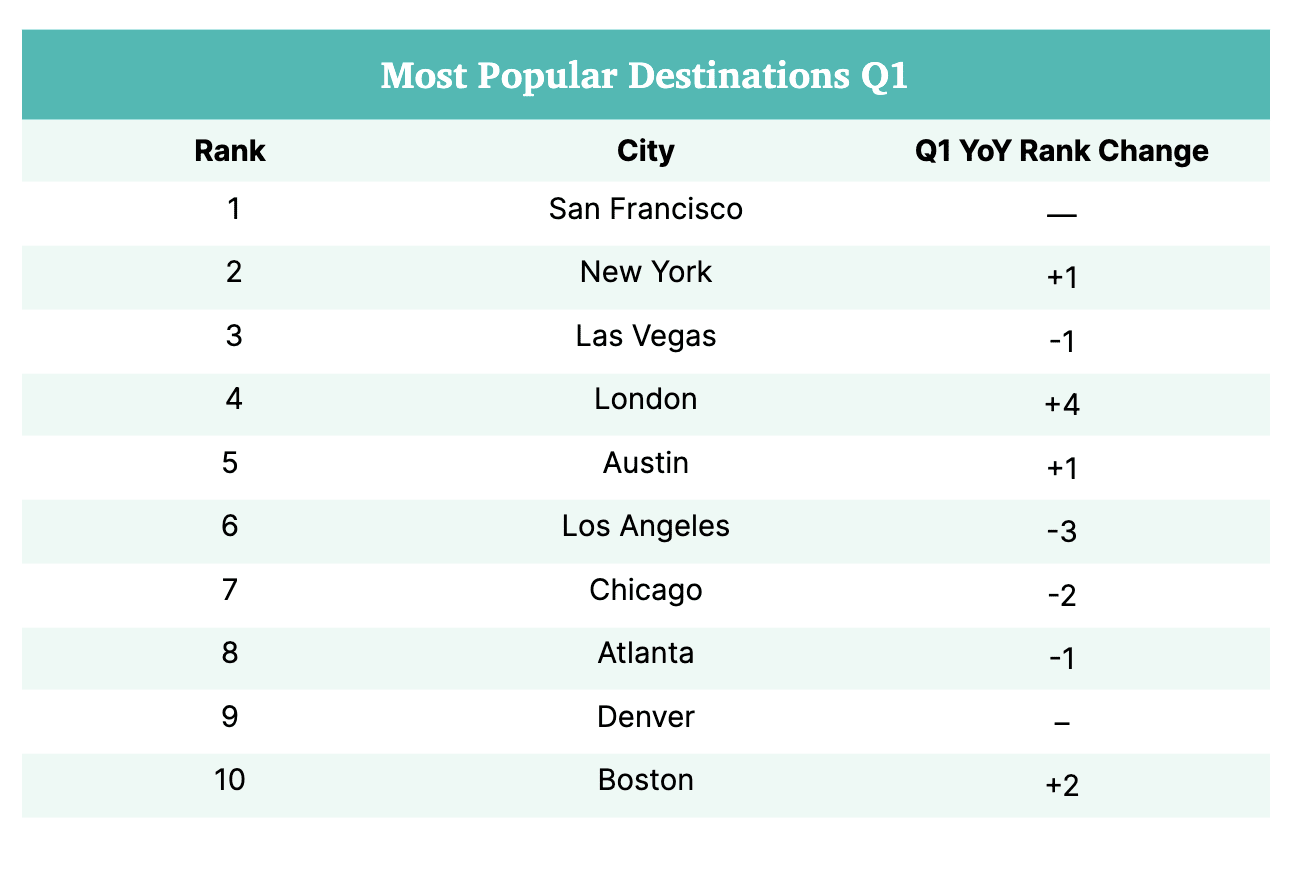 Trip Duration: Flights
After dipping during the height of the pandemic (Q4 2020–Q1 2021), trip duration has remained essentially unchanged: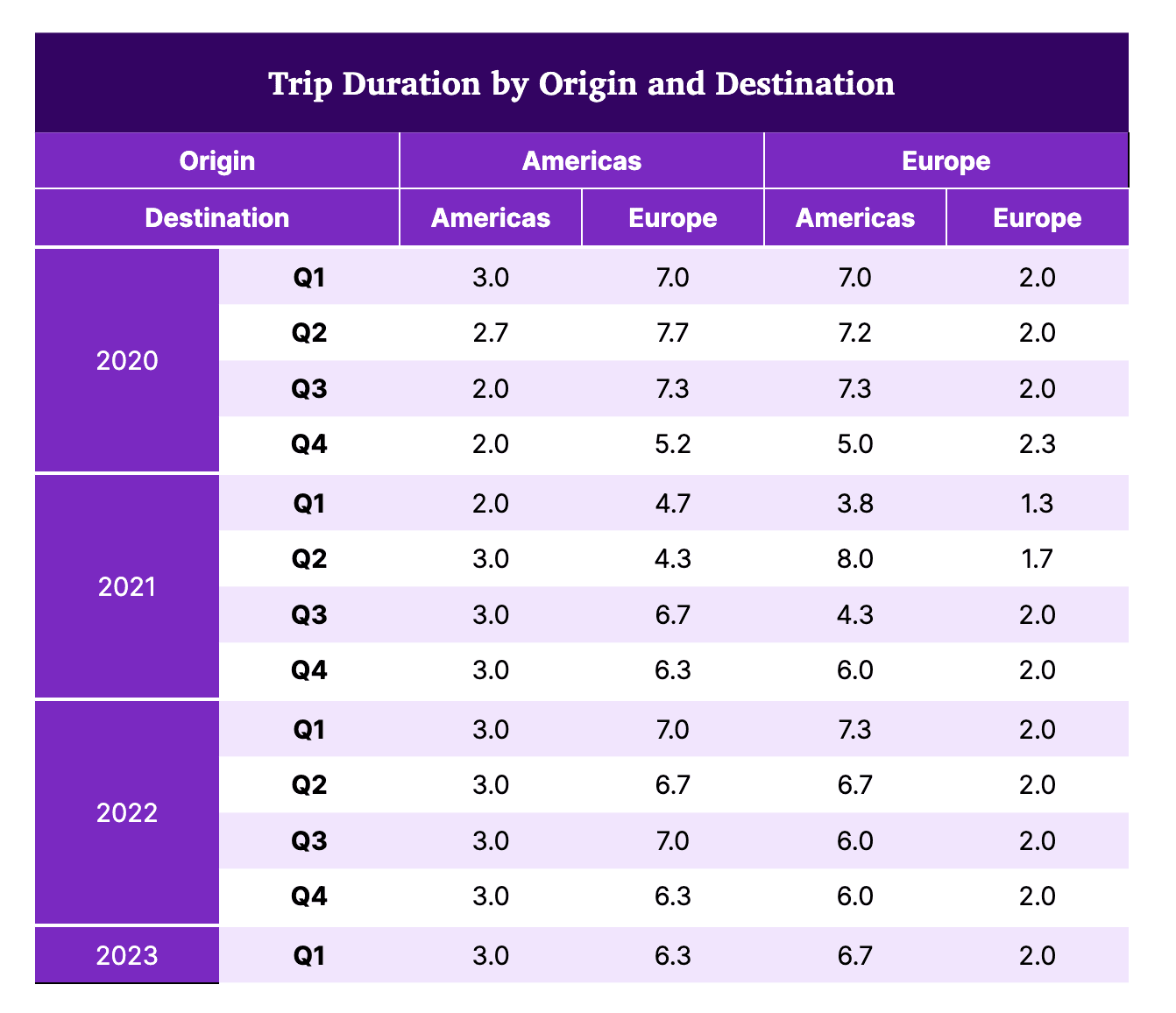 Blended Travel
Navan Expense enables traveling employees to mark any transactions as personal, so with personal travel up 44% YoY in Q1 2023, we wanted to see the effect on employee purchases. Here were the most common personal transactions made during a business trip in Q1 and their respective shares of personal transactions.

The Effect of AA's Shift to NDC
Late last year, American Airlines made a game-changing announcement: In April 2023, the airline said, it would move 40% percent of its fares from traditional distribution through the GDS to New Distribution Capability–powered and direct channels. Navan made the transition seamless for our customers, though some legacy TMCs were caught short, with their customers suffering the consequences.
Is AA holding firm to its promise of 40%? When looking at the airline's economy flight bookings from on or after April 4, 2023, it appears so — and then some. In fact, NDC bookings now represent 45% of AA's U.S. domestic flight bookings, saving Navan customers an average of 7% per booking. For U.S.-originating international flights, the percentage of NDC bookings is also 45% and came with an average savings of 27% per booking.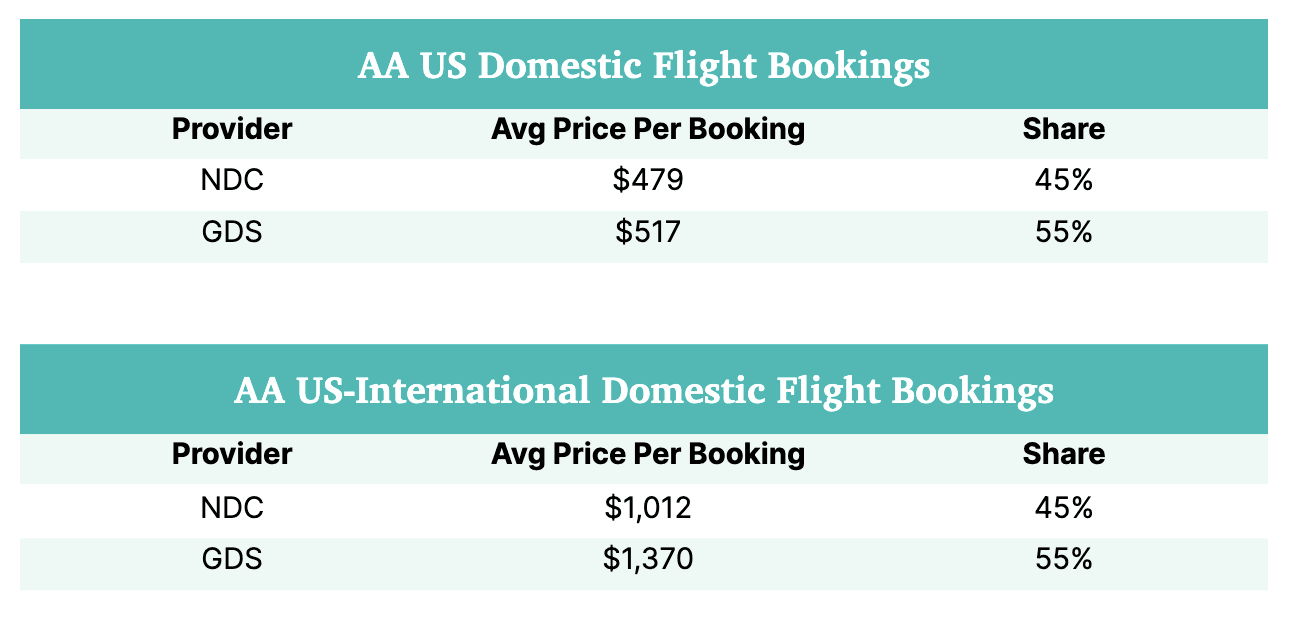 Europe
The boom in U.S. travel has extended across the pond. Compared to Q1 2022, travel bookings originating in Europe jumped 3x in Q1 2023. And like the U.S., Europe saw a big March 2023 bump in bookings.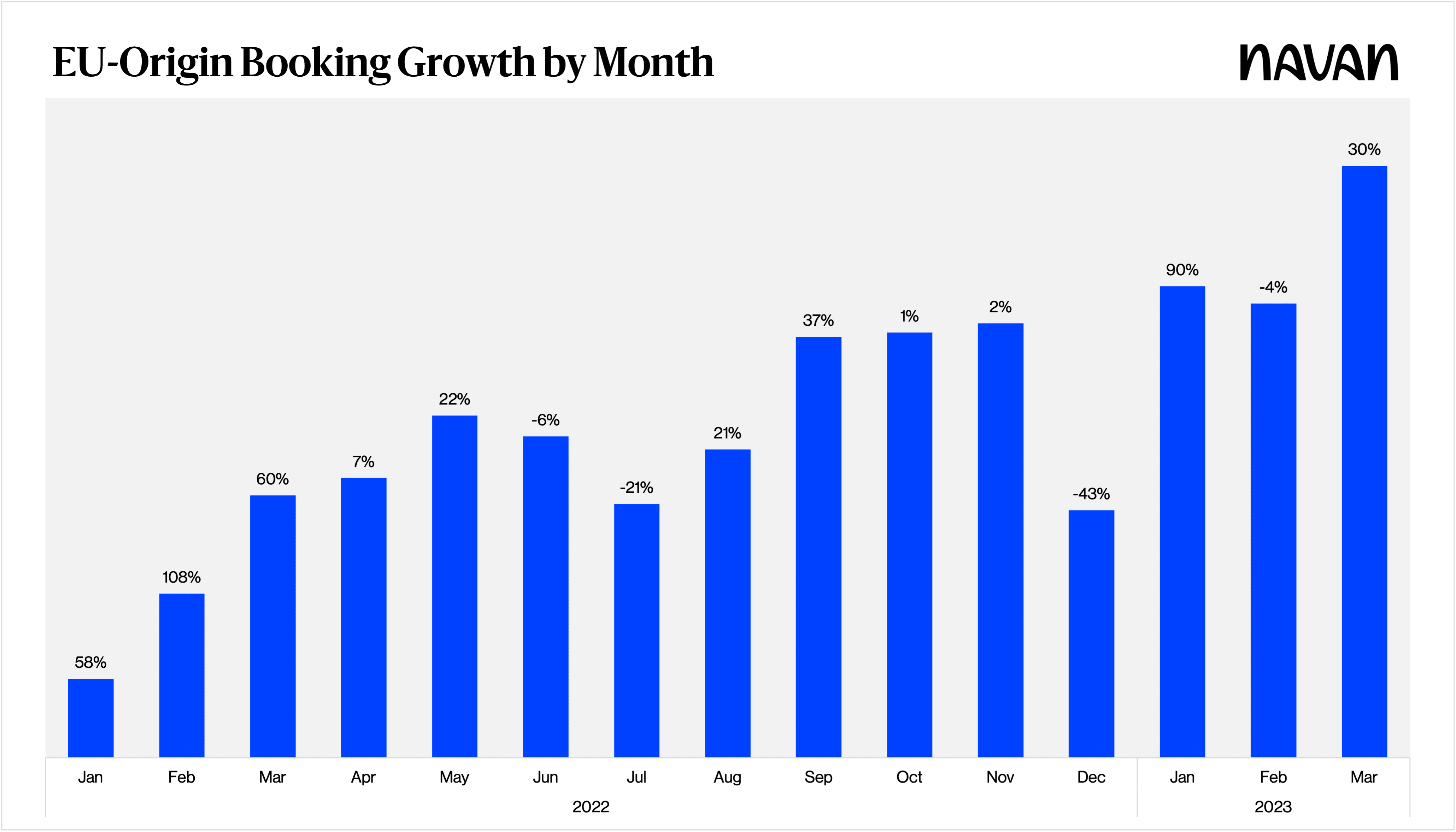 Plane Versus Train in Europe
Business air travel in Europe has slowly been giving way to rail — a trend that's accelerating. Part of the reason: An increasing number of EU-based companies are shifting to more sustainable — and less expensive — travel options. Another factor, of course, has been the efforts of countries like France to limit short-haul flights.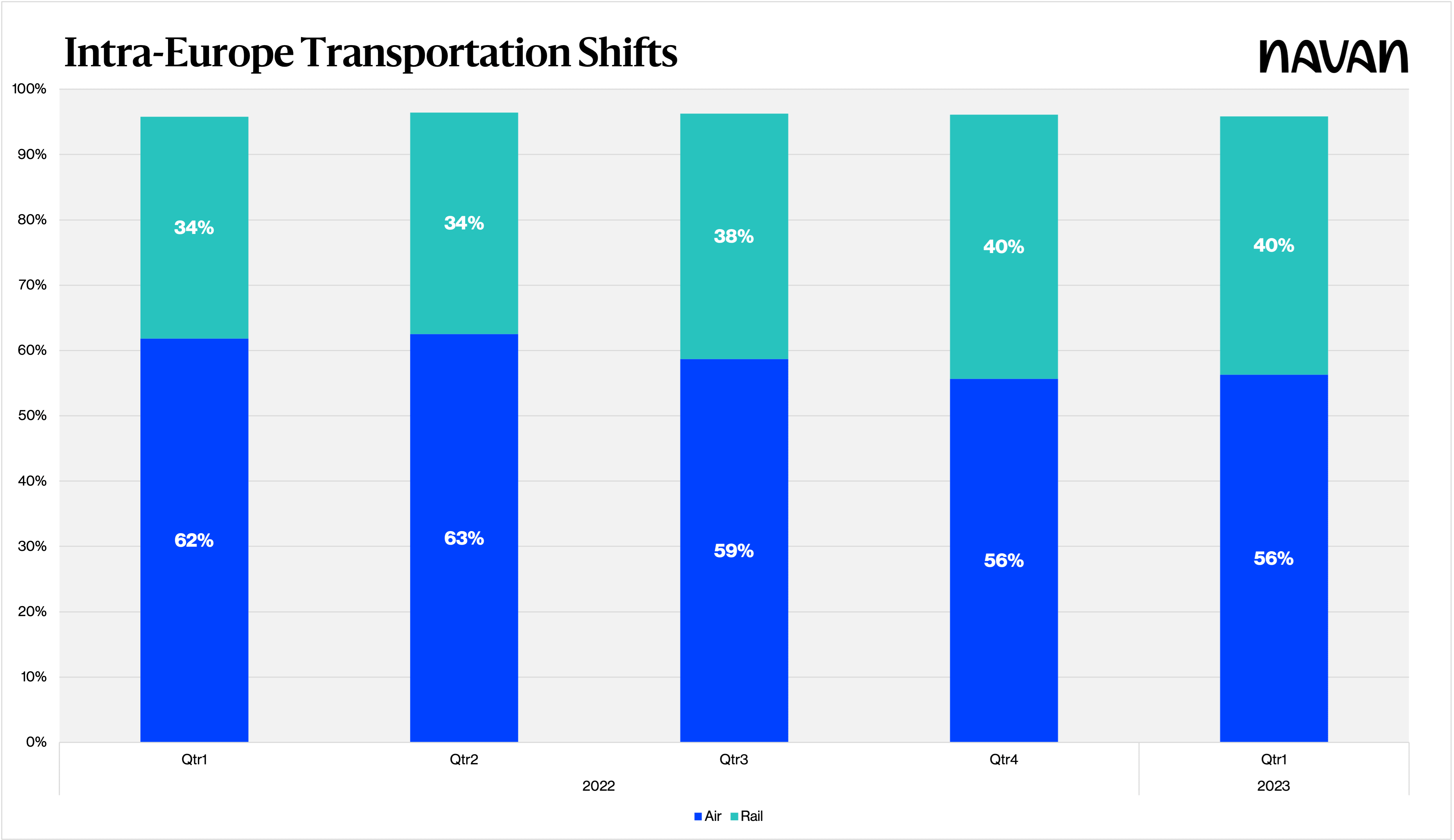 We also see the shift in seasonality reflected in EU-origin rail bookings, with a 29% month-over-month increase in March following a flat January and February.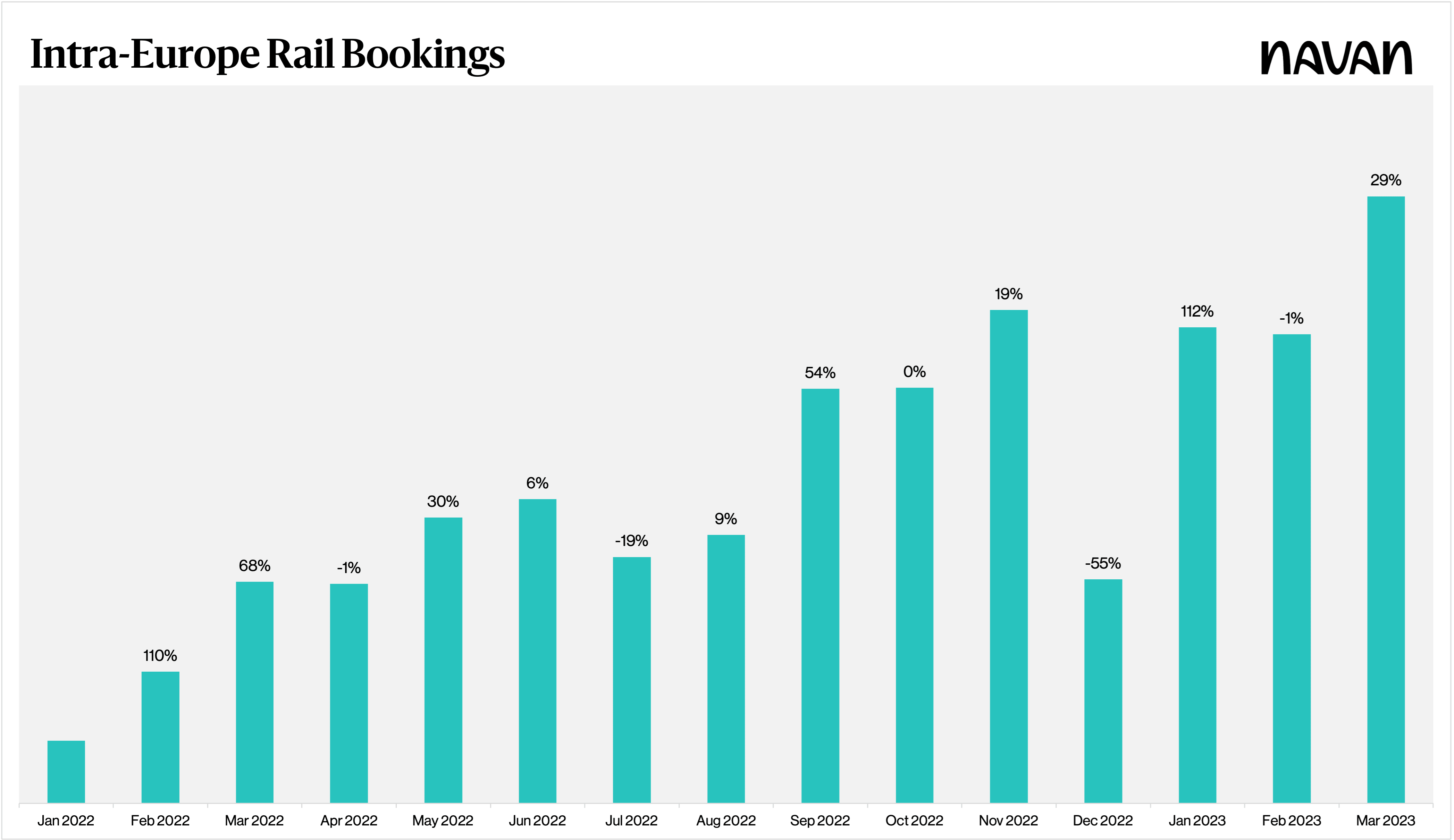 Intra-Europe Flight Prices
For those business travelers who did fly, Intra-Europe flight booking prices averaged $248 in Q1 2023, increasing from $225 in January 2023 to end at $273 in March 2023 — about even with March 2019. That's down from a peak of $331 in July 2022 and $25 more expensive than in March 2022.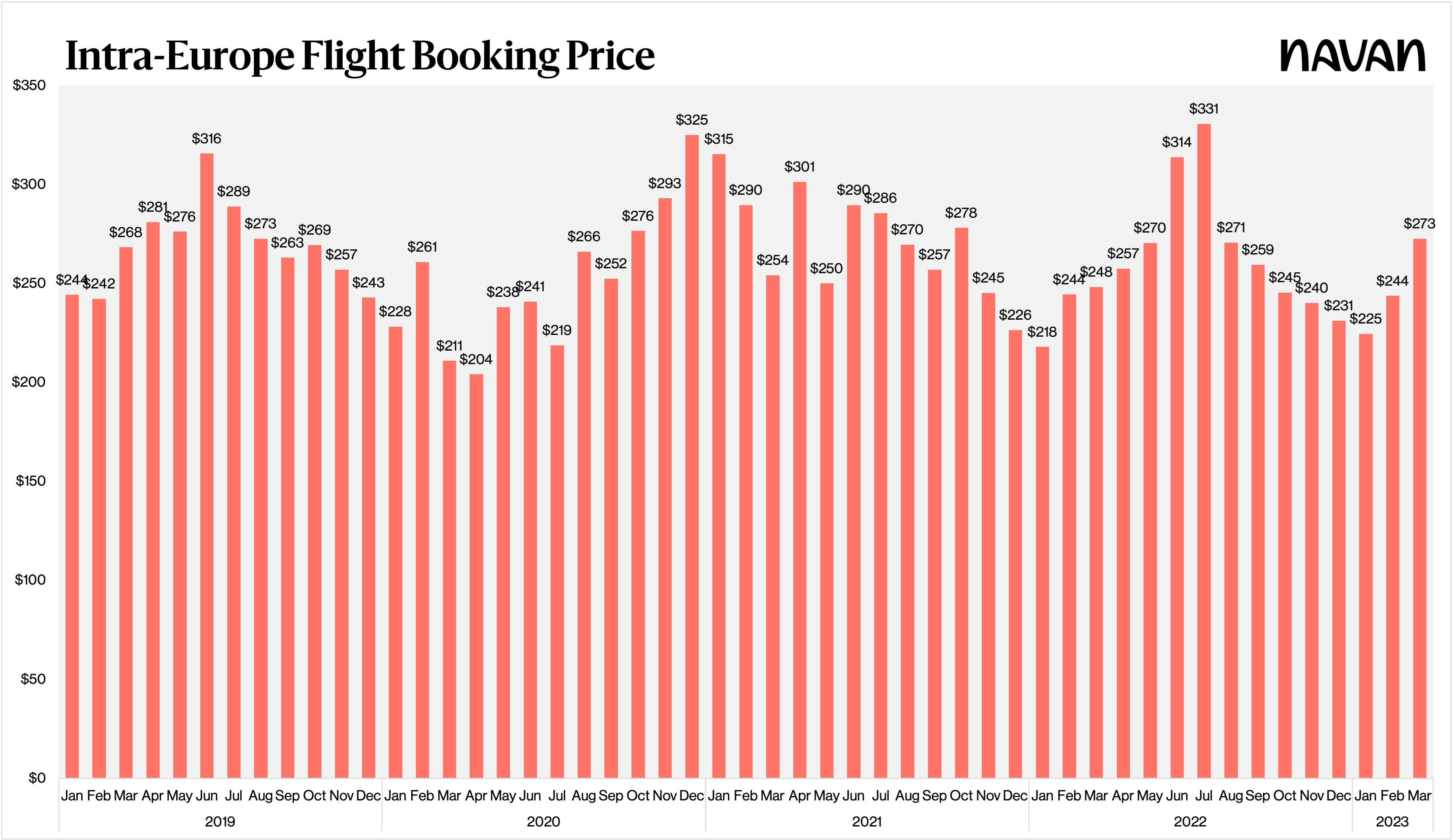 Conclusion
Booking volume is booming. And while some data is little changed from this time last year (popular destinations, air booking prices), make no mistake: A major shift in business travel seasonality appears to be underway, led by the large increases we're seeing in bookings for summer travel.
The reason? In-person events, demonstrated by the 5x increase in group travel bookings. And those events are no longer focused on SKOs and early-year client visits: Sales teams are traveling less, and other teams are picking up the slack, on their way to the team bonding that happens at company offsites.
Over in Europe, the big news is the number of travelers opting for rail over air. Expect those numbers to shift further moving ahead.
Read more from this series:
The State of Business Spend: Q1 2023