A business travel program can generate value for small businesses — but only if implemented correctly. Small businesses with traveling employees must ensure smooth journeys while maximizing their return on investment. A corporate travel booking solution can help streamline the travel and expense reporting processes, avoid wasteful spending, and make informed, data-driven decisions.
But finding the ideal travel booking solution for your small business requires careful consideration and research. This article will guide you through the process of choosing the perfect small business travel booking solution so you can focus on growing your business and leave the logistics to the experts.
---
The Evolution of Travel Booking Solutions for Small Businesses 
Corporate travel management has undergone significant changes over the years due to technological advancements and shifts in consumer preferences.
Travel booking solutions can be traced back to the early days of modern commercial travel. In the pre-computer era, travel management primarily relied on manual, paper-based systems.
Making travel arrangements for employees has become more efficient in recent years, but businesses must find ways to manage travel-related activities and expenses effectively.
Traditional Corporate Travel Agencies
Previously, companies of all sizes primarily made travel arrangements through traditional travel agents, a specialized corporate travel agency, or in-house travel coordinators. These travel experts had access to airline, hotel, and car rental reservation systems via Global Distribution Systems and would assist businesses in finding travel options, making reservations, and managing itineraries.
The advent of the Internet and the emergence of online booking tools transformed how businesses run their travel programs. Flights, hotels, rental cars, and other travel services could be booked directly online, which offered greater convenience, flexibility, and customization.
Modern Travel Management Companies
As corporate travel became more complex, businesses began seeking specialized travel management solutions that streamline the process of managing travel bookings, expenses, and policies for employees.
Modern travel management software offers features like:
Built-in policy compliance controls and approval workflows
Centralized travel booking
Travel expense management systems
Real-time data insights on travel expenses
Customer support
Travel risk management features (aka duty of care)
With many online booking tools and business travel management solutions available, companies must carefully consider which option is most suitable for their company's needs and objectives.
---
Typical Business Travel Pain Points That Small Businesses Face
When small businesses do not have managed travel, they often encounter several pain points and challenges. These can include:
Lack of Cost Control: Without managed travel, businesses may find it challenging to control travel costs. Employees might book flights, hotels, and other services without considering cost-saving options, leading to higher expenses.
Inefficient Booking Process: When travel arrangements are not centrally managed, employees spend a significant amount of time searching for the best deals, booking travel individually, and handling reimbursement processes. This inefficiency can be a drain on productivity.
Difficulty Enforcing Policy Compliance: Without clear travel policies and guidelines, employees may not follow a consistent and standardized process for booking travel. This can lead to non-compliance with company policies, which can cause financial and logistical issues.
Missed Opportunities for Discounts: Managed travel programs often have access to negotiated discounts and corporate rates, which can result in cost savings. Small businesses without such programs might miss out on these opportunities to reduce travel expenses.
Safety and Security Concerns: Without a managed travel program, businesses may not have a streamlined way to track employee travel, which can raise safety and security concerns. During emergencies or natural disasters, locating and assisting employees might be difficult.
Lack of Reporting and Analytics: Managed travel programs often provide data and analytics on travel expenses and patterns. Without such insights, businesses may struggle to identify spending trends and make informed decisions to optimize their travel budget.
Difficulty in Vendor Management: Small businesses may not have the negotiating power or resources to effectively manage relationships with various travel vendors, such as airlines, hotels, and car rental companies.
Limited Traveler Support: When employees encounter travel-related issues, such as flight cancellations or rescheduling, the lack of a managed travel program can result in limited support and assistance.
Complexity in Expense Reconciliation: Without centralized travel management, reconciling travel expenses is time-consuming and error-prone, leading to delays in reimbursement and creating frustration for employees.
Inconsistent Travel Experience: Unmanaged travel can lead to inconsistencies in the travel experience for employees, affecting employee satisfaction and overall morale.
Implementing a modern managed travel program can help address these issues, optimize expenses, improve efficiency, and enhance the company's and its employees' overall travel experience.
---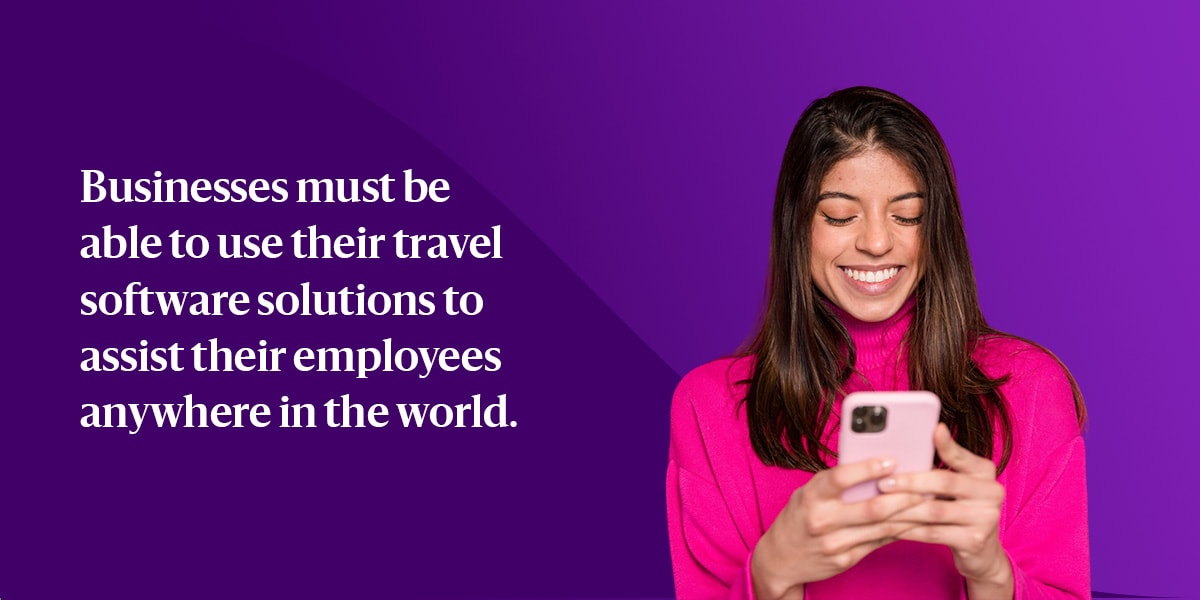 Key Factors Small Businesses Should Consider When Selecting a Travel Management Software 
Travel management software can help small businesses streamline business travel and improve overall efficiency. Companies should select travel management software tailored to their specific needs and goals.
Below are some key factors small businesses should consider when evaluating corporate travel management solutions.
Implementation Time
Implementing travel management software should be approached thoughtfully. To ensure your small business gets its return on investment, it's important to understand:
System/technical requirements
Setup timelines
Integrations with current software/systems
Training requirements
Support available
Small businesses should carefully consider how the travel management software will integrate with the company's current processes and workflows.
User-Friendliness
Employee adoption is key to success. Travel management software must be convenient and easy to install and use, and it should be available via a mobile app so employees can access it anywhere.
When weighing solutions, ask about the average:
User adoption rate
Net Promoter Score (NPS)
Customer Satisfaction Score (CSAT)
It's also a good idea to read through rankings and review websites such as G2 or TrustRadius. These websites collect reviews from verified software users and can give your small business a better idea about the administrator and traveler experience. After all, choosing travel management software means little if employees do not use it.
Travel Policy Controls
Today's travel management software should make it easy for administrators to build corporate travel policies into the software. This benefits everyone who uses the product:
Administrators can add, change, or customize policies as needed, and they are reflected in real time.
Business travelers always have the latest information, and keeping up with policies is easy and convenient.
If travel management software integrates with your company's corporate card, it's possible to enforce spend rules before they are broken. For example, if an employee tries to expense a bagel on a non-travel day, that transaction won't even go through in the first place. These types of automation reduce the likelihood of non-compliant or unauthorized travel expenses.
Inventory
Today's consumer has millions of options for booking travel. If an employee is being mandated to use corporate travel software that doesn't meet their needs or standards, it's likely they'll try to usurp the process.
Travel management software must offer a vast inventory so that employees can find and book the right airfares, hotels, and other travel options. Bonus points if the solution offers:
Loyalty integration: Travelers are likelier to adopt a system if they can keep earning points and miles with their favorite travel brands.
Personalized results: Travelers book faster and have a better experience when they can browse search results that take their loyalty affiliations and past search behavior into account.
A travel management tool should also offer a consumer-like booking experience, or else employees may end up ditching the solution for their preferred online travel agency (OTA).
Discounted Corporate Rates
Small businesses typically don't generate enough travel volume to be able to negotiate corporate rates with hotels and hotel chains. And even if they did, these corporate discounts require resources to negotiate and maintain.
A travel management company, on the other hand, can leverage the volume of business they bring to negotiate better deals and added benefits with travel suppliers, which might not be feasible for small businesses on their own.
That means that the right travel management company can offer small businesses the same discounted corporate rates as huge enterprises.
When evaluating solutions, be sure to ask what types of corporate rates are available and how much a business of your company's size or travel volume typically saves.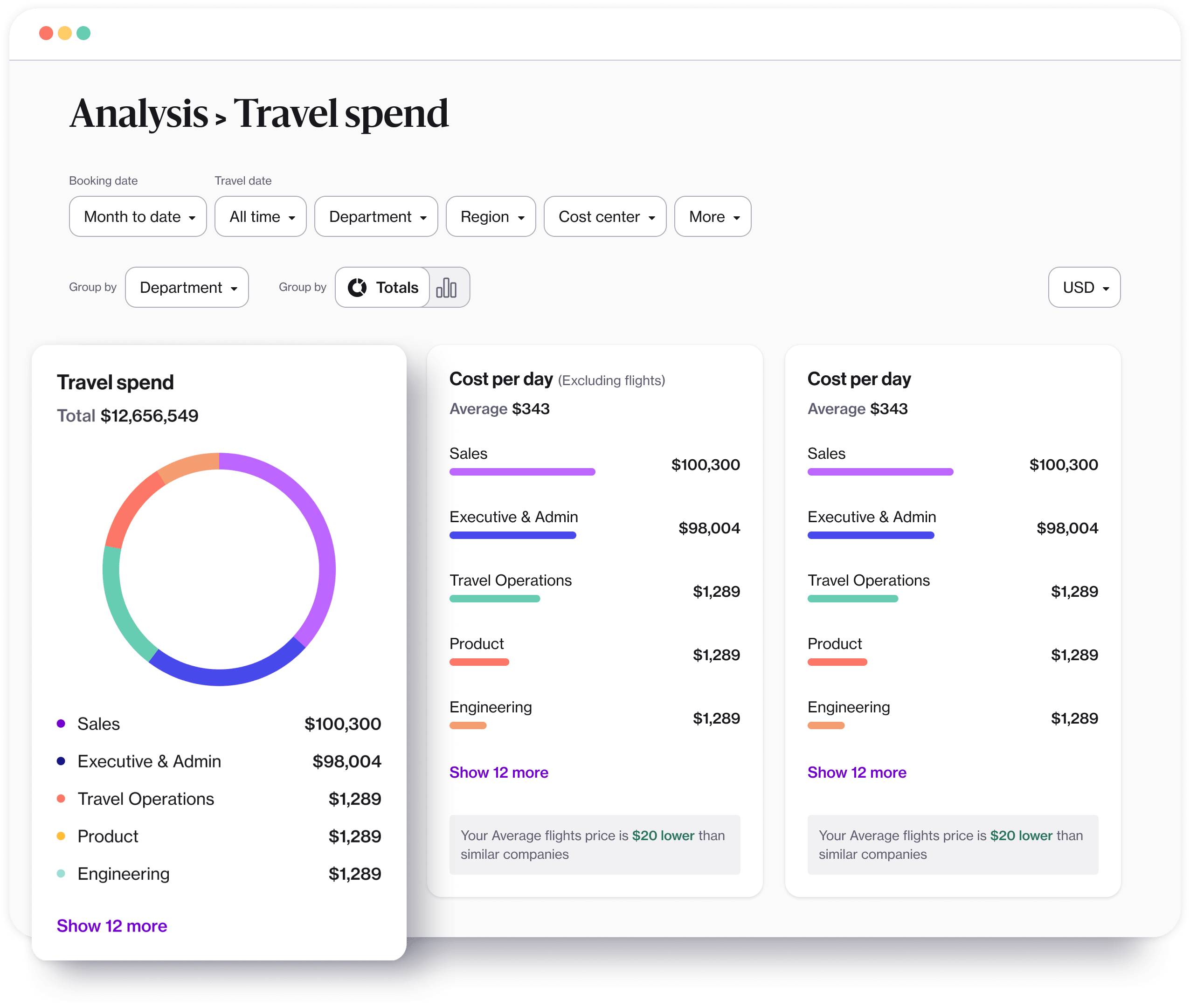 Above: A desktop view of travel spend analysis using the Navan app
Data Analysis and Reporting
Modern travel management software isn't just a fancy booking tool. It should also provide the company with real-time travel and expense data to help travel managers and finance teams optimize their travel program and set them up to make strategic business decisions.
Small businesses should be able to track their travel spend across the company. They should be able to:
Visualize data across individuals, departments, and cost centers
Measure the effectiveness of company travel policies
Integrate the software with current finance tools
It's also important to set the business up for success. Is all of the information that is important to the business today available? And will the travel management software support the company as it grows and scales?
Customer Support and Traveler Safety
Businesses must be able to use their travel software solutions to assist their employees anywhere in the world. An effective travel management software should enable agile responses no matter what situation a traveler finds themselves in.
Look for a travel management partner that provides:
A live traveler map
Travel restrictions, visa requirements, and crisis information
Self-service support tools
24/7 live travel agent support
Communication tools (both individual and en masse)
Companies are responsible for ensuring traveler safety on business trips. Travelers should have peace of mind whether their travel plans change last minute or they find themselves in a crisis situation.
Sustainability Features 
Sustainability has been a hot topic for years, and many travel management companies provide sustainability features that help promote eco-friendly travel.
Some sustainability features include:
Carbon footprint tracking: A feature that helps measure the total amount of greenhouse gas emissions produced directly or indirectly.
Carbon emissions calculators: A tool that estimates the environmental impact of travel.
Carbon emissions budget: A budget based on historical expenditure and industry benchmarking data that helps companies track, control, and manage emissions.
Travel managers can use these features to help educate travelers or company leaders on their travel program's carbon impact.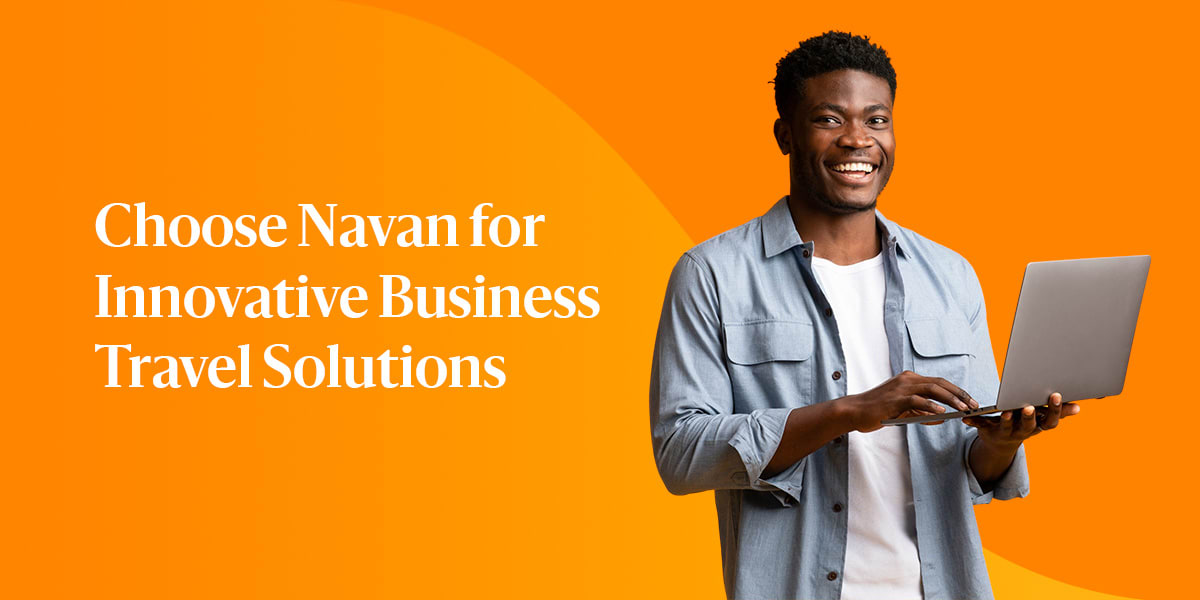 Choose Navan for Innovative Business Travel Solutions
Navan combines smart corporate credit cards, spend management, and travel in one easy-to-use platform that saves small businesses time and money. Here are just some of its benefits:
Issue cards with built-in policy controls
Automate travel expense management
Book and manage travel with 24/7 customer support
Track who is traveling and what is being spent in real time
Save up to 30% with exclusive hotel deals
Ready to streamline your travel management process? Schedule a demo or get up and running with Navan in just five minutes.
---
Essential reading: