Navan is celebrating its 8th anniversary today, and to mark the occasion, we have a special gift for our customers. We're revamping our rewards program and will now fully fund 100% of rewards. Individual employees can now earn up to $100 in rewards when they book eligible hotels that save their company money.
Companies are always looking to cut down travel costs while maintaining a good employee experience. However, employees on a company budget often view policy caps as flexible limits. Navan Rewards offers a new solution. This program incentivizes employees to make cost-effective decisions while traveling for work.
The idea is simple: The more an employee saves their company on travel expenses, the more rewards they earn to use on personal travel booked through Navan. Rewarding employees for reducing business travel costs can make a big difference to a company's travel budget. The Navan Rewards program has already been successful, with some companies experiencing up to 15% travel cost savings and 19% higher adoption rates.
Now, Navan is taking the program one step further. As of today:
Navan is fully funding these rewards. Companies won't have to pay anything.
Rewards can be redeemed for personal stays booked on Navan. Employees can earn up to $100 in rewards each time they book, and they can redeem rewards as they are earned — there are no blackout dates, ever.
Employees also earn when booking on behalf of others. Travel managers and executive assistants will bank rewards for themselves when booking on behalf of others.
In a world where every penny counts, Navan Rewards offers a smart solution for companies looking to reduce travel costs while keeping their employees happy and motivated.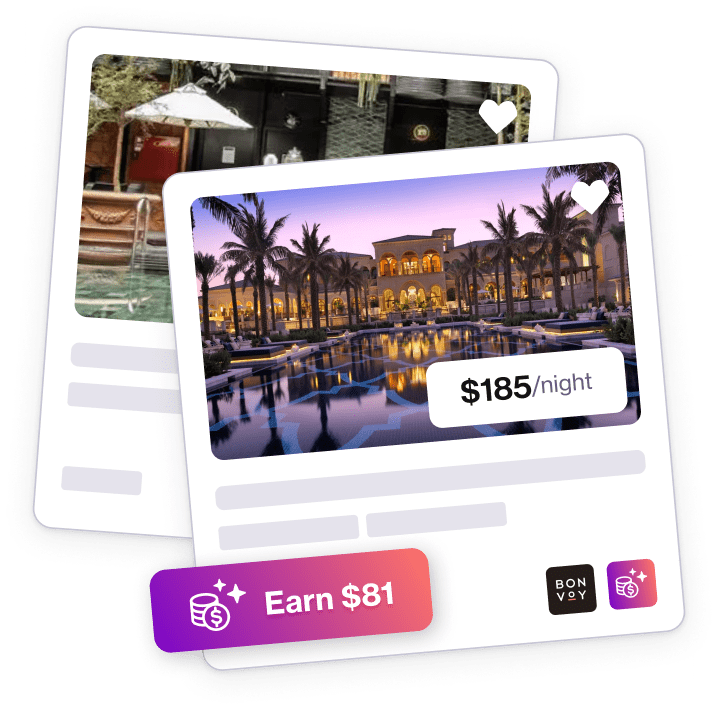 Travel for Work; Save On Vacation
It's no secret that everyone loves rewards; but for business travelers, the stakes are particularly high. That's where Navan Rewards comes in, offering a unique opportunity to maximize earnings by allowing travelers to double-dip on both Navan Rewards and hotel loyalty points — all within a single booking platform.
Here's how Navan Rewards works:
Employees earn rewards when booking eligible cost-effective hotels on Navan
Employees redeem rewards for personal travel booked on Navan
Administrators see the savings add up in a real-time dashboard
For business travelers, finding rewards is a breeze. Navan search results show potential rewards, allowing travelers to easily choose the best option for them.
"I really love Navan's feature that allows you to earn rewards by going with more economic options," said an end user in a review published on G2.com.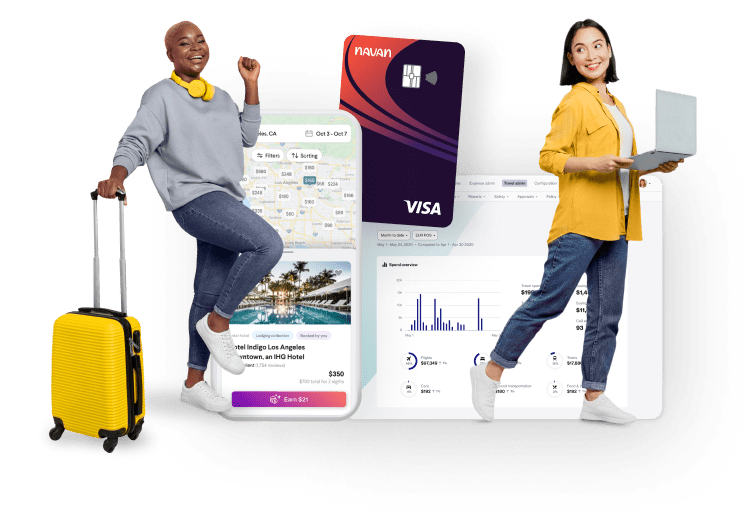 Lower Travel Costs, Increase Adoption Rates, and Improve Company Culture
Navan Rewards is a game-changer for employees, travel managers, and finance teams, with wide-ranging benefits for companies as a whole.
Employees are incentivized to book on-platform and below policy limits
Administrators benefit from boosted platform adoption, increased policy compliance, and better visibility into spend (and savings!)
Companies save money — bottom line.
You could call it a win-win.
Companies already enrolled in Navan Rewards have seen a marked increase in platform adoption rates while also enjoying a significant decrease in travel spend. In fact, Navan customers participating in the revamped rewards program from August 2022 through January 2023 saw 19% higher rates of adoption. 
"[Our employees] are incentivized for spending the company money wisely. They also get a great lodging experience," said Hugh Drinkwater, Head of Procurement, Carta. Since switching to Navan, the company has saved 15% on hotel bookings and car rentals.
Just as important: Companies can deliver a delightful employee experience while leveraging Navan Rewards as an employee perk. It's an easy — and free — way for companies to support time off and create a PTO-positive workplace culture. In turn, rewards help boost employee engagement and satisfaction, leading to higher retention rates.
It's simple to see how Navan Rewards benefits everyone involved. Employees are excited to book on Navan and earn rewards, and admins gain visibility into spend, save time, and earn traveler trust.
---
Ready to change employee spend behavior by rewarding travelers for choices that save your company money? Get started with Navan in as little as five minutes.
---
Additional terms apply; offer subject to change. See the full Navan Rewards terms and conditions.