Navan Expense's relentless pursuit of innovation continuously drives us to improve and expand our product offerings. We listen carefully to our users' feedback when shaping our tools to provide the most effective, user-friendly solutions. 
While the most significant news this month is the launch of Navan Connect, which empowers companies to connect almost any corporate card to Navan Expense, dozens of other feature enhancements are happening in the background. This month, we've launched a direct Xero integration, introduced an Auto Reject feature (currently in beta), revamped our Activity List, and upgraded our Navan Card shipping notifications. 
These updates are all designed with one purpose — to save finance leaders and users time, increase efficiency, and provide a seamless expense management experience.
Let's delve into each of these updates in more detail.
Xero Integration Streamlines Accounting Process
Navan's new bidirectional integration with Xero, a popular accounting software in Europe, ensures consistency and automates information sharing. This integration is designed for ease of setup, leading to faster and more precise accounting.
Key benefits include:
Quick and straightforward implementation: Navan's pre-built integration enables finance teams to integrate with Xero seamlessly.
Increased accuracy and time savings: Automated assignment of expenses and ledger codes in Navan that directly map to Xero ensures time savings and minimizes errors.
Enhanced data visibility: Navan transactions seamlessly integrate into Xero, providing a comprehensive view of financial data in one platform and aiding finance teams in making informed business decisions.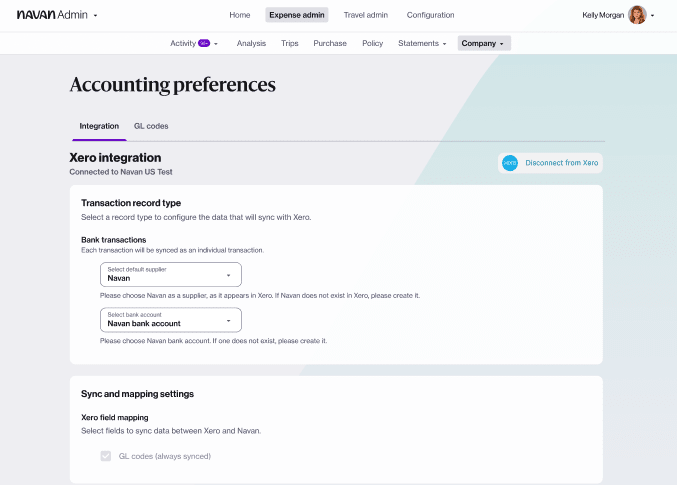 Save Time and Money with Auto Reject (Beta)
The newly introduced Auto Reject feature streamlines the expense management process. Admins can now establish Auto Reject policies that decrease the number of flagged Navan card transactions, ensuring that only necessary transactions are reviewed.
Key benefits include:
Save time and effort: Automate the rejection of over-policy amounts, reduce the volume of flagged transactions, and simplify the review process.
Save money: Auto-enforcement of policy limits minimizes overspending.
Policy compliance: Transactions exceeding the policy limit will be fully or partially rejected, and repayment requests will be automated.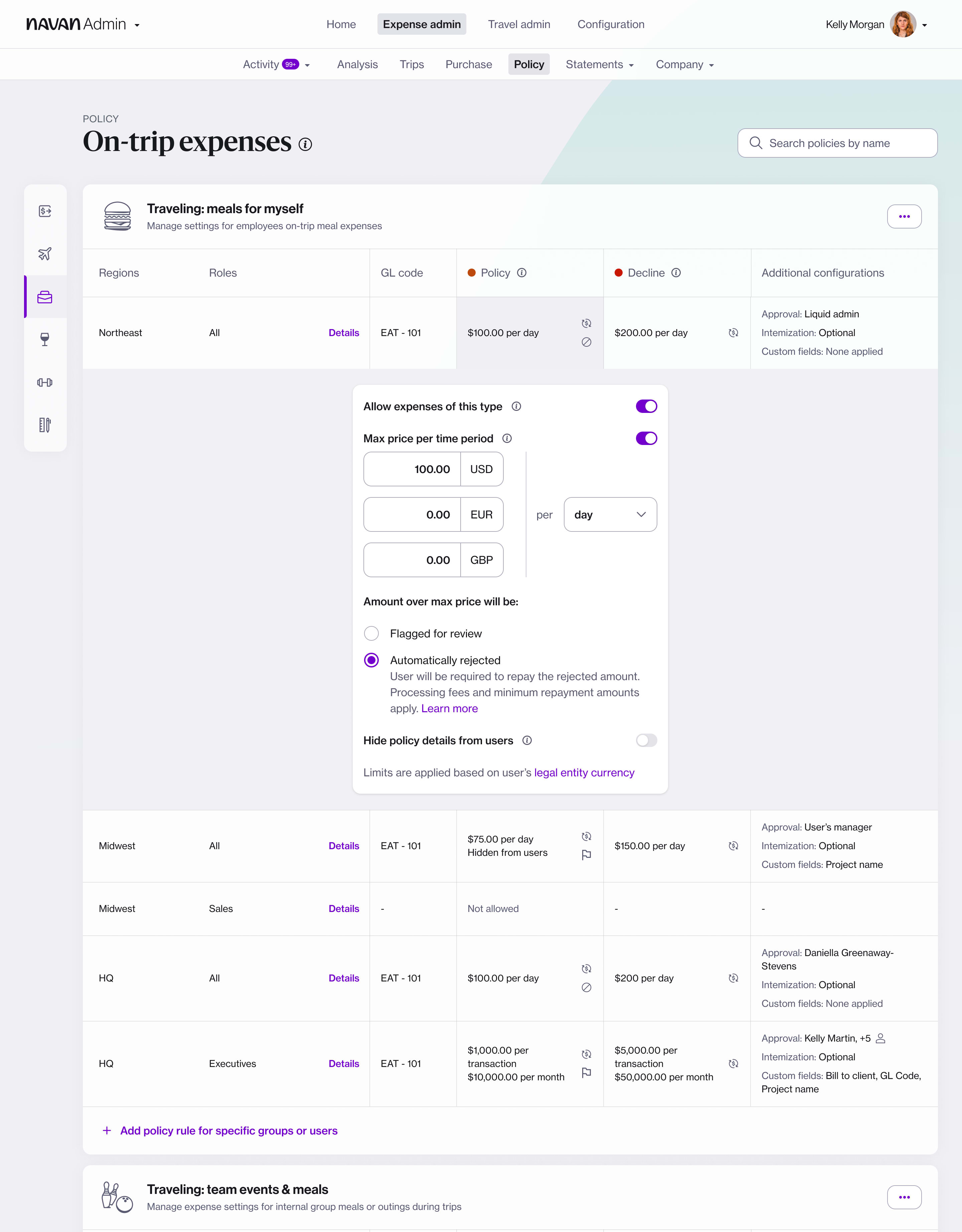 Revamped Activity List 
Our updated transaction list and the new design of our in-place review offer a more efficient way for admins and approvers to review and take action on flagged transactions.
Key improvements include:
Save time and clicks: Critical information and statuses are immediately visible on the transaction activity list, helping you prioritize actions.
Take action on transactions faster: Detailed transaction information and related activity are now in-line, allowing faster processing from the activity list.
Enhanced transaction viewing: View and bulk-approve, reject, and more on up to 50 transactions at a time from your activity dashboard.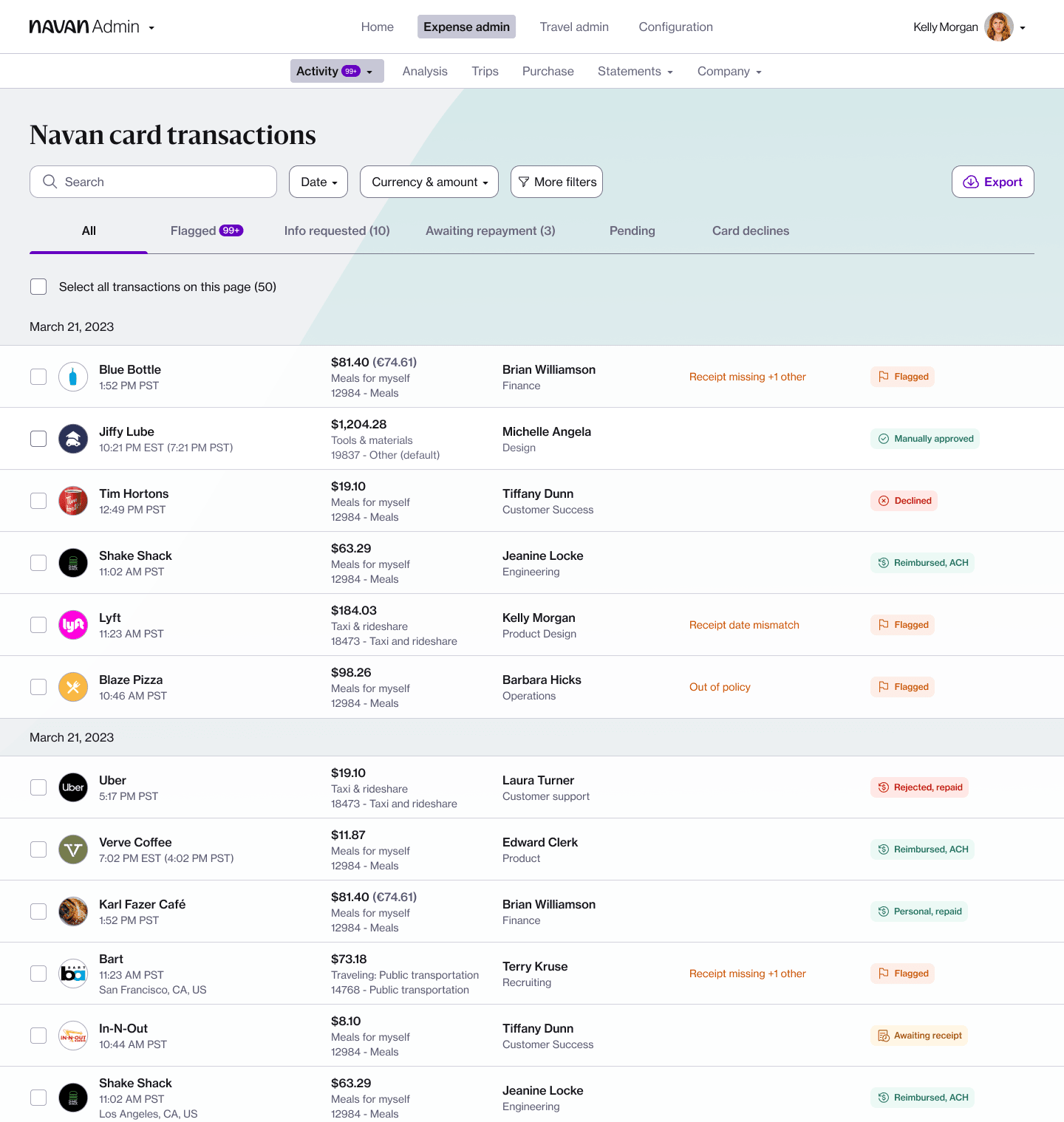 Upgraded Card Shipping Notifications
We're committed to transparency and trust and have enhanced our card shipping notifications to reflect that.
Key feature:
View ordered card shipping status: Stay informed about your Navan card's shipping status via email and push notifications on the Web and mobile app. Note: Push notifications are enabled only if the user installs the mobile app and turns on notifications. Email notifications will always be sent.
Navan is all about our users, all the time — and delivering the best experience for them. That's why we're constantly improving the content and are particularly excited to expand the convenience and efficiency of Navan Connect to any enrolled corporate Mastercard and Visa card. It's all a part of how Navan is leading the Business Software Designed for People category — building products to exceed user expectations and enhance human connections, resulting in smoother and more efficient business operations.
Learn more about Navan Expense and how it transforms the expense management process.