Business travel doesn't have to be all about work. Navan data reveals that more than a third of business trips are extended for leisure purposes—a practice known as bleisure travel. People who indulge in mixing business and personal travel find that the combination can add flexibility and fun to otherwise standard business trips, along with other advantages detailed below.
1. Save on travel expenses
The most tangible benefit of extending a business trip with leisure time is to save on transportation costs and, in some cases, lodging expenses.
The employer typically pays for costs incurred during the business portion of the trip, including:
Travel costs (airfare, train ticket, or car rental)
Accommodations (hotel room, apartment, etc.)
Since the employer covers the business travel expenses, the business traveler only needs to pay for personal expenses and lodging expenses incurred during the leisure portion of the trip.
The traveler may be able to take advantage of special corporate negotiated rates for the hotel room for both parts of the trip — this pricing is available when booking personal travel in Navan.
Double Duty
According to a recent survey by the Global Business Travel Association, 82% of business travelers stayed at the same place for both their trip's business and leisure portions.
Some companies may allow business travelers to write off expenses like meals, ground transportation, or other incidentals on leisure days, while other businesses may only agree to pay for a flight if it is of equal or lesser value to the original flight cost.
Check the company travel policy to understand all the leisure- and business-related expenses included.
2. Improve work-life balance
A recent survey found that 55% of business travelers plan to take more bleisure trips specifically to improve their work-life balance.
Combining business trips with leisure time can help maintain physical and mental well-being, whether the person is a road warrior who wants to keep travel fatigue at bay or an occasional traveler looking to keep up with a fitness routine.
Schedules during business trips are often jam-packed, giving travelers little personal time between completing work activities. When employees take some time for themselves to relax or explore, it's possible to add a bit of serenity and enjoyment to a potentially stressful experience.
Turning a Job Duty Into a Work Perk
Many companies embrace bleisure travel as a perk that supports employees' work-life balance. After all, if the trip itself meets the business purpose, a leisure stay-over can only lead to healthier, happier, and more productive employees.
3. Make the most of personal days
Bookending a business trip with leisure time helps make vacation days go the extra mile.
According to experts, enjoying short vacations throughout the year may be more beneficial to mental well-being than banking days to take one long vacation. Taking a smaller number of days off relieves the stress of disconnecting for long periods and returning to heavy workloads.
Business travelers may even bring family members along for a mini-personal vacation, as long as it doesn't interfere with work.
Be my guest?
A recent survey of business travelers found that:
65% believe it's appropriate to bring friends and family along

57% specifically take work trips to places they know their loved ones would enjoy visiting
Business travelers may also want to check with their supervisors to see if a weekday could be considered a paid workday instead of a regular day off. Some companies allow this as a reward or to compensate employees for any lost personal time due to travel. After all, on business trips, travelers may well dedicate more time to work than they would on a typical workday.
4. Better prepare for business meetings
Business travel already conjures images of long security lines, hurried to-go food, and weary travelers. A little bit of extra time could make all the difference when it comes to representing a company or closing a deal.
An extra travel day can help travelers get ready for important business activities. Let's say an employee who lives in New York is leading a seminar in a popular business destination like Tokyo; arriving early gives the traveler time to adjust to the new time zone and surroundings, get some rest, and ultimately perform at their best.
Getting to know the local culture can also benefit the business. Employees gain a deeper understanding of history and traditions by exploring museums or trying traditional cuisines; this, in turn, helps them connect to colleagues, clients, or investors on a personal level.
Cultural Connections
People recognize when someone makes an effort to understand the local culture, and it also gives both parties something to talk about. Who doesn't enjoy giving recommendations on things to see, eat, and do?
5. Turn a business trip into a personal growth opportunity
When on a business trip, travelers take time out of their personal lives to complete business activities. Spending all of their time in a conference center or hotel room does not make for a satisfying experience.
The opportunity to incorporate personal activities can turn the extra work of a business trip into a job perk. Research suggests that employees are more likely to stay at jobs that enable them to pursue their passions outside of work, and building in time to experience new places creates positive experiences.
All work and no play?
A recent survey found that 44% of business travelers have turned down the opportunity to take a work trip because they wouldn't have had time for leisure activities while at their destination.
Ultimately, mixing business and personal travel leads to happy travelers who feel more connected with the companies they work for and who are more inclined to take on additional business trips in the future.
The drawback: Mixing business and personal travel expenses
As more employees blend business and leisure trips, separating expenses that happen on business days from personal travel days can get tricky, especially when employees must use their personal credit cards for expenses and submit reimbursements.
Expense reports become more challenging to complete accurately, and companies risk allowing receipts for personal expenses to get caught up in the mix.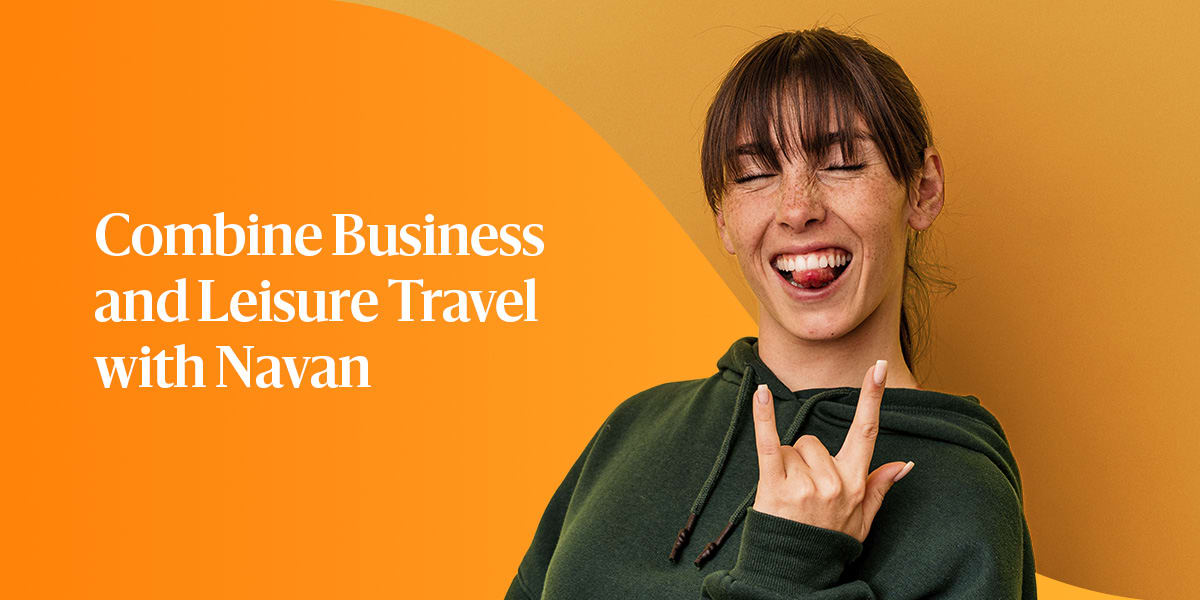 Navan makes it simple for employees to add personal time to business trips and keeps all of the travel information in a single place, while ensuring that the line between business and personal travel expenses is clear-cut.
Employees can use the platform to take advantage of personal travel perks that are typically only available to corporate travelers, such as:
Accessing direct and corporate-negotiated hotel rates
Earning air and hotel loyalty points and organizing search results based on loyalty preferences
Managing trip changes with a click of a button
Chatting with a live agent when they need travel support
Ready to reduce rogue spending and eliminate the need to complete expense reports altogether? Schedule a demo or get up and running with Navan in just 5 minutes.
---
Essential reading: