At Navan, we put our customers at the center of everything we do.
We are constantly listening to our customers to better understand their needs from a practical standpoint in order to make their jobs — and their lives — easier. These feature requests may not always be the sexiest, but they sure are effective.  
In a testament to Navan's commitment to its customers, the Expense team released 10 features in 10 days aimed at solving the predominant pain points in the expense process. Whether you are a traveling employee, program administrator, manager, or a CFO, there's a feature for everyone with a role in the travel and expense journey. 
More and more Navan travel customers are extending the services Navan provides to include Expense. Navan has recorded a 90% year-over-year increase in the number of customers that include Expense services.
The latest Navan Expense features and updates were designed to
Enhance visibility and strengthen control over company spend and financial processes
Streamline and foster efficiencies through automation 
Expand the capabilities of Navan Connect
Elevate the user experience for employees
This momentum will propel Navan and its customers toward greater growth and productivity this Fall. 
Let's explore the 10 latest features:
Team Spend Dashboards for Managers
The new Team Spend Dashboards give managers an overview of where and how their team spends company money, including flagged transactions and out-of-policy spend.
By surfacing curated spend reports for managers directly in the product and via monthly emails, managers gain deeper, real-time insights and can easily take action upon any transaction. The feature is designed to encourage accountability and in-policy spending.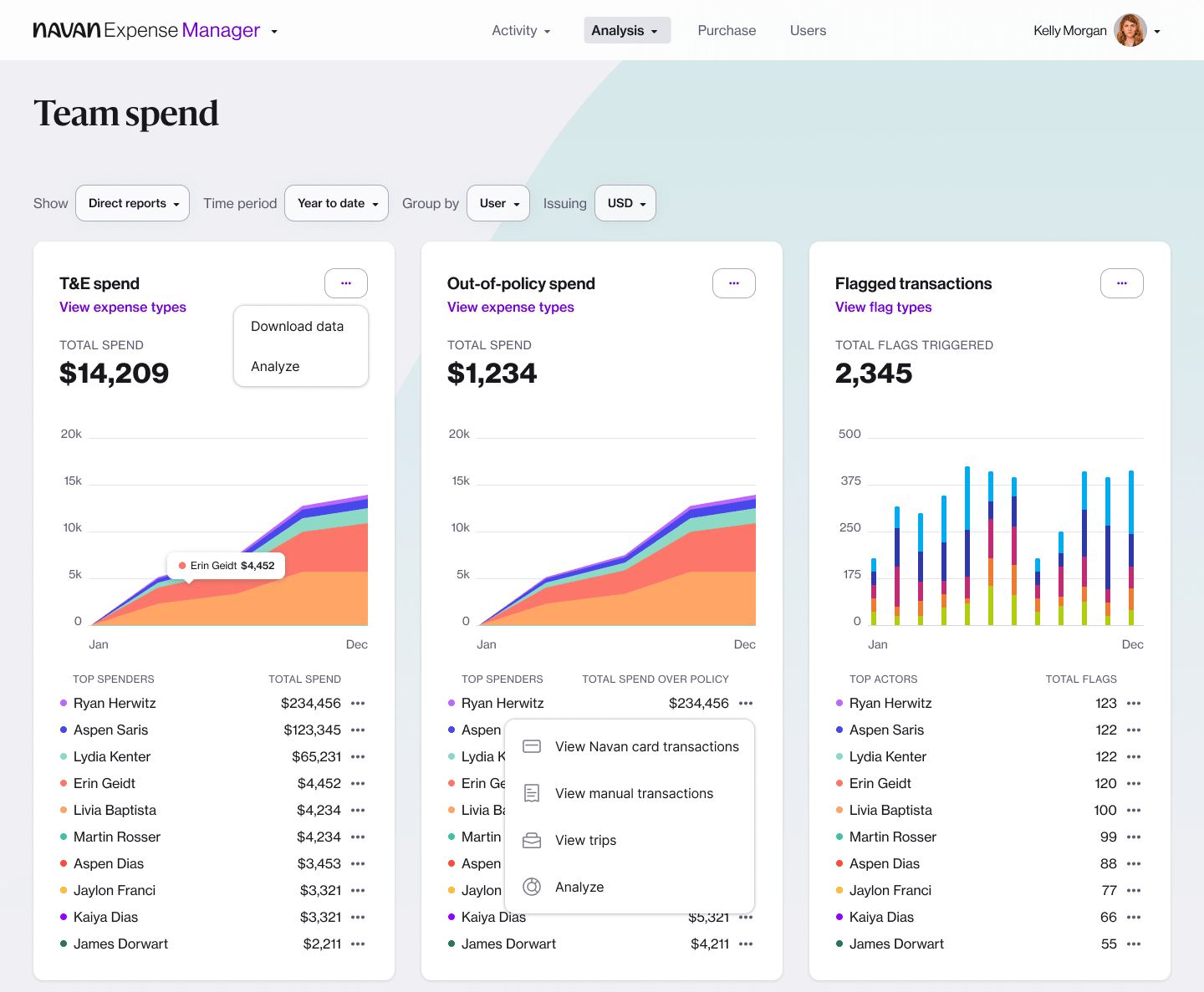 Budgets
Admins and designated budget owners can now create, view, and manage budgets at scale, making it easy to understand where and how employees spend company money. The Navan Budgets feature improves financial oversight for finance teams and provides granular visibility and reporting into spend against allocated budgets.
And, while other expense solutions establish set budgets as the only means to control spend, Navan uses a dynamic policy-based approach (which considers factors like whether an employee is on a trip) to apply the right policies at the right time. This dynamic approach allows for more flexibility and real-time visibility without sacrificing control.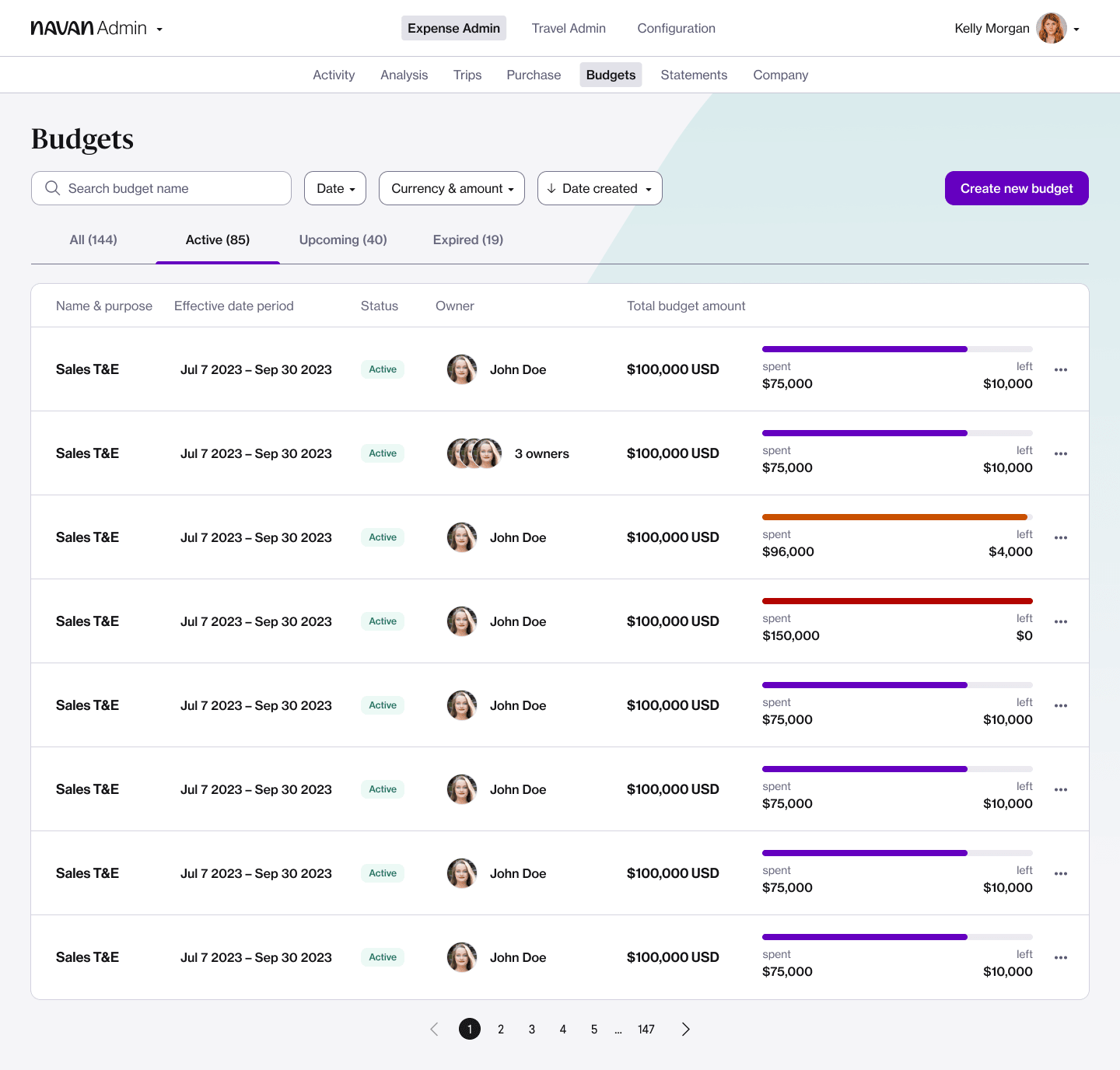 Switch Approver 
Admins are no longer the middlemen. With Switch Approver, admins can designate managers and other employees with more context around a situation to approve transactions, saving time and increasing compliance. If needed, managers can also send transactions to admins for review.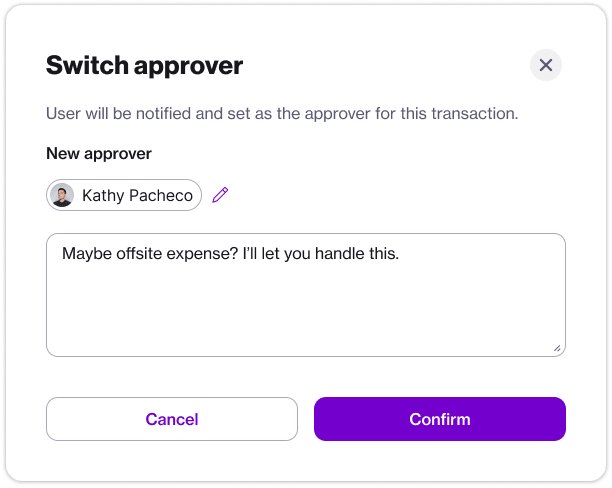 Custom Benefit Policy
Custom Benefit Policies empower finance leaders to craft specific benefits policies with the same visibility and control as when leveraging the standard benefits policies provided by Navan Expense.
While Navan Expense provides standard benefits policies, which transactions  automatically map to, there are times when they just don't fit a unique benefit that a company offers. Admins can also change the names of standard benefits policies to fit their company culture or employee experience better.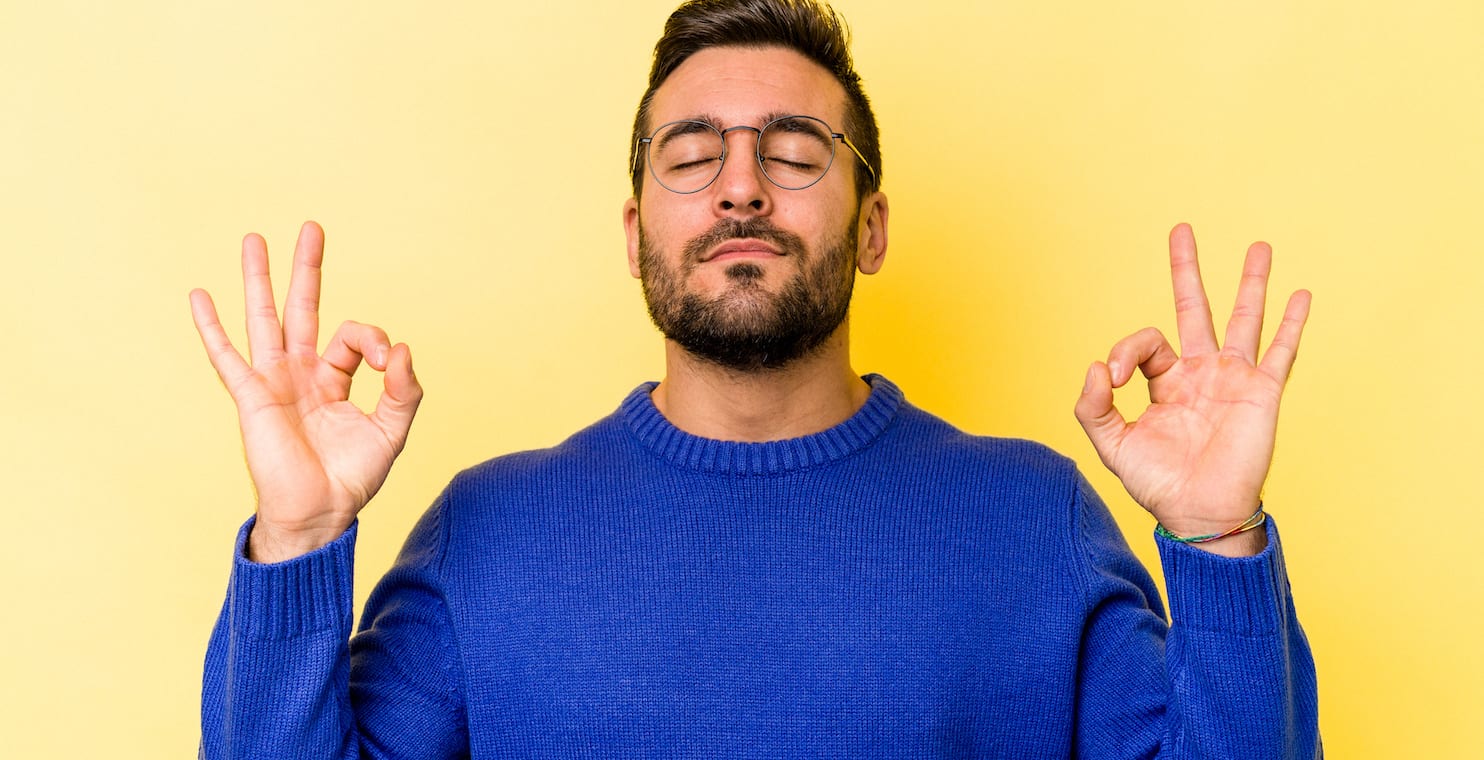 Auto-Reject
With Auto-Reject, Navan Expense will automatically reject transactions over the established policy limits. As a result, finance leaders only need to review employee-contested transactions and save time. Auto-enforcement of policy limits minimizes overspending.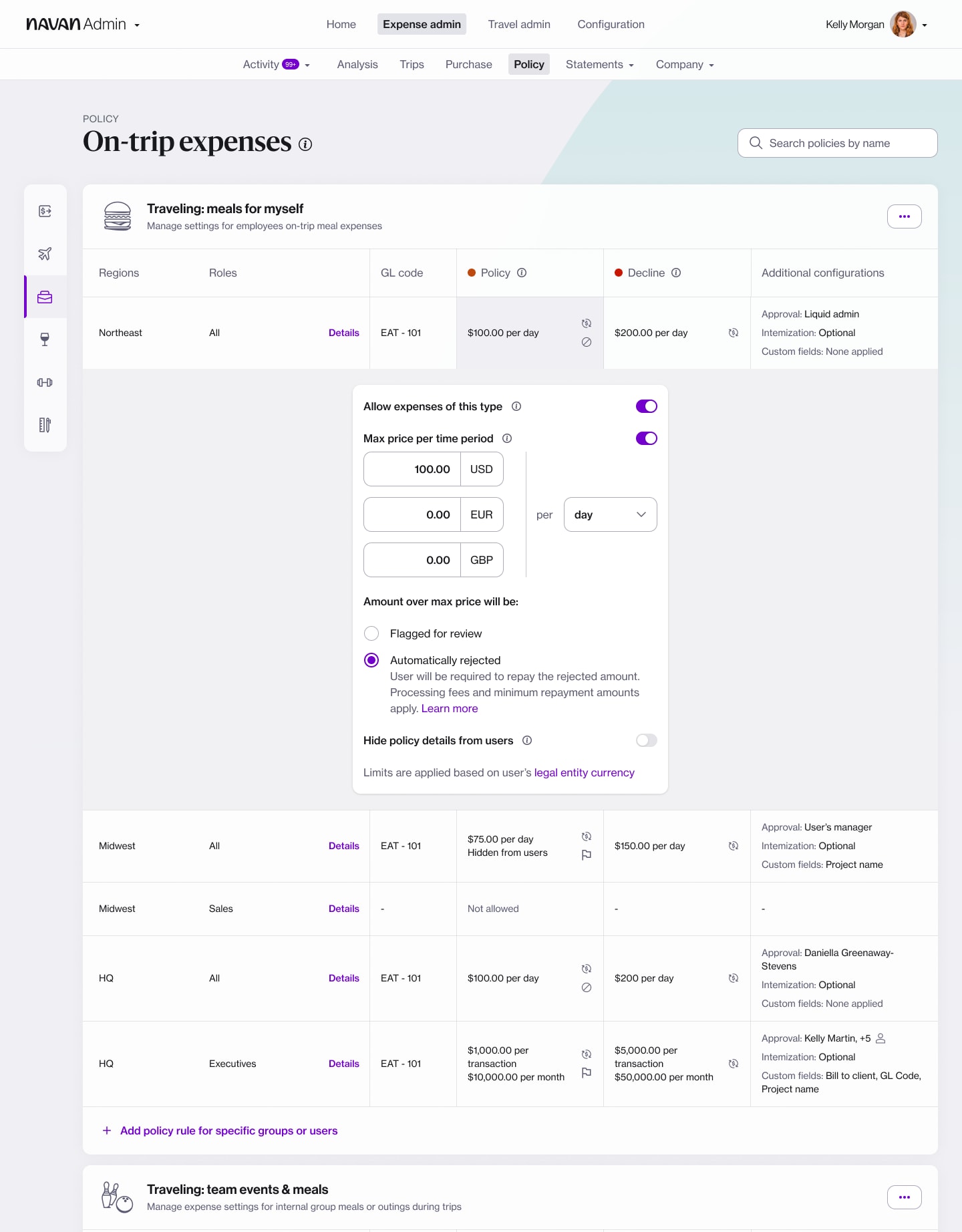 Early Results
During a one-month beta that enabled Auto-Reject on a single company policy, all transactions exceeding policy limits were automatically rejected, eliminating more than 1.5 days of work for the admin team. Without Auto-Reject turned on, the admin would have had to review and decide on each transaction manually. With more than one day of work eliminated with Auto-Reject turned on for one policy, imagine the time savings when Auto-Reject is enabled for all policies.
Bulk Download of Invoices and Statements
Finance teams can now bulk download all invoices, receipts, and e-receipts corresponding to each charge line item in the Navan monthly statement CSV file simultaneously, streamlining the reconciliation and audit processes. 
This feature not only drastically decreases the time and effort required by our customers' Finance and Admin teams to find, access, and download supporting documents, but in some countries, helps our customers meet local regulations to store all invoices in their own ERP for up to 10 years for audit purposes.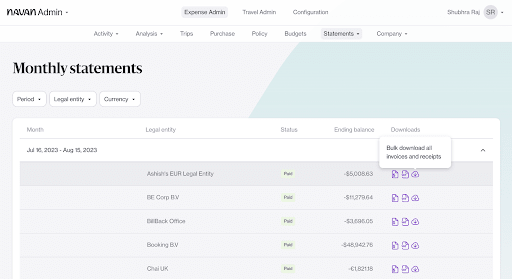 Direct Reimbursements on Navan Connect
Introduced in June, Navan Connect gives customers the magic of Navan Expense without needing to switch their corporate cards. The Expense product team is obsessed with improving this product every day. 
Navan Connect customers can now rapidly reimburse employees, eliminating the manual processes associated with reimbursements and getting money back into employees' pockets faster.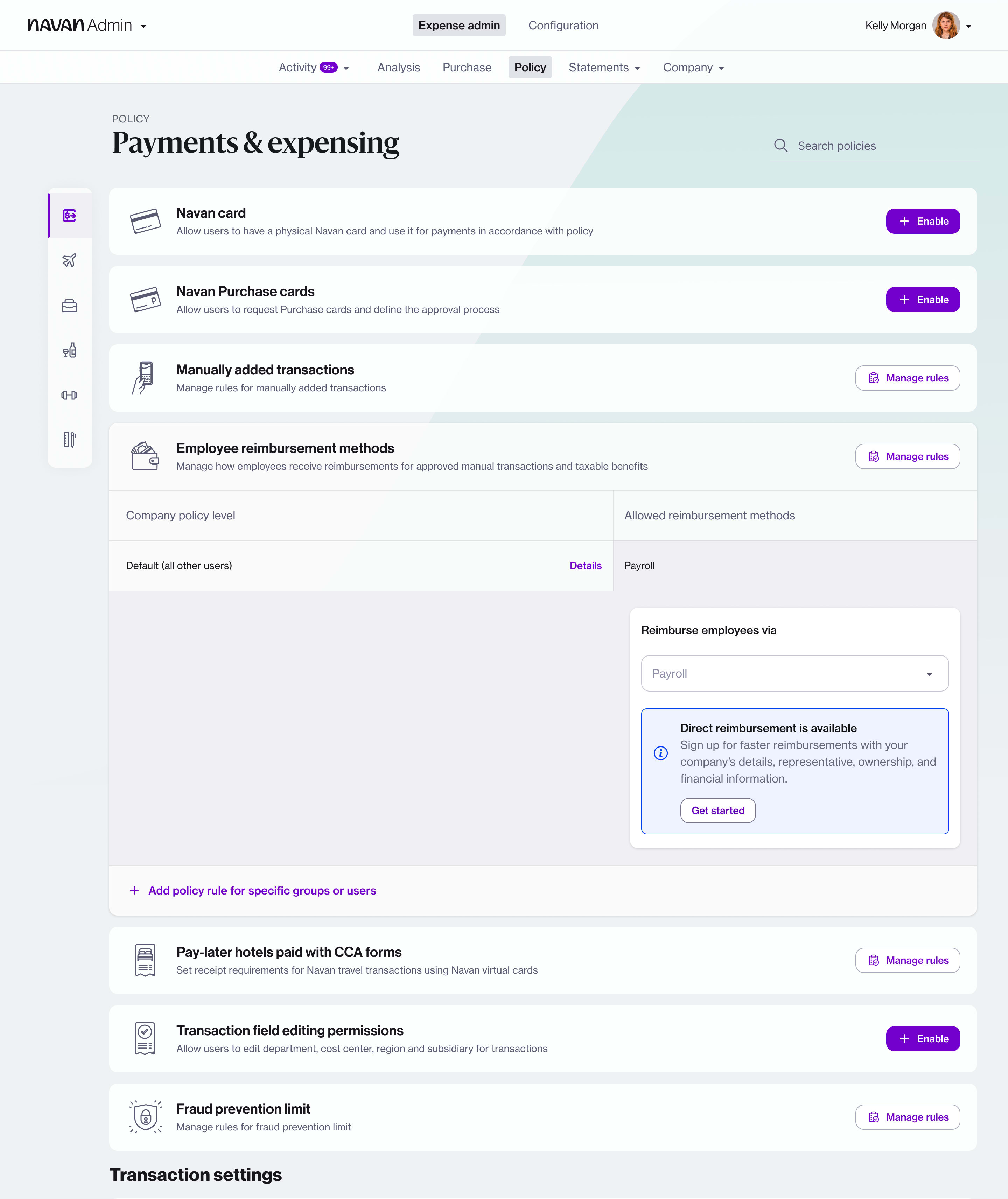 Bulk Upload and Delete for Employees
Instead of uploading receipts one at a time and submitting expenses individually, employees can now create up to eight transactions from eight receipts in one go. They can also bulk-delete draft transactions. This simple feature radically simplifies the receipt upload process.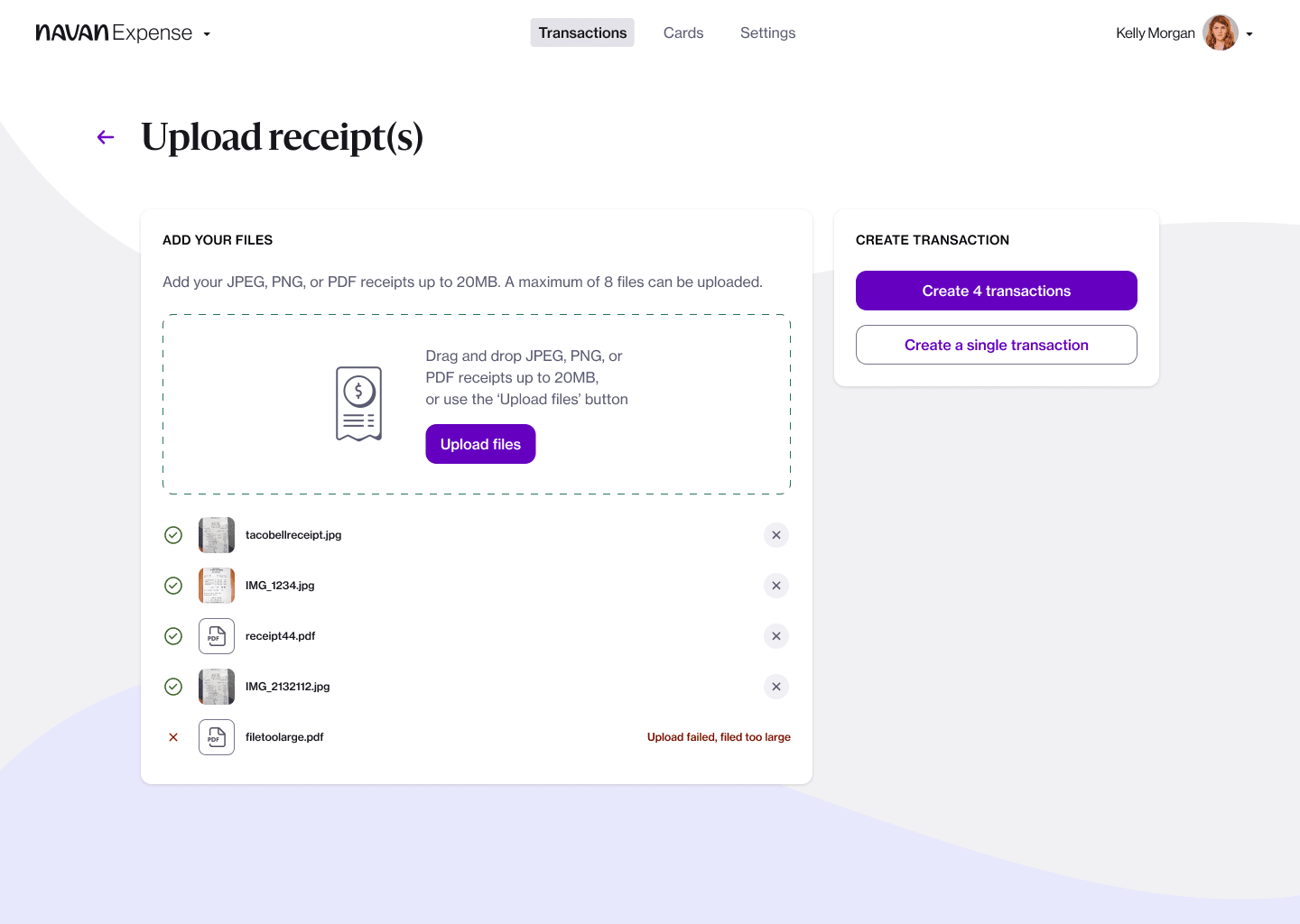 Policy Tracker for Employees
Employees can easily see policies and track their spending against Benefits and Travel limits directly within the Navan Expense app or on the web. By seeing what they've spent and how much spend remains, employees save time and can more easily plan to stay within policy.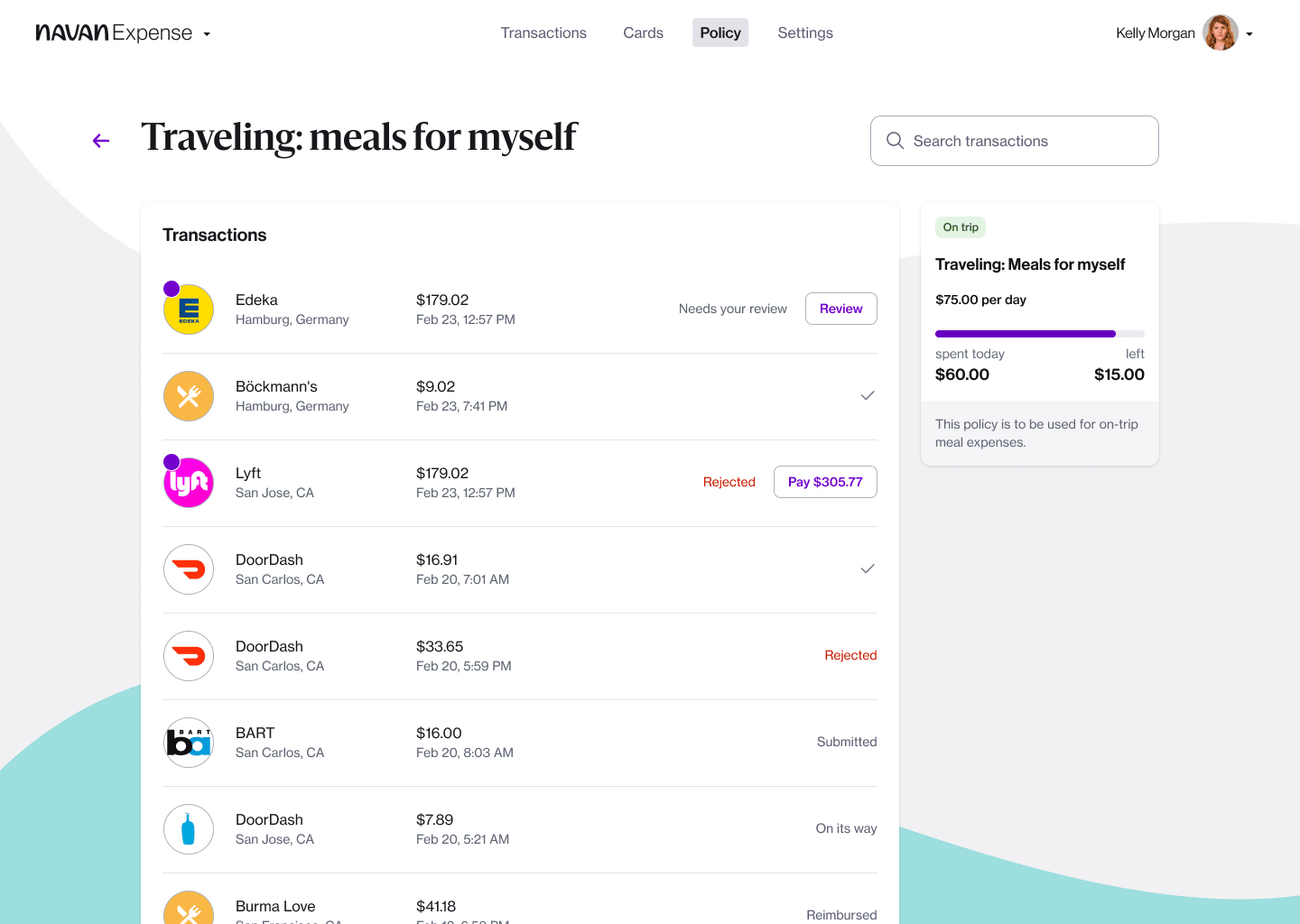 Disputes: Cancel Card for Employees
Stop fraud in its footsteps. When an employee files an authorized transaction dispute, Navan will automatically cancel their card and prompt the user to immediately order a replacement, streamlining the fraud process into one motion.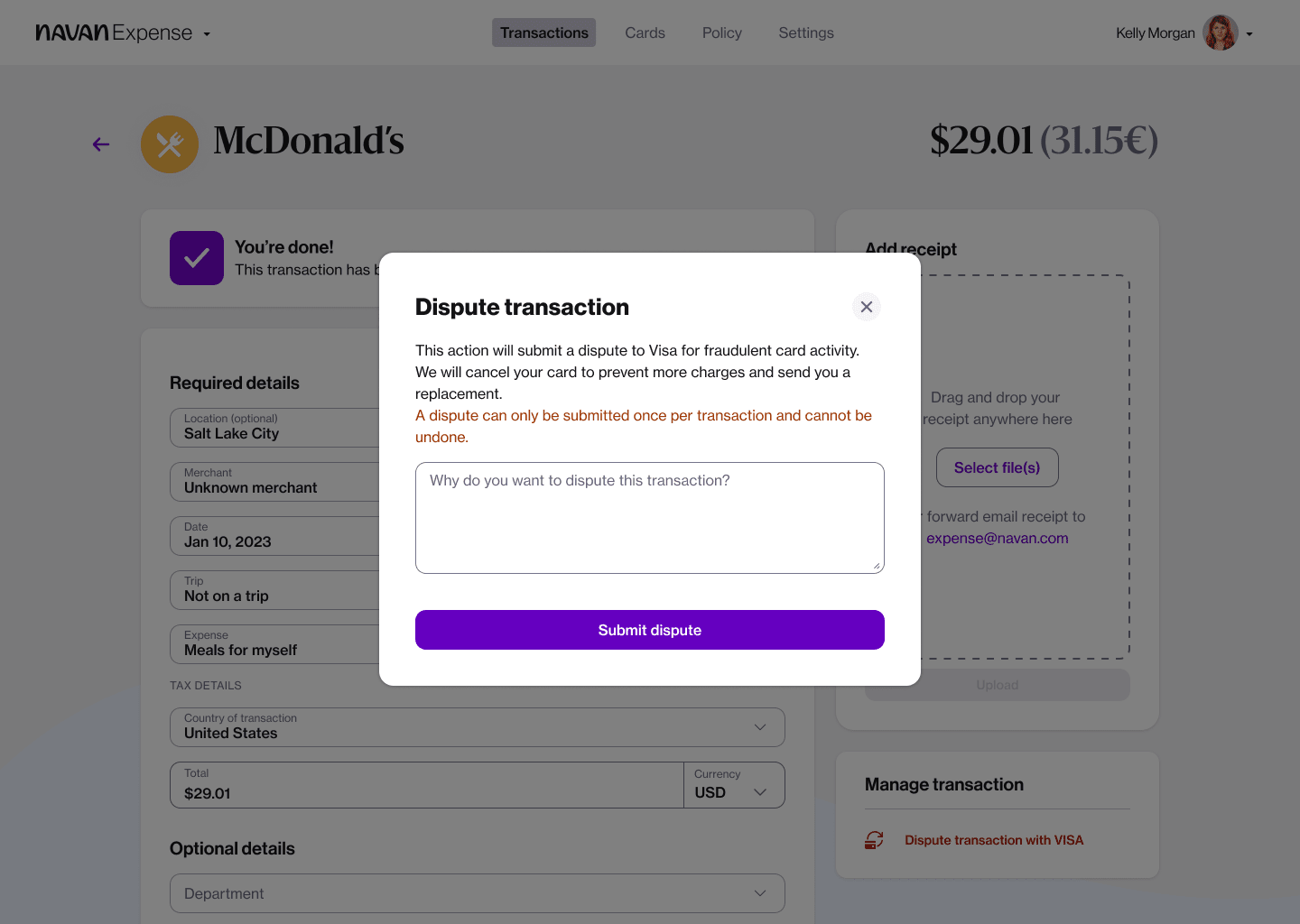 Expect this pace of innovation to continue into fall. Learn how Navan Expense can transform your organization.