Navan Expense users can now create, manage, and track budgets directly within the platform with the latest feature: Budgets. This game-changing new feature empowers finance teams and budget owners to manage company budgets within Navan's user-friendly interface effortlessly. It eliminates the hassle of switching between platforms or dealing with complex processes.
This update is part of Navan Expense's evolution as the most comprehensive corporate card and expense management platform on the planet.
How Budgets Works
Budgets revolutionizes how finance teams and budget owners manage their financial plans, offering a seamless, integrated, and flexible budgeting solution within Navan Expense. 
With the new feature, finance teams can:
Establish budgets and spending parameters directly in the dashboard — and in any currency
Grant budget access to managers or budget owners
Monitor expenses against budgets in real time
Gain insights into how much managers are allowed to spend within an allocated time period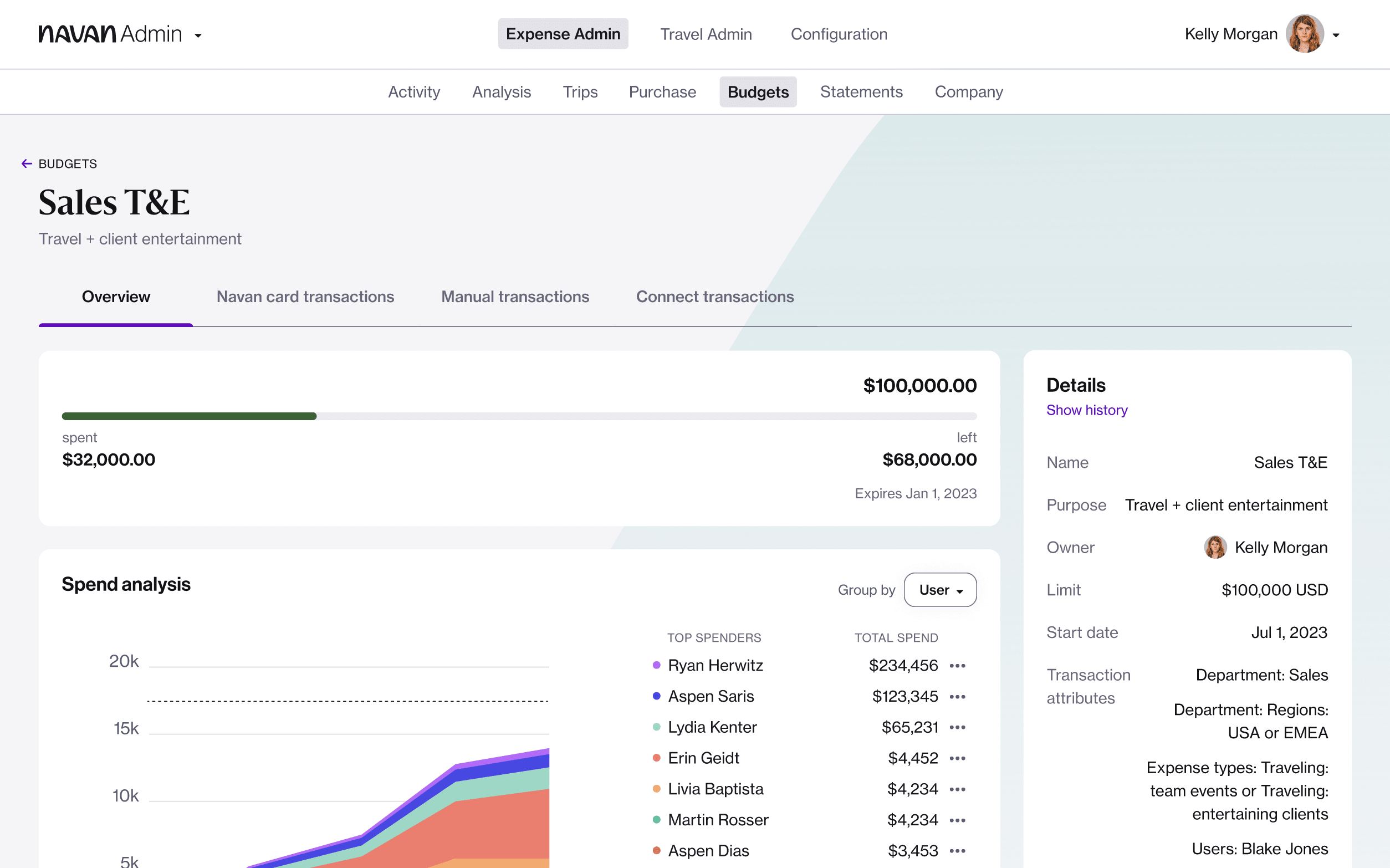 Control — Without Sacrificing Flexibility
Navan is the first expense provider to leverage a policy-based control mechanism that introduces flexibility and visibility into budget tracking. 
Other providers use a set budget to limit spending and don't allow users to spend beyond that limit. But with Navan Expense's Budgets feature, control originates with the dynamic policy set in the platform; it's then auto-enforced at the time of card swipe. At the same time, it gives users unprecedented visibility into spend.
Additionally, admins can create budgets in any currency. All transactions associated with a specific budget convert to the designated currency; the exchange rate is based on the authorization date of each transaction.
Budgets in Action
Imagine Sarah, a seasoned financial planning and analysis (FP&A) leader at a rapidly growing tech startup. Between managing the company's financial planning, analyzing the company's performance, and developing budgets, she has her work cut out for her.
Typically, Sarah opens multiple tabs, sifts through spreadsheets, and juggles different software solutions. But  Navan Expense's latest feature, Budgets, gives Sarah a more comprehensive and integrated approach to managing her company's finances. 
For Sarah and other FP&A users like her, Navan Expense's Budgets feature will revolutionize how they get their work done, by providing an extensive view of financial management in one place.