While traveling is critical for many industries, it comes with costs to manage. To help with that process, most businesses have a travel and expense management system through which employees book and manage travel and then submit expense reports for reimbursement. Record-keeping helps companies track how much the business spends on travel and expense, as well as document everything for tax purposes. 
Business travel and expense management software helps simplify and streamline processes, increase productivity, and save companies unnecessary costs.
Because the benefits of this type of software are so significant, more businesses are moving away from more manual processes. It's an essential development, given the size of the global travel and expense management market (which experts valued at $2.84 billion in 2022). 
Where to begin when choosing the best software for your business? It can be challenging, but the research is worth the time and effort. Read on to better understand the travel and expense management landscape and how to choose software that can streamline your operations, provide enhanced visibility, and save your business money.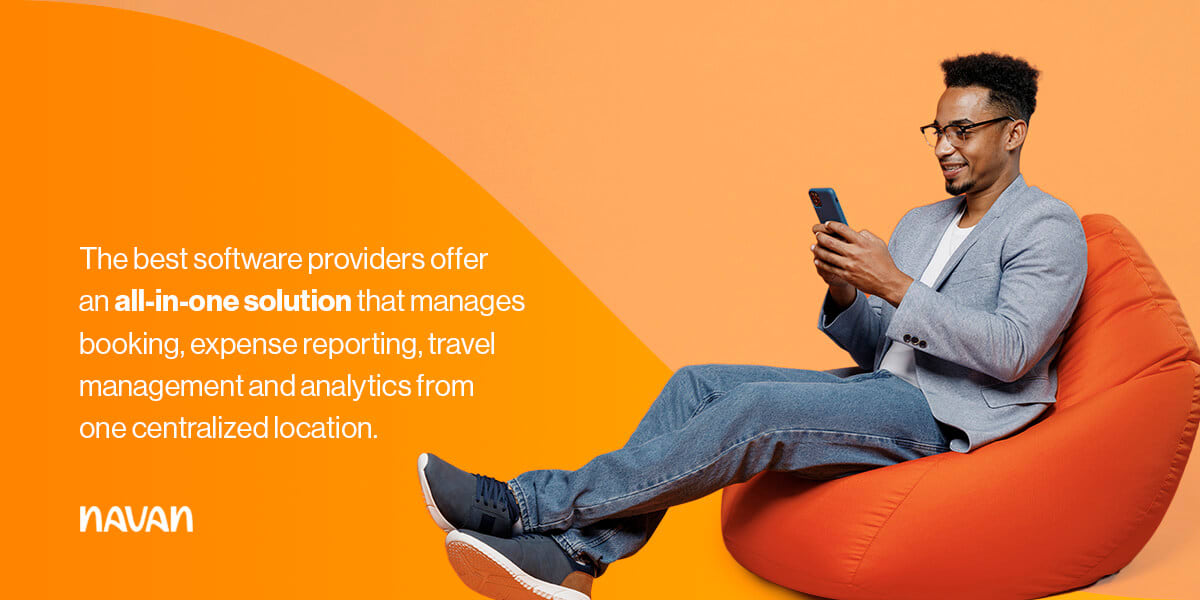 What is travel and expense management software?
Travel and expense management software monitors and controls travel budgets and other variables. The primary goal is to have visibility over costs and take a preemptive approach to minimize them. (It's a process that begins by creating specific policies so employees understand what they can and can't spend on the road.) 
Travel and expense management software can digitalize and streamline the entire T&E workflow. The best software providers offer an all-in-one solution that manages booking, expense reporting, travel management, and analytics from one centralized location. This specialized software can help prevent unnecessary financial expenditure, minimize labor-intensive reimbursement processes, and increase employee satisfaction. 
What are the benefits of business travel and expense management software?
Travel and expense management software is efficient and effective — a marked shift from traditional spreadsheet-based expense management. It can improve travel managers' performance and give employees more autonomy. Some of the many advantages of this software are:
Increased ability to handle multiple requests: All-in-one expense management software automates labor-intensive and repetitive processes and enhances travel personnel's ability to quickly handle complex requests. 
Streamlined travel management programs: Travel management programs send automatic alerts and flag any expenses outside a company's travel policies, improving compliance and providing employees with a clear picture of allowable expenses. 
Enhanced travel expense visibility: Travel and expense management software provides real-time visibility into travel patterns and expenditures. With this information, companies can analyze travel's effect on the business and identify actionable areas for improvement. 
Decreased reimbursement delays: One of the significant challenges in travel and expense management is the wait to approve expenses and reimburse employees. Delayed reimbursements affect employee satisfaction and morale. Automated approval processes eliminate these obstacles. 
Reduced costs: Companies can save time and money with discounted rates, policy controls, and productivity features. 
Does your business need travel and expense management software? 
Deciding whether to invest in travel and expense management software requires the careful consideration of several factors. But the time and effort are worth it, partly because paper or spreadsheet-based management is prone to human error and expense fraud. 
If your business encounters any of the following challenges in managing travel expenses, it may be time to look at an all-inclusive solution. 
Unclear or unenforceable policies: If your travel and expense policies are complex or employees need clarification about what falls under acceptable and unacceptable expenses, chances are it's costing the business money. 
Poor expense visibility: Auditing and process optimization will be challenging if you lack precise data on things like the average cost of a business dinner or what employees spend the most money on during their travels. Your system must display data in accessible and actionable formats for the best results. 
Inefficient management processes: Using manual processes such as spreadsheets slows down operations, especially if many employees submit travel information simultaneously. Your reimbursement and logging processes are much slower than necessary if you're still handling paper receipts.
Delayed reimbursements: If your employees experience long waits for reimbursements, it could be time to automate and speed up your processes. Waiting too long to process reimbursements frustrates employees and can cause finance managers to miss crucial information. 
Increased travel expenses: Inefficient travel and expense tracking means your business may miss out on opportunities to improve policy and address unusual spending. A spreadsheet won't catch sudden spending increases — you may only notice them when reconciling your accounts. 
Lack of reporting: You need reports to understand your travel and expenses over time. With the right travel and expense management tool, you can see financial projections and cash flow analyses in real time.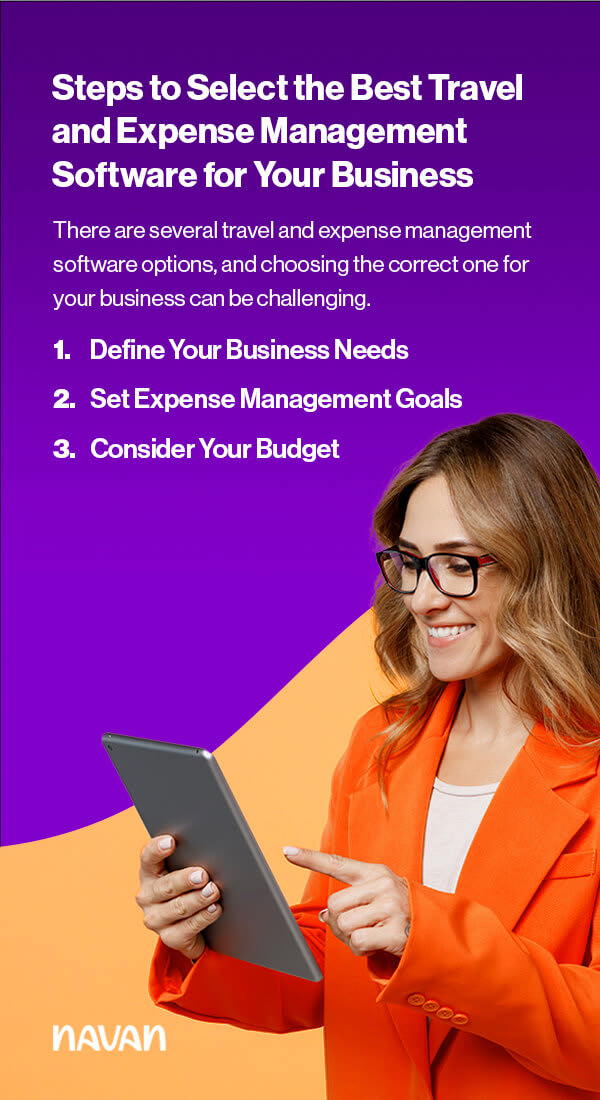 How to Choose the Best Travel and Expense Management Software for Your Business
There are several travel and expense management software options, and choosing the correct one for your business can be challenging. Take the following steps to select the software that will benefit your company the most.
1. Define Your Business Needs
Employees, travel managers, finance teams, and HR teams require efficient solutions that streamline their workflow. Before you can decide which travel and expense software is right for your company, you must understand your corporate travel necessities. Consider the following:
What features your business needs to streamline T&E management
The number of admins and approvers you have on staff
Where your team works — in a single office, at multiple sites, or remotely
Whether you need to integrate offices overseas and reimburse in multiple currencies
If you must incorporate your current accounting and ERP software
Whether users need mobile interaction capabilities with the software
If you want to claim VAT, locally or internationally
How quickly you would like to integrate your new system, and whether you want an onboarding period 
Consider the areas in your current travel expense management that slow down your processes or provide an incomplete picture. Once you have defined your business needs and what functions you want to improve, you can match these requirements with the most helpful software. 
2. Set Expense Management Goals
When you understand what processes you want to improve, consider what specific goals you want your travel and expense management software to achieve. Define what challenges you want to address and how you want to handle them. Set tangible and realistic goals and develop a list of features you think will help you achieve them. 
3. Consider Your Budget
Account for your project's financial scope, including your budget and which solutions you can afford. Remember to consider your return on investment. An all-in-one option might be more expensive up front, but it will likely save you a considerable amount of money in the future.
---
The Best Features of Travel and Expense Management Software
The most crucial features to focus on are the ones that address your fundamental challenges. The software must help you streamline your expense management processes and provide real-time access to your expense data so you can use these insights to manage your business expenses. 
Some essential features of travel and expense management software include:
Integrated payment: Your T&E software should automatically correct transaction records from all relevant sources, such as personal and company-issued cards, to ensure no expenses go uncategorized. It must also allow for digital receipt capturing. 
Itemized report creation: One of the significant challenges in travel and expense management is the time it takes to itemize various expenses. Manual processes mean employees may have to list each expense individually, which can be laborious and time-consuming. Your software should be able to automatically itemize and categorize cost. 
Automated reimbursement: Delayed reimbursements clog your systems and can have a negative impact on employee satisfaction and morale. Your software should remind employees to submit expenses and simplify the approval process to ensure timely repayments. 
Travel Booking: All-in-one T&E software includes a booking tool, allowing employees to make their own travel arrangements, benefit from deals, and consolidate pre-trip planning and post-trip reimbursement into one smooth process. 
Approval and reporting: Your software should enhance how employees track and submit their expenses by handling the back end of expense management, including approval, reimbursement, and reporting. 
User experience: While T&E software must have the functionality to assist in your expense management process, it must also be easy for employees and administrators to seamlessly integrate into their workflow. 
Customization: Every business has unique needs, so your T&E software should be flexible enough to let you change existing policies and workflow when needed. 
Consider Automated Workflow and Reporting
One significant benefit of travel and expense management software is the automation of manual processes, which can be error-prone and labor-intensive. Automated workflow and reporting features provide more accurate visibility into your business expenditure while optimizing your productivity and implementing your unique travel and expense policies. 
Automated workflow and reporting should speed up your corporate travel process from start to finish. With these capabilities, you can accomplish the following.
Clarify travel policies: A straightforward travel and expense policy that's easy for employees to understand makes misfiling and overspending less likely. 
Categorize expenses: Expenses are no longer a guessing game. An effective system gives your accounting team or finance department insight into what they need to pay every month and where the company money is going, so you have opportunities to improve financial allocation. 
Increase policy compliance: All-in-one T&E software does more than clarify travel policies — it enforces them. With automated reporting, the software will flag unusual expenses so approvers can make real-time decisions. 
Centralize data: Real-time reporting means you can access all the information in one place. You can view your global spending from cards and reimbursements from one user-friendly dashboard. 
Make data-driven decisions: With the data at your fingertips, you can reduce unnecessary spending, predict travel expenses, and adjust your policies. 
Address Unclear Travel and Expense Policies and Poor Enforcement
Most businesses have a company expense policy that covers corporate travel. Your policy should clearly outline your internal rules governing travel expenditure. The easier it is for employees to understand and follow your procedures, the more likely it is that the company can stick to its travel budget. Your travel expense management software should integrate with your in-house policy so you can alleviate any potential confusion. 
Your chosen software should let you configure and enforce your travel policies. You can customize your policy in line with your business needs, and the software can ensure that employees' expenses stay within your policy parameters. Employees don't have to memorize expense guidelines to stay within policy, and your finance team no longer has to manually investigate violations. 
With a clear T&E policy and an automated method of reinforcing it, you can eliminate expense fraud and accidental breaches. You can empower your employees to spend inside the bounds of company policies, reducing stress and increasing employee satisfaction. 
Keep Your Travel Management Platform User-Friendly
As mentioned above, ease of use is one of the most critical considerations when choosing travel management tools. Everyone using the platform should have no problem understanding how the solution works. It should be as easy to use as consumer-friendly apps; after all, the more complex the software, the higher the chances that employees will go rogue. 
Ease of use for travel managers and finance teams is also important. Pay close attention to the dashboards your team will use. These should be modern, intuitive, and simple for everyone to navigate. 
Implementation time is another important factor. Request a demo and see firsthand whether a software solution will work for you. Ask about typical onboarding times and the support you'll receive during and after onboarding. 
Ensure Complete Integration With Your Existing Tools
Any T&E software you look at should offer various third-party integrations. The point of automating your travel and expense management is to create seamless processes. Consider what integrations you will need to keep your entire system running smoothly, including the following features:
Accounting software
Enterprise Resource Planning (ERP) systems
Time tracking
Team management
Calendars/Slack
Travel management
Prioritize the Reimbursement Process
An accurate overview of your business expenses is critical for your business management processes. Employee reimbursements are a significant priority, as delays in this department can affect employee satisfaction, morale, and retention. 
Your chosen T&E software should have robust expense tracking and receipt scanning capabilities to effectively manage expenses and reimbursements. Employees should find it easy to enter their receipts, and the software should send them reminders to ensure quick repayment. 
---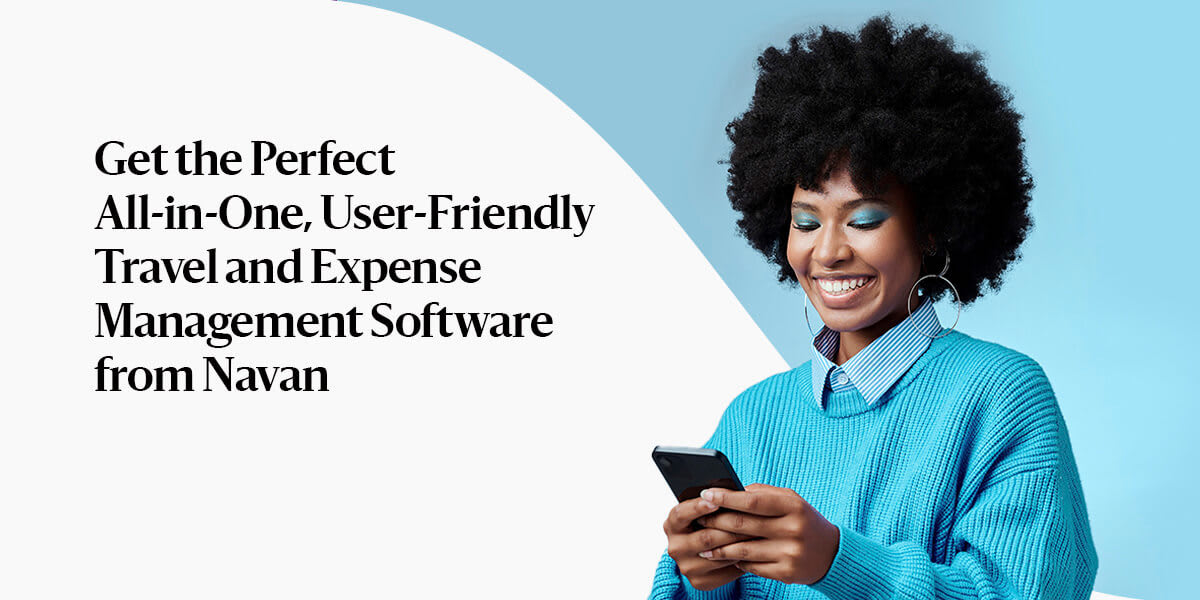 Get the Perfect All-in-One, User-Friendly Travel and Expense Management Software with Navan
If you're looking for comprehensive software that manages every aspect of your corporate travel and expenses, look no further than Navan. Our business software for people has you covered, with booking, customizable and easy-to-adjust policies, and complete visibility.  
With Navan, you can automate your expense management, drive efficiency, and monitor expenditures in real time for the ultimate streamlining experience. Plus, with Navan corporate cards, you can equip employees to pay for anything anywhere they go and enjoy end-to-end automation — from swipe to reconciliation.
Get started in less than five minutes or request a demo and see firsthand how we can innovate your travel and expense management today.
---
Essential reading: