As small businesses and startups grow, company and employee spending becomes increasingly complex. In an effort to get a handle on business expenses, growing companies may adopt disjointed systems to manage expenses and travel programs. But this shortsighted approach can end up hurting small businesses in the long run.
Small business owners and finance teams that adopt all-in-one travel and expense solutions can set the company up to scale—and save time and money in the short and long term. Below are five reasons why small businesses should adopt an all-in-one solution instead of making do with legacy systems, basic expense reporting software, or a hodgepodge of systems.
---
1. All-in-one solutions are more cost-effective
Do the math. While some rudimentary expense trackers appear to be inexpensive, the cost of using multiple software solutions from different providers can add up fast.
But with an all-in-one solution, companies can realize savings immediately. For example, when it comes to the project management process, an all-in-one solution from a single provider means the small business will have one contract, one payment term, and one support line.
And of course, the cost savings go beyond the price tag of the expense tracking software itself. An analysis commissioned from Forrester Consulting researched the economic impact of adopting the all-in-one Navan solution and found that:
The increased operational efficiency was worth $178,000
It reduced travel spend by over $300,000 per year
Forrester Consulting also found that the overall return on investment for a composite company was 153%.
When it comes to travel management savings, the Navan solution also gives small businesses access to exclusive flight and hotel deals and can help companies incentivize their traveling employees to spend less.
---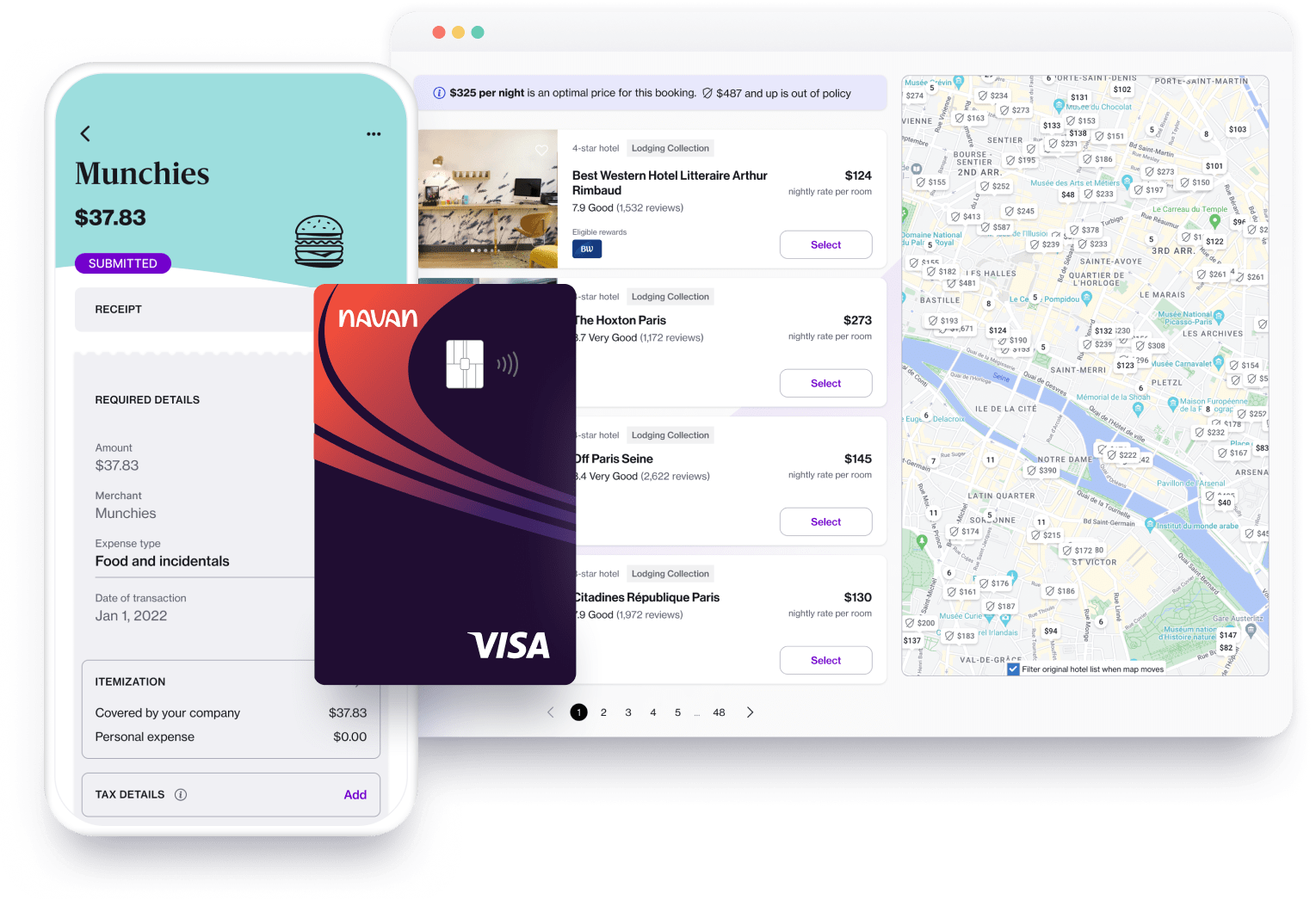 2. All-in-one solutions save time and improve productivity
The same Forrester Consulting report also demonstrated how much time a modern, all-in-one solution can save companies.
For administrators who typically spend time tracking employee expenses, completing data entry and bookkeeping tasks, and managing travel programs, an all-in-one solution can vastly improve productivity:
Accounting and finance team members improved productivity by 20%
Travel managers improved productivity by 20%
And thanks to quick and consumer-like travel booking experiences, clear travel and expense policies, and receipt scanning (OCR) technology, employees save time, too:
45 minutes per trip booking
30 minutes per expense report
How? An all-in-one travel, expense management, and corporate card solution allows for automatic expense approval workflows. Administrators build expense policies into the software, and when an employees swipes their corporate credit card, transactions are automatically approved, flagged, or declined at the point of purchase.
From there, authorized spend is automatically submitted and reconciled—eliminating manual expense reports altogether and drastically reducing the time it takes to reconcile the books.
---
3. All-in-one solutions set the company up to scale
With robust policy management, powerful real-time reporting, and global capabilities, an all-in-one platform is set up to grow with the company.
Defining, implementing, communicating, and enforcing travel and expense policy is essential for any business—and especially when a company is in growth mode.
As your organization expands and business needs change, not only does policy become more important—it also has to become more agile, due to factors including:
Increase in the volume of expenses
Complexity of the organization
Greater need for transparency
Increase in the number of traveling employees or team travel opportunities
A cloud-based expense management software like Navan also integrates with Enterprise Resource Planning (ERP) systems such as NetSuite, QuickBooks Online, Certify, SAP, Xero, and more.
Beyond accounting software integrations, these solutions also enable administrators to create unlimited smart corporate cards so all employees can spend responsibly on behalf of the business. Companies can issue cards with built-in controls and unlimited cash back, which automates expense management and can be used to pay vendors, including self-employed contractors and freelancers. Other accounting solutions and expense management platforms simply can't compete.
Read More: How Small Businesses Can Scale Travel & Expense Policy
---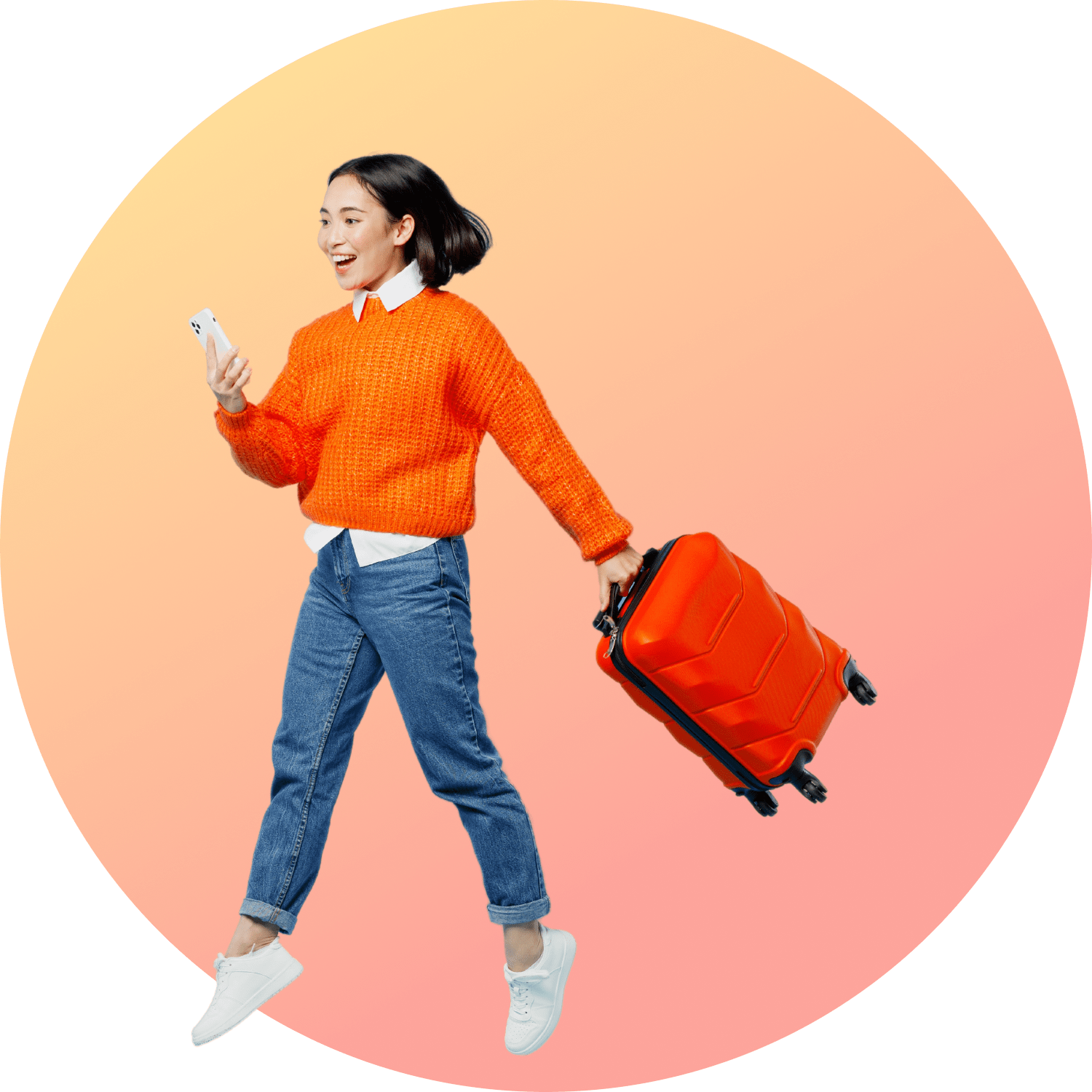 4. All-in-one solutions are easier for staff to adopt
Staff adoption is crucial to getting a return on investment out of any software. When a company simplifies its travel and expense technology stack to an all-in-one solution, there are fewer user interfaces to train on, fewer logins for employees to track, and fewer questions for administrators to answer.
And when the technology is available in a user-friendly, intuitive mobile app built for both Android and iOS, staff adoption is a breeze. From mileage tracking and per diem travel expenses to software subscriptions and other expense reimbursements, employees are more likely to use an all-in-one solution when it's available at their fingertips.
Case in point: Navan boasts an industry-leading 90%+ platform adoption rate.
Ease of use contributes to this high score, and so does customer satisfaction. Navan customers enjoy receipt automation, seamless approval flows, and quick, multi-currency employee reimbursements; if an employee does need to use their personal card, money is back in their bank account within 1-2 business days—there's no need for accounts payable to be involved unless a transaction is flagged.
And best of all: The entire expense approval process and expense reporting process is improved for everyone involved.
---
5. All-in-one solutions result in better spend visibility
After deploying Navan as their all-in-one travel and expense management solution, small businesses can see all company spend in a single dashboard and in real time. This feature allows small business owners and finance managers to slice and dice data and to better:
Understand current business finances
See how your monthly or annual spend is trending
Spot outliers and identify cost savings
Make financial predictions
Gain insights into policy compliance
With real-time data and dashboards, it's easier to make financial and policy decisions that best serve the company.
Being able to predict company spending patterns accurately helps finance teams minimize expense costs and abuse while boosting cash flow. Ultimately, that leads to more time and money saved.
The best expense management software is the one that seamlessly integrates with the business, streamlines business processes, and offers an intuitive experience for employees both submitting and managing expenses.
---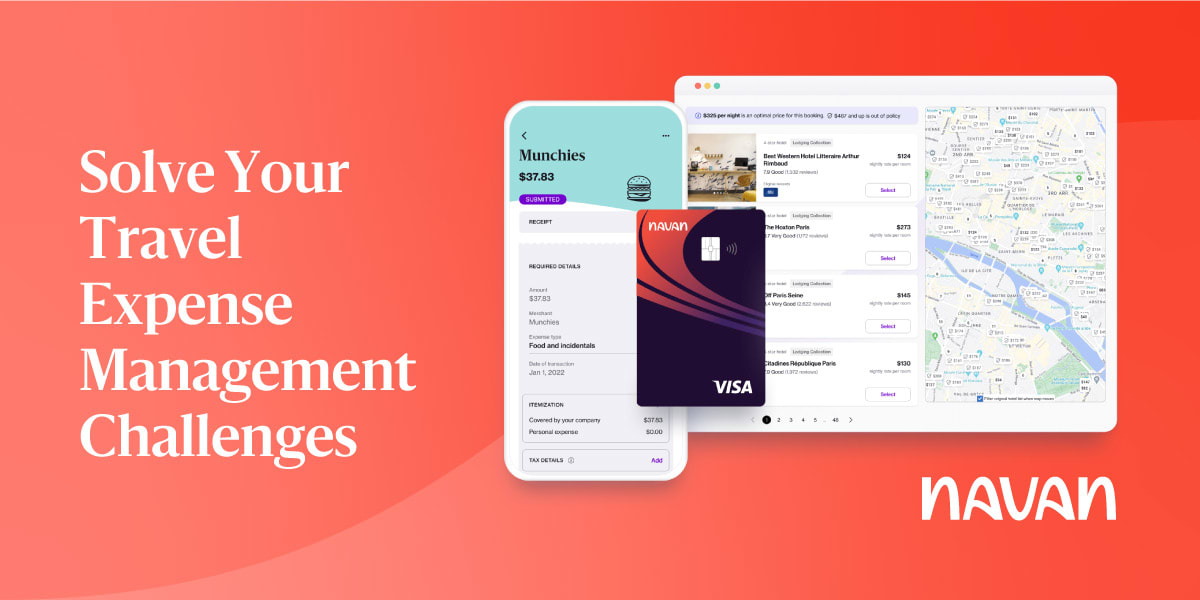 Ready to start using an all-in-one travel, corporate card, and expense management solution? Get up and running in 5 minutes with Navan.