Above: Navan employees at the New York office join an end-of-year celebration hosted by AAPI Belong.
May marks Asian American and Pacific Islander (AAPI) Heritage Month, a time for recognizing the contributions and influence of Asian Americans and Pacific Islander Americans to the history, culture, and achievements of the United States.
Navan employees are welcome to celebrate AAPI Heritage Month through regional office events including a roundtable discussion and a language teaching session where fluent speakers will teach common phrases—including those helpful for traveling—to anyone who wants to learn.
These events are being planned by members of AAPI Belong, one of Navan's many Employee Resource Groups. These voluntary, employee-led groups support and unite diverse communities to cultivate a greater sense of awareness and belonging throughout the company.
The group is co-led by Fang Fei, senior enterprise customer success manager, and Juliana Lam, commercial expansion account executive, who help organize the ERG's activities and outings, share articles and ideas, and report to the Belong: DEI Council, which helps further the company's DEI strategy by fostering collaboration and supporting company-wide efforts to build awareness and increase visibility.
"It's important to build a safe place for people to share their thoughts and support one another," says Lam, who has been a global co-lead since the group's inception in summer 2021. At that time, Stop Asian Hate demonstrations, protests, and rallies against violence targeting Asians and Asian Americans were being held across the U.S. in response to racial discrimination relating to the COVID-19 pandemic.
"There needed to be a voice for all of us," explains Lam, who says that the group's mission is two-fold: to empower AAPI employees and educate the broader Navan community about the breadth of AAPI cultures and experiences.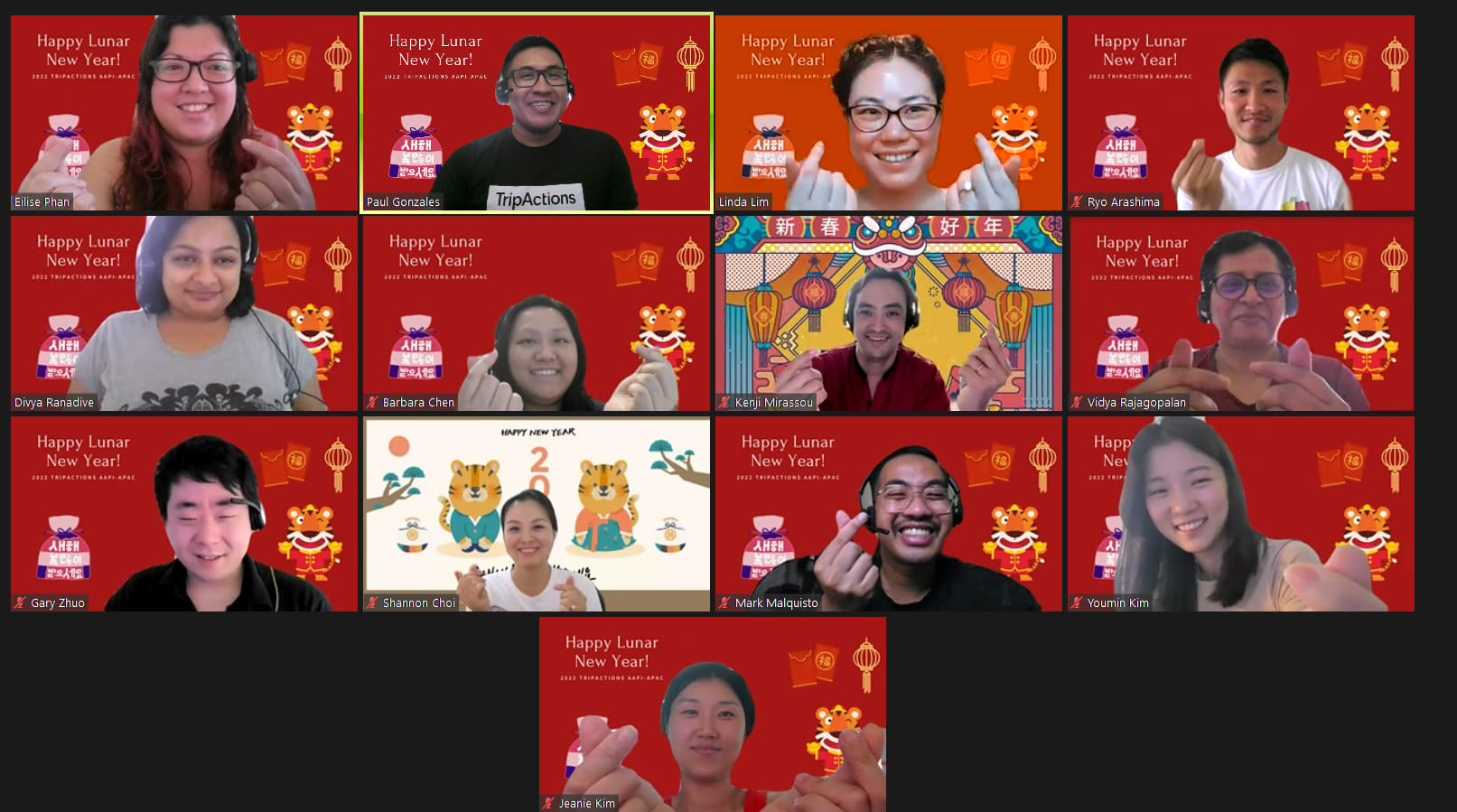 Above: Earlier this year, the Sydney and Singapore offices wished everyone a safe, happy, and prosperous Lunar New Year with these festive Zoom backgrounds.
In addition to hosting panel discussions, social events, and a self-defense course, the group keeps the conversation going on Slack. Recently, AAPI Belong members shared how to say the Navan tagline, "Let's go," in their native languages.
Arabic: يلا بينا
Chinese: 加油
Farsi: برو بریم
Fijian: Tou Lako!
Filipino: Tara na!
Hindi: चलो चलें
Indonesian: Ayo Pergi!
Japanese: 行こう or レッツゴー
Korean: 출발!
Urdu: آؤ چلے
Vietnamese: Tiến lên
Paul Gonzales, senior travel agent, is creating a T-shirt design with these translations to give out at upcoming AAPI Belong events.
"I know that translation technology isn't always reliable, so I thought it would be best to check with native speakers," explains Gonzales. "What I found interesting was while the Filipino translation I put forward, 'Tara na,' was a literal translation, some of the others were terms of encouragement or terms signifying moving forward."
For example, a Chinese speaker put down a phrase that means "to add oil" when translated literally. The phrase is commonly used at sporting events and competitions by groups as a rallying cheer, and it can also be used at a personal level as a motivating phrase to the partner in the conversation.
This is a glimpse of the sharing of culture and experiences that Lam says she frequently sees among AAPI Belong members. "Everyone has been kind enough to open their arms and is very accepting," she says. "The group has brought all of these people together with good intentions at heart."
Additional details about AAPI Heritage Month events will be shared with Navan employees in the weekly Friday Flyer email, or employees can join the #AAPI_Belong Slack channel for more information.
---
Diversity, equality, and inclusion permeate every part of the mission at Navan, and the workplace is built to be a foundation for personal and professional growth—regardless of an employee's gender, nationality, or background. Interested in a career at Navan? See what roles are available today.