Are you planning a business trip that offers the opportunity for some leisure time? A bleisure trip can be a great way to make the most of your travels, but figuring out what to pack for such a trip can be daunting.
Fear not: In this blog post, we'll give you all the tips and tricks to pack efficiently for work and play — without feeling weighed down by your luggage. You'll learn how to balance business attire and casual wear, save room for electronics and work documents, and fit everything into one suitcase (while complying with airline baggage restrictions).
Whether you're a seasoned business traveler or a newcomer to bleisure trips, read on to discover some helpful advice for packing smart.
---
Bleisure: The Combination of Work and Play
A bleisure trip combines business and leisure travel. Most professionals typically create such a trip by adding vacation time before or after business events or meetings. 
Bleisure trips have become widely accepted by travelers and employers in recent years: Sixty-six percent of companies openly allow or plan to allow leisure extensions on business trips, and American Airlines recently stated that bleisure travelers are the fastest-growing segment of their business.
For business travelers, the main advantage of bleisure travel is that it allows them to visit a destination at a lower cost. The company pays for flights and hotels when traveling for meetings or conferences, and the employee only has to cover travel expenses for their extended vacation. 
The cost savings are clear, but the challenge remains: How do people pack for a trip like this, knowing they'll need to dress for business and leisure?  
---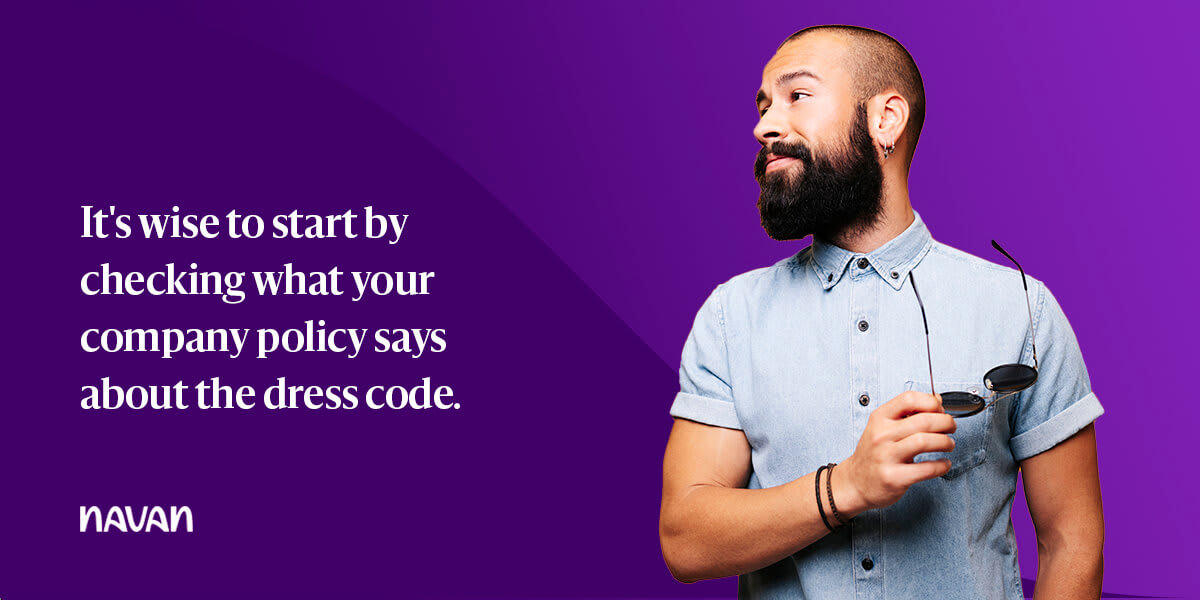 Clothing to Wear on a Bleisure Trip
When choosing clothing, start with the essentials you'll need to complete your work (which is, after all, the primary purpose of the trip). There's likely some dress code for the business portion of your bleisure trip, so it's wise to start by checking what your company policy says about the dress code. If you're unsure, the clothing you typically wear to the office is a good starting point.
Typically, business casual clothes that you can dress up or down offer enough versatility to work for both the business and leisure portions of the trip. 
On a bleisure trip, you must be selective with the clothes you pack; you want to look sharp when you hop off the plane to meet with clients or colleagues. Those comfy sweatpants and oversized hoodies you usually wear for leisure travel may not be appropriate for the office. 
These bleisure wardrobe ideas for women and men will help you look your best on your trip. 
Bleisure Clothing for Women
There are many ways to craft the perfect business casual look. For women, bleisure clothing should aim to blend comfort and class. For example, you can layer leggings with a nice top and oversized blazer, throw on a pair of loafers, and be ready for a day of bleisure travel.
Here's a list of essential items to include in your luggage that are practical, office-appropriate, and stylish:
Blazer: A blazer is the perfect versatile staple to take with you. It can create a more formal look for business, but you can also throw it over a pair of simple leggings or jeans for a day out sightseeing or to dinner. A blazer is also an excellent piece for layering. In chilly weather, you can just layer it over a sweater. 
Sweater: A casual, lightweight, crewneck sweater that complements almost any outfit is a must-pack item. A button-down cardigan is also an excellent travel-friendly option that you can wear in different ways to vary your look. Bonus: You'll be prepared for chilly air-conditioned flights and conference venues. 
Pants: A pair of relaxed-fit pants are perfect for comfort when traveling, and you can dress them up for business. Coated jeans are another favorite bleisure fashion item, because they elevate denim to create a sharp look for more formal occasions.
Leggings: Leggings are another perfect choice for bleisure travel. Skip the traditional sportswear version for a pair of dressy leggings. You'll make life more comfortable while traveling, and you can refine your leggings look by throwing on an oversized shirt or a flowy blouse with a blazer. 
Shoes: When packing shoes, limit yourself to two or three pairs. Nude or black heels or flats pair well with any outfit for formal business meetings or after-work drinks. Loafers offer the perfect mix of comfort and class. They're a great addition to an effortlessly elegant look. Pack a pair of nice sneakers if your work allows for more casual attire. You'll be glad you brought them along when walking through the airport or around town.
Shirts: Maintain versatility in your shirt options by packing neutral blouses that will be easy to mix and match with your pants. Choose breathable materials like cotton, linen, or silk to stay comfortable throughout your trip. 
Dresses and jumpsuits: A simple yet elegant dress or jumpsuit that shows off your personality will work wonders on your bleisure trip. A fitted dress can double as an office or after-work dinner outfit. Jumpsuits are convenient because they can save you from packing a pair of trousers and a shirt.
Bag: Pick a bag that will work for all occasions and outfits. An elegant, chic tote bag is roomy enough to fit all the necessities for your trip, including your laptop. You can carry it anywhere, dress it up or down, and it can double as your personal item on the plane.
Bleisure Clothing for Men
The world of bleisure fashion for men can be both sophisticated and casual.
Here's a list of business casual clothing choices men can wear:
Blazer: Leave the full suit behind and pack a smart-casual blazer. You want to choose something less structured and more free-flowing than a formal suit jacket. Pack a blazer made from textured material such as wool. It will look natural when worn with jeans or other casual fabrics. 
Sweaters: A casual sweater can go a long way to create a relaxed after-work look, and it's great to have one on hand if you need to keep warm on your flight. A cardigan is the way to go for a basic knit that delivers functionality and form. Cardigans are fantastic for layering over a tee or a more formal dress shirt. 
Trousers: If you're packing jeans, choose a dark pair that looks sharper than everyday denim. Smart-casual chinos are always a hit on bleisure trips. Wear a flat-front pair of chinos for a casual business look, or pick pleated chinos for a more formal outfit. For your leisure days, athleisure trousers with an elastic waist or drawstring are perfect for staying comfortable in transit. 
Shoes: Packing two pairs of versatile shoes can go a long way on your bleisure trip. A couple of sleek loafers are the perfect easy-to-slip-on shoes for travel, and they'll elevate your casual look for meetings. Comfortable urban sneakers also pair well with a smart-casual outfit. 
Shirts: On a bleisure trip, you'll do well to pack simple polo shirts and well-fitted cotton T-shirts that you can match with your selection of trousers. Pack a crisp button-down shirt for a smooth look if traveling for more formal business. 
Accessories: Ties are typically reserved for more formal business settings, so you only need to pack one for your bleisure trip if you're doing serious business. And try to find a belt that matches all your outfits — that way, you'll only need to pack one!
---
How to Decide What to Wear
Before you start packing your bleisure wear, think about your itinerary. If you're having formal meetings or meeting people for the first time, you'll want to include an outfit that makes you look professional. Depending on your company, you can wear a casual outfit for everyday business activities like team meetings. 
Start with a List of Activities
You'll want to wear something more comfortable during your downtime — think cotton tees and loose-fitting pants. Make a list of the activities you're planning for each day to decide how many casual versus dressed-up outfits you'll need to pack. 
These activities may include:
Client, partner, investor, or senior leadership meetings
Presentations and panel discussions
Team-building activities and workshops
After-work activities, sightseeing, and other social activities
For the leisure portion of your trip, you may also have some special activities in mind. For example, pack the appropriate clothing and accessories if you plan to run, hike, or swim.
Listing all the activities you'll participate in helps ensure you have appropriate outfits for each.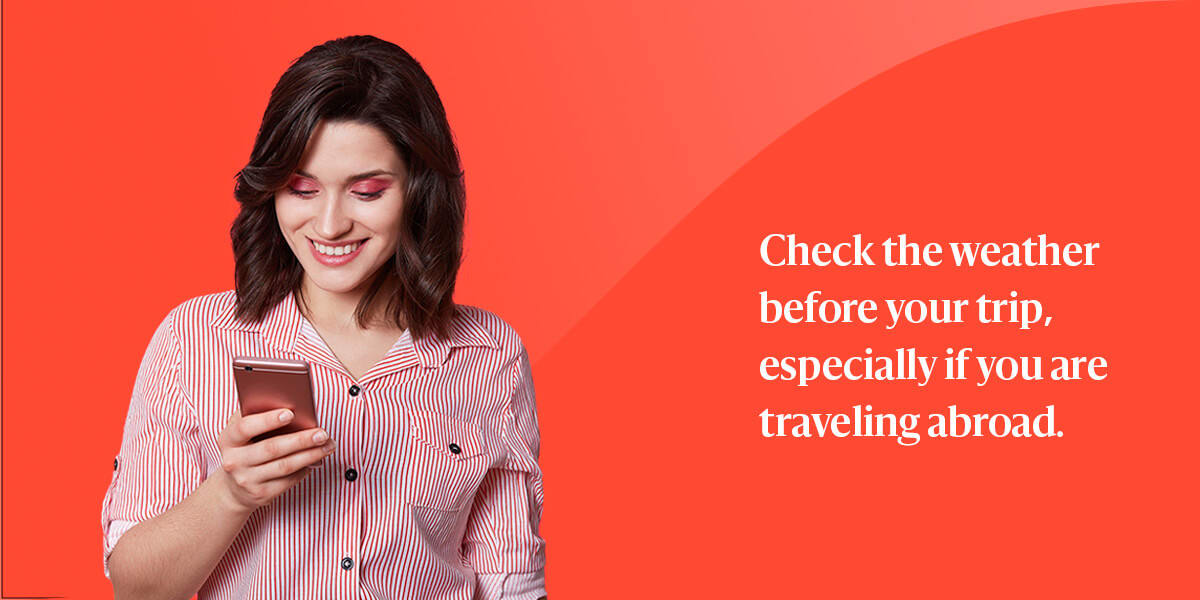 Check the Weather
Don't forget to check the weather before your trip, especially if you're traveling abroad, so that you'll feel comfortable with your outfit choices. With warmer weather, for example, pack dresses instead of pants. 
Choose Versatile Items
The bleisure clothing you pack should also be versatile. For example, wear a simple blouse or a pair of black jeans to a team meeting or a night out. With limited luggage space, it's wise to pack clothing that you can easily mix, match, and re-wear throughout your trip. Also, pack as much quick-drying clothing as possible, to maximize your wardrobe's efficiency. 
A few of your favorite statement pieces are okay — you still want to feel like yourself — but for the most part, packing practical clothing will minimize your luggage and maximize your outfit options. The last thing you want is to have to do laundry on your trip!
---
Packing Tips for Your Bleisure Trip
Now that you know what to wear on your bleisure trip, here are some tips on packing efficiently and making the most of your luggage space.
1. Pack Minimally
It can be tempting to overpack for a bleisure trip. In an ideal world, you could pack separate outfits for leisure time and another set for professional meetings and office days. The reality, however, is that you only have limited luggage space. In some cases, all you'll want to take is carry-on luggage. 
It's wise to list the essential clothing and other items you'll need and stick to it. If you desperately need something on your trip — like a rain jacket for unexpectedly bad weather — you can always buy that item along the way. 
If you're going on a week-long trip and struggle with packing the bare essentials, try using the "5-4-3-2-1 method," which limits your clothing options to the following: 
Five sets of socks and underwear
Four shirts
Three bottoms
Two pairs of shoes
One hat
Once you have the basics, you can adjust the list to match your needs for your bleisure trip. Throw in a blazer, sweater, and any necessary accessories for your business casual look.
Minimal packing also means you'll have less luggage to carry during your trip and less laundry when you return home. 
2. Create a Capsule Wardrobe
A capsule wardrobe is composed of clothing pieces that all work well together. By focusing on wardrobe items that can all be mixed and matched, you can easily create combinations and ensure that nothing in your suitcase goes unworn. 
A capsule wardrobe will look different for everyone, but the main point is to build it around pieces you already wear consistently and love. 
This concept is excellent for regular bleisure travelers because it makes choosing your outfits a breeze. You already know what items work well together in your wardrobe and how to dress them up and down for different occasions. 
To minimize your luggage, stick to neutral shades like beige, white, black, grey, or navy that go well together, plus an occasional pop of color. You can add personality and flair to your outfits with bold accessories. 
3. Use Packing Cubes
When packing for a bleisure trip, using every inch of your luggage space is essential — and packing cubes will revolutionize how you organize your bag. Packing cubes are small, lightweight containers designed to help travelers organize their belongings when packing. 
You can use packing cubes to organize your clothing by type or style so you know exactly what pieces are in your luggage and where they are. The cubes also help you compress clothes so you can fit more items without your luggage getting bulky.
Packing cubes maximize space, organize your essentials, and also help make it easier to pack and unpack quickly. Need to find an item in your suitcase? Instead of digging through a messy pile of clothes, you can pull out the cube containing what you need.
If you don't own packing cubes, another great way to maximize space and keep your clothes crease-free is to roll them.
4. Sort Through Your Work Essentials
The business side of your bleisure trip will require you to pack work-specific essentials different from leisure travel necessities. These essentials could be things like:
Work laptop or tablet
Chargers and adapters
Flash drive, remote slide advancers, and other technology
Headset, headphones, or earbuds
Wi-Fi hotspot
Work badge 
Business cards
Planner, notebook, and pen 
Breath mints, gum, and hand sanitizer
It's a good idea to list all the items you'll need for your business travel so you have everything you need to get the job done.
---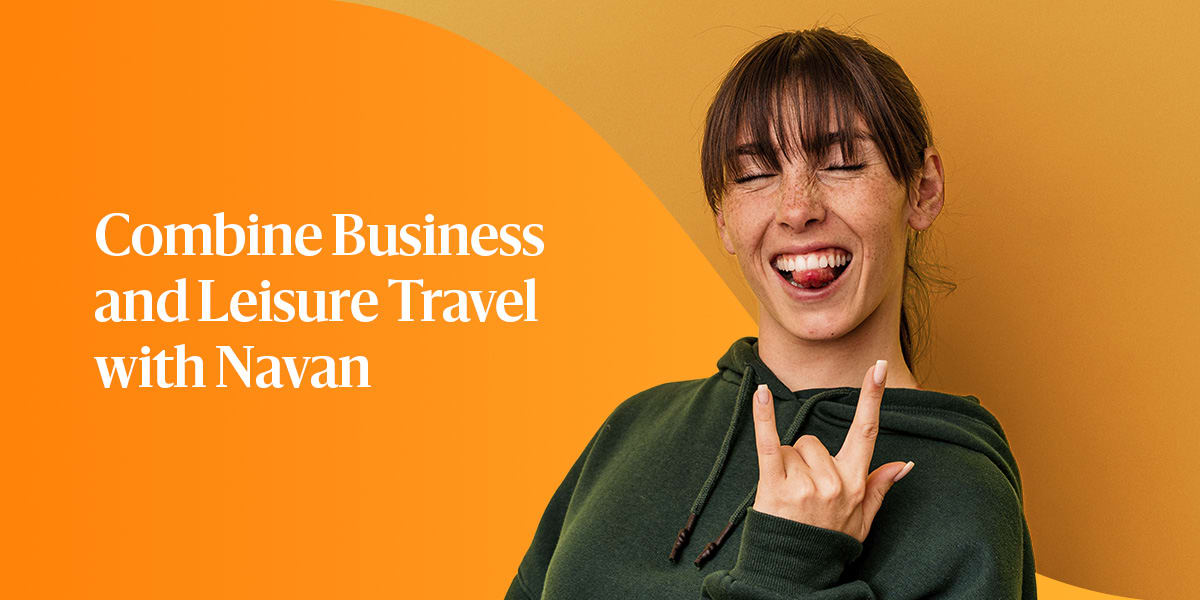 Combine Business and Leisure Travel with Navan
When planning a bleisure trip, organizing and blending your business and leisure activities seamlessly is essential. Bleisure travel is easy with Navan because you can keep all your travel information in one place. 
You can also access travel requirements and rates that match your needs. Book and update your travel itinerary, then receive essential updates while on the go. And say goodbye to travel expense reports, as Navan allows you to automatically record expenses while helping to keep your business and leisure expenses separate. 
Ready to make bleisure travel a breeze? Get started with Navan in just five minutes today!
---
Essential reading: