In the travel industry, a TMC is a travel management company. TMCs bring expertise, efficiency, and access to resources that can significantly benefit organizations with traveling employees.
Let's explore the meaning behind TMC and why it's important for modern business travel.
---
What is a TMC?
A travel management company (TMC) is a specialized agency that arranges corporate travel for a business or organization. Businesses can streamline their travel operations, reduce costs, enhance traveler satisfaction, and ensure compliance with corporate policies by engaging a TMC.
TMCs offer various services and functionality, such as:
Overall, TMC service providers aim to streamline the travel booking and management process to provide a hassle-free travel experience for their clients.
Note: According to Wikipedia and AcronymFinder.com, TMC can also be an abbreviation for organizations and companies like Toyota Motor Corporation, Thane Municipal Corporation, Tucson Medical Center, or The Movie Channel, as well as concepts like telecommunication management consultants, technology & maintenance council, traffic management centers, traffic message channel, time slot management channels, toastmasters, thinking machines, etc.
---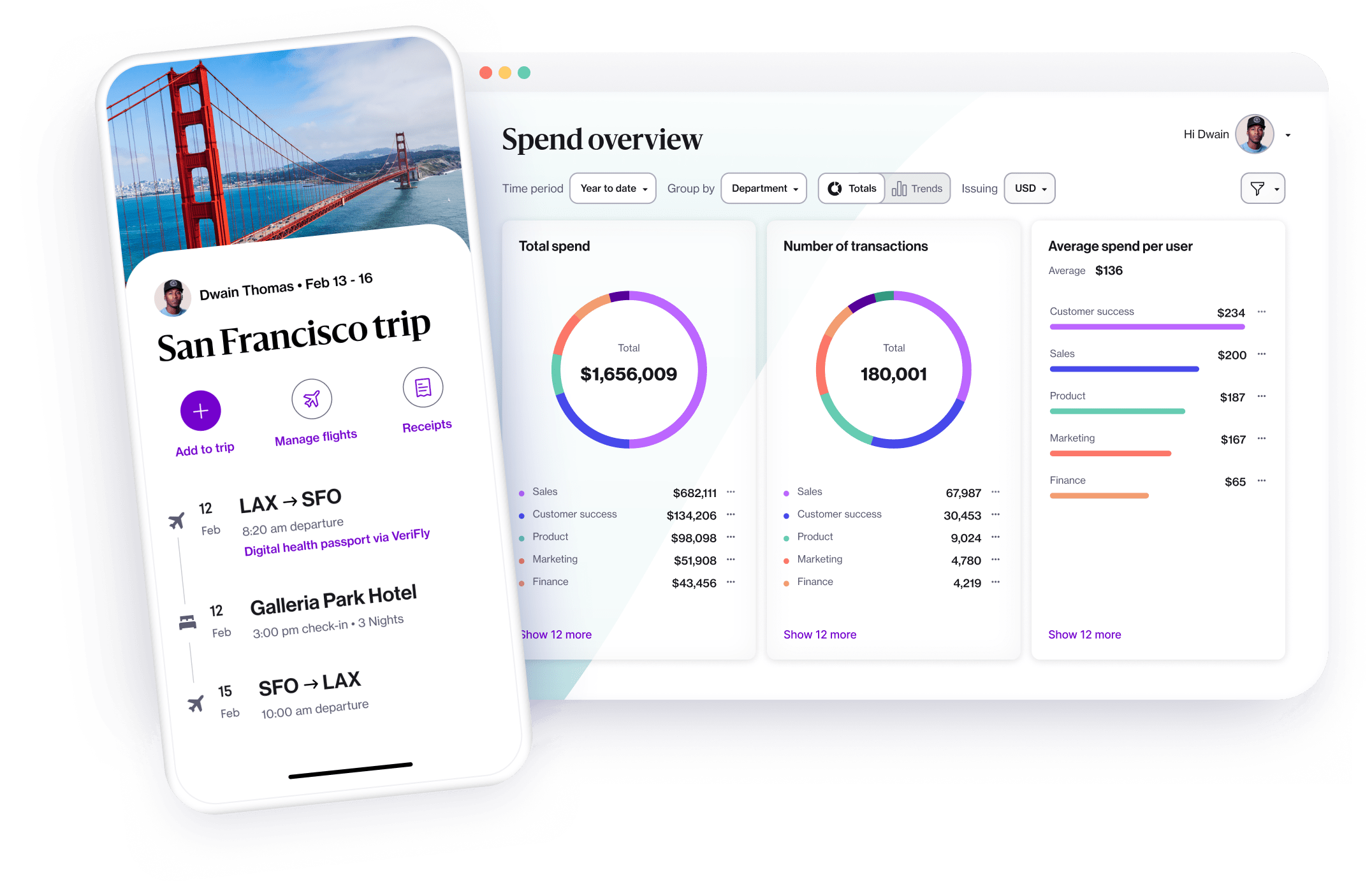 Screenshots of a sample travel itinerary and a company's spend analytics dashboard from Navan, a travel management company.
Why use a travel management company?
There are several benefits to using a travel management company (TMC) for your company's travel needs, including:
Access to discounted rates: TMCs have established relationships with airlines, hotels, car rental companies, and other travel suppliers, allowing them to negotiate special corporate rates that are unavailable through consumer websites.
Time savings: Managing corporate travel can be time-consuming and resource-intensive.TMCs handle all aspects of management, including the travel booking process, which saves companies time.
Customer support: TMCs typically offer support via email, phone, or in-app chat to travelers, which helps a company's travelers deal with last-minute changes, emergencies, and other travel-related issues.
Compliance: TMCs can help ensure compliance with a company's travel policies and procedures, reducing the risk of non-compliance issues and penalties — and ultimately saving companies money.
Reporting and analysis: TMCs offer reporting and analysis tools to help clients track and analyze their travel expenses, identify areas for cost savings, and improve their travel programs and policies.
---
What travel management services and functionality does a TMC provide?
TMC service providers work closely with corporate clients to understand their travel needs and preferences, then leverage their expertise, industry connections, and technology platforms to provide tailored travel solutions.
Below are some key services and functionality that travel management companies typically offer.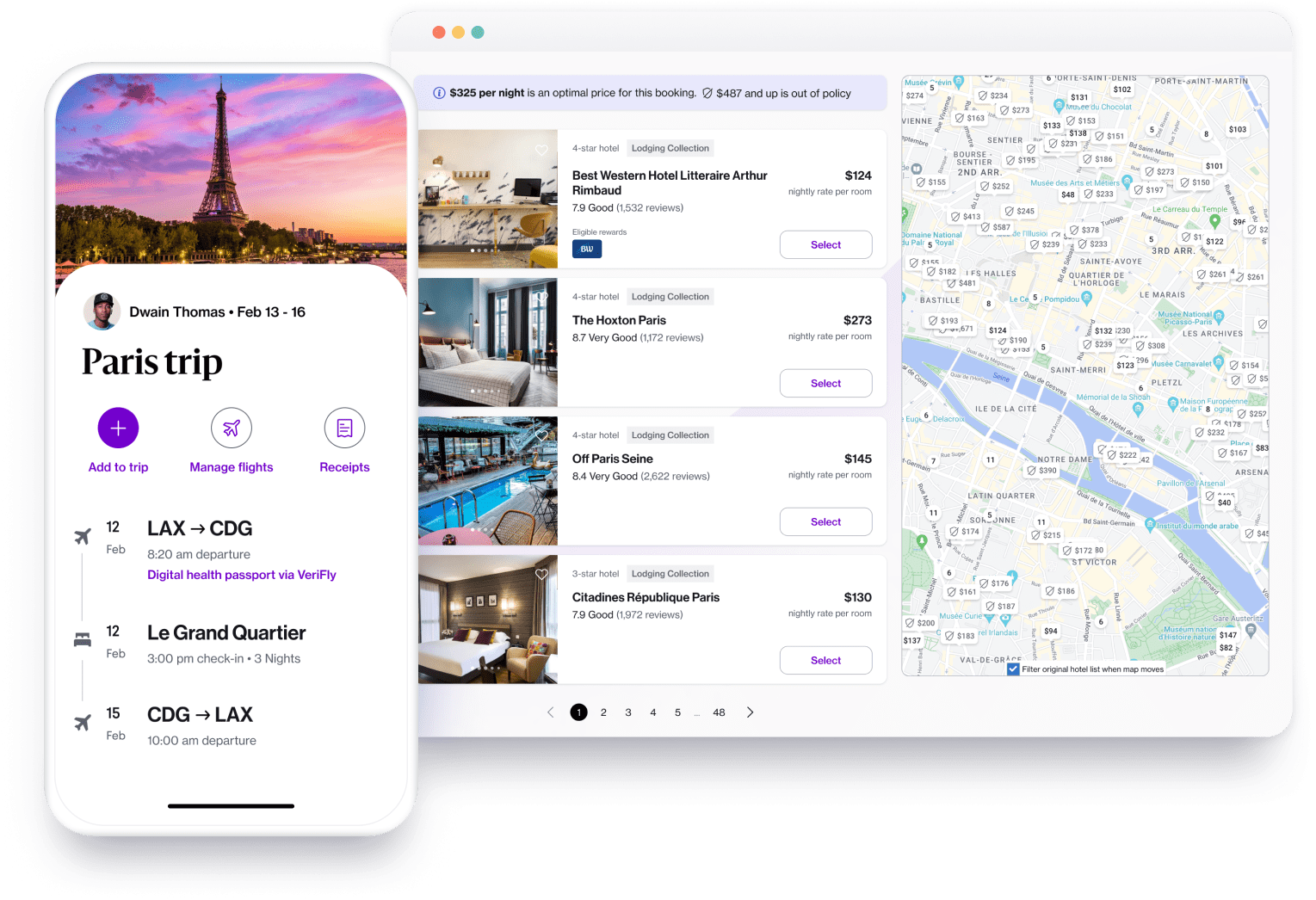 A mobile view of a travel itinerary next to a screenshot of hotel search results using Navan.
A TMC books travel 
Travel booking is one of the core services that TMCs provide. Think of a TMC as a specialized travel agency that administers a company's business travel program.
A TMC is a connector or distribution conduit between your company and travel suppliers that offer flights, hotels, car rentals, and other travel services. TMCs should have a broad travel inventory, typically achieved via multiple global distribution systems (GDS) and travel sites. This ensures employees can take advantage of a variety of choices for booking travel.
TMCs may also help:
Manage group or team travel
Arrange special requests, such as upgrades on hotel reservations or flights
Take into account traveler seat preferences and meal options
Get access to the best rates available for hotel rooms, flights, etc.
A quality TMC should be able to handle all aspects of travel planning and management through a travel management solution — software that manages all components of a company's corporate travel program.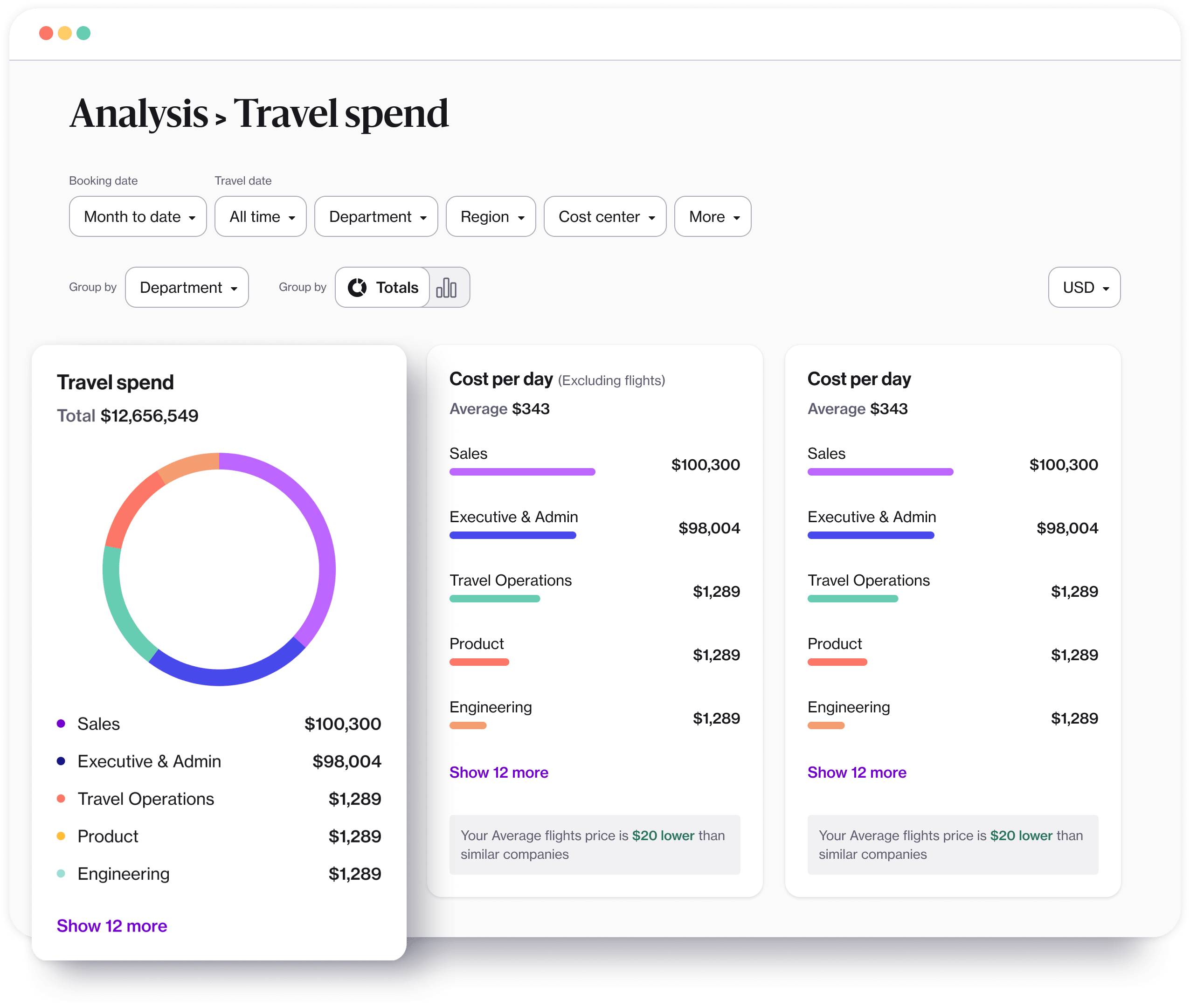 A desktop view of travel spend analysis using the Navan app.
A TMC tracks and manages travel expenses
Ideally, TMCs provide tools and systems to track and manage travel expenses. A TMC that offers a travel booking platform and expense management tool improves employees' travel experience.
By combining travel and expense, travel management software can:
Integrate with corporate accounting systems
Categorize and reconcile expenses
Understand policies and automate approvals
Facilitate expense reimbursements
Report on travel spend and/or create expense reports
Today's business travelers expect a consumer-friendly and intuitive experience when booking and expensing travel. For any system your company is considering, ask what the average adoption rate is for their customers. After all, if employees don't use the platform, your business won't get a return on investment.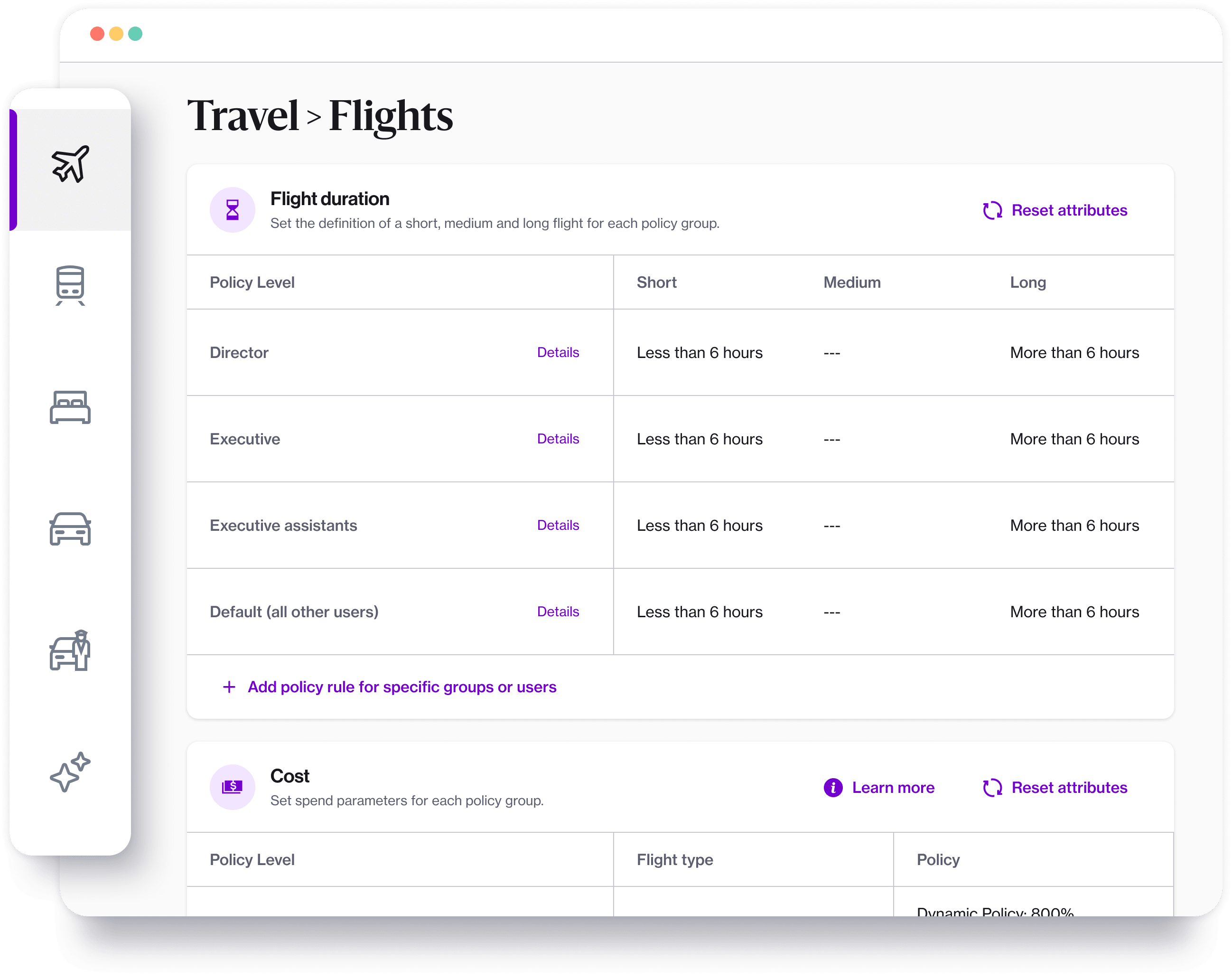 A close look at flight policy settings using the Navan desktop app.
A TMC helps enforce corporate travel policy
Advanced TMCs integrate their clients' travel policies into travel management software, which helps solve many problems that companies face, such as:
Getting employees to understand and comply with policy rules
Keeping policy documents comprehensive and up-to-date
Flagging policy violations
If the TMC manages expenses and integrates with your company's corporate card, your company could even enforce spend rules at the point of sale. This practice ensures that employees remain in compliance and that policies are enforced before they can be broken.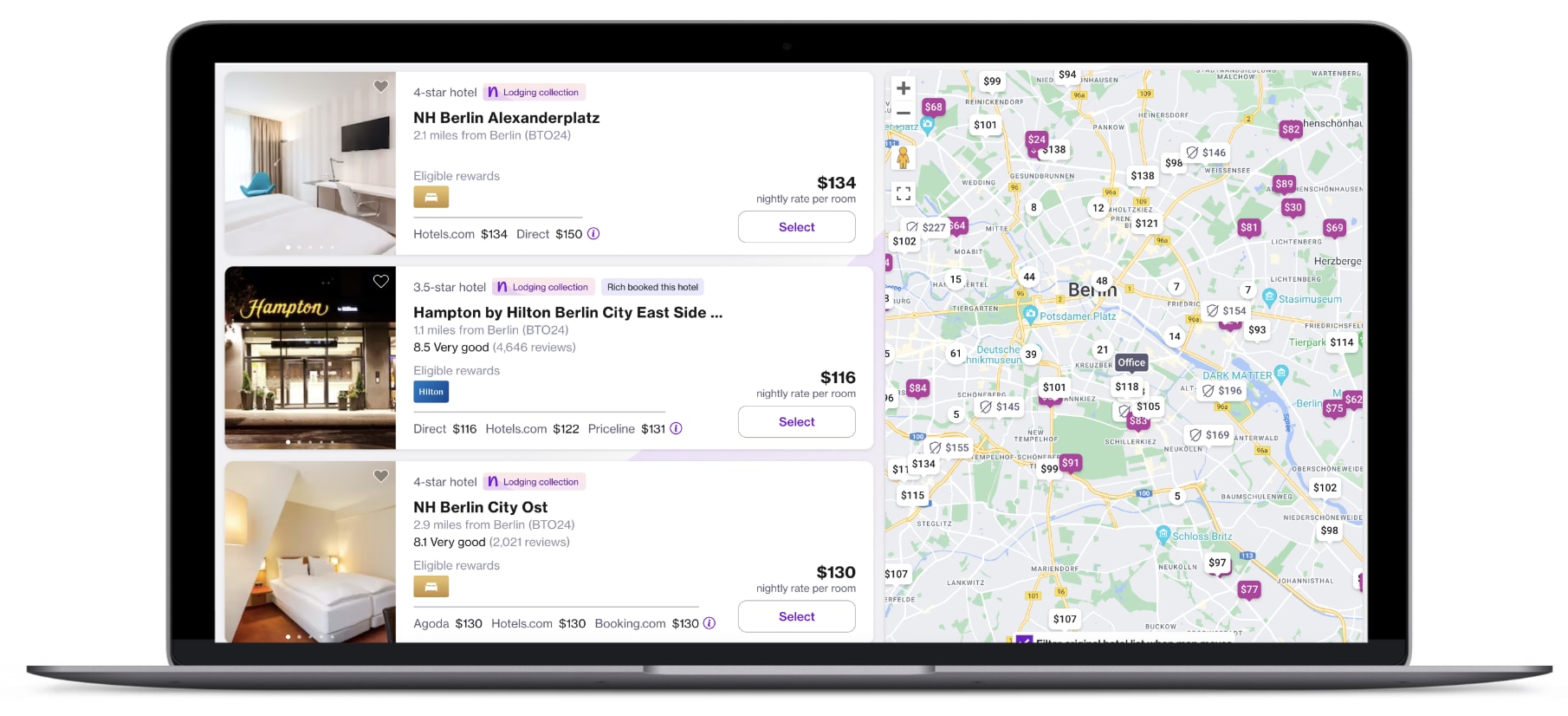 Properties with which Navan has negotiated exclusive rates or amenities become part of the Lodging Collection.
A TMC negotiates special rates with travel vendors
TMCs leverage their industry relationships and booking volume to negotiate discounted rates with airlines, hotels, and other travel suppliers. These rates are often not available to the general public through consumer online booking tools.
Beyond the obvious cost savings potential, negotiated rates are also helpful to companies because:
Travel costs become more predictable and manageable
Employees find better travel options that fall within established policy caps
Preferred supplies are often vetted for quality and safety standards
If a company has already established a special rate with a travel supplier, it can often be loaded into the travel management software.
A TMC supports duty of care obligations
Traveler safety is of utmost importance. Duty of care is a company's ethical and legal obligation to monitor the health, safety, and well-being of its employees when on the road. TMCs assist with duty of care travel risks by providing:
Traveler tracking
Risk management and assessment
Emergency support
Communication tools
In times of natural disasters, political unrest, and global health crises, it's critical to have the right tools in place to act on a moment's notice. Without a TMC, companies could have a difficult time understanding who is on the road at any given time — and it could be impossible to locate and communicate with employees in the event of an emergency.
A TMC provides travel support
TMCs provide various levels of support services to companies and employees on business trips. Support may be needed for services such as:
Emergencies and travel disruptions
Itinerary changes
Visa and passport services
Travel advisories and country-specific safety information
Support can be offered via phone, email, or mobile app chat. Live travel agents and AI chatbots may be used. It should be offered globally and be available 24/7 to ensure comprehensive support no matter what issues arise.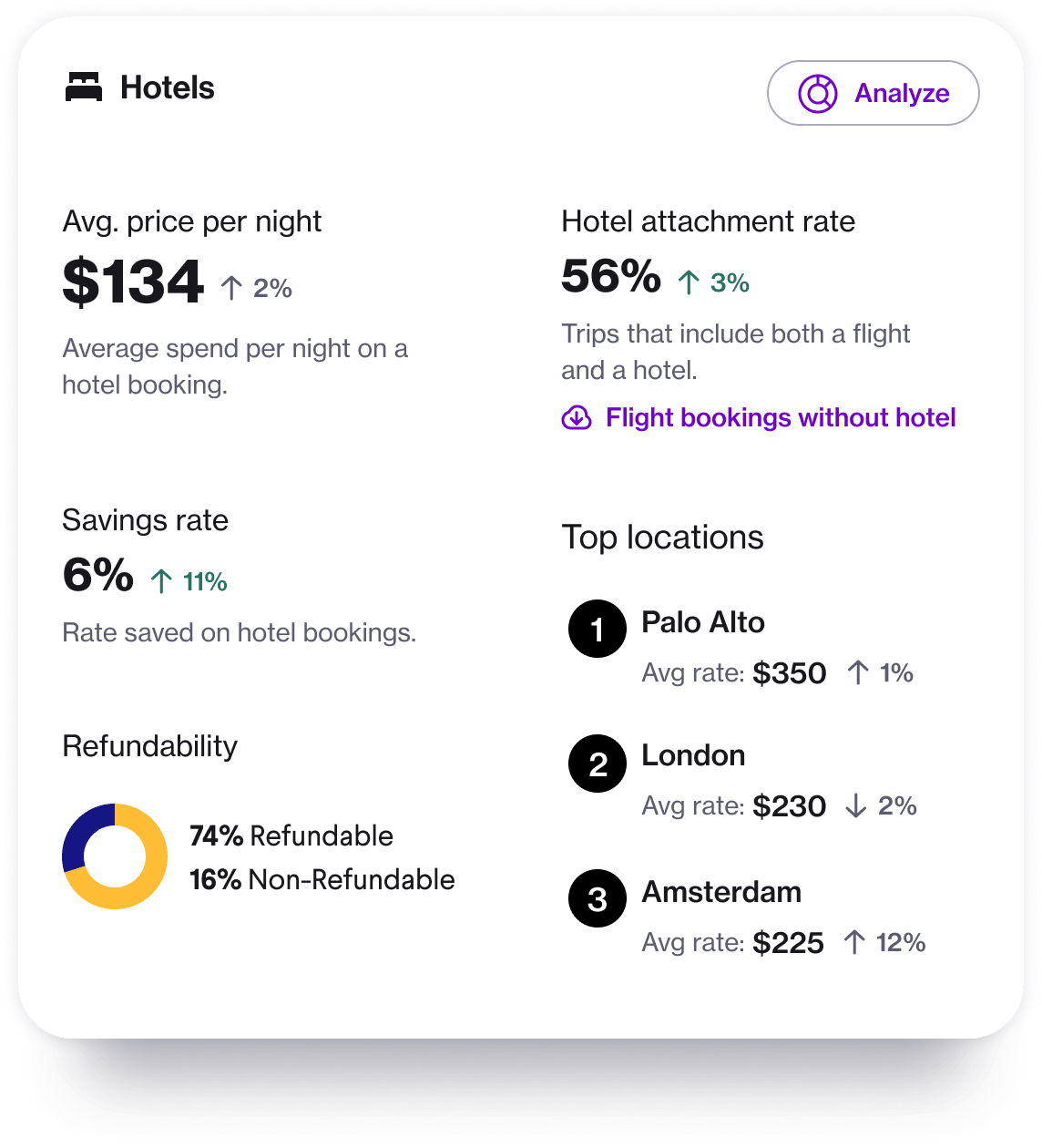 A screenshot of some of the travel analytics available in the Navan app.
A TMC provides data insights into travel spend
TMCs can also collect and analyze travel data to help businesses make informed decisions and optimize their travel programs. TMCs can generate reports and provide insights into:
Travel patterns
Expenses and reimbursements
Opportunities for cost savings
While software integrations and stitched-together solutions exist, companies must establish a single source of truth for all related expenses to get a full picture of travel spend. Therefore, getting traveling employees to adopt travel management software is key. Quality data and reporting are critical for real-time decision-making in the fast-paced business world.
---
How much does a TMC cost?
Costs vary by TMC service provider and the level of service and support provided. Several factors tend to influence the overall cost, such as:
Company size and complexity 
Scope of services required
Travel volume of travel
Any additional customization for specialized needs
Pricing and fee structures vary, but a company should easily get a return on investment when choosing a quality TMC.
---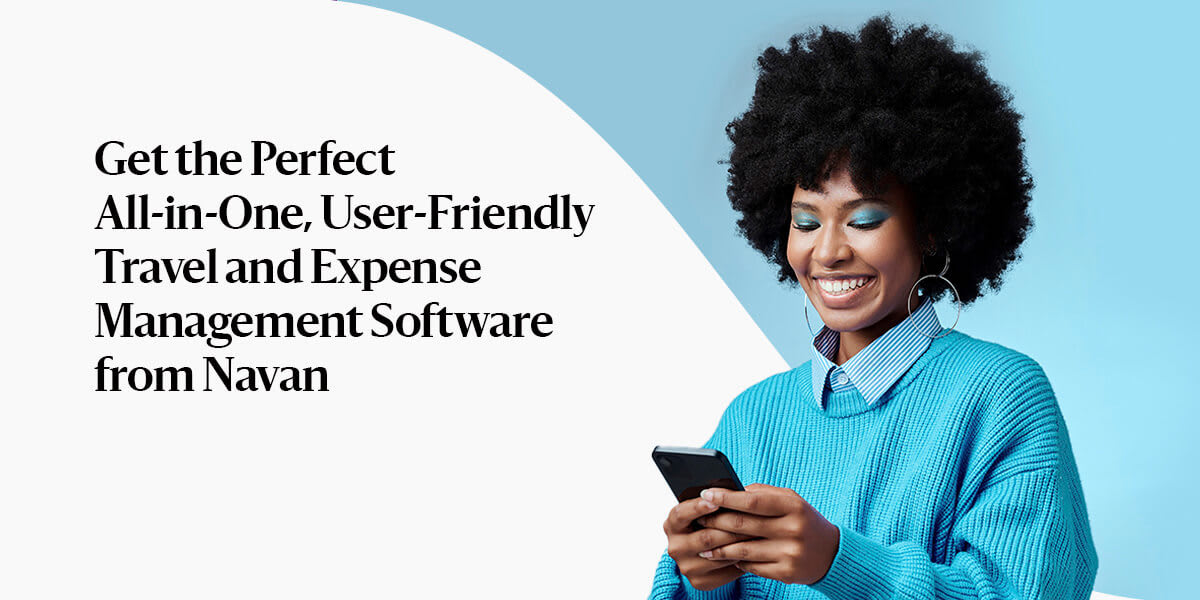 How does a company choose a TMC?
Ready to get started with a business travel management company? Navan's guide to choosing a TMC can help, or you can get started with Navan in as little as five minutes.
---
Further Reading