Navan and Reed & Mackay joined forces earlier this year with the vision of bringing the absolute best product and service to any type of customer, anywhere around the world. The combined family of offerings would deliver a combination of best-in-class, user-first technology from Navan and Reed & Mackay's global high-end service through a shared culture of innovation.
Four months later, the launch of the new Navan VIP offering marks the first step in this journey towards blending premium service with industry-leading technology. With this first groundbreaking customer-facing collaboration, high-touch inquiries will now be handled by Reed & Mackay's dedicated VIP travel consultants: highly experienced agents with 15+ years of experience in dealing with complex itineraries and unique requests.
The VIP offering at Navan now provides an unsurpassed level of high-end travel service for any size company around the globe. Whether it's a private jet for executives or sustained VIP service for an entire company, Reed & Mackay's additive services and global capabilities will help ensure that Navan customers' every unique need is always taken care of.
Existing Navan VIP customers are transitioning to the unified solution, with additional users being added to the relaunched offering in the coming months. Here's what customers should expect: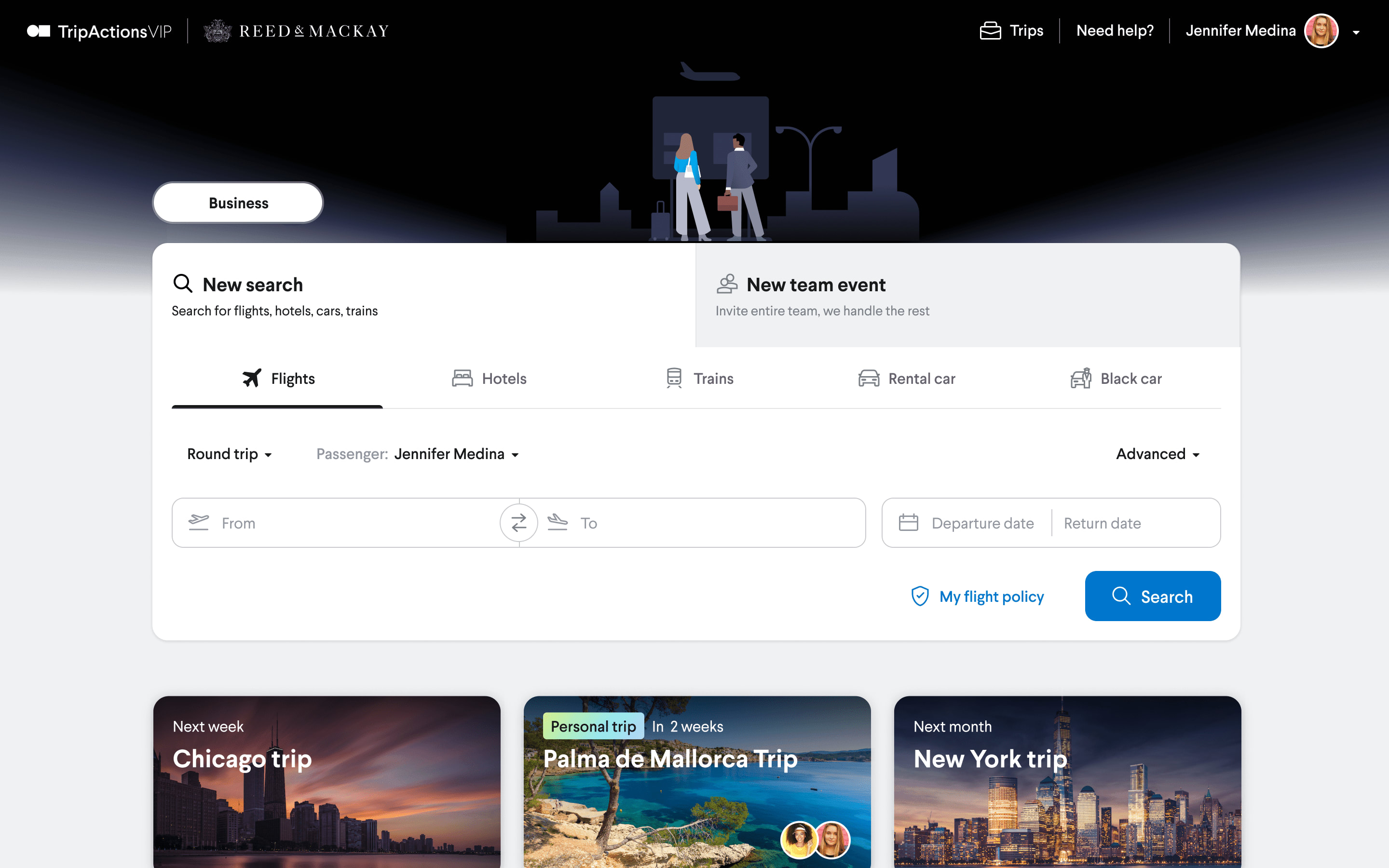 A seamless hybrid experience
Elite travelers will still be able to manage their travel on-the-go via the usual Navan applications. In addition to that service, travelers will also benefit from the guiding hand of a Reed & Mackay VIP consultant and their dedicated back-office systems. Agent support is accessible via the app or through phone and email channels reserved for VIP travelers. Each agent has complete visibility into traveler profiles and preferences, which streamlines the inquiry and support process. Reporting and booking information will be consolidated in the Navan app, providing a seamless end-to-end experience to both travelers and arrangers.
Dedicated, extraordinary service
Reed & Mackay has carved out a niche that delivers specialized technology and the best travel agent service on the market. Its in-house technology has been developed specifically to enable agents to provide the best assistance with booking, unique services, itinerary changes, and cancellations.
Travelers can expect additional premier services such as:
Private charters, jets, or helicopter bookings for travelers, their guests, or family members.
Additional personal preferences taken into account, such as specific pillow types, specific drinking water in a hotel room, and other boutique amenities.
Fast track immigration and arranged meet & greet services, especially for trips to high-risk countries or unfamiliar destinations.
Double confirmation of early and/or late check-in and hotel pre-registration with a key waiting for travelers upon arrival.
Flagged as VIPs with all suppliers from the time of booking and day of arrival.
Ultimately, every traveler is different. Agents are both committed to focusing on their individual needs and requirements and persistent in making sure that each itinerary and situation is appropriately and professionally handled.
Proactive, 24/7, around-the-world support
Nothing matters more to the teams at Navan and Reed & Mackay than traveler safety. With a presence in all regions and a unified back-end system, Reed & Mackay agents are always available. Consultants have access to statistics from air traffic control and real-time travel notifications on flight updates. They are also fully armed with the latest COVID-19 updates/restrictions, ensuring travelers are well informed and ready to travel. A dedicated in-house Incident Management Team constantly monitors world events to identify disruptions and re-protect flights quickly. Because of this, 94% of the time, clients are contacted before they call their dedicated agent.
The new VIP offering is only the beginning of Navan and Reed & Mackay's journey together. Get in touch today to see what the future of premium corporate travel looks like.