Travel patterns are shifting. Navan's latest report shows that connecting distributed teams is now the No 1 reason for business travel. There has been an uptick in trips per company and travelers per company, and more than a third of business trips are now being extended for leisure purposes.
What's the difference between business and leisure travel? The line can often be blurry. Let's explore the nuances and understand the benefits and drawbacks of combining both types of travel.
What defines business travel?
Business travel includes trips taken for business or work purposes on behalf of an employer. Any travel for business purposes falls under this umbrella term, including but not limited to travel for events, conferences, company off-sites or on-sites, client meetings, trade fairs, office visits, or other business meetings.
Travel Costs: The employer typically pays for costs that arise from a business trip.
Typical Priorities: For business travelers, location is key. These travelers are focused on conducting business and must be close to the office, convention center, or conference facilities. Reliable Wi-Fi and hotel amenities like breakfast are important to these connected and on-the-go travelers. Road warriors who travel frequently are often inclined to be loyal to their preferred air, car, and hotel providers.
What defines leisure travel?
Leisure travel includes trips made for entertainment, recreation, relaxation, or personal enrichment. Leisure travelers might be going on getaways, sightseeing, or traveling for other personal reasons, such as visiting family or friends.
Travel Costs: The traveler typically pays for costs that arise from a leisure trip.
Typical Priorities: Leisure travelers tend to be more price sensitive since they travel on their own dime. These travelers take a lot of stock in online reviews and recommendations from family and friends, and they may be influenced by social media. They seek out ways to enhance their travel experiences and might be drawn to hotel packages or places to stay near entertainment options.
What defines blended travel?
Blended travel is any type of travel that blends work and leisure time, including adding extra days to a business trip or working remotely from a different location. This type of travel has risen in popularity since the COVID-19 pandemic began thanks to the widespread adoption of remote and hybrid working formats.
Travel Costs: The employer and the traveler typically need to split the costs that arise from a blended trip.
Typical Priorities: Those who combine a business and leisure trip strike a balance between work and play. They will likely seek out hotels that enable them to be close to the work they need to conduct and that also give them easy access to leisure pursuits. Because they are staying for an extended period, they may also look for amenities such as fitness centers, pools, or spas.
Read More: How to Plan a Combined Business and Leisure Trip
What are the different types of blended travel?
There are several portmanteaus that the travel industry uses to define different types of blended travel:
Bleisure: Describes the process of adding leisure or personal travel time to a scheduled business trip. For example, an employee travels to New York for a conference that ends on a Friday and extends the trip through the weekend.
Bizcation/workcation: When employees conduct business from locations outside of their usual workplace. For example, an employee travels to a cabin in Alaska for non-work purposes and works remotely there.
Additionally, digital nomads are location independent and complete remote work rather than being physically present at a company office.
What are the benefits of blended travel?
Itineraries that combine business and leisure travel have several benefits for the employer and the traveler.
Benefits for the Employee
When an employee extends a business trip into a mini-vacation, they typically only have to pay for a hotel room or vacation rental during the leisure portion of the trip and save on air travel since that is taken care of by the employer. They can also rack up or take advantage of loyalty program points with their favorite travel suppliers.
The hospitality industry has also taken notice of the bleisure travel trend. Hoteliers and other travel providers are increasingly offering special deals and discounts to entice business travelers to stay longer.
There are also harder-to-quantify perks, such as the mental health benefits of taking a break and the creativity boost from experiencing new things and learning more about the world. A recent Global Business Travel Association survey found that 57% of business travelers admit to choosing work trips based on the destination—proof that business travelers prioritize their leisure time.
Read More: 5 Reasons to Combine Business and Personal Travel
Benefits for the Employer
Many employers are catching on to the fact that there is no harm in allowing travelers who complete a successful business trip to tack on some leisure time. A growing number of employers are encouraging the practice as an employee benefit because it has been shown to improve company culture, increase productivity, combat burnout, and even lead to cost savings for companies. Some companies are even adding guidelines for leisure travel extensions into their corporate travel policies.
Evidence shows that traveling employees want to combine work and play, and allowing business travelers to add some leisure time to trips helps turn the work of a business trip into a job perk. Encouraging the practice can help fix the disconnect between a company's time-off policies and its culture around using PTO, ultimately leading to better recruitment and retention.
Read More:Why Personal Travel Benefits Are the Perk Companies Should Offer Now
What are the drawbacks of blended travel?
As more employees blend business and leisure trips, expense reports become more challenging to complete accurately. Companies that do not establish clear boundaries for personal and business expenses risk allowing receipts for personal expenses to get caught up in the mix.
Navan is a travel management company (TMC) that can help bring the blurry line between work and play into focus. To reduce common travel risks like fraud, errors, and mistakes, an all-in-one corporate travel, cards, and expense management solution helps enforce travel policies at the point of purchase. For example, the expense will be automatically denied if an employee attempts to charge a coffee on a non-business travel day. Functionality like that can reduce rogue spending for the company and eliminate the need to track expenses and submit them for approval altogether.
---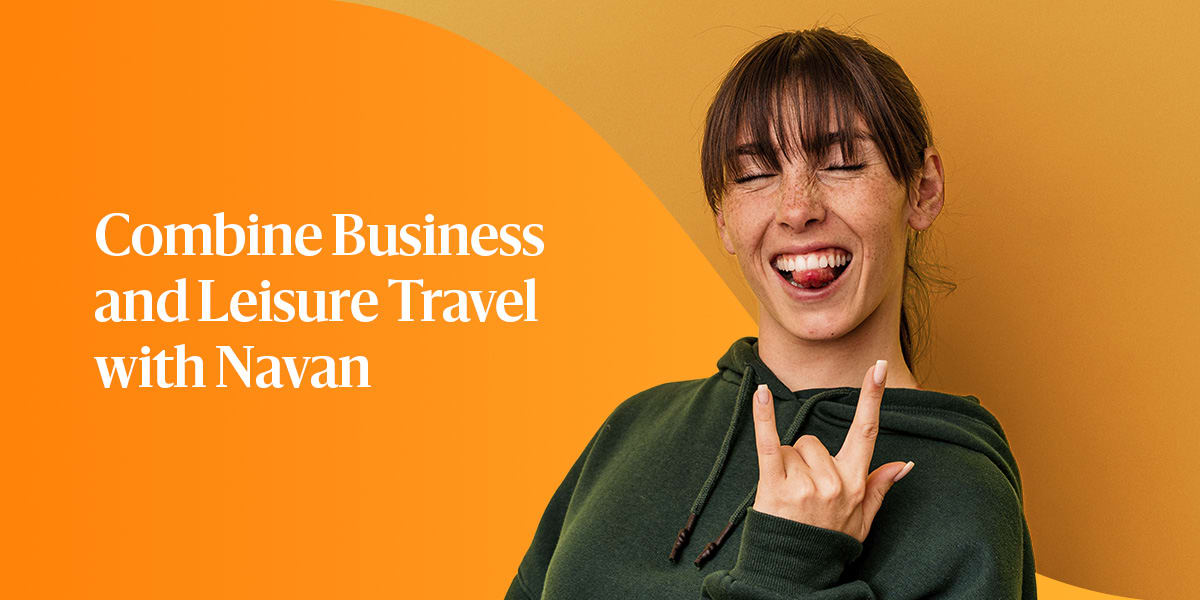 Travelers around the world book business, personal, and bleisure travel with Navan for a trusted, quality experience. Schedule a demo or get up and running with Navan in just 5 minutes.
---
Essential reading: