Gone are the days when flying to a conference meant only setting foot in a convention center. Bleisure travel, a portmanteau of business and leisure travel, is a rising travel trend where people extend work-related trips into mini-vacations.
To understand this evolving trend and its implications for businesses, Navan dove into the latest industry reports, travel surveys, and our own trove of data. What we found demonstrates the remarkable growth of bleisure travel and uncovers why companies need to take note of this transformative travel industry shift.
Get ready for a data-driven journey as we explore bleisure travel by the numbers.
Today's Global Bleisure Market
Explosive growth is expected over the next decade.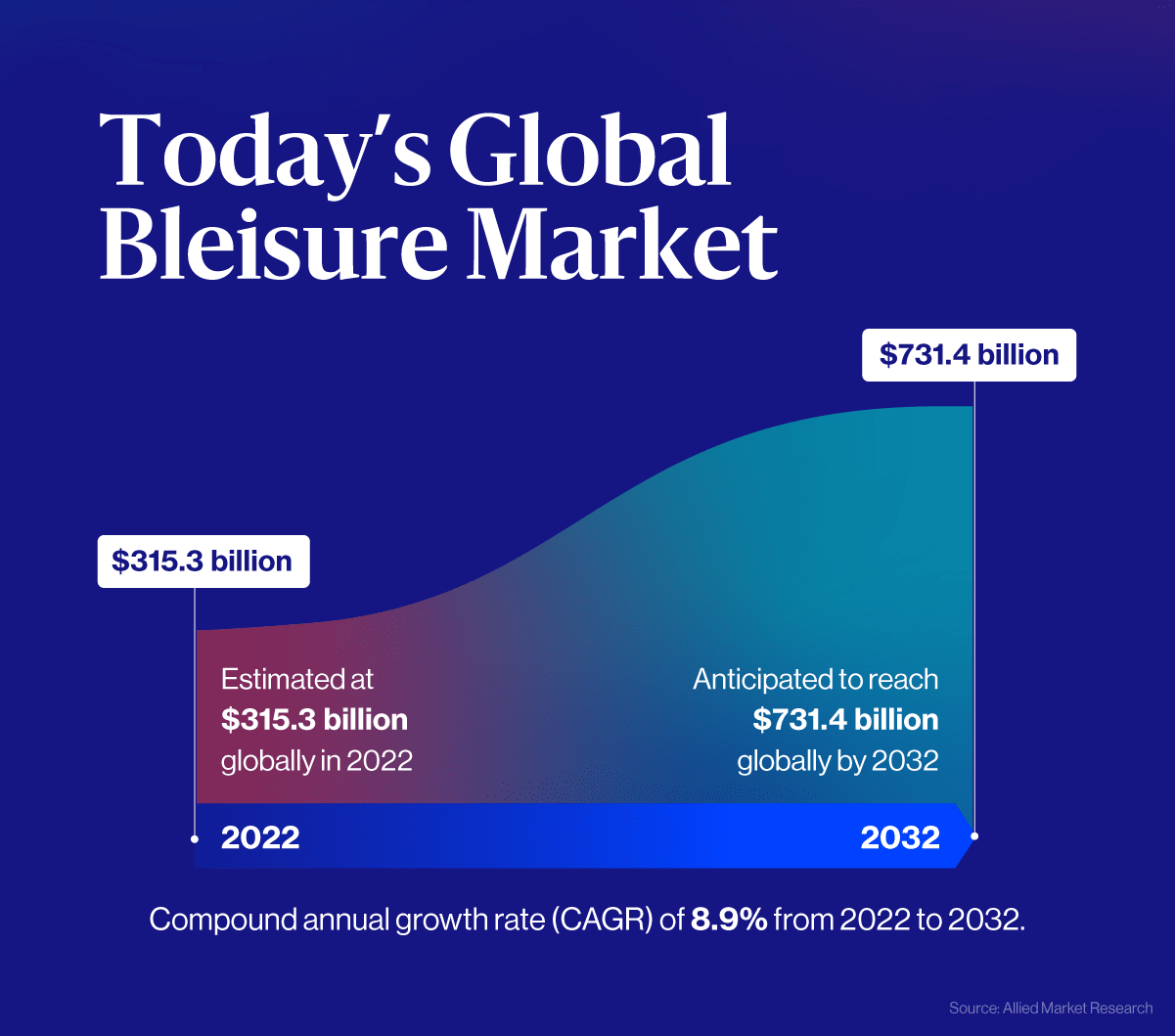 Adding leisure time onto business trips is not a new phenomenon, but the practice's popularity has exploded in recent years — and is expected to grow significantly.
Allied Market Research estimates the global bleisure market was at $315.3 billion globally in 2022, and expects it to more than double to reach $731.4 billion globally by 2032. That's a compound annual growth (CAGR) rate of 8.9%.
The market research firm cites several reasons for the dramatic growth:
1. A rise in demand for work-life balance

2. Digital transformation in the travel industry

3. An increase in the number of affordable hospitality services
Additionally, businesses are adopting more flexible travel policies and encouraging employees to extend their trips for leisure purposes. This shift in corporate culture supports bleisure travel and contributes to its growth.
What Business Travelers Want
They're seizing opportunities to explore (and get some well-deserved R&R).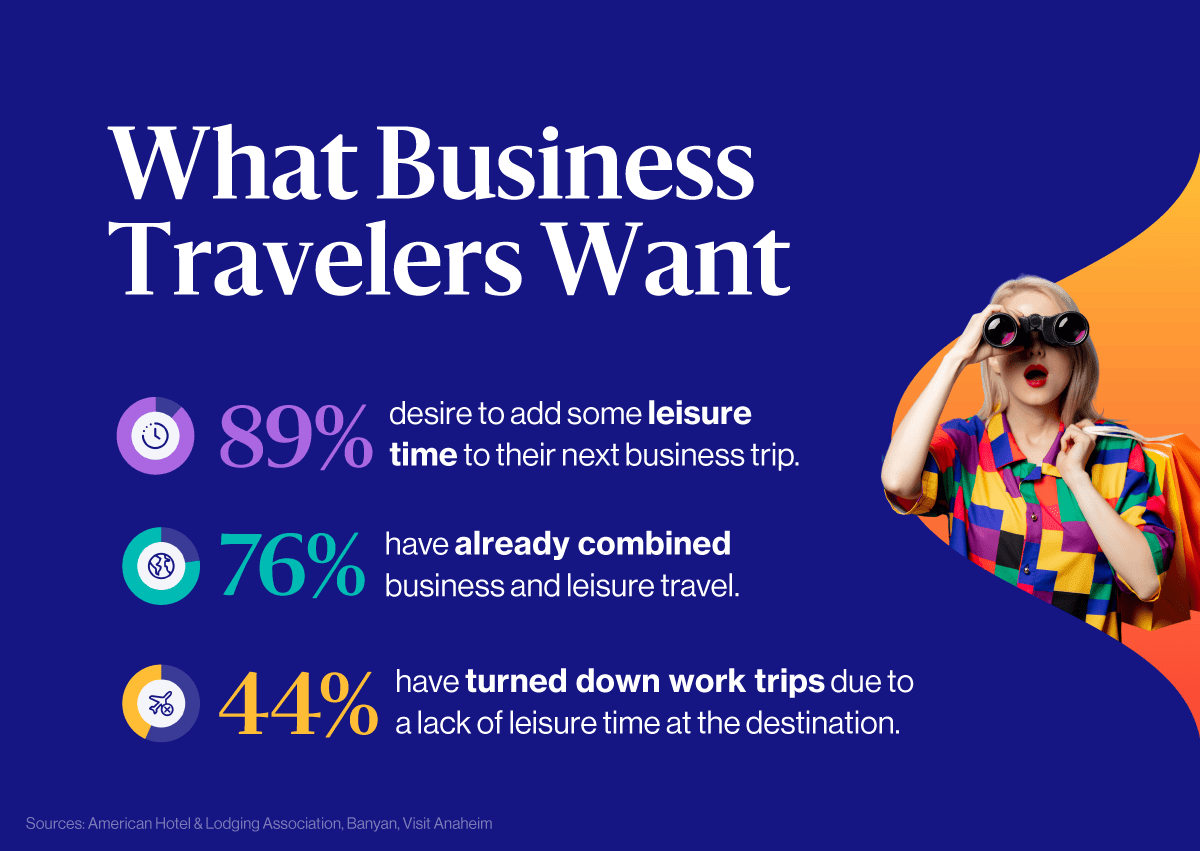 Today's business travelers want to maximize their travel experiences beyond business commitments by turning them into meaningful and enriching trips.
A survey by the American Hotel & Lodging Association found that nearly nine out of 10 (89%) travelers want to add some leisure time to their business trips. And a survey by Banyan found that more than three-quarters (76%) of business travelers have already tacked leisure travel onto a business trip at least once in their career.
Employees value having time for sightseeing and recreational activities when traveling for work — and many opt not to leave home unless they can build in leisure time. According to Visit Anaheim, 44% of bleisure travelers have turned down work trips due to a lack of leisure time at the destination. 
Business Travelers Focus on Work-Life Balance
We're entering a new era of work-life harmony.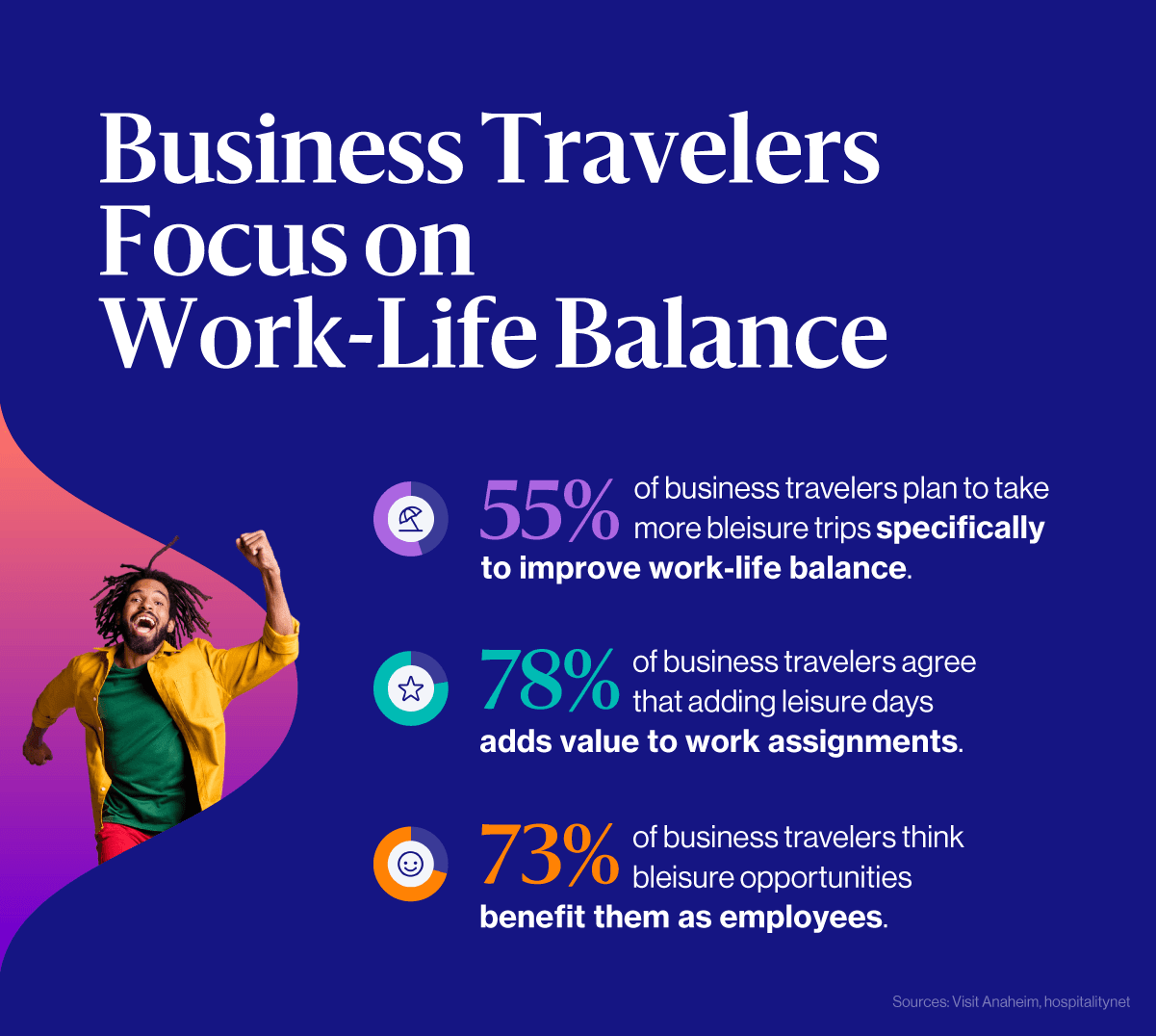 The data shows that business travelers increasingly value work-life balance and recognize the importance of rejuvenation during their trips. By extending their stays for leisure activities, travelers prioritize their personal phsyical and mental well-being, which leads to higher job satisfaction and overall productivity.
Fifty-five percent of employees view bleisure as a way to maintain a better work-life balance. Unsurprisingly, these opportunities also make employees feel that business trips are worth taking. Seventy-eight percent of business travelers said that leisure time adds value to their job assignments.
Additionally, 73% of business travelers think bleisure opportunities benefit them as employees. Among the benefits of adding leisure time to a business trip are lower stress levels, an increase in happiness, and a boost in productivity upon returning home.
The most tangible benefit of a bleisure trip for an employee is cost savings. Since the employer covers airfare, the business traveler typically only needs to pay for lodging and personal expenses incurred during the leisure portion of the trip.
Why Companies Should Take Note
Turning a job duty into a work perk.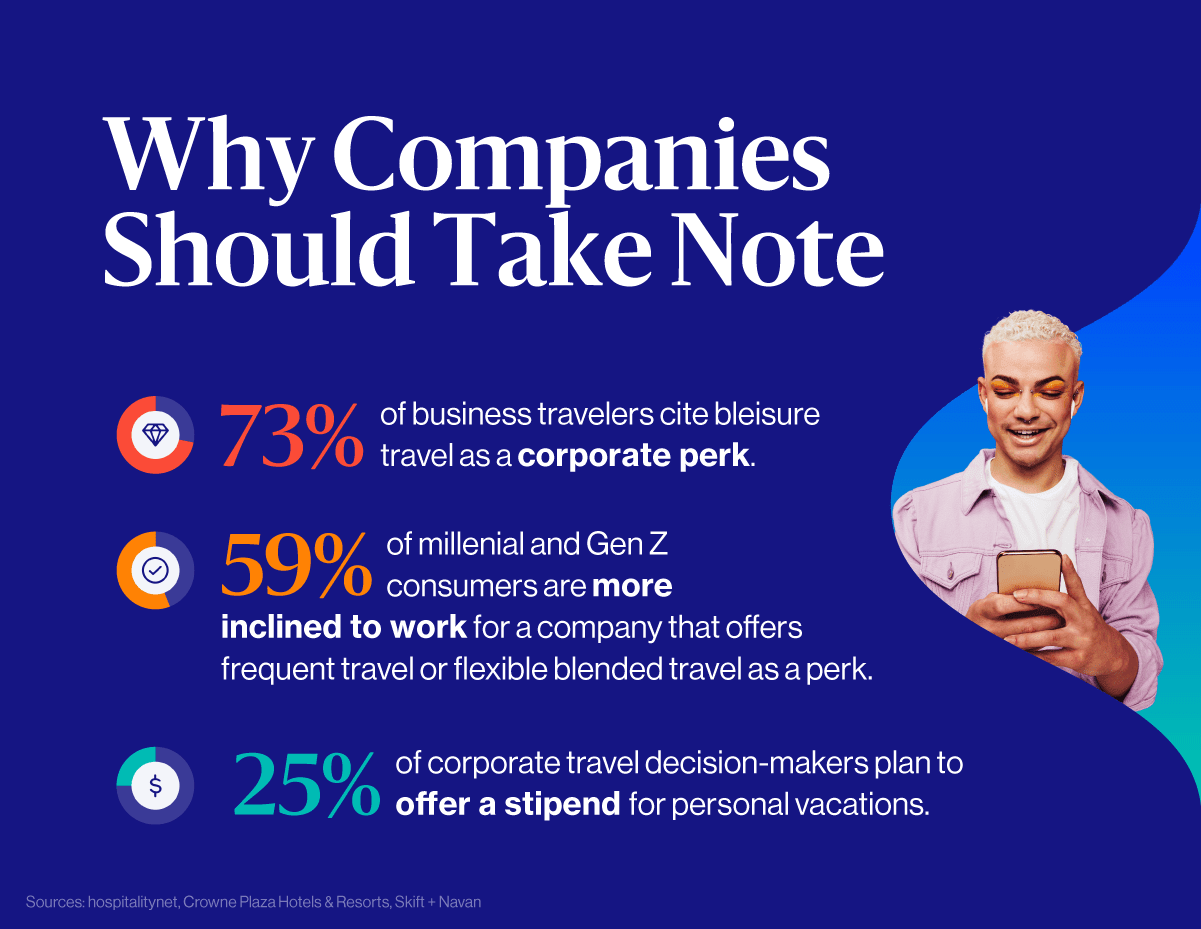 As the numbers clearly demonstrate, companies should pay close attention to the bleisure phenomenon. By accommodating and embracing this trend, organizations can foster employee satisfaction, productivity, and overall well-being. And embracing bleisure travel could also be a tool for talent recruitment and retention.
When employees are encouraged to add leisure time, they'll likely be more willing to go on business trips and feel more engaged with their work. About 73% of employees view the opportunity to add leisure time as a corporate perk, with 59% of Gen Z and 65% of millennial respondents specifically choosing to work for companies that provide this level of flexibility and blended travel opportunities. The Global Business Travel Association (GBTA) found that millennials are the age group most likely to take bleisure trips.
As the business landscape continues to evolve, bleisure travel is a testament to the importance of taking time off, in order to enjoy a fulfilling professional experience. Companies are taking note: A full 25% of corporate travel decision-makers plan to offer a stipend for personal vacations, and more companies are embracing bleisure travel as an employee benefit.
How the Travel Industry Is Changing
Operators are adjusting to the paradigm shift that's underway.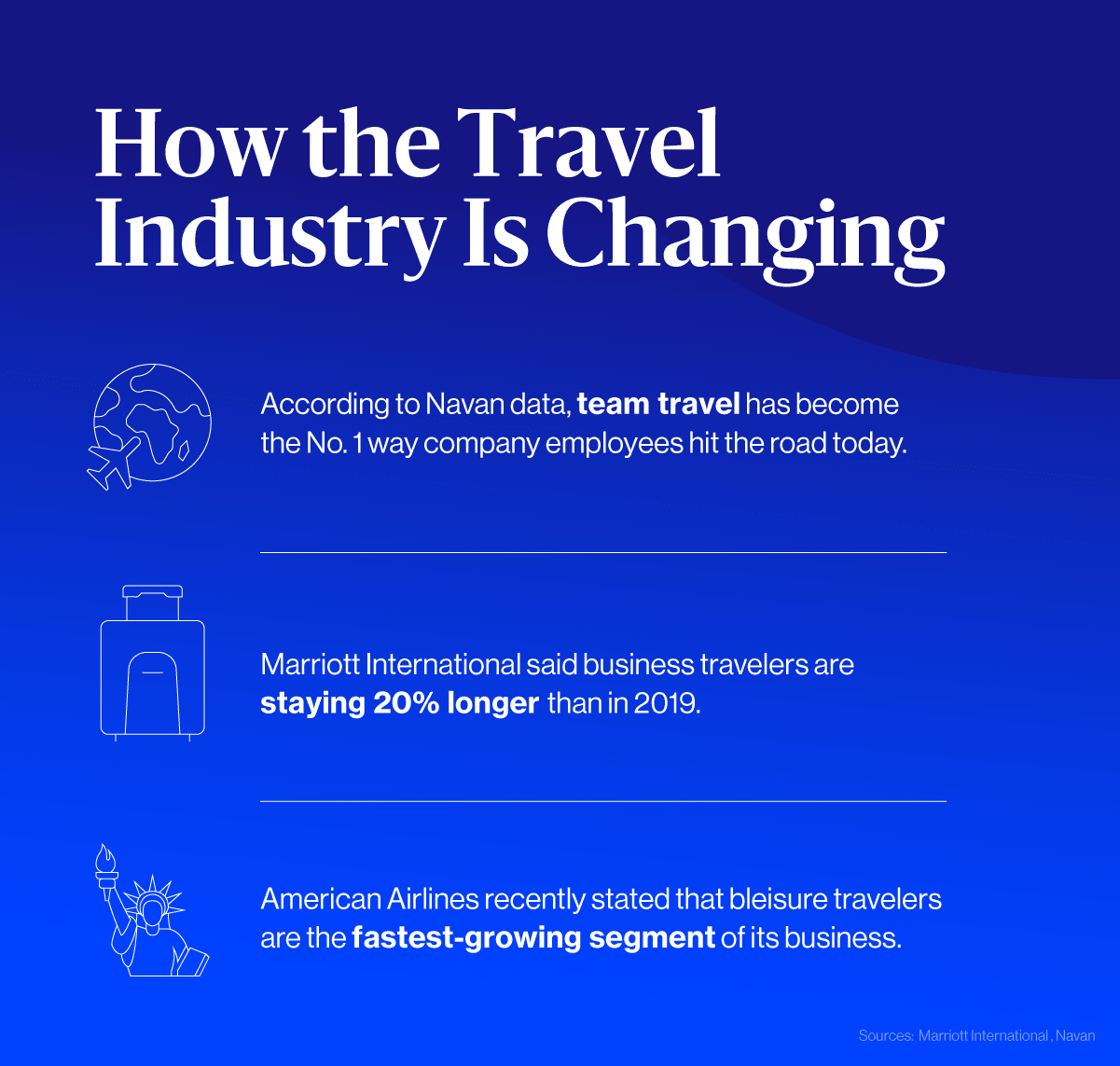 Undoubtedly, the travel and hospitality industries are adapting to bleisure travel's growing popularity.
Navan data indicates that the No. 1 reason for business trips has shifted from individual road warrior journeys to team travel outings, which include company meetings, events, and offsites. And while sales teams continue to claim a plurality of the share of business travel, engineering, product, and marketing teams have increased their share of travel when compared to the pre-pandemic era.
This shift in the type of travelers means that employees who have rarely or never traveled for work are now on the road. For these travelers, the allure of exploring a new destination is strong. Big players in the travel industry are paying attention to the rise of bleisure travel:
Marriott International said business travelers stay 20% longer than they did in the past
American Airlines recently stated that bleisure travelers are the fastest-growing segment of its business.
United Airlines referenced bleisure as a trend that will continue to drive air travel demand.
Airlines and hoteliers are capitalizing on the trend by adapting spaces, loyalty programs, and marketing to bleisure travelers.
Top 10 Bleisure Travel Destinations
Here are the most popular spots for adding mini-vacations to business trips.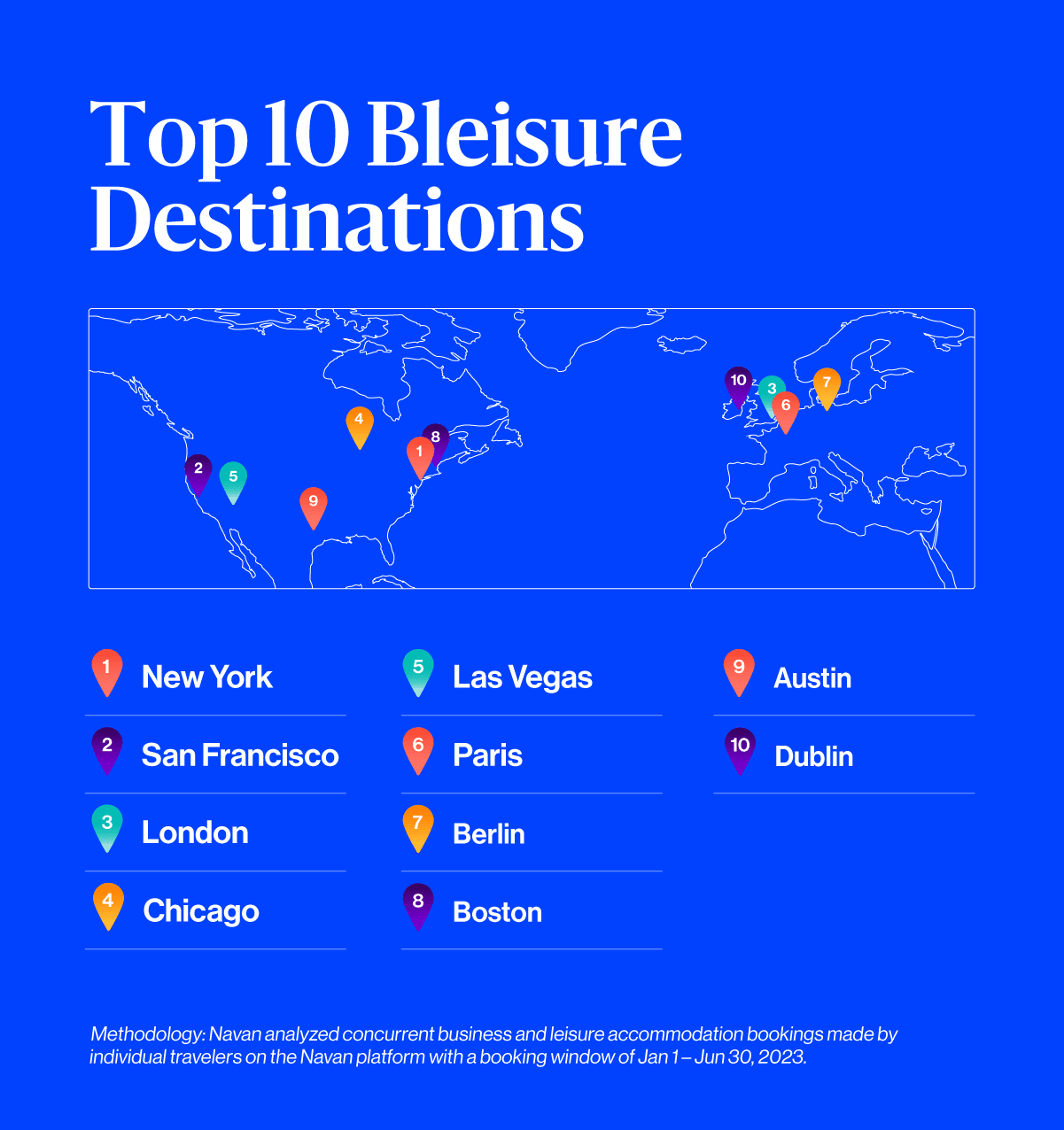 Where are people most likely to extend their business trips? Navan crunched the numbers to discover the top 10 bleisure destinations.
New York
San Francisco
London
Chicago
Las Vegas
Paris
Berlin
Boston
Austin
Dublin
These cities are ripe for the combination of work and play. All of these destinations are business hubs that offer a variety of cultural, culinary, and entertainment opportunities. This dynamic blend of activities makes these destinations the perfect backdrop for bleisure travel.
Source: Navan analyzed concurrent business and leisure accommodation bookings made by individual travelers on the Navan platform with a booking window of January 1 – June 30, 2023.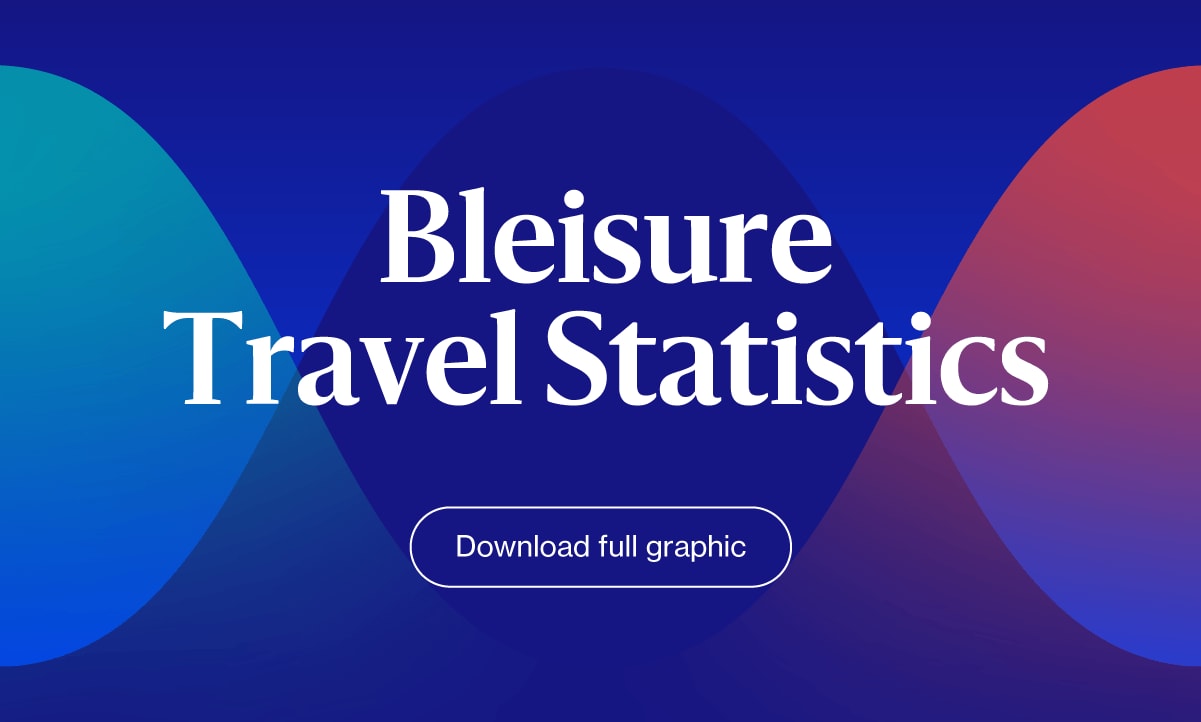 Shifts in Corporate Travel Programs
Corporate travel programs need to adjust to shifting travel behaviors. As more business travelers look to add leisure extensions to work trips, there are several risks for companies:
Rogue spending: Delineating expenses between the business and leisure aspects of the trip becomes complicated, especially if a company does not have a leisure travel policy.
Platform adoption: Frequent travelers may be incentivized to book outside of the company's travel management software so they can earn and burn travel rewards from their favorite providers.
Privacy: Employees may not want their employers to know that they are adding a leisure extension.
Navan is an all-in-one travel, corporate card, and expense management platform that solves each of these challenges:
Built-in policies: Companies pre-program travel policies so they are enforced at the point of purchase. For example, if an employee attempts to charge a coffee on a non-business travel day, it will be automatically denied.
Loyalty integration: Whether traveling for business or leisure, Navan users can collect loyalty points from third-party providers directly in the app.
Privacy: All personal bookings made with Navan are kept confidential from employers, and payments are completely separate.
With Navan, companies can establish clear boundaries for personal trip expenses and employees can tap into corporate travel benefits, including exclusive access to corporate hotel discounts for the leisure portion of their trips. 
Combine Business and Leisure Travel with Navan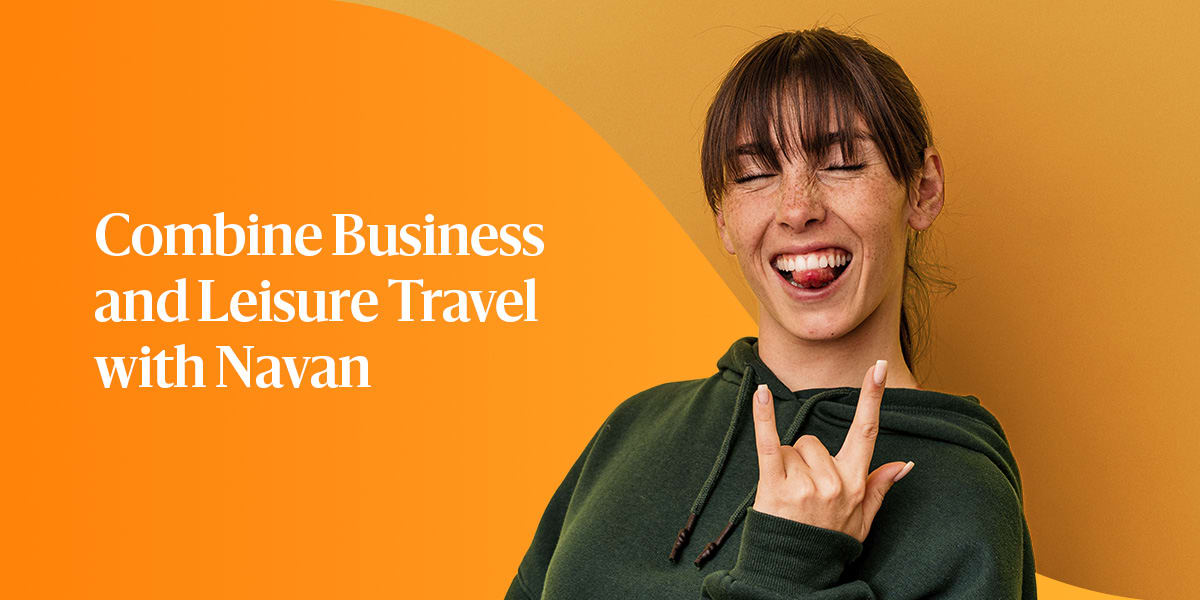 Travelers around the world book business, personal, and bleisure travel with Navan for a trusted, quality experience. Schedule a demo or get up and running with Navan in just 5 minutes.
More Bleisure Travel Resources