Anyone who travels for work will be quick to admit that business travel can be a whirlwind. But fear not: Many travel apps can help alleviate common hassles so you can focus on taking care of business.
Below are six of the best apps that business travelers simply shouldn't travel without. With these travel apps, you can manage itineraries and contacts, track flights and expenses, and navigate airports and foreign destinations like a pro.
So before embarking on your next business trip, download these travel apps to help ensure a smooth and successful journey.
1. Navan
Best travel app for booking and managing trips.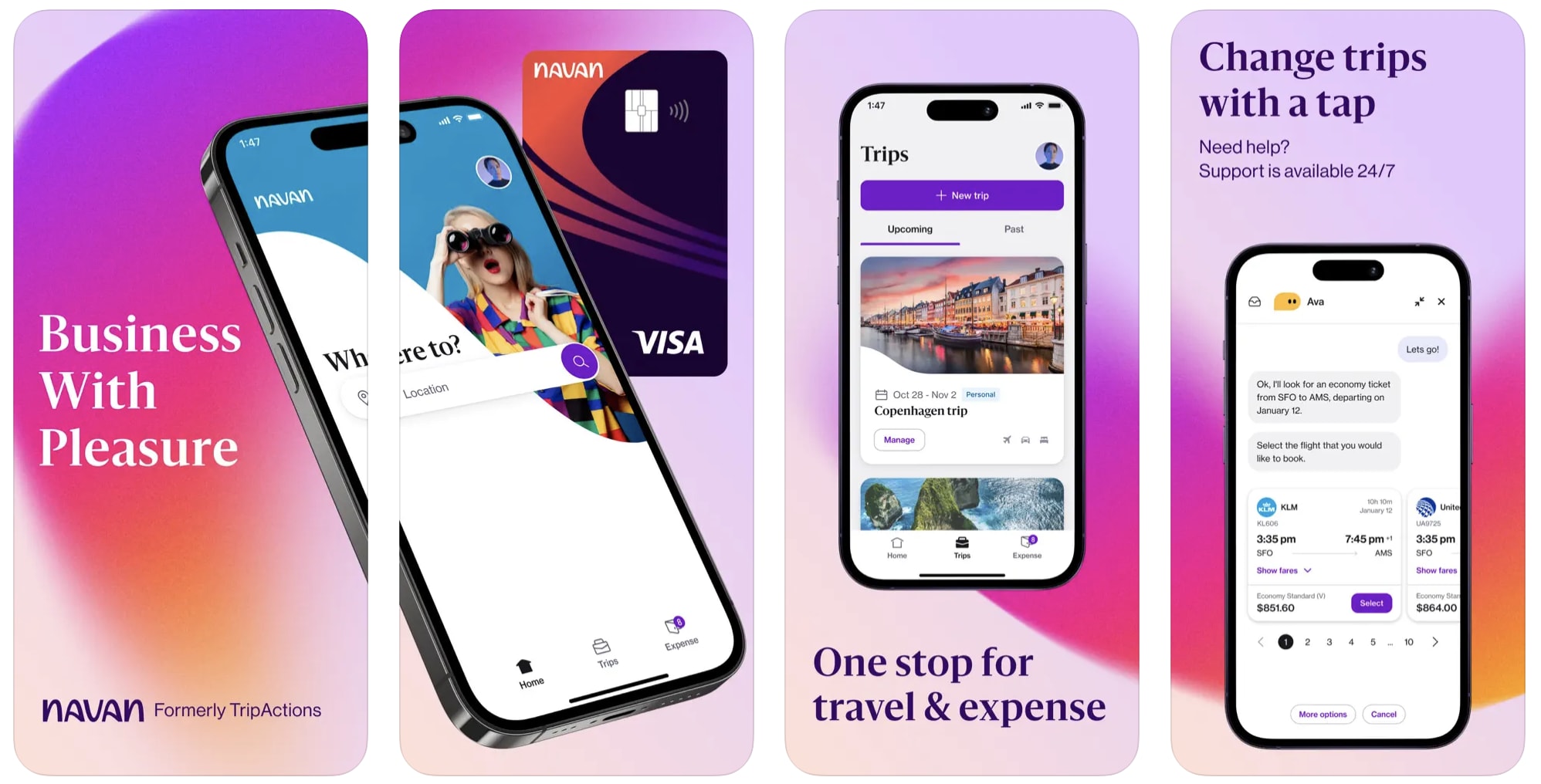 Navan is a corporate travel app that helps business travelers streamline and manage all their travel bookings and loyalty information. The app is consistently ranked the No. 1 travel management software by end users — and best of all, it's free for individual business use. Think of it like a master itinerary for all your travel information (no more searching confirmation emails for reservations or loyalty numbers!).
Key features of Navan include:
End-to-end travel management: Business travelers can manage and book flights, hotel rooms, car rentals, and rail through Navan, all while staying within their company's travel policy. Leisure travel can be booked through the app, too, which makes bleisure trips easier to manage. 
Personalized recommendations and loyalty integration: Navan's powerful search algorithm uses machine learning to browse extensive inventory while taking your loyalty and travel preferences into account, which helps you book and earn faster.
24/7 customer support and real-time notifications: When a flight gets disrupted, Navan's travel concierges will answer instantly — any time of day. The app also sends push notifications when travel plans change, providing peace of mind to busy business travelers during any last-minute travel disruptions.
On average, a full trip — with flight, car, and hotel bookings — takes just 6 minutes on Navan, making it a valuable tool for road warriors. Even better: When companies use the enterprise version of Navan's corporate travel management app, they can build in travel policy parameters and allow employees to file all their business expenses through the app using a corporate credit card.
Navan user review:
"Navan, in my experience, has been the most easy-to-use, accommodating, and helpful service for travel I have ever used. The support is instant, stellar, and goes above and beyond. All my rewards info is included automatically, and I can book in any city and ensure I'm within policy. 10/10"
Download the Navan mobile app for iOS via the Apple Store or for Android via Google Play.
---
2. Flightradar24
Best travel app for tracking flights.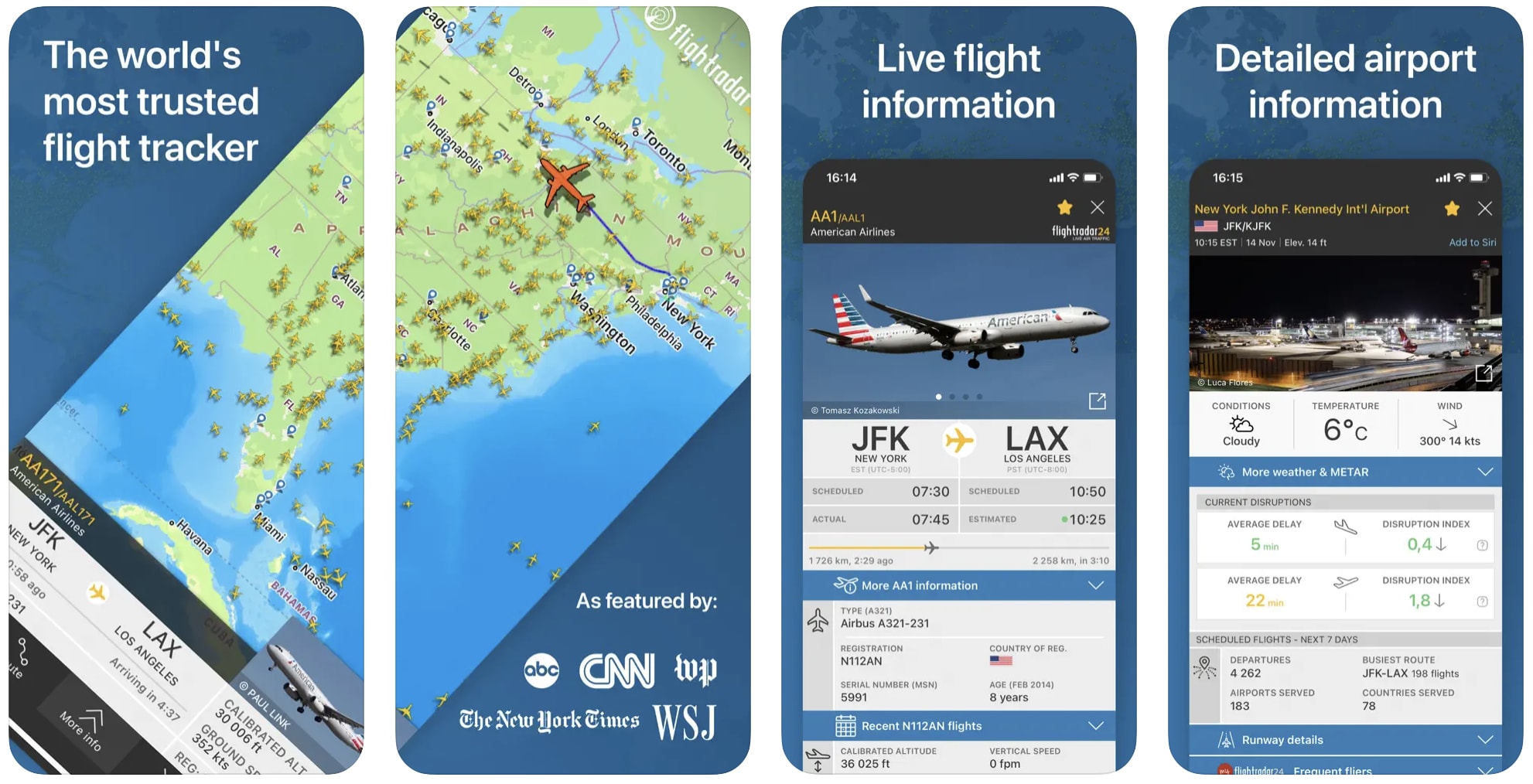 As a business traveler, staying on top of flight information is essential for ensuring a smooth and efficient trip. Flightradar24 is a popular flight-tracking service that can be a valuable tool for anyone who needs to find out the status of a flight.
Key features of Flightradar24 include:
Real-time flight tracking: The mobile app provides real-time flight status information, including details such as the flight's speed, altitude, and location. This information can help you plan your trip more efficiently, by allowing you to keep an eye on a connecting flight or confirming that your flight is on time while you check in at the airport.
Interactive map: The app's interactive flight map allows users to see the location of all flights in the air at any given moment, along with information such as flight number, airline, and aircraft type. Users can also filter flights by region, airline, or flight type.
Additional flight information: Flightradar24 also provides a wealth of aircraft and airport details. This feature can be especially helpful for business travelers who need to know more about the amenities available in the planes they're flying on, as well as details at the airports they're passing through, such as the weather.
Using Flightradar24 on your next business trip can help you stay on top of your itinerary, make informed decisions, and ensure a smoother and more efficient trip.
Flightradar24 user review:
"I'm constantly consulting this app and I trust the info it provides me with. I use it for my own travel all the time but it's also fun to use the AR feature just for fun to find out what aircraft is flying above. I'd say Flightradar24 is on my top five useful apps list."
Download the Flightradar24 mobile app for iOS via the Apple Store or for Android via Google Play.
---
3. LoungeBuddy
Best travel app for navigating airports.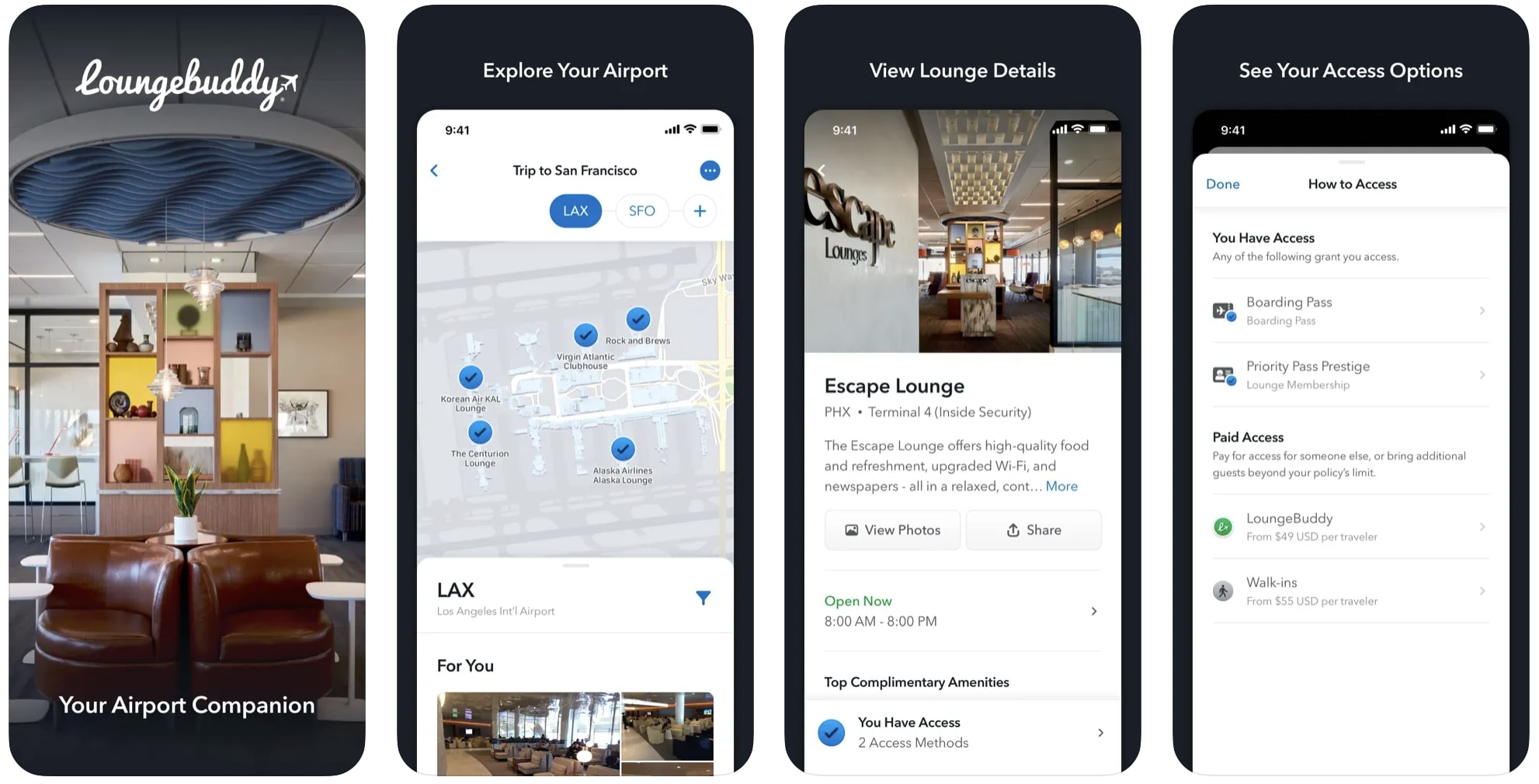 Business travelers often need to find spaces in airports where they can work in tranquility or simply rest before a departure. LoungeBuddy can be an incredibly useful tool for frequent flyers, because it helps them find places to work, relax, eat, or even shower.
Key features of LoungeBuddy include:
Lounge access information: LoungeBuddy provides information on thousands of airport lounges around the world, including access requirements, amenities, and user reviews. 
Booking and payment: The app allows users to book and pay for lounge access directly through the app, eliminating the hassle of navigating different airline or lounge websites and apps.
Personalized recommendations: LoungeBuddy can personalize lounge recommendations based on factors such as flight class, airline status, and loyalty memberships. This feature can help business travelers find the best lounge options to suit their needs and preferences.
LoungeBuddy is a valuable tool for business travelers who want to enhance their airport experience by gaining access to airport lounges.
LoungeBuddy user review:
"Love using this when traveling for work and pleasure. Right off the bat it provides you a list of all lounges you have access to based on your credit cards and airline status. You can put in your trip info and it tells you the same."
Download the LoungeBuddy mobile app for iOS via the Apple Store.
---
4. CamCard
Best travel app for managing contacts.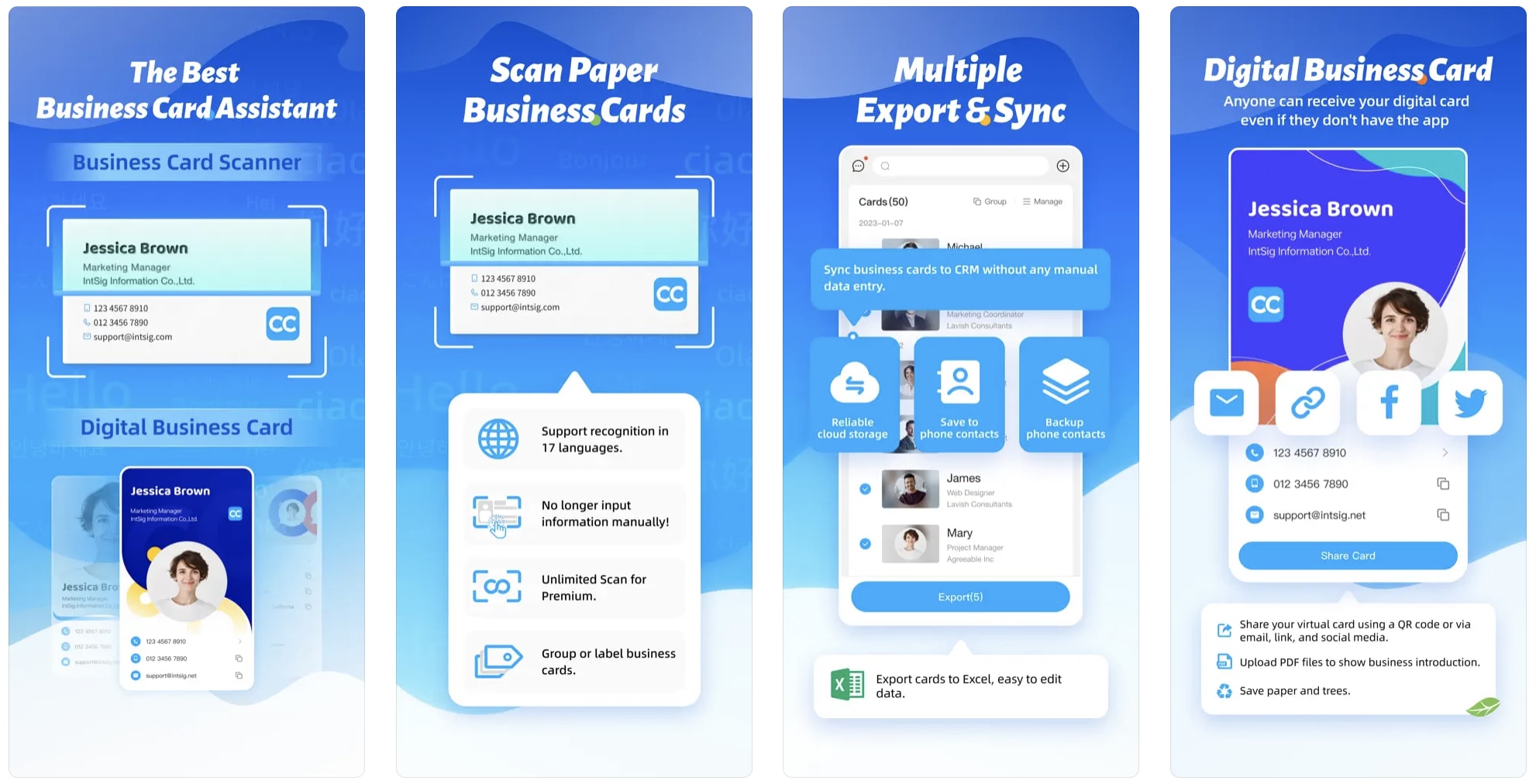 CamCard is a business card scanning app that helps users easily store and organize contact information. Its advanced scanning technology and intuitive interface can be an incredibly useful tool for business travelers and entrepreneurs who need to manage and exchange contact information on the go.
Key features of CamCard include:
Business card scanning: CamCard's scanning feature allows users to quickly and easily capture contact information from business cards using their phone's camera. The mobile app can even recognize and capture information in multiple languages, making it a valuable tool for international travel.
Contact management: Users can easily organize and manage their contacts once information has been scanned and added to the app. This includes adding notes, setting reminders, and categorizing contacts for easy searching and filtering.
Business card exchange: CamCard also allows users to exchange business cards with people nearby at business meetings, trade shows, or seminars, making it easy to share contact information with colleagues, clients, and partners. Users can share their digital card through email or other social media messaging platforms, eliminating the need for physical cards and streamlining the information exchange process.
CamCard is a useful tool for any business traveler who needs to stay organized, save time, and build relationships.
CamCard user review:
"This app has been sooo handy for me. The fact that it dates when you received someone's card, bundles cards that were all received in one location, allows you to write notes on each card, and gives you the ability to search keywords or locations or dates to locate a card. And the fact that it's free is awesome."
Download the CamCard mobile app for iOS via the Apple Store or for Android via Google Play.
---
5. Easy Currency Converter
Best travel app for tracking exchange rates.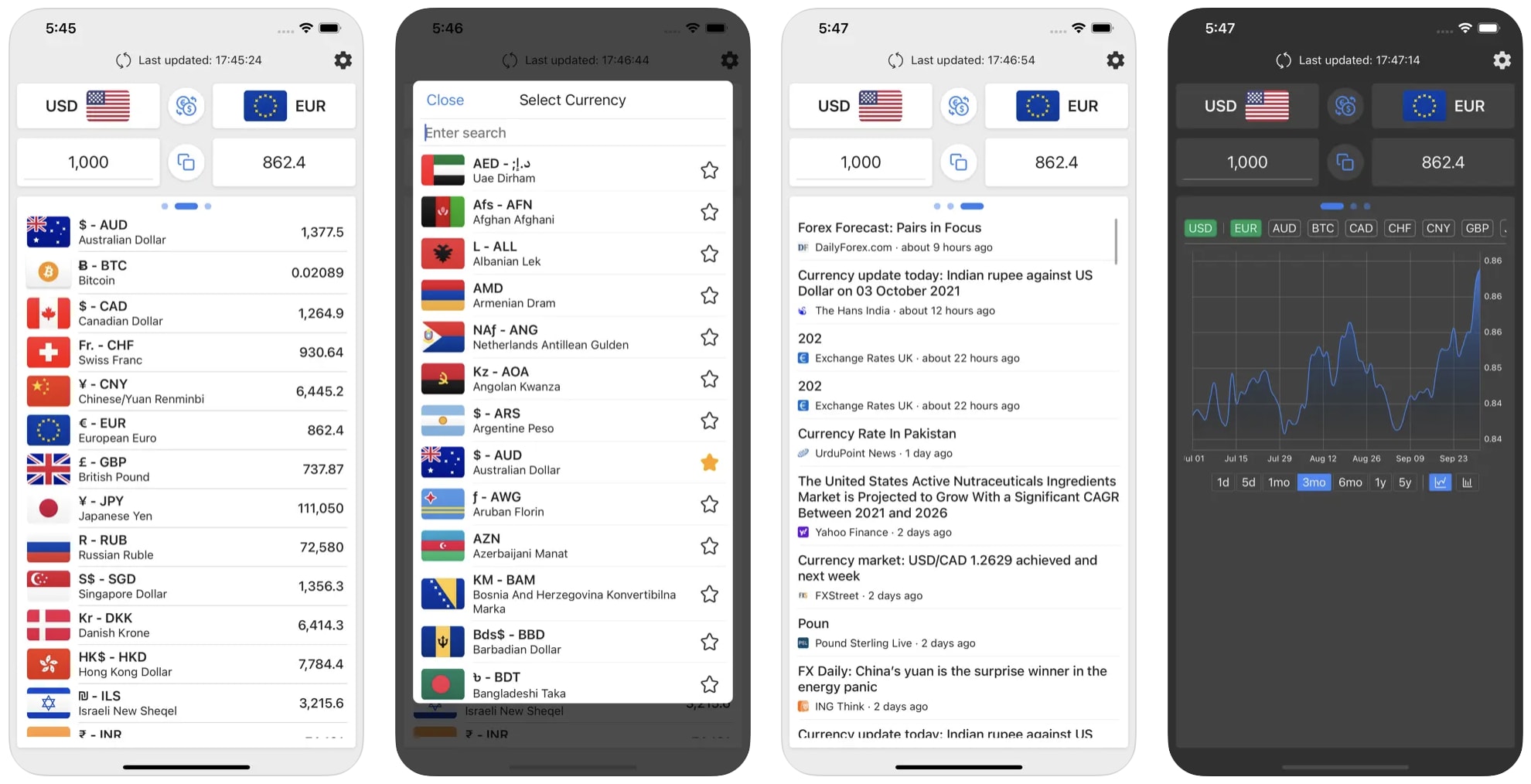 Easy Currency Converter is a user-friendly mobile app that takes the hassle out of manually doing currency conversion math. With its intuitive interface and up-to-date exchange rates, it is the perfect tool for business travelers who needs to keep track of exchange rates on the go.
Key features of Easy Currency Converter include:
Accurate exchange rates: The app provides real-time exchange rates for more than 180 currencies, making it easy for users to get accurate and up-to-date information on the currency they need.
User-friendly interface: The app's interface is simple and easy to use, with a clean design that makes it easy to find the currency you need and convert it quickly.
Works offline: The mobile app also comes with an offline mode, where users can see pricing information and make calculations based on cached exchange rates they had browsed previously. There's also a dark mode option to save battery and data consumption.
Easy Currency Converter can help business travelers spend smartly and stay within their company's policy and per diem rates.
Easy Currency Converter user review:
"It's quick, it works, it's reliable. Sometimes the ads are annoying, but hey ... It's free. I consult it often."
Download the Easy Currency Converter mobile app for iOS via the Apple Store or for Android via Google Play.
---
6. Google Translate
Best travel app for communicating while traveling internationally.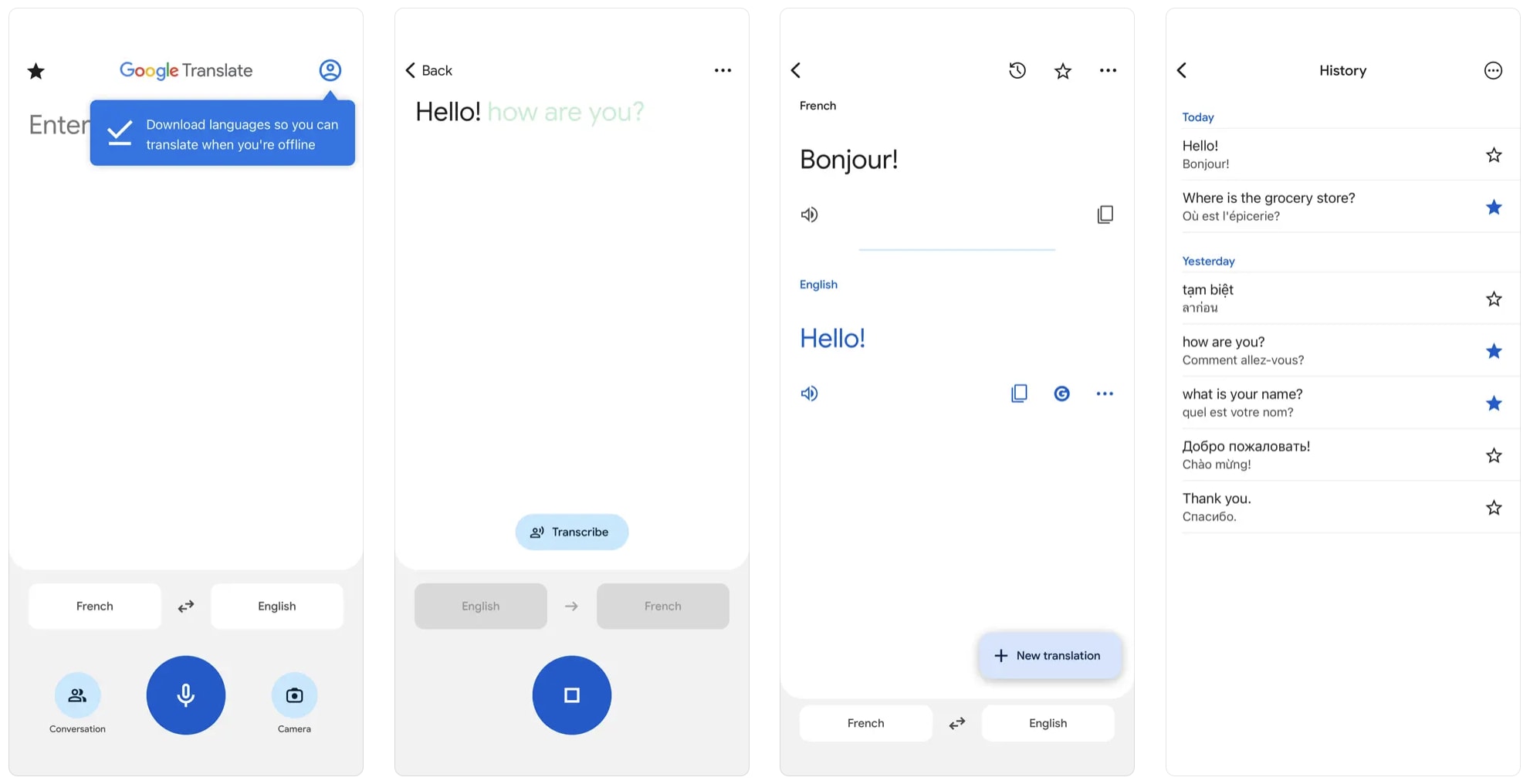 Google Translate is a powerful tool that can be incredibly helpful for business travelers who need to navigate international destinations and communicate with clients, partners, or colleagues in different parts of the world. Its ability to translate text, speech, and even images can help bridge language barriers and facilitate communication, especially after touching down in a new city.
Key features of Google Translate include:
Multi-language translation: Google Translate can translate text, speech, and images in more than 100 languages, making it a valuable tool for communicating with people all over the world.
Easy-to-use interface: The app's interface is simple and user-friendly. Its clean design makes it easy to enter or upload text, speech, or images for translation. Depending on their needs, users can also choose between different translation modes, such as text or voice.
Offline translation: The app also allows users to download language packs for offline use, which can be particularly helpful when traveling to areas with limited or no Wi-Fi connectivity.
Google Translate is a must-have travel app because its incredible functionality makes it a reliable and efficient way to overcome language barriers and facilitate communication in various settings. Also, Google Maps can link to Google Translate — there's no need to toggle between the two apps when asking your Uber driver for directions to the conference center or coffee shop.
Google Translate user review:
"During a trip to Japan a wallet was lost and Google Translate had no problem translating everything we needed it to. It was extremely helpful and the locals had no trouble with language barriers after us showing them the text."
Download the Google Translate mobile app for iOS via the Apple Store or for Android via Google Play.
---
More Business Travel Resources