Despite a year of flight cancellations and increased inflation, future travel intent is showing no signs of a slowdown—indicating that 2023 is shaping up to be another big year for personal travel.
Navan dug into its search data to find the most-searched destinations for personal travel in 2023. The result? With the strong dollar, U.S. travelers in 2023 are showing strong interest in international travel.
Which destinations are drawing the most interest from travelers next year? Let's jump in.
Top 50 Most-Searched Destinations for 2023
With future leisure travel searches on Navan up 93% year-over-year, the destinations that recorded the biggest increases in search were those that had previously limited international arrivals—especially in Asia, South Asia, and Oceania. In fact, several cities in the list didn't even rank in searches last year (represented by N/A).
(See the top 100 trending destinations for personal travel in 2023, along with YoY rank change and share of searches.)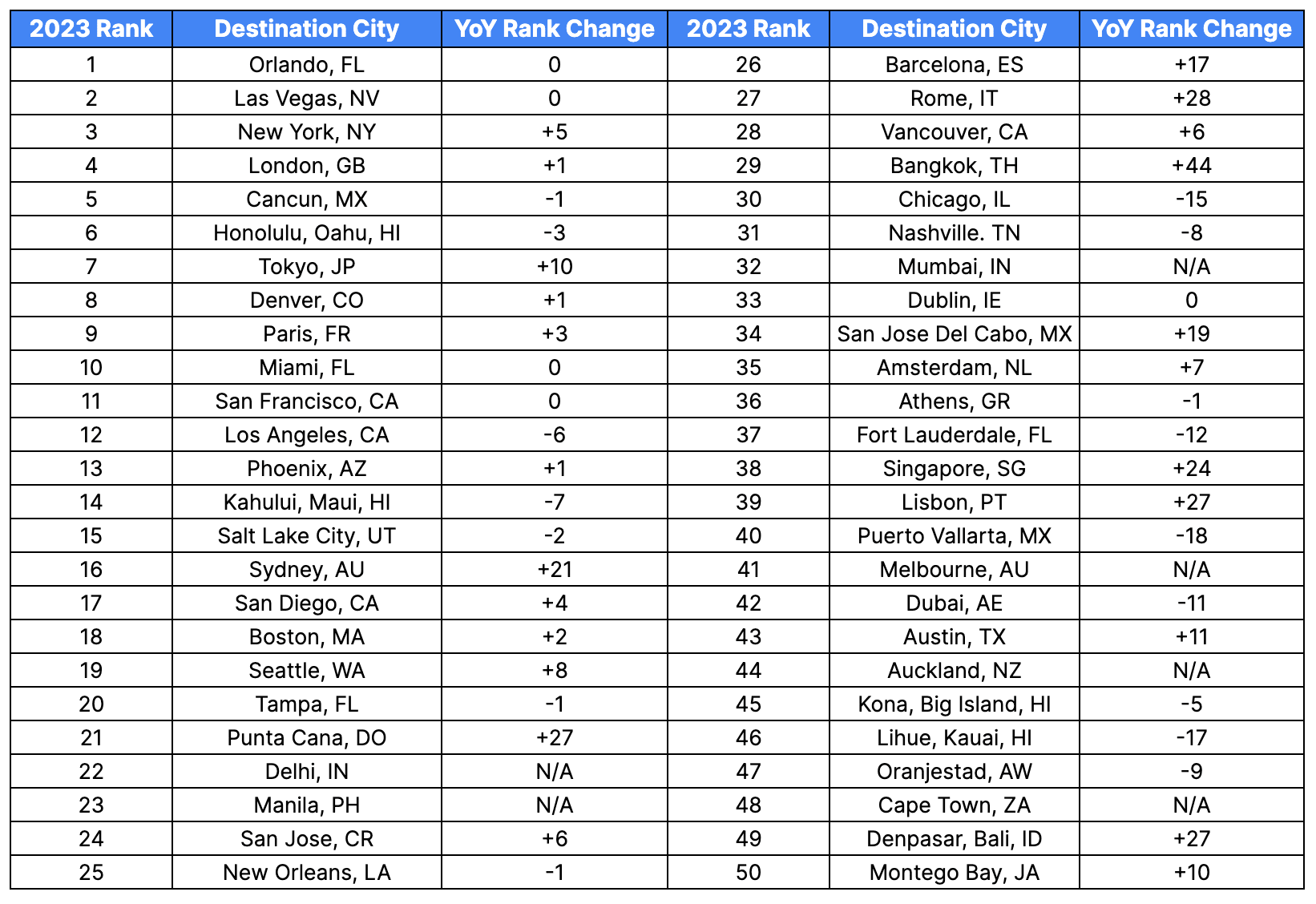 Stay-and-Play Destinations
Navan data show that 'stay-and-play' destinations—popular spots for conferences or events that also offer leisure activities or attractions—will continue to dominate personal travel next year. Orlando once again nabbed the No. 1 spot on the search list, followed by Las Vegas (+0) at No. 2, and Miami (+0) at No. 10. And while some destination locations like Cancun (-1) have decreased in rank YoY, demand remains strong.

Adiós Puerto Vallarta, Hola Punta Cana
Popular Latin America and Caribbean destinations gained a strong foothold in both 2022 and 2023. In the coming year, travelers are swapping Puerto Vallarta, Mexico (-18) and Oranjestad, Aruba (-9) for Punta Cana, Dominican Republic (+27), San Jose Del Cabo, Mexico (+19), and Montego Bay, Jamaica (+10).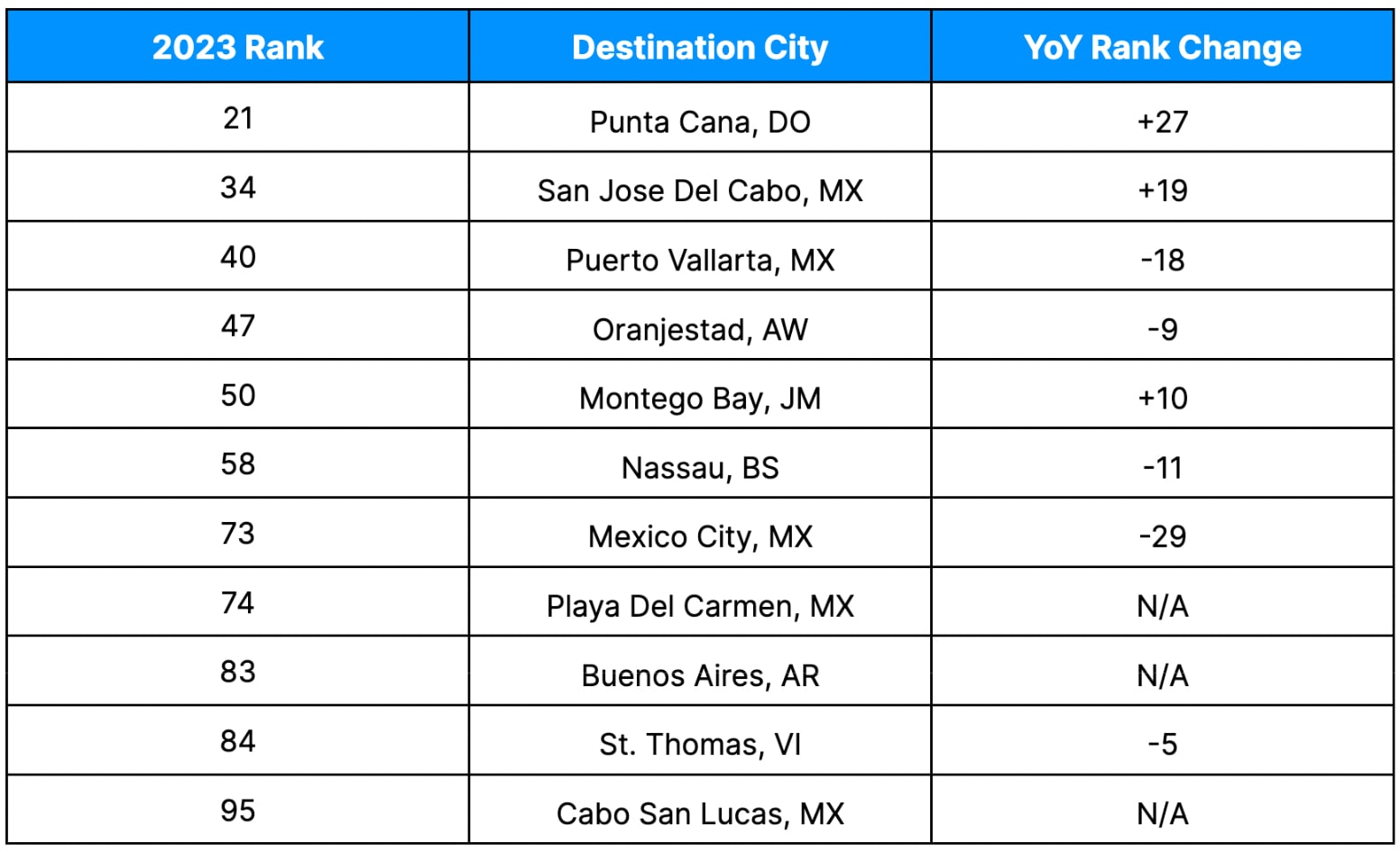 Oceania and Asia Reopen
Due to heavy visitation restrictions during COVID-19, travelers are extremely eager to visit destinations across Oceania and Asia, according to Navan data.
Destinations such as Bangkok (+44), Sydney (+21), and Tokyo (+10) saw some of the biggest jumps in rank when compared to 2022. The data also show the addition of numerous Oceania hotspots, including Melbourne and Auckland.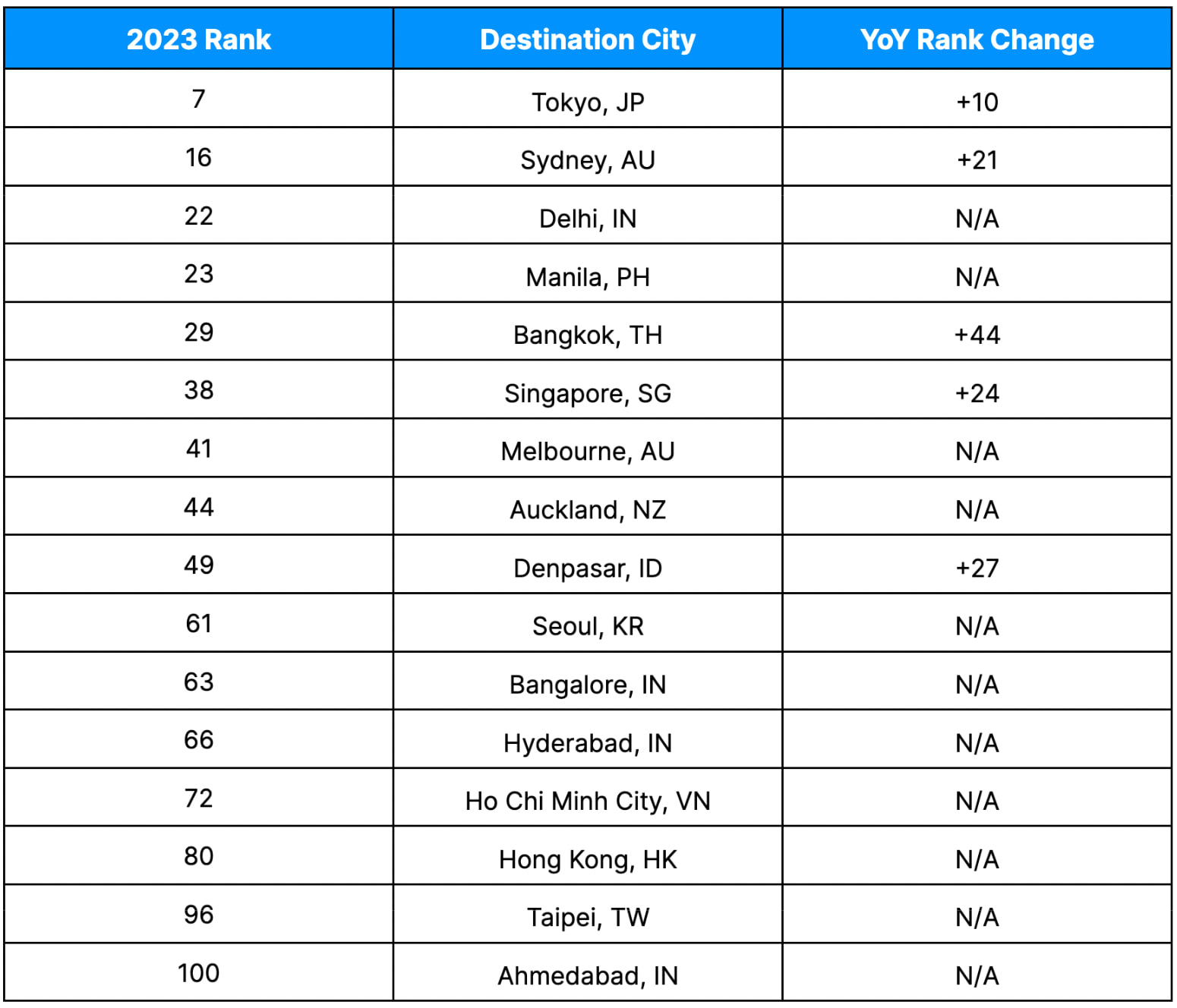 Americans Flock to Europe
In 2022, the U.S. dollar reached parity with the euro for the first time in two decades, adding to an uptick in appetite for travel to Europe. Rome (+28), Lisbon (+27), Barcelona (+17), and other major European cities moved up the list a significant amount—a trend that is expected to continue well into 2023.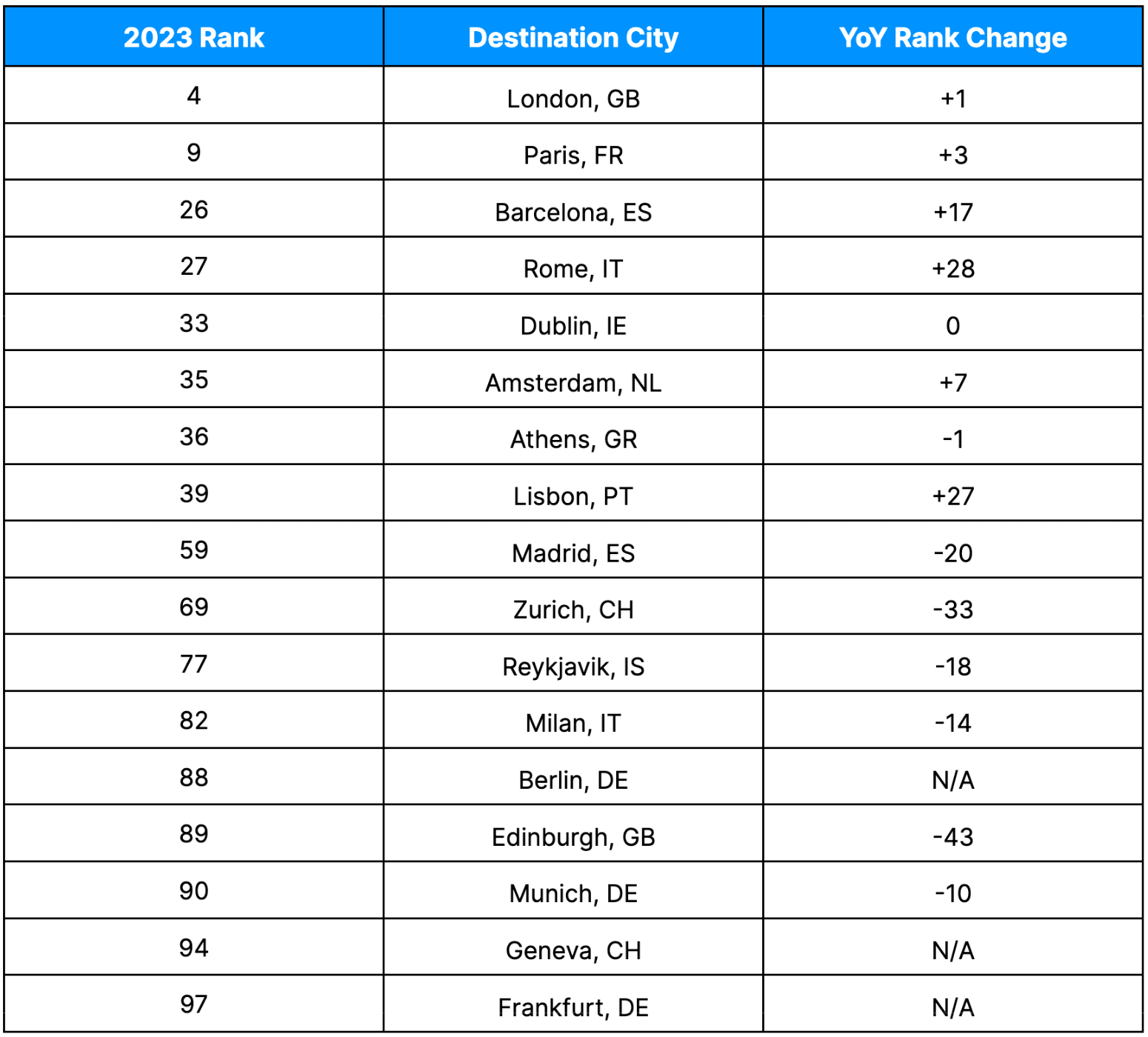 These Destinations Are So Last Year
As one door opens, another door closes. And as travelers look to put their funds toward newly reopened destinations, a number of cities fell off of this year's list, including Liberia (-60), Edinburgh (-44), Palm Springs (-38), and Fort Myers (-35).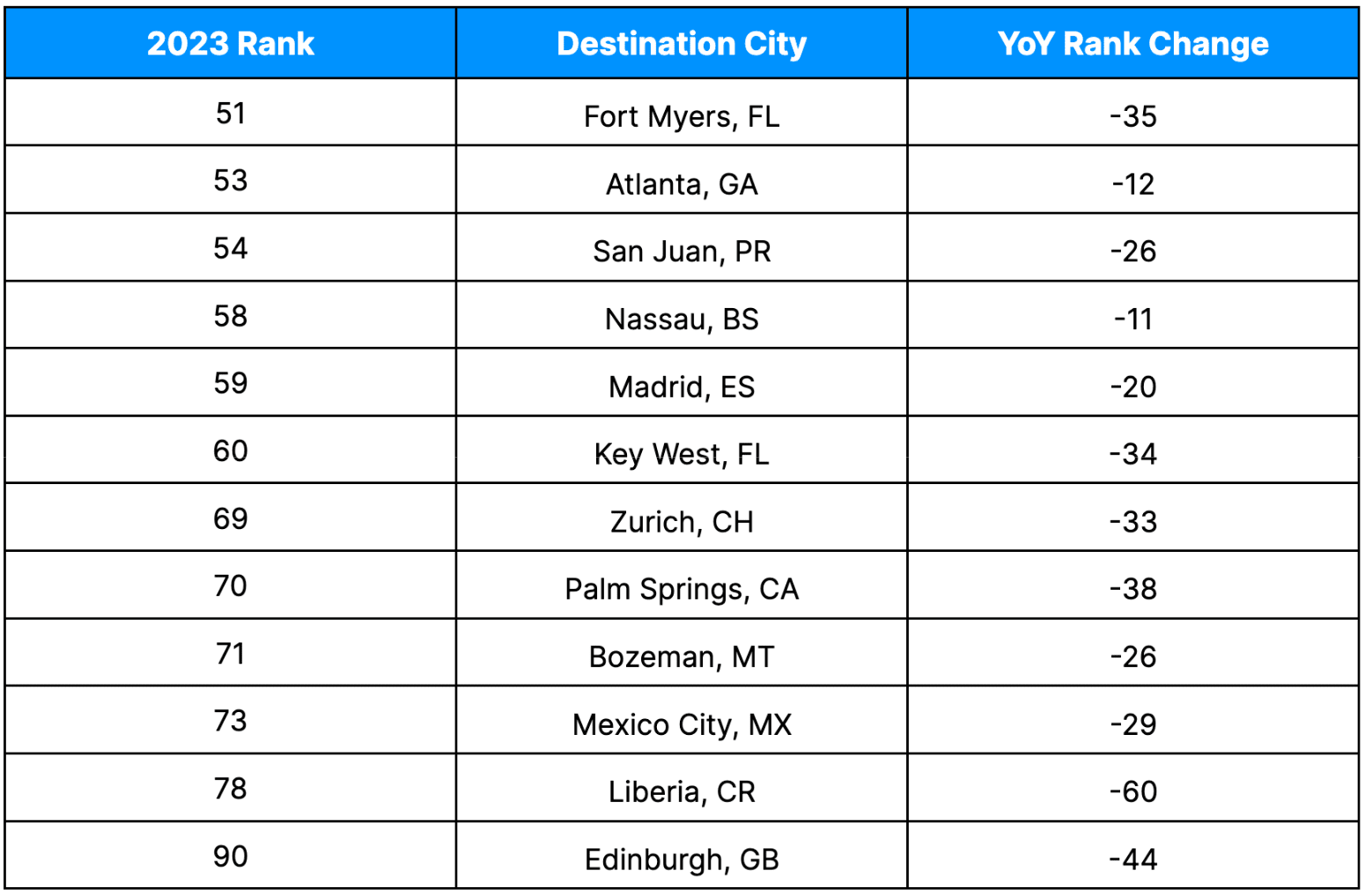 Conclusion
As the world adapts to the new normal following heightened restrictions, travelers are eager to book. And despite concerns about the macroeconomic environment, interest in personal travel remains strong.
With this increased demand to get back to globetrotting, Navan data also show that travel patterns are shifting—particularly around blended travel.
In fact, more than a third of business trips are now being extended for leisure purposes, according to Navan data—catapulting blended travel into a category all its own. As conferences and team offsites rise in popularity and connect disparate teams, personal travel extensions of business trips will greatly affect which destinations see a rise in tourism.
As a result, companies are looking to modern travel and expense management tools like Navan to help bring the blurry line between work and travel into focus.
Explore how Navan makes it possible to seamlessly combine personal trips with business travel, and how employees can tap into corporate travel benefits to make bleisure trips easier and more convenient.
Methodology
Navan analyzed hotel and flight searches with a booking start date in 2023 and a booking window of July 1, 2022–October 31, 2022, and compared that to hotel and flight bookings in 2022 based on a booking window of July 1, 2021–October 31, 2021.