Welcome to a new era of financial efficiency — Navan Connect has arrived in Europe to unlock the power of modern travel and expense for businesses. Navan Connect expands the convenience of Navan Expense by giving companies access to real-time control and visibility without the change management or risk intrinsic to the process of changing corporate cards. 
Navan introduced the game-changing technology Navan Connect in the United States in June, and today, this "Bring Your Own Card" (BYOC) technology is available in Europe and the UK, extending its reach to ten different currencies and more than 40 UK and EU banks for a total of nearly 250 global banks.
Navan Connect is now available in the American Dollar, Canadian Dollar, Euro, British Pound, and all European currencies, notably, Swedish Krona, Danish Krone, Swiss Franc, Polish Zloty, Czech Koruna, and Norwegian Krone.
What Navan Connect Brings
Navan Connect's innovative card-link technology brings the magic of Navan Expense to companies with any enrolled corporate Mastercard® or Visa® card. These companies can keep their existing institutional corporate cards and banking relationships, as well as the benefits that come with them, like rebates, cash back, loyalty points, and more.
At the same time, companies can access a world of real-time control, spend visibility, and automated expense reports previously only available with Navan cards. In other words, companies can now get the best of both worlds.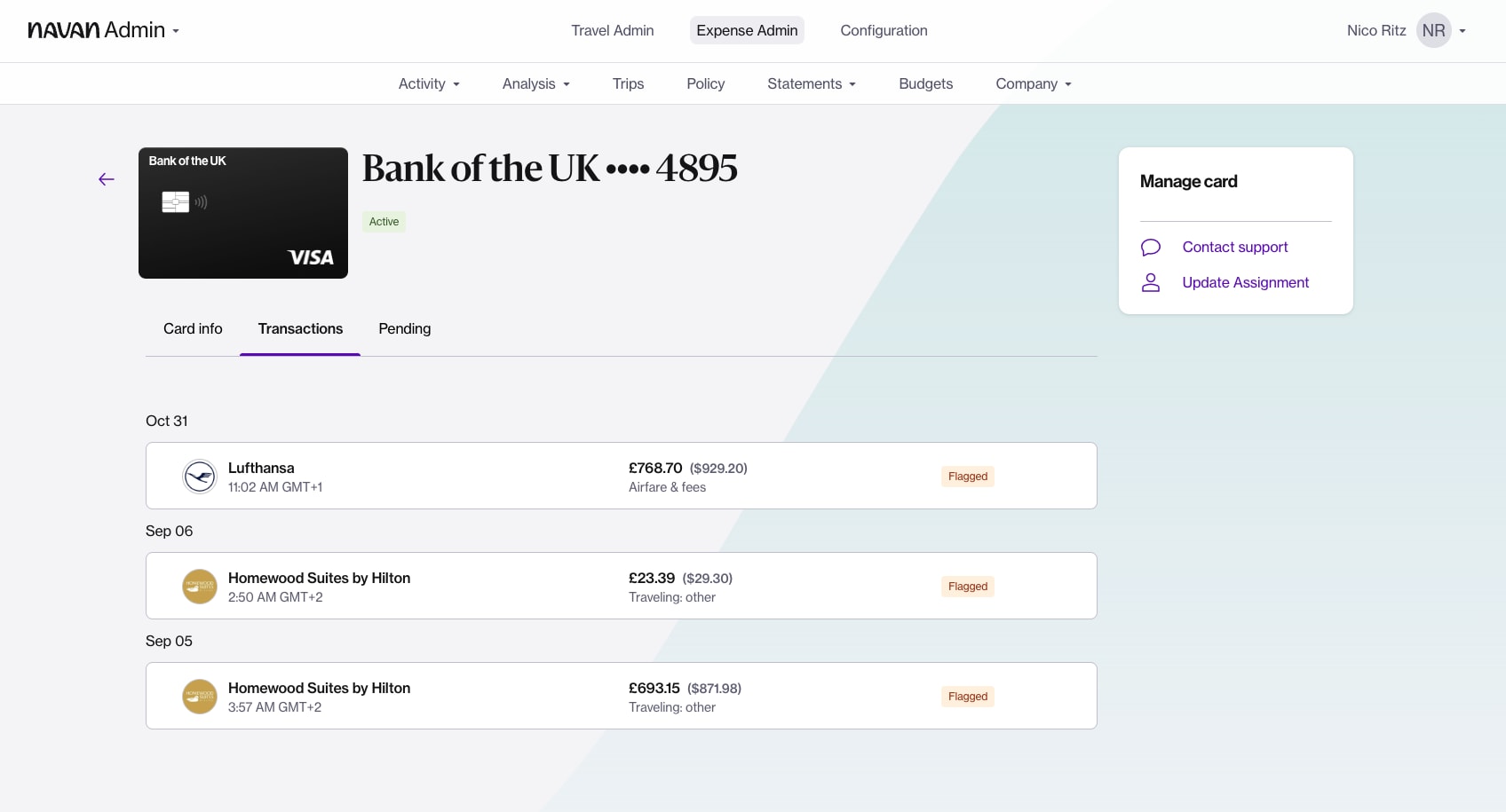 Since its launch in the United States, Navan Connect has already started to power an entirely new generation of partnerships. For example, Navan and Citi, the third-largest U.S. bank, leveraged the innovative card-link technology of Navan Connect to create a jointly branded travel and expense system designed for Citi Commercial Bank cardholders last month.
This is the industry's first complete end-to-end corporate travel and expense (T&E) management collaboration of this scale and hints at the possibilities now available wherever this technology is deployed.
Watch Navan Connect in action:
If You're New to Navan, Here's What Makes Navan Expense Magical
The first question CFOs ask about Navan Expense is: "Is it going to save me and my business time and money?" The short answer is an emphatic yes. The longer answer is: "Yes — and then some." 
Navan Expense helps solve CFO, controller, accounting, and employee frustrations, saving companies time and money by putting the customer first.
Do you want visibility into how company money is being spent, so you can make confident business decisions? Navan provides actionable real-time visibility to make the best decisions when it comes to saving the company money. 
Does your accounting team spend ages each month closing the books, chasing employees for information, and manually reconciling expenses? Finance teams need smart automation that automatically codes and categorizes expenses to support your reconciliation and month-end accounting processes. No employee has ever been excited about compiling expense reports, so our industry-first technology does the work to save them time by automating the filing and submission of expenses. 
Controlling how much employees spend, and on what, and automating tedious manual work saves finance teams and traveling employees significant amounts of time. Navan's solution captures the details of an expense the instant it happens, checks if that expense adheres to company policy, and allows you to inform employees whether their expense is within policy at the point of sale.Some of our favorite magical Navan Expense features for Navan's European and international customers are: 
Control and Visibility
Per Diems: Set and adjust per diem spending policies based on user groups, country of origin, and travel destinations.
Automated Approval Workflow: Review only flagged expenses while automatically approving and reimbursing everything else. As a result, employees comply with the policy automatically without having to memorize policy. The policy better fits their specific situation depending on their role, destination, and trip objective.
Combined Currency Reporting: Get a consolidated view of total spend across all issuing currencies to ensure expense admins and approvers have a unified view of spend in more than 30 currencies. This allows for easier reporting across global entities.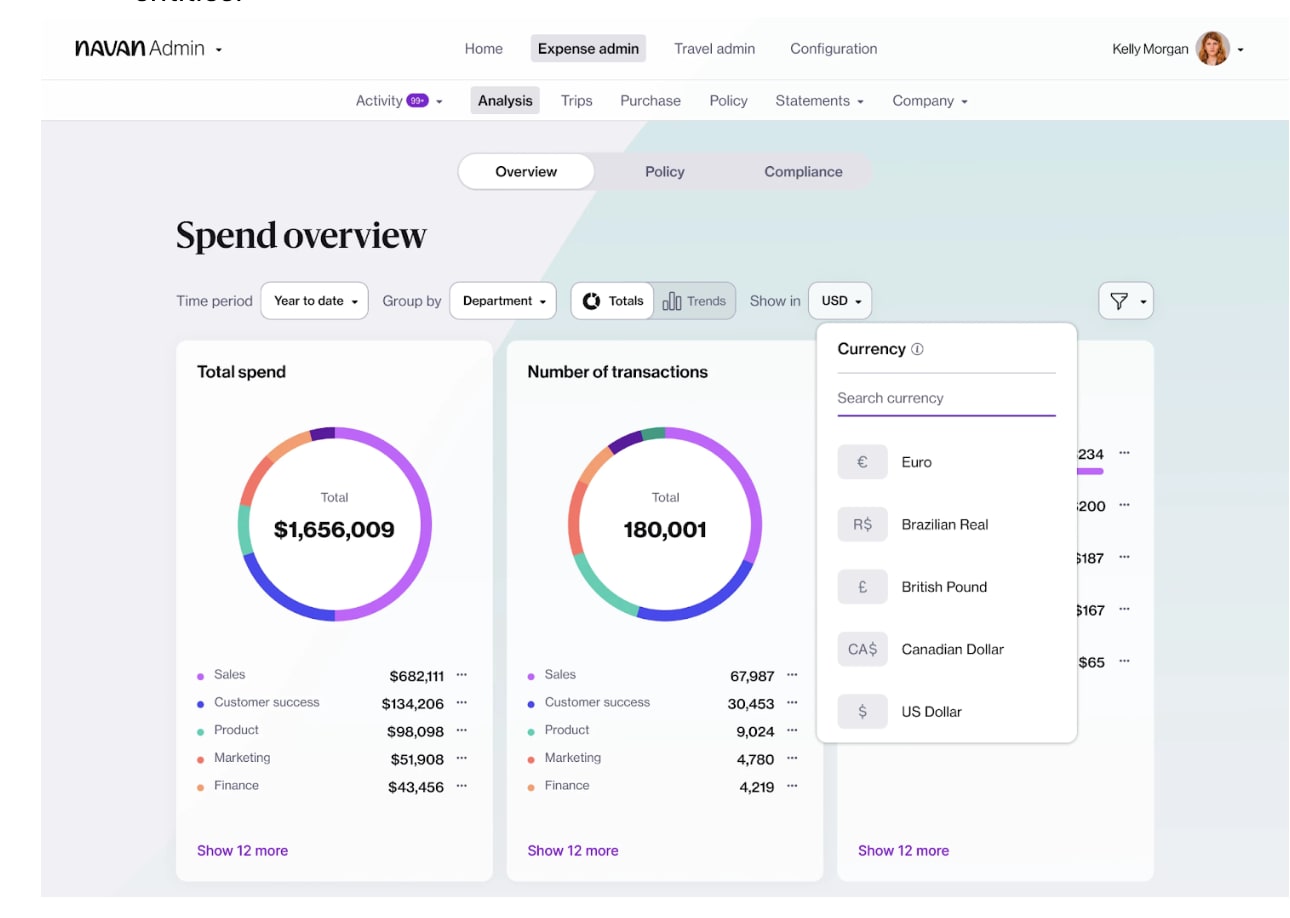 Efficiency 
Smart Itemization: Eliminate the need for manual expense itemization and submission. Finance teams save time with automated reconciliation, approvals, and compliance checks.
Global Rapid Reimbursements: Effortlessly reimburse employees directly to their bank accounts in under two days, across more than 30 currencies and 45 countries. Admins can establish rules to auto-approve reimbursements within certain thresholds.
VAT Simplification: VAT details are automatically itemized when users scan a receipt, improving accuracy and compliance while reducing the risk of human error.
Happy Employees
Time Savings: People waste time completing expense reports. With legacy tools, it's tedious and time-consuming to process expenses for a single trip. Navan Expense combines travel and expense management into a seamless, automated process. 
Navan Expense is transforming the way finance teams in Europe and the UK approach expense management, and now Navan Connect is making sure all companies can access its benefits.
Learn more about how Navan Connect combines the world's most advanced payment technology with the benefits of banks directly from Michael Sindicich, General Manager of Navan Expense.