As Navan Expense leads the fintech industry into a new era, our October news and product updates are evidence of the momentum we've been building.
First, the Navan Expense team hit the road to meet with our community face-to-face and exemplify the company's values. 
Navan Expense GM and EVP Michael Sindicich and Senior Director of Corporate Marketing Kelly Soderlund headed to New York to host a panel as part of NY Tech Week. Later in the month, they were joined by Navan co-founder and CEO Ariel Cohen and Senior Director of Fintech Partnerships and Business Development Tim Russo in Las Vegas for multiple talks onstage at Money20/20.
A major topic was the Navan and Citi strategic agreement, announced on October 19, which combines Navan's all-in-one solution and Citi's leading commercial card solutions to create a seamless digital experience for Citi Commercial Bank cardholders. 
This agreement — the industry's first complete end-to-end corporate travel and expense (T&E) management collaboration of this scale — marks a new era moving forward for banks and fintech companies that care about making their customers' lives easier.
Amidst these exciting developments, the Navan team distilled its insights into a comprehensive guide, The One Thing Most T&E Solutions Overlook to provide a strategic roadmap for companies looking to elevate their travel and expense management both today and in the future.
What does it mean to be a future-proofed T&E solution? It means having functions that are flexible enough to adapt to new conditions. It means building in features that other solutions haven't even considered. It means keeping up with the latest technology and leveraging its benefits, just like Navan has done by using generative AI to create and enhance an automated virtual assistant, Ava, which acts as data analyst, hotel concierge, and more. 
Download the latest Navan report: The One Thing Most T&E Solutions Overlook.
Latest Updates to Navan Expense in October
While all this was happening, the Navan Expense engineering team was working diligently on improving the product. Here are some of the latest feature updates:
NetSuite Integration Gets Even Smarter
Navan customers using Navan Expense through the NetSuite integration gained more control, flexibility, and automation in their accounting and reporting processes in October.
New features include: 
Support for expense report record types, payroll, and Navan Connect transaction types
Navan transaction data is configured and routed to multiple ERP record types
Multiple liability accounts mapped across all record types
More Control and Visibility for Germany When Booking Travel
Navan now supports Amex Business Travel Account in Germany. Clients have the flexibility to use their preferred payment method when booking travel on Navan, which consolidates full transaction details enriched with key HR info and makes reconciliation easier. 
For existing Navan customers looking for more information on this travel payment method, contact your account manager. 
Improved Employee Expense Experience
Navan now notifies employees of their failed reimbursements and explains how to fix them in the mobile app and on the Web, which puts money back in their pockets even faster. 
When it comes to expenses, employees want to tackle tasks in bulk. To do this as efficiently as possible, employees can now submit expenses for a trip in one go by selecting multiple drafts (i.e., transactions that are entered but not yet submitted) and bulk submit them on the Web to save time on expenses.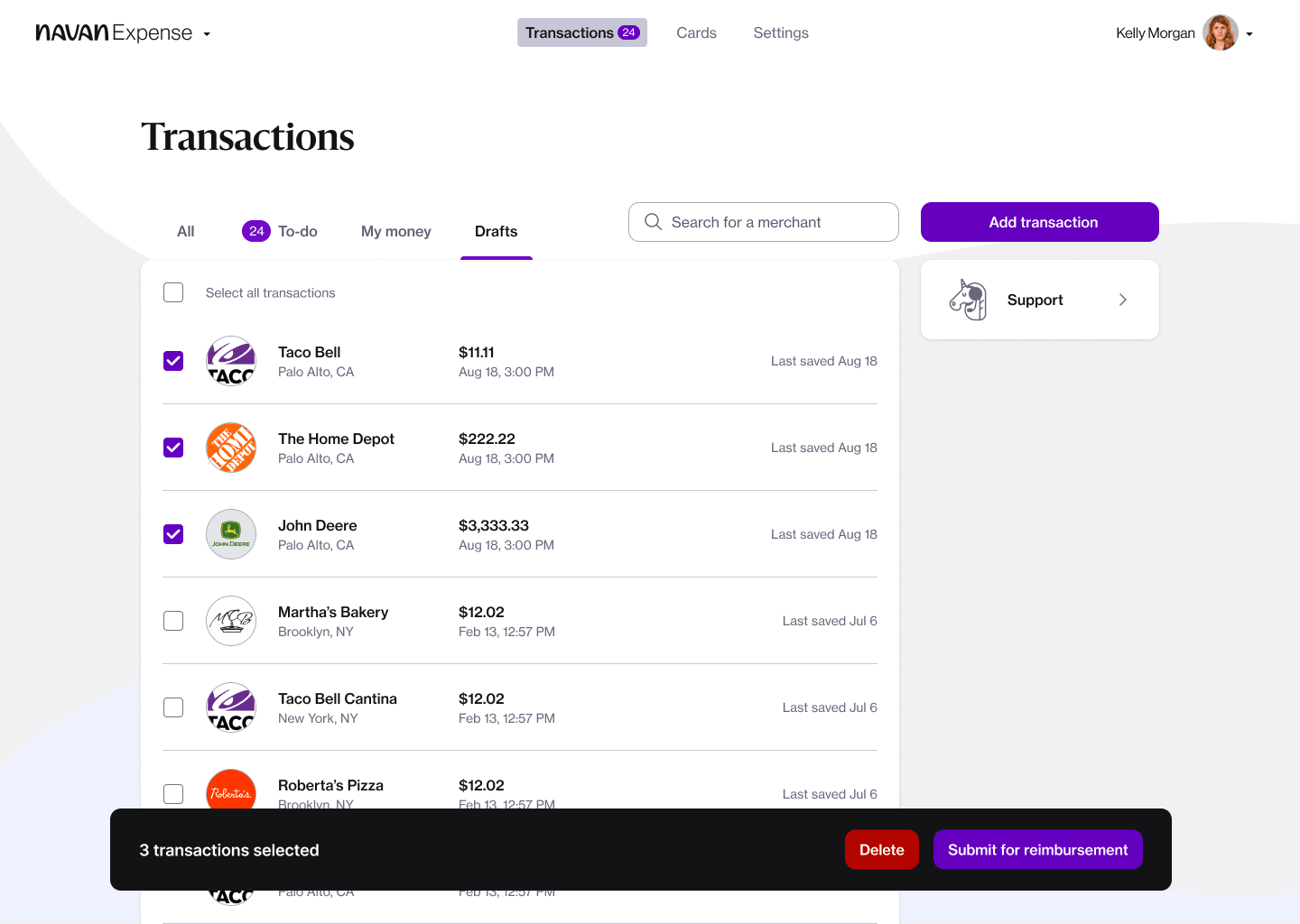 October brought pivotal product updates and meaningful in-person engagements, but this is only setting the stage for a future rich with progress and innovation.
Don't wait! Drive cost savings, productivity, and compliance for your company while delighting employees. Sign up for Navan Expense for free today.