Navan Expense is at the forefront of reshaping the landscape of payments and expense management. Just this month, our dedicated Expense team unveiled 10 features within 10 days — just one sign of our relentless pursuit to streamline the expense process.
This drive hasn't gone unnoticed. A growing number of our Travel customers are expanding their relationship with Navan to take advantage of our Expense solution. The result: an impressive 90% YoY surge in customers upgrading to include Navan Expense.
Navan Expense General Manager Michael Sindicich has been busy highlighting these successes and our culture of innovation and collaboration at leading tech conferences like SaaStr Annual 2023 and TechCrunch Disrupt.
He's been showcasing our newest innovations to Navan Expense. Here's a summary.  
Reporting Combined Currencies
Our new, enhanced Web view simplifies a company's global financial overview. Navan Expense now consolidates total spend across all issuing currencies, giving expense admins and approvers a unified view of spend in over 20 currencies. This allows for easier reporting across global entities.
We created it based on customer comments, who told us it was difficult to get a full view of total spend in a currency relevant to each admin. With that feedback in mind, this solution removes the extra work required to understand global spend comprehensively. Learn more.
Expense admins and approvers can now view dashboards in the following currencies:
AED: United Arab Emirates Dirham
MXN: Mexican Peso
AUD: Australian Dollar
RM: Malaysian Ringgit 
BRL: Brazilian Real
NOK: Norwegian Krone
CAD: Canadian Dollar
NZD: New Zealand Dollar
CHF: Swiss Franc
PHP: Philippine Peso
CNY: Chinese Yuan Renminbi
RUB: Russian Ruble
DKK: Danish Krone
SEK: Swedish Krona
EUR: Euro
SGD: Singapore Dollar
GBP: British Pound Sterling
TRY: Turkish Lira
HKD: Hong Kong Dollar
VND: Vietnamese Dong
NIS: New Israeli Shekel
USD: United States Dollar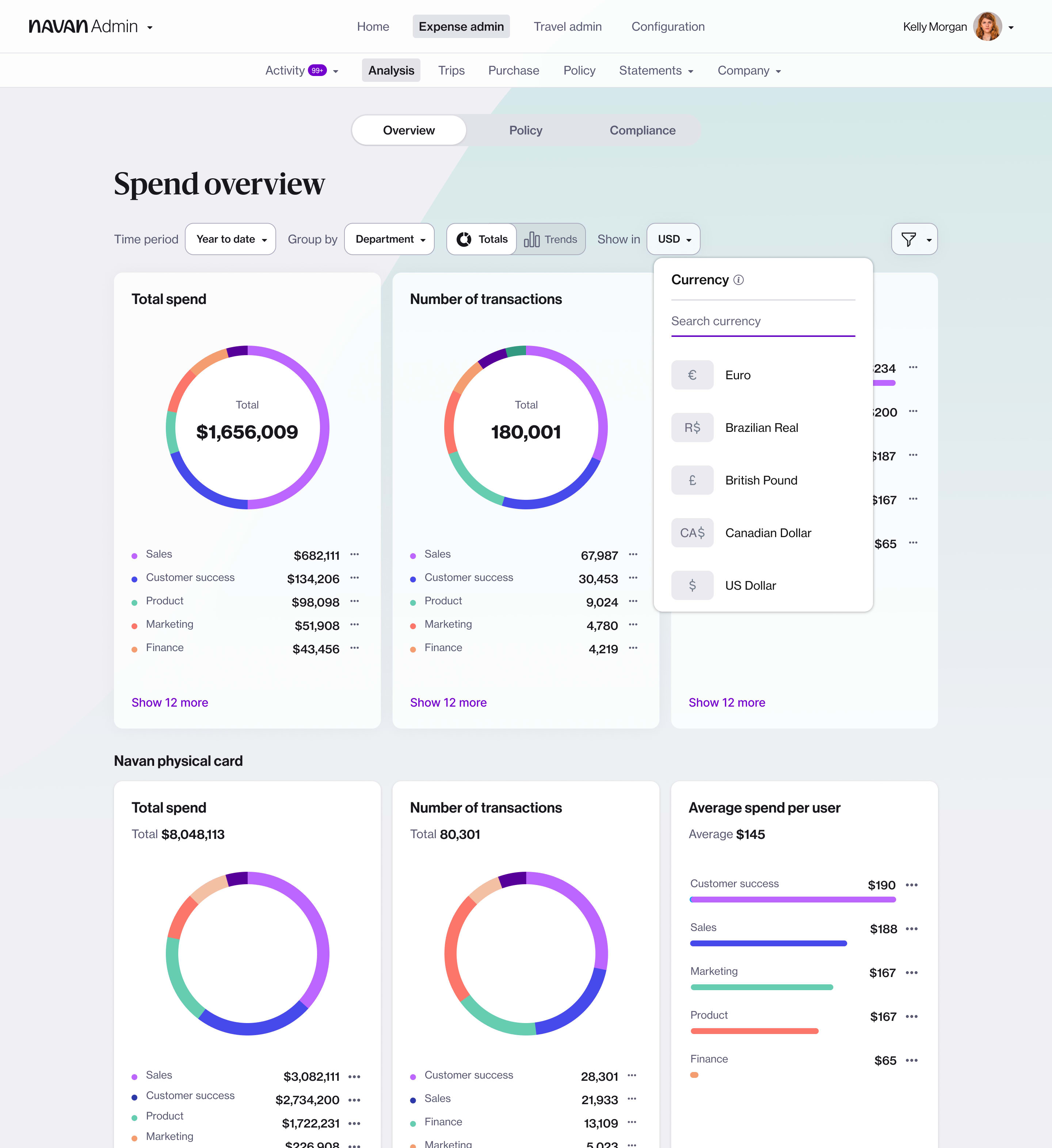 Direct Reimbursements in More Currencies
Employees want to be reimbursed in their local currency. We get it. Navan now processes reimbursements in Israeli New Shekels and United Arab Emirates Dirham.
Optimized Invoice and Receipt Design
Understanding the difference between receipts and invoices can be crucial. With that in mind, Navan enhanced the design, viewing, and downloading experiences to ensure a clear differentiation.
Bulk Download of Hotel Invoices and Receipts
Opt into Navan's Hotel Invoice Collection service to automatically obtain pay-later hotel invoices from specified countries. Invoices, with VAT details when relevant, are directly attached to the related transaction, eliminating the hassle of tracking such invoices. 
Using the VAT Supplemental Report, customers can access invoice data for bookings paid in a prior statement but invoiced later. If available, VAT details from the invoice are also in the report. Users can now easily download all hotel invoices and receipts in bulk from the report, streamlining reconciliation and tax tasks. Learn more.
Amex Business Travel Account (BTA)
Our Amex BTA integration captures detailed booking and transaction information for month-end statements — a crucial tool for enterprise customers auditing and allocating costs. We've broadened our support to include currencies like SEK: Swedish Krona, DKK: Danish Krone, NOK: Norwegian Krone, and CHF: Swedish Franc, effectively covering most of Europe, the UK, and North America, with more currency support following. For more information on this payment method, contact your Customer Success Manager. 
Embracing Navan Expense's innovations is more than just adopting new features; it's a strategic move towards a more efficient, global, and streamlined financial future.
Don't wait! Drive cost savings, productivity, and compliance for your company while delighting employees. Sign up for Navan Expense for free today.