Policies don't belong in the filing cabinet, shared folder, or drive. Navan Expense is putting policies where they belong: directly into the purchase process by applying flexible, code-based limits at the moment of transaction. Eliminate rogue spend and stop budget breakers in their tracks with Expense Policy Configuration.
The best-intentioned policies are meaningless without adoption. Finance teams have forever pondered how to best encourage their employees to read and comply with policies. They've struggled to adapt policies as business circumstances change and customize policies based on individual factors. These teams have walked a tightrope by trying to empower employees to spend for business growth while still maintaining company control.
Designing effective expense policies in the modern era is not about manipulating the current process or searching for better communication strategies. Modern T&E management requires moving beyond the idea of a written purchasing policy altogether. It's no longer necessary to write pages of static policy that few employees read and is rendered irrelevant with the slightest change in circumstance. Today, we can put that information in code and make it relevant at the exact moment that the transaction occurs.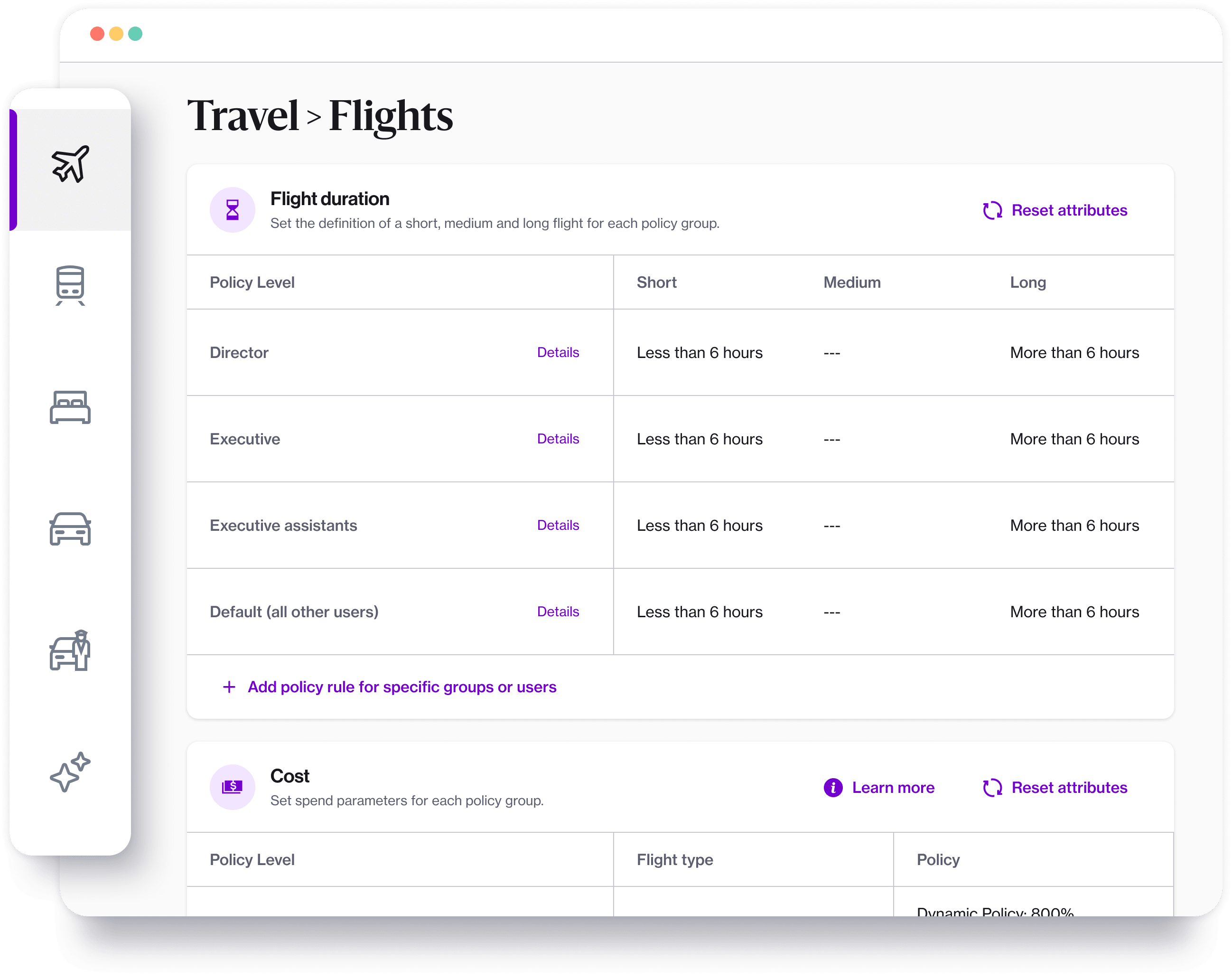 With Navan Expense, companies can program policies and limits directly into the purchasing process itself. The policy becomes an intuitive part of the purchase process. Companies can finally enforce spending rules before they are broken with this proactive, flexible approach to expense management.
The three main highlights of Navan's Expense Policy Configuration:
Custom policy builder: Easily design spend policies for a full range of expense categories that is tailored specifically to your company
Built-in proactive controls: Automatically enforce compliance by programming the policies that employees need to follow directly into the corporate card itself
Automated approval workflow: Review only flagged expenses while automatically approving and reimbursing everything else As a result, employees comply with the policy automatically without having to memorize policy. The policy better fits their specific situation depending on their role, destination, and trip objective.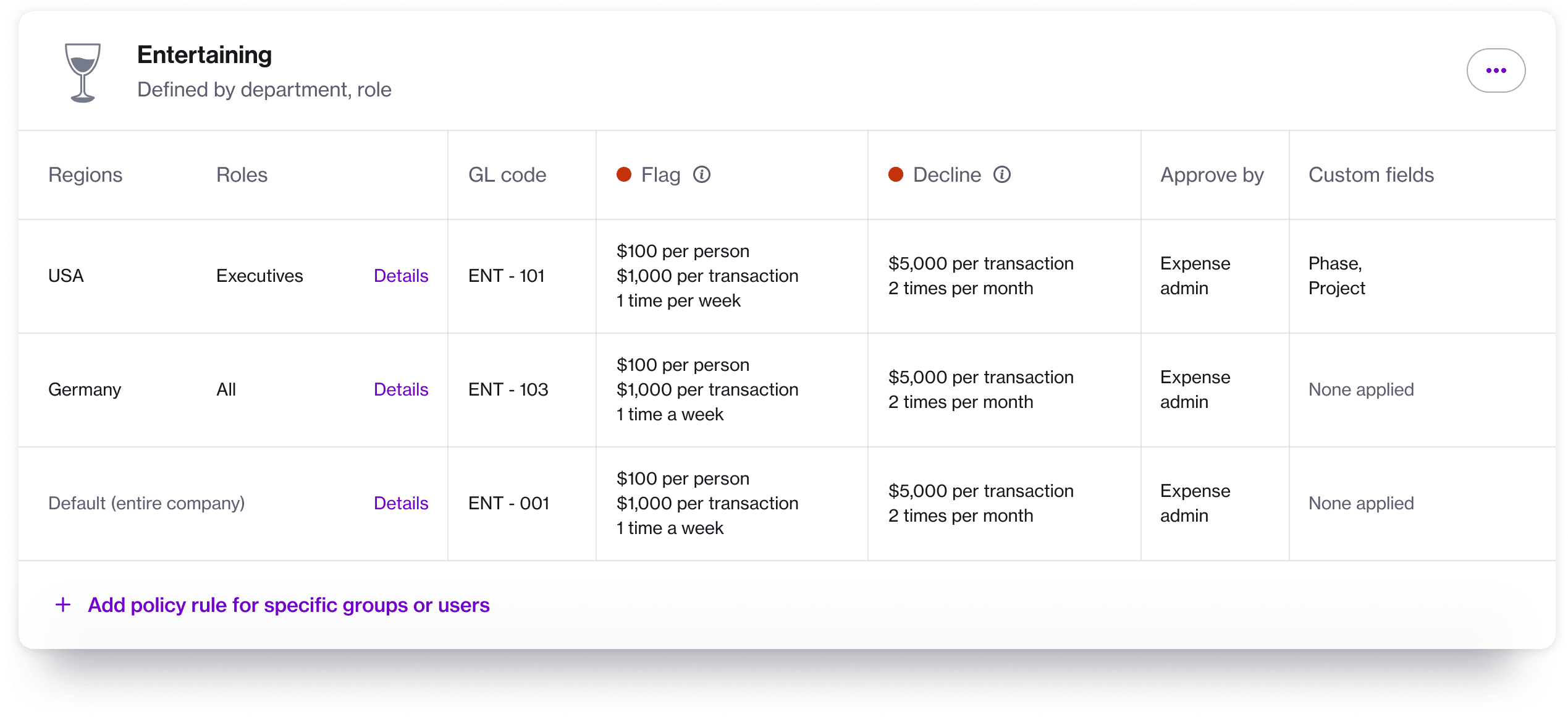 A Broader Perspective on T&E Policies
For a long time, the vast majority of employee spend fell neatly into one category: travel and expenses (T&E) or costs incurred either while traveling or entertaining clients. But those days are long gone.
Today, teams are incurring a number of business expenses that don't necessarily fit cleanly within the T&E category. A few examples of the kinds of items employees are spending on today include digital ads, SaaS subscriptions for software tools; consulting services; and team perks like gym memberships and office equipment.
With a customizable policy builder, finance teams are able to configure granular spend limits across a full range of expense categories- helping to eliminate rogue spending and preventing employees from going over budget.
Real-time Control
Different types of purchases require different levels of control, and teams should create policies that are flexible and reflect those different contexts. With Navan Expense, automated approval workflows are created in such that finance teams get the level of oversight they need, without dragging managers into a drawn-out, convoluted approval process.
By setting rules upfront and creating workflows based on those rules, only flagged expenses need to be reviewed while automatically approving and reimbursing everything else.
Intuitive, flexible policies are the future of T&E management. Learn how to upgrade your platform and join the smartest finance leaders in crafting a more effective future here.