Frankenstein sewed together a monster from other people's parts. As the story goes, the problem was that those parts didn't work together quite right.
Imagine a tech stack that was built like Frankenstein's monster. It seems like a stitched-together solution should work — but underneath the surface lies a complex mess that doesn't work.
When Navan launched an integrated, end-to-end travel, corporate card, and expense management solution, it sent other companies in the travel and expense (T&E) and fintech spaces scrambling. Because these companies lacked the talent, resources, and time to build solutions from the ground up, their products required add-on solutions to keep pace.
That process essentially created monsters. And these T&E solutions have left customers underwhelmed and frustrated.
Let's explore what led to the birth of these Frankenstein-esque T&E solutions, and why a vertically integrated solution wins every time.
How the Patchwork Came to Be
Before Navan, companies handled their T&E processes with a combination of solutions. These T&E programs included some mixture of:
An online booking tool (OBT) for employees to book business travel
A travel management company (TMC) for employees to book and manage travel
A corporate card for employees to pay for expenses
Expense management software for employees to report and manage expenses
Navan changed the game by combining all of these disparate solutions into one — an innovative approach that revolutionized the entire T&E process, from booking to reconciliation.  
Since then, other companies in the T&E and fintech spaces have been attempting to cobble together solutions to compete with Navan. They've used one of two ways:
A point solution, which fulfills one or a few of the functionalities outlined above and then refers customers to partners to fulfill the rest. For example, Concur as an OBT, Carlson Wagonlit for T&E management, and American Express as a corporate card
A white-label solution, which fulfills one or a few of the functionalities outlined above and white-labels the rest using partner solutions. For example, Brex as a corporate card and expense solution and Spotnana as a white-label OBT/TMC
Here's the problem: using either of these Frankenstein approaches results in serious challenges for customers and their employees.
---
How Frankenstein Approaches Hurt Employees
Both back-office and front-office employees experience significant headaches when they're forced to use a hodgepodge of corporate card, expense, and travel solutions — or software that appears to be an all-in-one solution but is really just a point or white-label solution.
Problems for Back-Office Employees
For back-office employees like travel administrators and accountants, using either of these approaches means spending an inordinate amount of time and resources:
Managing several pricing schemas, budgets, relationships, and products/services requires time-consuming project management and results in high (and unpredictable) vendor fees. This approach dramatically increases the total cost of procurement and ownership and decreases ROI for CFOs investing in these solutions.
Cleaning and consolidating data from multiple systems to report on financials and conduct FP&A creates other problems. It becomes impossible to gather accurate insights in real time and reduces overall visibility for finance teams responsible for strategically guiding the businesses they support.
Manually approving/denying and reconciling transactions for month-end bookkeeping is another obstacle. This process dramatically decreases productivity for accounting teams that should be focusing on higher-priority strategic initiatives that can't be automated.
Problems for Front-Office Employees
For front-office employees like those traveling for business, these approaches lead to a time-consuming and disjointed experience when:
Booking travel, which requires using slow, clunky systems designed to trick employees into booking inventory that yields a higher commission. This practice lines the pockets of the provider and increases the cost of travel for the business.
Paying for expenses, which requires employees to either pay out of pocket or use a company corporate card — neither of which benefits the employee in any way.
Submitting expenses manually and tracking travel spending, which takes immense time away from employees trying to fulfill the core responsibilities of the jobs they were hired to do.
To sum it up, businesses that use a combination of point solutions or a white-label T&E solution are doing themselves a disservice. Why? Because those approaches increase costs, decrease productivity, reduce control and visibility, and are practically guaranteed to frustrate employees.
---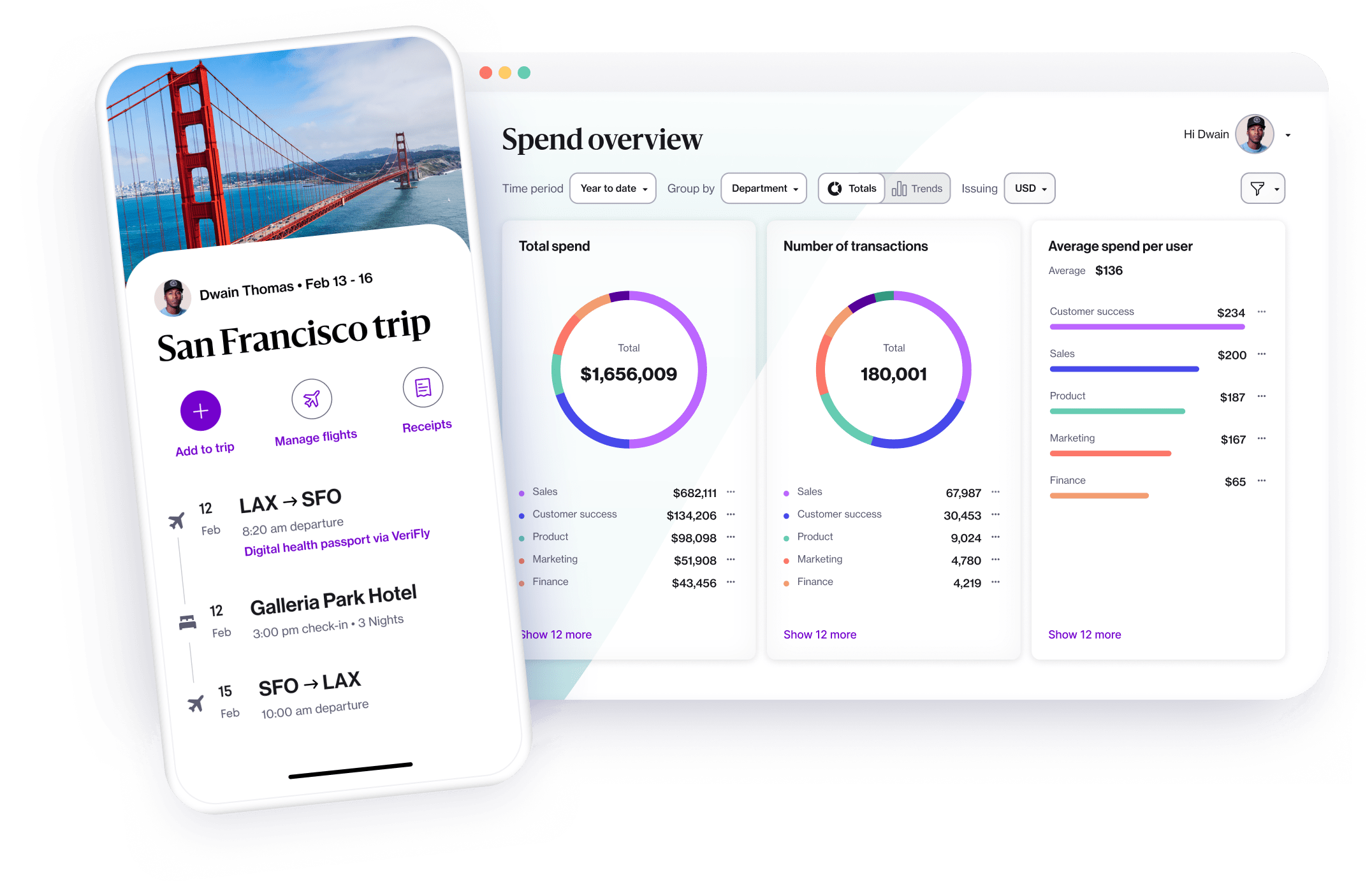 The Solution: A Vertically Integrated Travel & Expense Platform
There's only one solution to this problem: a vertically integrated T&E solution.
Vertical integration occurs when a company has direct control and influence over product and service components that would otherwise have been outsourced to other companies. The primary benefits of vertical integration are the lower total cost of ownership and increased quality in the product and service for users.
Only one company delivers a vertically integrated T&E platform — a real all-in-one solution. And that's Navan.
Let's explore how Navan's all-in-one solution helps streamline T&E across the company.
Reduce the total cost of T&E ownership by working with a single vendor
An all-in-one solution from a single provider means the business will have one contract, one payment term, and one support line. Among its benefits:
No need to assign or hire FTEs to manage multiple T&E vendors
Pay only for a single pricing schema that's transparent and predictable 
Access travel and technical support from one expert team
Optimize your program continually with one account team committed to best practices 
Take it from a Navan customer that switched from Brex:
"Having a single, unified solution has streamlined our operations; we no longer have to manually bridge the gap between two separate systems now that all expenses run through Navan." — Connie Nguyen, Sr. Manager of Finance, Loom
Increase spend visibility for finance teams by consolidating global spend data
With Navan, managers can see all company spend in a single dashboard and in real time, allowing them to:
Report on global financials in real time, using one dashboard
Gather insights quickly with customizable, digestible data visualizations
Take it from a Navan customer that switched from Brex/TravelBank:
"Our previous solution just couldn't provide the detailed level of reporting needed because it wasn't a seamless ecosystem … It took at least eight hours a month of manual work to get to a point where I felt okay presenting the data to execs." — Bob Berardi, Director of FP&A, Apptegy
Give accountants control over spend by consolidating controls in one place
With Navan, accountants can build expense policies into the software that determine how much, where, and when employees can spend. And employees no longer need to memorize or reference static policy documents — all policy is built into the system, which:
Sets policies at all levels and automatically enforces them at point of sale
Automates approvals, receipt collection, reconciliation, and bookkeeping
Take it from a Navan customer that switched from SAP Concur/NexTravel:
"My team doesn't have to monitor expenses with a fine-toothed comb because we are in control of the policies that dictate how the product works. We set up policy guardrails and let Navan Expense do the work, knowing the cards are integrated with technology we trust." — Jasmine Pope, Procurement T&E Analyst, Lyft
Increase productivity and user experience
End-to-end solutions save employees time and boost company-wide productivity and morale by delivering an experience employees want to use. They:
Make it easy to book and pay for a business trip in under 5 minutes
Automate expense reporting and track spend via an easy-to-use mobile app
Reimburse employees in less than 24 hours
Take it from a Navan customer that switched from SAP Concur:
"We chose Navan because it provides a unified traveler experience ... Now if [our people] get a flight delay, they can go directly in the app and deal with one person and one platform on the fly. Traveling for work can be very strenuous and we want to be sure that people are not stressed, but rather refreshed and that they're having great experiences." — Hugh Drinkwater, Head of Procurement, Carta
---
Navan is building a new category of Business Software Designed for People. Companies like Lyft, EMJ, Zoom, Epicor, and Twilio trust Navan's real all-in-one travel, expense, and corporate card platform.
Interested in learning more? Get started with Navan in as little as five minutes.
Essential reading: