Stressed-out travelers can always use some zen in their lives; that's why Navan travel agents are available 24/7/365 to help business travelers in every corner of the globe. Although they bring decades of experience to Navan, the nuances of online booking — as well as increased risk — have mandated a new approach to business travel support.
Navan travel agents work solely in our agent support portal, Navan TravelXen, which is an end-to-end, all-in-one, proprietary software product built specifically for in-house agents and travelers. This portal gives agents direct access to travelers' information and partner networks, enabling agents to provide a world-class support experience. By offering this all-in-one software, Navan guarantees that each agent's skills are enhanced by technology — and that travelers are supported quicker than what is possible at any other TMC.
While this software offers travelers simple, instant assistance on even the most complicated travel requests and needs, it also supercharges the efficiency and accuracy of agents' work.
Understanding the nuances of travel assistance and accounting for the dozens of data points associated with each trip is a complicated task. Each organization and traveler has set preferences, negotiated contracts, and policy constraints which make their travel unique. For years, the best way to offer personalized assistance was to have agents dedicated to a specific office for daily requests.
With the rise of mobile booking, traveler support needed an overhaul. Organizations needed to ensure that travelers would be supported on the go, 24/7/365, everywhere in the world. But information from booking tools was often shared with TMCs in a fragmented way.
Navan created TravelXen to combat this disparate approach to data collection and usage. No existing product met the Navan standard for quality, so the team built it from the ground up.
A New Approach to Travel Support
At Navan, we know the importance of world class support. To offer travelers a truly special support experience, we knew we needed to build something from scratch that emulated products that existed in the tech world for some of the companies offering the best customer support.
"We looked at our customers' support needs and what our current system offered. We then designed TravelXen to solve all issues. What our competitors had did not work," explains Lu Chen, Group Product Manager at Navan.
What is unique to our support offering, and what is unique to Navan, is that it owns the end-to-end user journey. Navan is a TMC, OBT, and expense management platform. To best support our travelers, we created a software that integrates a traveler's booking history, profile settings, payment preferences, loyalty programs, and real-time search behavior. By offering our industry-seasoned agents all possible relevant information, they have the ability to support travelers better than if they were sitting right in front of them.
"As a longtime Sabre user, I was reluctant about using TravelXen at first. However, I became easily hooked. Being able to go to one product to book everything and run reports for clients has streamlined the way I work and has made me a more efficient agent," says Martie McGraw, a Navan Travel Agent with 20+ years of industry experience.
Our agents have spent the majority of their careers working in traveler support, from boutique firms to the largest TMCs in the world—learning the ins and outs of booking processes and traveler behavior. They often remark how TravelXen is the first product they have used which truly makes their job easier. The conversations flow smoother, and the new ticket routing system ensures they can support multiple travelers at once.
What Makes TravelXen Unique
TravelXen enables our agent support team to scale intelligently by providing seasoned travel agents intuitive technology that makes it easier to provide multilateral, instantaneous care. Travelers experience seamless support powered by agents answering the chat or phone armed with relevant, contextual information. The transaction itself is faster, and travelers can continue trips with minimal disruption.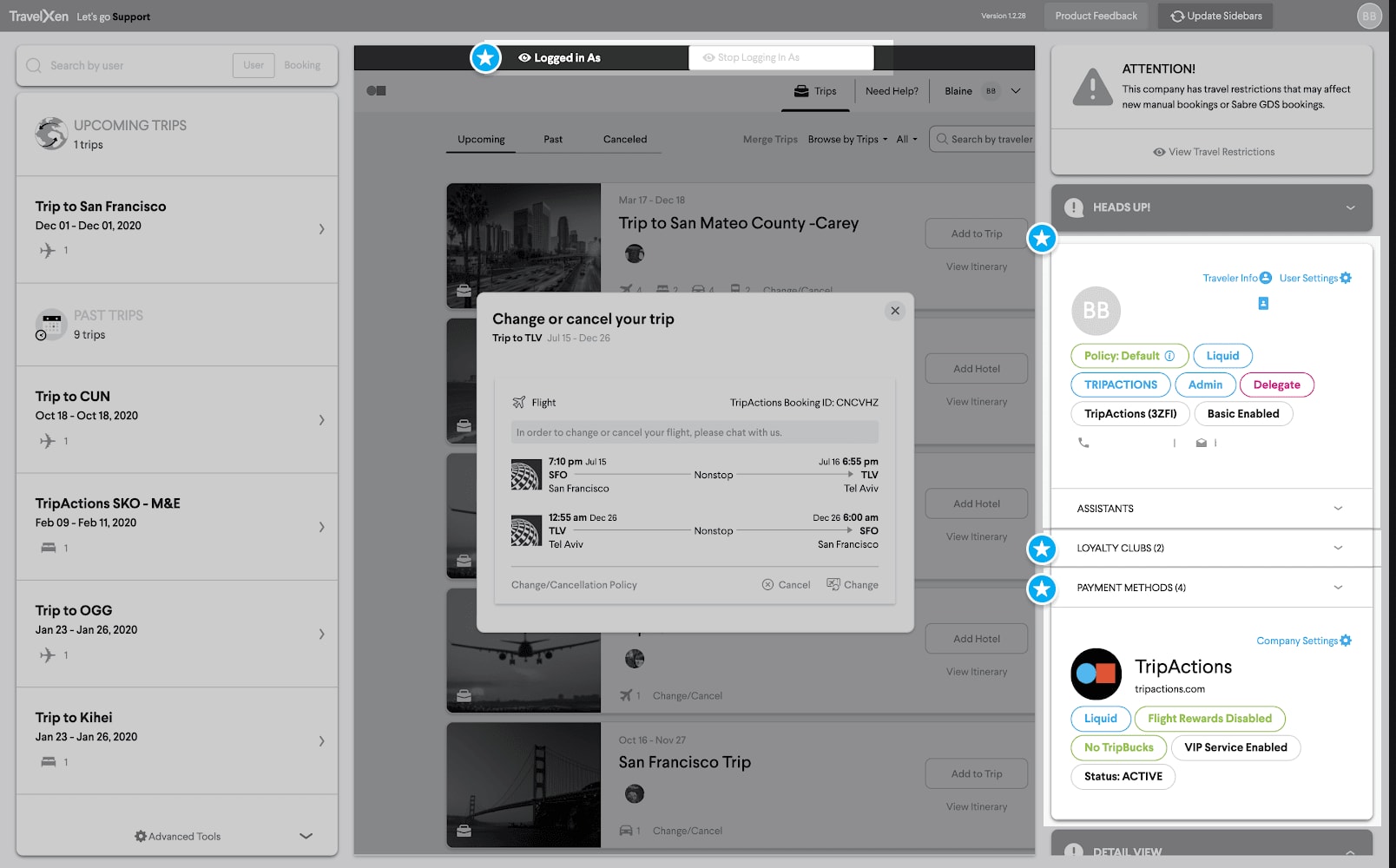 Without giving away the secret sauce, here are some of the factors that make this possible:
Manual agent bookings are updated in TravelXen by the agent. The traveler has full visibility in their profile with the option to contact support or access self-serve capabilities
Tools are specially designed to help agents make quick changes or cancelations directly from the portal
Readily available tutorials are built into the portal to assist agents adjusting complex trips
Special alerts for agents outline customers' unique preferences, restrictions or policy to provide personalized, proactive support and service
TravelXen monitors the last action a traveler made and what action brought them to the agent portal, speeding up the conversation flow and resolution process
Smart routing rules (history and recent interactions) help personalize the process. For example, if a traveler needs help twice in one day, they'll be routed back to the same agent when possible
It is critical that organizations provide their traveling employees with 24/7 365 travel agent support that is prepared to handle even the most difficult cases. The Navan support offering delivers premium personalized service to travelers with less than 60 second hold times on chat or voice, a customer satisfaction rating of greater than 93% and traveler issues are resolved quicker with Navan than any other TMC. Navan TravelXen was designed to give everyone from agents to travelers to travel managers peace of mind on the road. With AI technology and intuitive design, everyone is equipped to handle business travel today.