Work hard, play hard. The fusion of business and leisure travel, also known as blended or bleisure travel, has given rise to a new breed of travelers — and the travel industry is evolving to meet their demands and desires.
Recent surveys have found that business travelers are interested in taking trips that combine work and vacation:
Navan data supports these claims: 35% of business travel bookings on the platform now include a weekend. In its latest earnings report, Marriott International said the company "continues to see blending of business and leisure," noting the business trip length of stay is up 20% vs. 2019.
Why is the appetite for bleisure travel so strong, and how is the travel industry adapting to its growing popularity?
---
Why is bleisure travel gaining traction now?
Adding leisure time onto business trips is not a new phenomenon, but what is new is the demand for and acceptance of the practice.
Widespread Acceptance and Adoption
In the past, business travelers typically kept employers in the dark when adding leisure time — a practice now known as taking a "hush trip." 
Changing traveler behaviors and a lower overall cost of travel have driven a change in the bleisure status quo that was bolstered by the COVID-19 pandemic. The widespread adoption of hybrid work arrangements created an optimal environment for leisure extensions because employees were able to work from anywhere and could easily extend their trips.
As such, bleisure has exploded in popularity among professionals and has become commonly accepted among employers across industries. 
New Travelers, New Business Purposes
Since the beginning of the COVID-19 pandemic, there has been a massive shift in who is traveling for business and the purpose of those trips. 
Navan data indicates that the No. 1 reason for business trips has shifted from individual road warriors to team travel, a category that includes traveling for company meetings, events, and offsites. And while sales teams continue to claim a plurality of the share of business travel, engineers, product teams, and marketing teams have increased their share of travel when compared to the pre-pandemic era.
It's clear that with an increasingly global and remote workforce, companies are now depending on travel to maintain a cohesive company culture. And these new business travelers see being on the road for work as a job perk instead of a job duty.
Focus On Work-Life Balance
Creating a work environment that prioritizes work-life balance has been top of mind for companies, and Gen Z and Millenial employees . Encouraging the combination of work and play via bleisure travel is a natural fit for companies looking to promote a culture where employees are free to rest and recharge.
Third-party surveys of business travelers have found that:
For companies, allowing employees to take advantage of leisure time has been shown to create healthier, happier, and more productive employees. Some forward-thinking companies have even elected to promote bleisure travel as a work perk, which can help:
Support employees' work-life balance
Encourage the use of vacation days
Attract and retain employees
One survey found that 59% of consumers are more inclined to work for a company that offers frequent travel or flexible blended travel possibilities as a perk.
---
How is the travel industry adapting to the change?
The travel industry is adjusting by tailoring its services to fit the needs of this hybrid traveler who values both work and play. Let's take a look at how hotels, airlines, and corporate travel programs are adapting.
Catering — and Marketing — to the Bleisure Traveler
Site visits and sightseeing. A day full of meetings followed by a day at the hotel spa. A client meeting at the hotel's cocktail bar. A high-speed internet connection that's available both in-room and poolside. 
The hybrid business and leisure traveler is looking for the best of both worlds, and hotels are finding ways to foster productive yet entertaining environments. These home-away-from-home amenities and services provide bleisure travelers with the flexibility and comfort they need to work and relax.
Hilton launched Signia Hilton, for example, to cater directly to the bleisure crowd. Among its defining features, the brand highlights its urban locations, meeting and event spaces, and wellness experiences, along with its lobbies, bars, and restaurants which are ripe for both socializing and business meetings.
Properties that long prioritized business travelers have pivoted to be more leisure-focused. Hyatt House used to concentrate solely on the business travel segment, yet the brand's latest campaign uses the slogan "Home is Where" alongside images of people cooking and doing yoga in their hotel rooms, as well as taking work calls in sweatpants.
Airlines are also taking note. American Airlines cited a shift from business travelers to "blended demand" travelers when the company announced it was dropping its first-class cabins on international flights. United Airlines has also referenced bleisure as a trend that will continue to drive air travel demand.
Adapting Places and Spaces
Hotel lobbies across the world have long been communal workspaces. Now, brands are introducing work pods, coffee bars, and even libraries. Crowne Plaza and Accor have even launched pay-per-use coworking spaces to cater to the modern business traveler. 
"Across our hotels and resorts, we've seen an uplift in those who blend work travel with leisure," said Ginger Taggart, vice president of brand management at Crowne Plaza Hotel & Resorts, in IHG's report, The Future of Blended Travel. "Crowne Plaza has already laid the groundwork by creating spaces and a service style that are specifically catering to these desires." 
Hotel rooms are changing, too. In November 2022, Marriott International announced it will launch Apartments by Marriott Bonvoy. Each apartment in the portfolio will feature amenities that cater to hybrid business and leisure travelers looking to extend their trips: a separate living room and bedroom, a full kitchen, and a washer and dryer.
Loyalty Opportunities
The rise in bleisure travel has also opened up new opportunities for hotels and airlines to reinvent their loyalty programs.
Historically, loyalty programs were primarily built with road warriors in mind. These traditional programs were geared toward frequent business travelers who completed enough trips to earn elite status.
But the rise in hybrid business-leisure travelers is shifting that emphasis to enable more ways to earn and a greater variety of perks and incentives. IHG Hotels and Resorts and American Airlines overhauled their loyalty programs to add new tiers and rewards-earning structures. Earlier this month, Omni Hotels & Resorts said the company will move toward a program based on total spending instead of room nights. 
Partnerships have also been a big focus. Marriott International allows loyalty members to earn points on eligible Uber rides and Uber Eats orders, and the company also offers experiential reward program perks such as tickets to sporting events, concerts, and exhibitions.
The next frontier could be offering more personalized perks that enhance bleisure and leisure travelers' on- and off-property experiences. Finding ways for these travelers to earn and spend rewards could be key to building long-term relationships.
Corporate Travel Programs
Corporate travel programs will also need to adjust to shifting travel behaviors. As more business travelers look to add leisure extensions to work trips, there are several risks for companies:
Rogue spending: Delineating expenses between the business and leisure aspects of the trip becomes complicated, especially if a company does not have a leisure travel policy.
Platform adoption: Travelers may be incentivized to book outside of the company's travel management software so they can earn and burn travel rewards from their favorite providers.
Privacy: Employees may not want their employers to know that they are adding a leisure extension.
Navan is an all-in-one travel, corporate card, and expense management platform that solves each of these challenges:
Built-in policies: Companies pre-program travel policies so they are enforced at the point of purchase. For example, if an employee attempts to charge a coffee on a non-business travel day, it will be automatically denied.
Loyalty integration: Whether traveling for business or leisure, Navan users can collect loyalty points from third-party providers directly in the app.
Privacy: All personal bookings made with Navan are kept confidential from employers, and payments are completely separate.
With Navan, companies establish clear boundaries for personal trip expenses and employees tap into corporate travel benefits, including exclusive access to corporate hotel discounts for the leisure portions of their trips. 
Traveler behavior and demands have changed. To ensure they remain relevant and competitive, travel-oriented companies need to take notice of the bleisure trend and adapt to this new reality.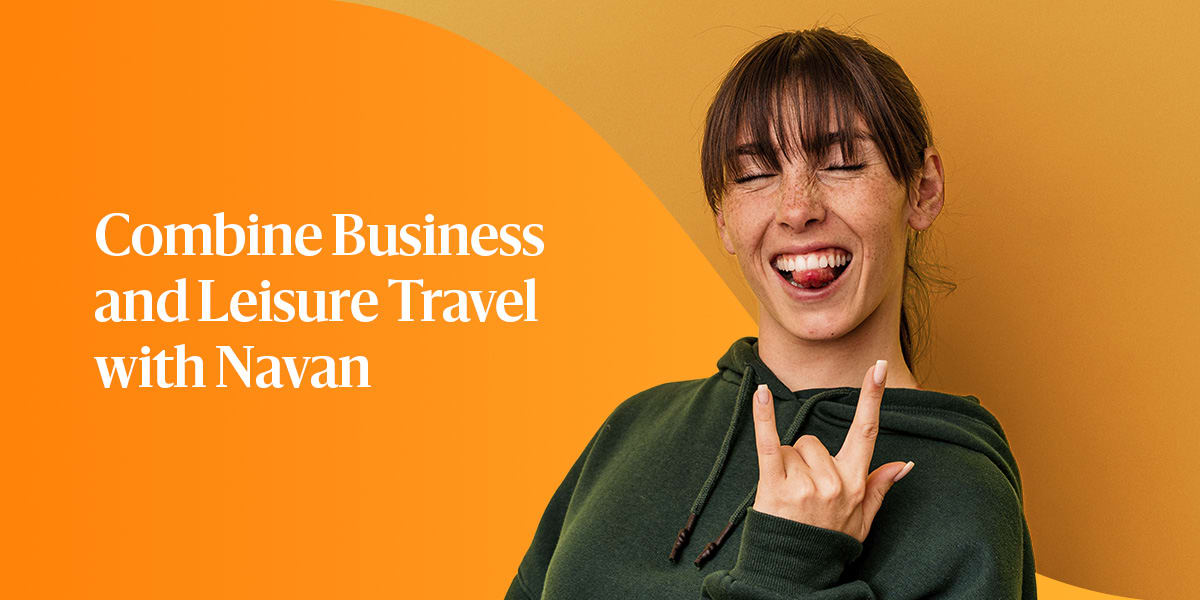 Travelers around the world book business, personal, and bleisure travel with Navan for a trusted, quality experience. Schedule a demo or get up and running with Navan in just 5 minutes.
Further Reading