2022 proved to be a banner year for bleisure travel — the practice of adding leisure time onto business trips — and 2023 is shaping up to be even stronger. A recent survey of global travelers found that 9 out of 10 respondents wanted to add some leisure time to their next business trip. The demand and desire from employees is clearly there: Now it's time for companies to step up.
Business travel, of course, looks very different today than it did before the COVID-19 pandemic. As the workplace has evolved, the line between work and personal life has blurred. So, too, has the line between business trips and vacations. The latest Navan (formerly TripActions) data shows that 35% of all business travel bookings now include a weekend. 
What's driving the popularity of bleisure travel? With an increasingly global and remote workforce, companies are now depending on travel to maintain a cohesive company culture. The No. 1 reason for business trips has shifted to team travel, a category that includes traveling for company meetings, events, and offsites. 
That means that employees who rarely or never traveled for work are now on the road. These newly minted business travelers tend to see flying to another part of the world for work as a job perk instead of a job duty. And for these travelers, the allure of taking a little extra time to explore is strong — returning home having only seen the inside of airports and conference rooms can be a disappointing experience.
With so many travelers on the road who are hungry for fresh experiences, there's an opportunity for companies to flip the script and leverage bleisure travel as a company benefit. It's a smart idea: In today's arms race to provide perks, allowing leisure extensions is not only easy — it's practically free.
In fact, leisure extensions may even come with some surprising cost savings for companies: Allowing business travelers to extend trips could lead to them flying on less popular — and less expensive — days. And since the company will be paying for transportation anyway, why not allow employees to add time to decompress, so long as it's on their own dime?
These days, decompressing is essential: Despite the waning effects of the pandemic, more than half of American office workers still feel burned out at work. And even with recession concerns on the rise, the Great Resignation that began in 2021 has not slowed down. Companies are still struggling to attract and retain employees; with that kind of competition, every employee perk counts.
The result: It's top-of-mind for businesses to find ways to strengthen company culture and promote employee wellness. Embracing bleisure travel can boost both of these areas. Encouraging employees to take some leisure time on business trips is a small gesture that speaks volumes. It communicates that a company cares about work-life balance and sees employees as real people with rich lives outside of work.  
How do companies foster a bleisure-friendly work culture? They can start by adding a leisure component to the company travel policy, and then spread the word to employees. With guidelines in place, employees will better understand what falls under the auspices of business travel, and companies may even see fewer leisure expenses sneak onto their ledgers.
In the future, don't be surprised to see companies touting bleisure travel as an employee benefit in the same way that they now promote flexible work arrangements to prospective hires. Fostering a work culture where people feel free to rest and recharge before or after a business trip is beneficial for both employer and employees — and failing to address the increasing demand for bleisure travel now could be a missed opportunity.
Tristan Krause is the Vice President of Personal Travel at Navan and is based in Seattle. With his background in consumer travel technology and product development, Tristan is dedicated to making Navan the only all-in-one travel and expense solution that offers personal travel as the ultimate employee benefit.
---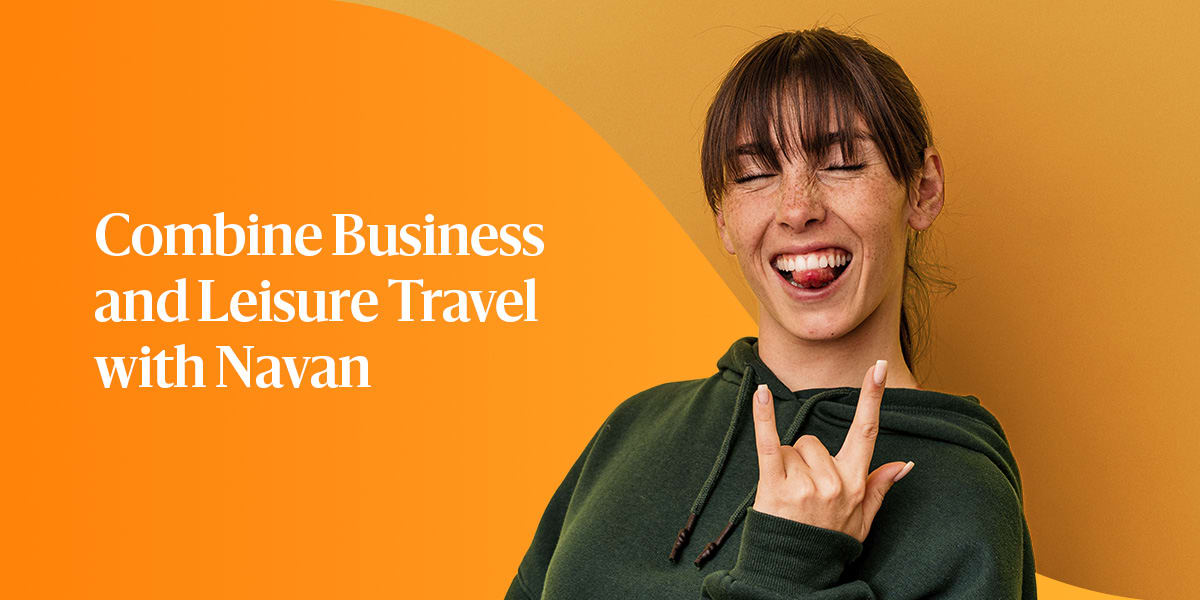 Travelers around the world book business, personal, and bleisure travel with Navan for a trusted, quality experience. Schedule a demo or get up and running with Navan in just 5 minutes.
---
Essential reading: