To drive company-wide cost savings, large companies negotiate corporate rates with hotels and hotel chains. But growing small businesses don't typically generate enough travel volume to warrant a similar corporate discount, and even if they did, they don't always have the time and resources to negotiate and maintain those special rates. 
But now, small- and mid-sized companies can get in on these highly competitive, discounted rates by leveraging Navan.
How much could a small business save? Navan has negotiated up to 15% off the best available rates at thousands of hotels globally.
Properties with which Navan has negotiated exclusive rates or amenities become part of the Lodging Collection. When making a hotel booking, business travelers will see Lodging Collection badges in search results.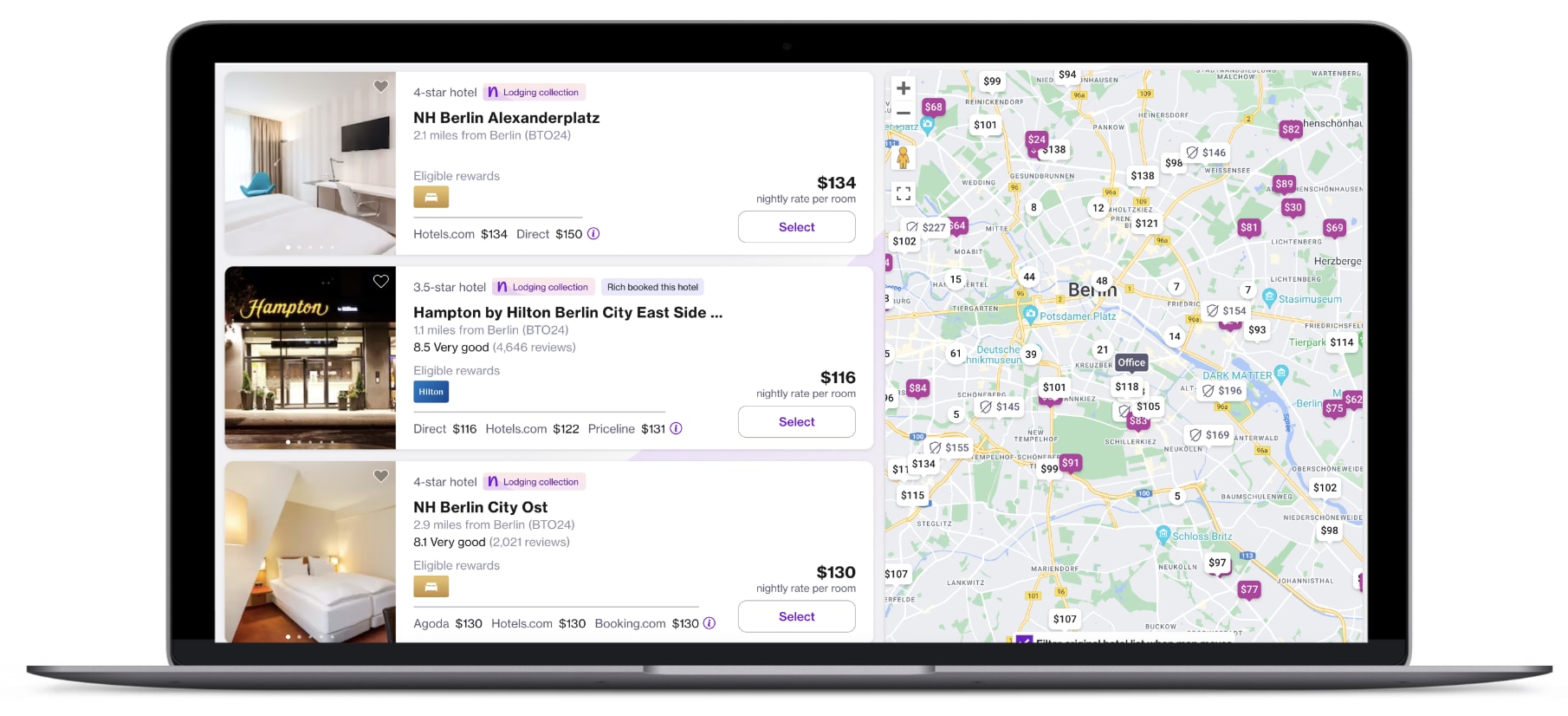 No hotel corporate codes or promo/discount codes are required to book hotel rooms with these special rates — it's all taken care of by the Navan app.
Plus, the advantages of the Lodging Collection go beyond better rates. Read on to understand how small businesses and their employees can benefit.
Improved corporate travel guest experience
A business traveler who stays at a property with a corporate hotel rate knows that they will have a great experience because there is a mutual relationship between the company and the property. The property has received a stamp of approval from the company, and the hotel benefits when business travelers are treated well and want to come back.
Similarly, Navan vets all of the properties in the Lodging Collection. But rather than having one or a handful of hotels with special rates in specific locations like New York, there are a variety of accommodation types to choose from. And during check-in at any of these properties, the team member at the front desk can see that a corporate guest is arriving.
Added perks just for business travelers
Added amenities tailored to business travelers also factor into the value of the Lodging Collection. Depending on the hotel, these additional benefits may include:
Late check-out
Flexible or last-minute cancellation
Breakfast or coffee included
Free parking
Free Wi-Fi
These perks make travel more flexible and satisfying for employees while saving companies money on ancillary expenses.
Get the most out of loyalty programs
When booking hotel corporate rates through Navan, business travelers often still earn loyalty points when booking eligible travel with their favorite travel brands.
Travelers simply add their loyalty information to their Navan profile, and the app takes care of the rest. Best of all: Navan prioritizes search results that serve up the best rates for properties that help travelers earn loyalty points or meet their other booking preferences.
With that kind of personalization, it's no wonder the average time it takes to book a trip on the Navan app is only 6 minutes.
Corporate rates extend to airlines, cars, and rail partners
The Lodging Collection covers hotels booked on Navan, but that's not where the special rates end. Corporate rates are also negotiated by Navan with:
Car rental agencies
Airlines
Rail partners
Users also get access to thousands of special discounted rates with popular third-party consumer websites like Expedia and Priceline right in the Navan app. There's no need to browse multiple websites.
Navan provides real-time, granular data and automated reporting that helps small businesses understand exactly how much they are saving on travel through these special rates.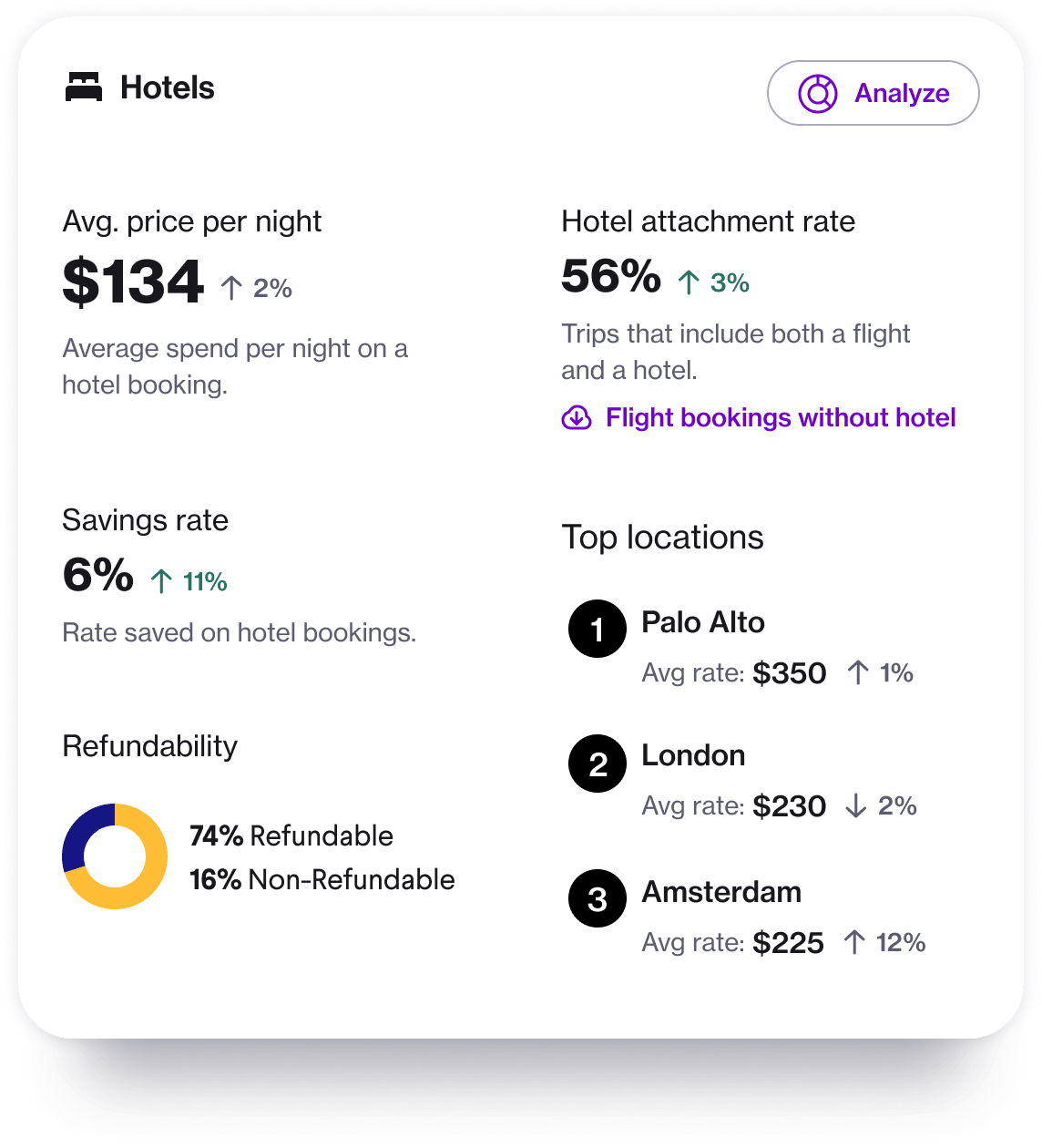 Above: An expanded view of hotel policy analytics using the Navan app
Book personal travel with discounted rates, too
Companies can also allow Navan users to take advantage of corporate rates — including the Lodging Collection — for personal travel. Travelers will also be able to:
Earn loyalty points with their favorite travel brands
Manage trip changes with a click of a button
Rest easy with real-time travel updates
Organize all travel itineraries in a single app
Employees must enter a personal credit card (as opposed to the business card already on file) to book personal travel on Navan, and all bookings are kept confidential from employers.
For small businesses, promoting personal travel as a perk can show employees that the company values work-life balance. It's another tool a growing company can add to its benefits package, especially if that company wants to nurture a culture of taking personal time off (PTO). That practice may even help combat burnout, increase recruitment and retention, and save money.
---
The need to manage travel is often a sign of a healthy, growing small business. Ready to start using Navan today? Get up and running in 5 minutes.