TripActions Liquid is now Navan Expense, but the transformation doesn't stop there: We're absolutely obsessed with quality, which means in addition to a new name, new app, and new look, we're constantly enhancing our products and services. 
We're laser-focused on our vision, crafting Business Software for People with the latest AI technology, but that doesn't mean we work in a vacuum. We're constantly listening to feedback, whether that's fresh data, industry shifts, or comments from our beloved customers, to bring you the smartest, most efficient experience in travel and expense management, one update at a time.
Read on for four new features released in March that make Navan Expense much more efficient for our users.
Bulk Actions
Now available in the Navan Expense Admin Dashboard, Bulk Actions streamlines the expense management process. With this release, admins can approve, reject, request more information, and update GL codes for up to 20 transactions at a time. This is a big step towards processing transactions faster and saving time.
Admins and expense approvers who previously had to review each transaction individually and complete the same actions multiple times during reconciliation can save time with this new feature.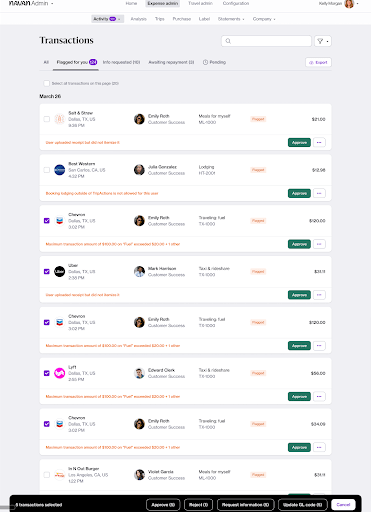 Custom Segments for NetSuite
Customers leveraging the NetSuite integration with Navan Expense now have access to custom segments that map directly to NetSuite, which ensures transaction data between systems are consistent, prevents errors during month-end close, and saves time.
Batch Records for NetSuite
With Batch Records, NetSuite clients can now configure a many-to-one relationship with Navan, resulting in additional flexibility, more control, and greater efficiency. When records are batched, all transactions will be grouped together by posted date, subsidiary, currency, and transaction type for faster reconciliation.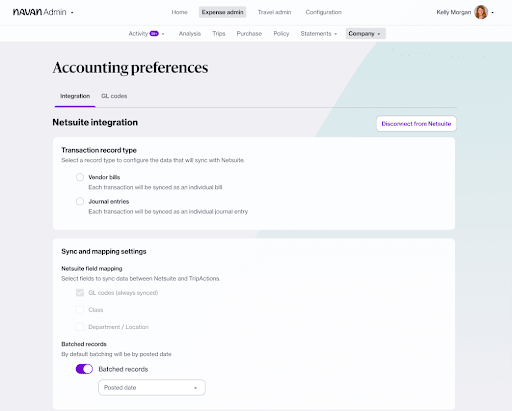 Learn more about Navan Expense and how it transforms the expense management process today.