Launching a startup is a thrilling venture. But the excitement comes with the complexities of business operations. And one of the primary concerns every entrepreneur faces is financing. 
Beyond the larger funding rounds and venture capital, the daily nitty-gritty of handling business expenses is crucial. Even though numerous payment options are available, many business owners favor one in particular: the startup credit card.
What are Startups' Options for Making Payments?
In the fast-paced world of startups — with countless daily transactions — choosing the right payment option is pivotal for maintaining smooth business operations. 
Here's a breakdown of the most common payment methods startups can consider:
Personal Credit Cards. Many budding entrepreneurs initially lean on personal credit cards to finance their business endeavors since they're easily accessible and can help in emergencies. However, their use blurs the line between personal and business expenses, potentially complicating tax deductions and personal credit history.
Small Business Credit Cards. Designed to the needs of small businesses, these cards often come with cash-back rewards in common spending categories like office supplies or gas stations. They help separate business and personal expenses, which helps maintain transparent financial management. Also, some offer perks like bonus points or statement credit for business purchases.
Bank Transfers. Direct bank transfers can be a go-to for more significant, one-off expenditures like equipment purchases or vendor payments. While transfers offer a sense of direct control and reduce the risk of accruing interest, they lack the flexibility and perks that come with credit cards. Moreover, startups must maintain sufficient bank account balances to handle such transfers without hiccups.
Startup Business Credit Card. The emerging hero for new businesses. These cards are not just revamped small business credit cards; they're tailored specifically to help with the unique dynamics of a startup. Since startups might have a limited credit history, for example, these cards often offer flexibility in credit checks. And the rewards are more aligned with startup spending habits; they may provide excellent value on SaaS subscriptions, coworking spaces, or even business travel.
Charge Card. Often confused with credit cards, charge cards do not have a preset spending limit. This might sound enticing, especially for startups expecting high, irregular expenditures. But here's the catch: The balance must be paid in full every billing cycle. Charge cards can be powerful tools for businesses with solid cash flow discipline since they ensure no debt accumulation. However, not making timely payments can lead to hefty fines or a dip in credit scores.
The optimal payment method depends on the startup's nature, spending habits, and financial discipline. It may be advised to mix and match, perhaps using bank transfers for significant, planned expenditures while leveraging the perks of a startup credit card for daily operational costs.
Download the Navan guide, How to Supercharge Your Corporate Card, to learn why not all corporate cards are created equal.
Why a Startup Should Leverage a Startup Corporate Credit Card
Startup corporate credit cards are not just about spending but also about intelligent financing. They provide a cushion during uncertain times and can help streamline business purchases. These cards often have perks tailored for startups, like higher credit limits and specialized spending categories.
Moreover, leveraging such a card can help startups build business credit early on, keeping personal credit separate and potentially paving the way for more significant financing.
The distinction between a startup card and a regular business corporate card boils down to customization.
Startup Corporate Credit Card Vs. Regular Business Corporate Credit Card
The early stages of a startup are characterized by unpredictability and rapid evolution. Financial agility becomes crucial. 
Here's why a startup corporate credit card can be essential for these young businesses:
Tailored Perks and Rewards. Unlike traditional business cards, corporate credit cards offer benefits curated for a startup's unique spending habits. Whether it's cash back on SaaS subscriptions, rewards for coworking space rentals, or special offers on business travel, these cards understand and cater to modern startup culture.
Higher Credit Limits. Startups often face sudden, substantial costs — be it scaling operations, marketing pushes, or emergency expenditures. Startup cards recognize this need and typically offer higher credit limits, providing startups with the financial bandwidth to tackle such situations.
Specific Spending Categories. Every business has core expenses. Startups might lean toward office supplies, digital tools, and travel for sales pitches or networking events. The right corporate card focuses on rewards and cash back in these high-spend areas, ensuring maximum ROI on every purchase.
Cash Flow Cushion. The initial days of a startup can be cash-intensive, with revenues taking time to catch up. A startup credit card can be a short-term financial cushion, allowing businesses to keep operations smooth, even during lean months.
Building Business Credit. Maintaining a clear demarcation between personal and business finances is paramount. Using a startup corporate card responsibly helps build a business credit score separate from the founder's. This distinction can prove invaluable when seeking more significant financing or business loans.
Streamlined Expense Management. Modern startup credit cards often come with advanced management tools. Integration capabilities with software like QuickBooks, real-time expenditure tracking, or setting spending limits for employee cards help maintain financial discipline and transparency.
Safety and Security. In an age of digital transactions, security is paramount. Corporate cards for startups often come with advanced fraud protection, helping to ensure that a business's finances remain secure. Features like instant card freeze or spend alerts add an extra layer of control.
8 Top Options for Startup Business Credit Card
When navigating the bustling market of business credit cards, cardholders are presented with myriad choices tailored to varied business needs. The array is vast, from cards boasting enviable welcome bonuses to ones explicitly designed for those with good credit. However, as with all financial instruments, it's imperative to remember that terms apply. 
In the quest for the ideal credit solution, we've curated a list of the top 8 options that startups should seriously consider.
Navan: The Premier Choice for Startups; Integrating Payments, Expense, and Travel
Navan offers a comprehensive package tailored to startups' needs, ranging from higher credit limits to dynamic rewards that sync with your business expenditures. 
The real-time expense management and seamless integration with accounting software make financial tracking a breeze. Above all, Navan ensures a clear delineation between personal and business finances, setting the groundwork for future fiscal growth.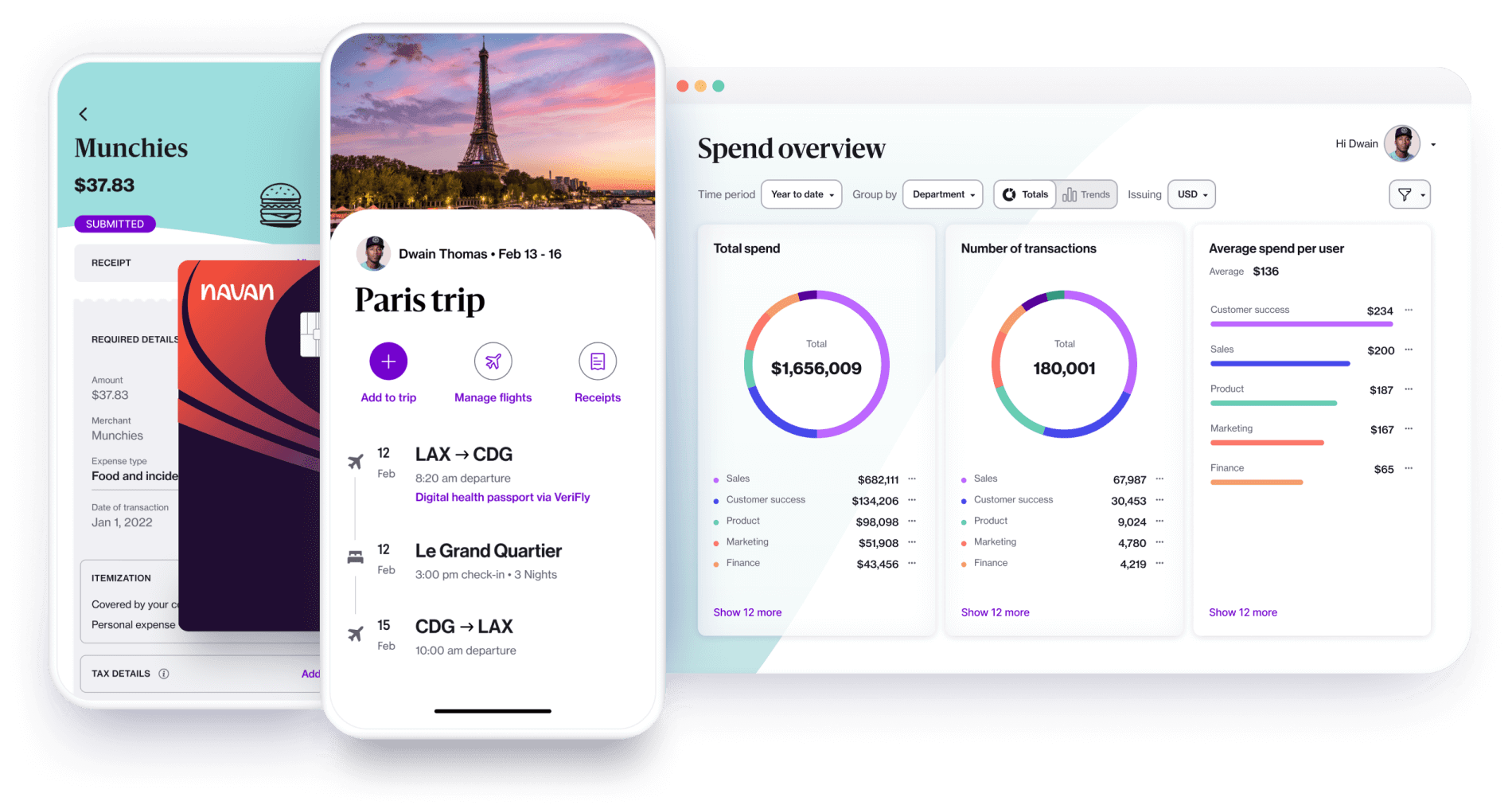 This card from Amex provides robust rewards, particularly in categories that matter most to startups. With the trust and reliability of the American Express brand behind it, startups can expect both versatility and dependability.
Startups with many traveling employees may consider this card. Stellar rewards, especially on travel-related expenses, make it a top choice for businesses on the move.
Only some startups that launch with excellent credit scores can access this card. It may be a savior for those in the building phase since it caters to average credit scores and offers valuable benefits.
With no annual fee and competitively low-interest rates, this card is a budget-friendly option for startups conscious of minimizing costs while maximizing value.
If you're seeking simplicity, this card offers a flat cash-back rate on all purchases. It's straightforward, no-frills, and effective for businesses that prefer uncomplicated reward structures.
Although newer, these cards have made a mark with alluring welcome offers with benefits that cater to startups.
Brex offers substantial credit limits without requiring a personal guarantee. The card rewards cater directly to startup requirements, such as SaaS subscriptions and travel.
By expanding upon each card's primary attributes, startup decision-makers can more easily gauge which card aligns best with their needs.
Why the Right Business Credit Card Matters for Startups
In today's dynamic business landscape, selecting the best business credit card is more than a financial decision. It's about aligning with a card issuer that understands your startup's vision and growth trajectory. 
Consider the intricacies of available credit card offers and the advantages they can bring to your enterprise.
Understanding Credit Card Offers: Not all credit card offers are equal. The best business credit cards often have perks like zero foreign transaction fees or attractive balance transfer rates. These can be particularly beneficial if your startup operates internationally or you want to consolidate other high-interest debts.
Navigating Rewards Programs: Rewards programs offer points for eligible purchases like spending at office supply stores or cell phone plans. Some programs can be leveraged for travel, gift cards, or statement credits.
Tailoring to Your Credit Profile: Lenders often cater to a broad spectrum of credit backgrounds. Whether you have a stellar personal credit score, are recovering from bad credit, or are somewhere in between, there's likely a card for you. Some card companies even offer options for sole proprietors or startups without a long personal credit history.
Optimizing Financial Management: With management tools available on cards like Navan Expense, startups can easily track expenses, set limits, and manage employee cards. This ease of management is critical in ensuring that personal finance doesn't get entangled with business expenditures.
Flexible Financing Options: Some cards might provide introductory APR deals, which give startups a grace period with lower interest. Additionally, understanding the difference between a card's intro APR and its variable APR can help forecast future finance charges.
Protecting Your Venture: Security deposit features inherent in some prepaid cards can provide additional financial protection. This is especially useful if your startup navigates uncertain financial waters or you're a sole proprietor wanting to separate business and personal finance.
Enticing Bonuses and Offers: Many card issuers lure businesses with tempting initial offers, from sign-up bonuses to special membership rewards. These bonuses can provide immediate value, whether access to exclusive lounges or a generous welcome offer.
Understanding the Fine Print: Studying the terms is essential. From understanding how rewards points accrued in a calendar year to potential line of credit adjustments, staying informed helps keep surprises at bay.
Laying a robust financial foundation is paramount for startups. In the dynamic world of entrepreneurship, where every penny counts, having the right financial tool is crucial. Leveraging a startup card tailored to your needs and an intelligent expense management system like Navan can lead your startup toward sustainable growth.
Choose Navan for Innovative Startup Card Solutions
Navan Expense regularly receives high customer satisfaction ratings from startups of all sizes. The software received a perfect satisfaction score (100/100) in the Expense Management Software category in the G2 Summer 2023 rankings.
Navan combines smart corporate credit cards, spend management, and travel in one easy-to-use platform that saves small businesses time and money. Here are just some of its benefits:
Issue cards with built-in policy controls
Automate travel expense management
Book and manage travel with 24/7 customer support
Track who is traveling and what is being spent in real time
Save up to 30% with exclusive hotel deals
Receive unlimited cash back rewards
Ready to streamline your travel management process? Schedule a demo or get up and running with Navan in just five minutes.
Startup Card FAQs
Are there startup credit cards? 
Yes, many providers offer cards tailored for startup needs.
What is a startup card? A startup card is a credit card with perks and features catering to startup businesses.
Do you need an EIN to get a startup business credit card? Most providers will ask for an Employee Identification Number, but some might accept a Social Security number, especially for sole proprietors.
Why should startups get a corporate card? It helps segregate business expenses, manage cash flow, and provide rewards that align with business spending.
Essential reading: