Shoulder season — that magical time between peak- and off-season — gives travelers the chance to enjoy peak-season benefits (like good weather) but without the crowds or high prices. 
Following the busiest summer travel season on record — when an average of 2.5 million travelers were screened per day — we wondered what the effect would be on the fall shoulder season. So we dug into Navan's personal travel data to find out.
Let's jump in!
High Travel Demand Continues Into Shoulder Season 
The outsize demand for travel this summer is now rolling into fall. Navan data shows that personal travel bookings with a trip start date between September 1 and October 31, 2023, are up 22% compared to the equivalent booking and trip start window in 2022. 
This increase is in line with personal travel data from the recent summer months, which saw a 25% increase in personal travel volume compared to summer 2022.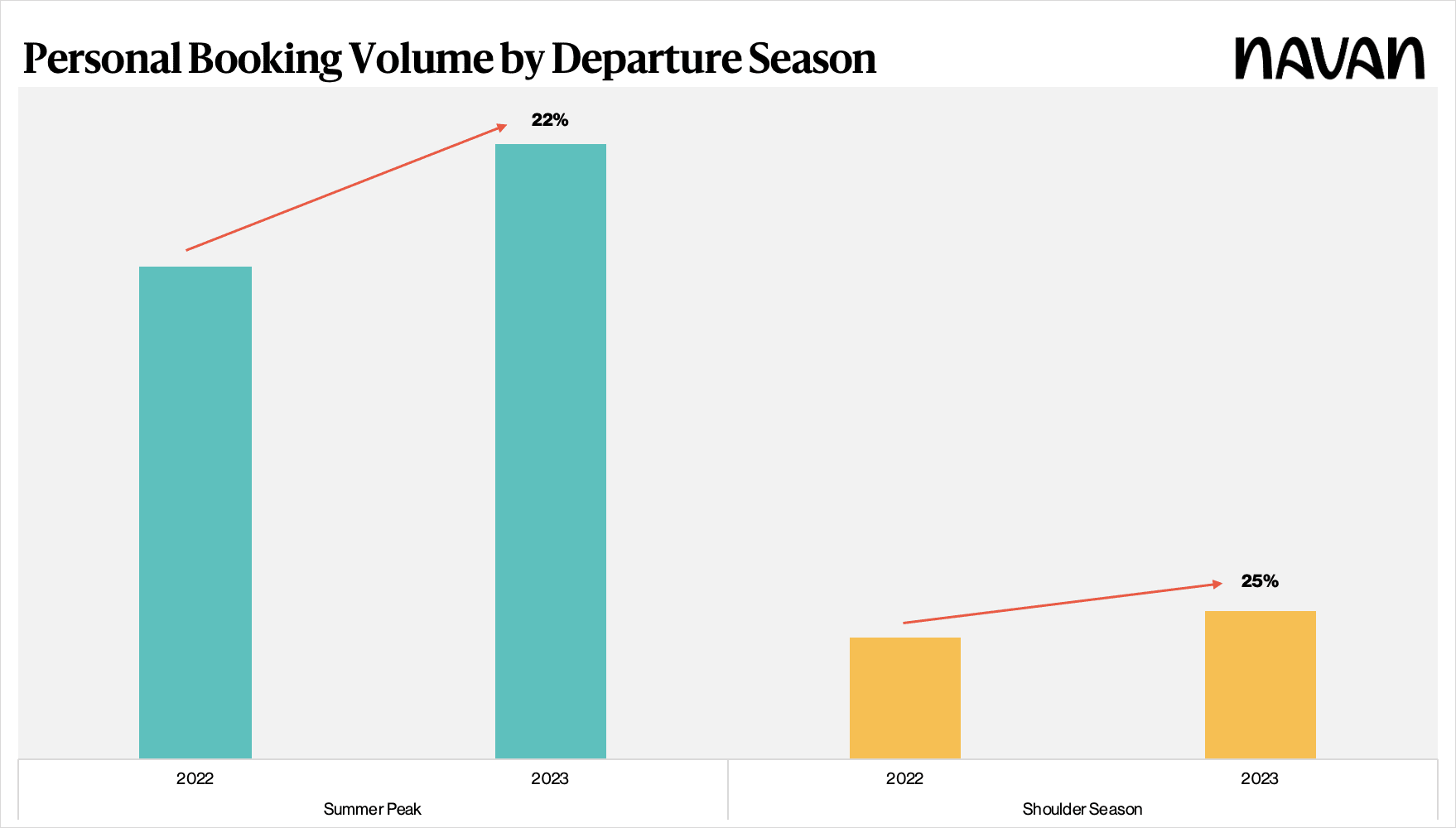 Hello, Lower Booking Prices 
Shoulder season traditionally provides a great opportunity for travelers to save money, and this year is no different (though it's just a slight decrease). 
Navan's U.S. domestic flight booking data show that this September and October, the average flight booking price is $311, down 18% (-$56) from the summer 2023 average of $367, and down 5% (-$16) from the equivalent booking window last year
The savings extend to hotels, with the average hotel booking price during September and October 2023 coming in at $363 — down $49 from the $412 average during the same booking window the year prior.
Here's Where You Can Save the Most This Shoulder Season
Compared to peak summer months, travelers who book their trips for shoulder season (September and October) can save more than $1,000 on round-trip economy flights from the U.S. to popular European destinations, such as Rome and Paris. 
In fact, for those looking to cross European countries off their bucket list — without the crowds and the high costs associated with this past summer — the fall shoulder season may be the best time to do so. Top destinations to save on flights this year include Rome (-$1,867), Paris (-$1,102), London (-$604), and Dublin (-$511).
Want to catch the last gasp of summer without the crowds? Try Honolulu (-$426), Tampa (-$340), or Miami (-$250).
And if you're looking to explore an urban metro this fall, consider Seattle (-$375), Boston (-$354), or Vancouver (-$341).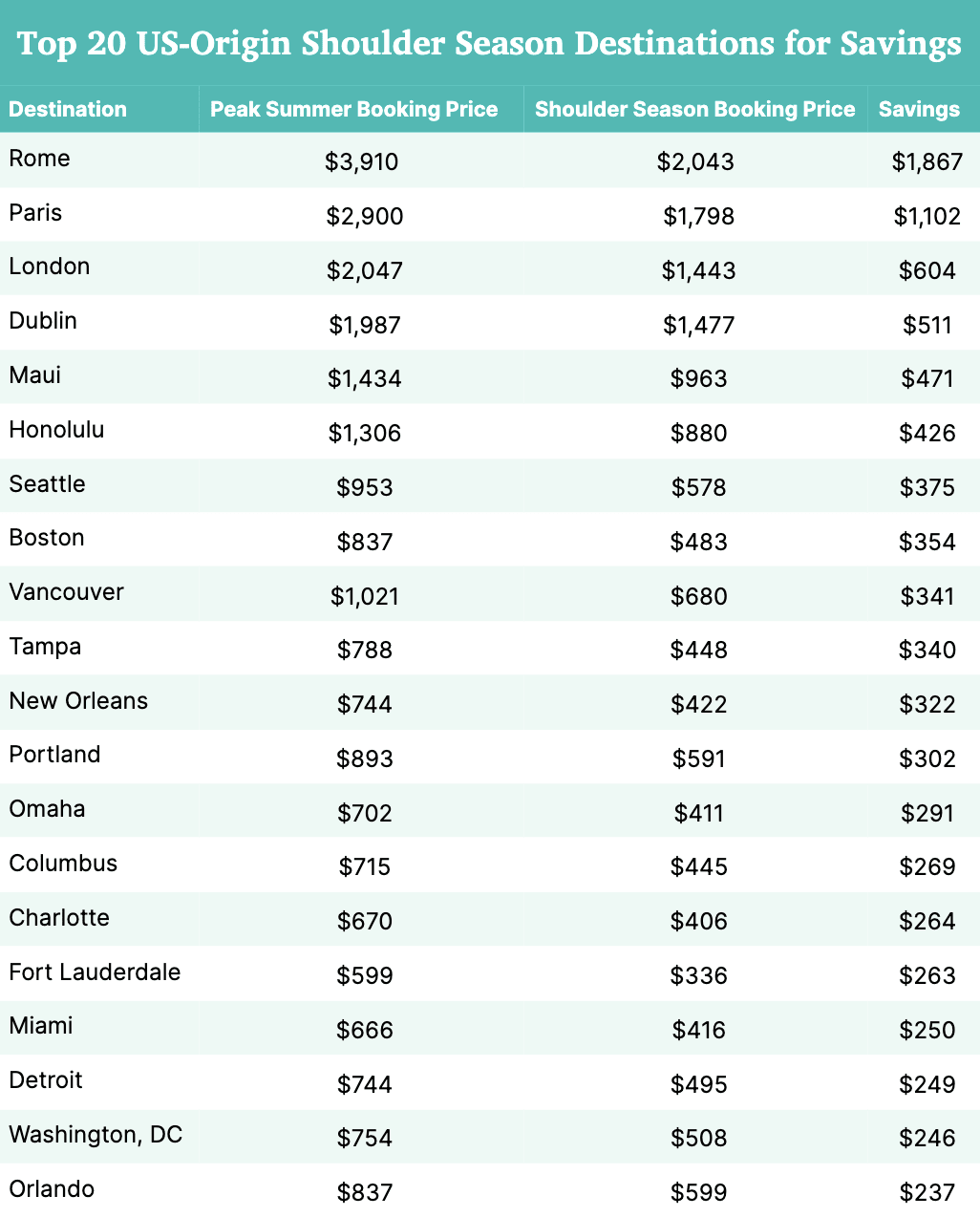 Conclusion
Whether you're visiting Vancouver before the snow starts falling or celebrating Halloween in Paris, shoulder season is a great time to save on booking prices — and experience a destination when it isn't as packed with tourists.
Whichever season you're planning on traveling, see for yourself how Navan makes personal travel easy and convenient when booking your next adventure.
---
Methodology
Navan analyzed flight booking data with a start date of September 1, 2023–October 31, 2023, and a booking window of January 1, 2023 through the last Monday of August 2023, and compared that to the average booking prices for the equivalent trip dates the year prior. Navan also looked at personal booking data with a start date of September 1, 2023–October 31, 2023, as compared to personal booking data with a start date of June 1, 2023–July 31, 2023.