The latest Navan updates take the all-in-one travel booking platform further than it has ever gone before for its customers.
This time, it's not just for business. It's personal. And there's nothing more personal than family travel or ensuring our travelers make it home for the holidays.
Navan is making it easier to book personal travel for the entire family this holiday season with four new offerings that allow families to book and manage travel for their partners, children, and anyone else they consider family, in the U.S. or internationally.
Navan introduced Navan Personal Travel — a personal travel platform that offers Navan customers access to Navan's world-class service and exclusive rates for leisure travel at no extra cost to the company or traveler — in late 2020. The expansion into the leisure space was driven by market demand as employees started taking longer trips as a result of the ability to work remotely and an increase in personal travel bookings on the platform. Navan Personal Travel has averaged 30% monthly booking growth since January 2021.
In the year since launching Navan Personal Travel, the Navan team has diligently iterated on the product to bring Navan users expanded hotel inventory, improved group travel management, an enhanced booking experience, and traveler loyalty program. The ability to support family travel bookings is the next step in the platform's evolution. Navan users indicated that they needed a family-friendly platform. Nearly three-fourths, or 73%, of Navan users are coupled and 38% have children.
With holiday travel on the horizon, the Navan team is excited to announce four product enhancements including:
1. Single (Group) Booking Confirmation Number
Businesses require that each traveler on a booking have a unique booking confirmation number — technically called a passenger record number (PNR) — for expense management and reconciliation. Navan has rebuilt its backend to bundle all leisure travelers onto a single PNR​​, ensuring families receive the best level of service when traveling and all travelers are associated with the same booking confirmation number.
2. Email Authentication for Children
Navan was originally designed so that each user or guest was required to add a valid email address when creating a booking. With the latest update, users are no longer required to add an email when booking for their children. All information regarding the new guest (under the age of 18) is passed along to the booker and stored in their itinerary on both web and mobile.
3. International Travel for Children
Navan's systems were not originally developed to support international travel for children. They've since been redesigned to include international bookings for children — ensuring all users can travel anywhere in the world.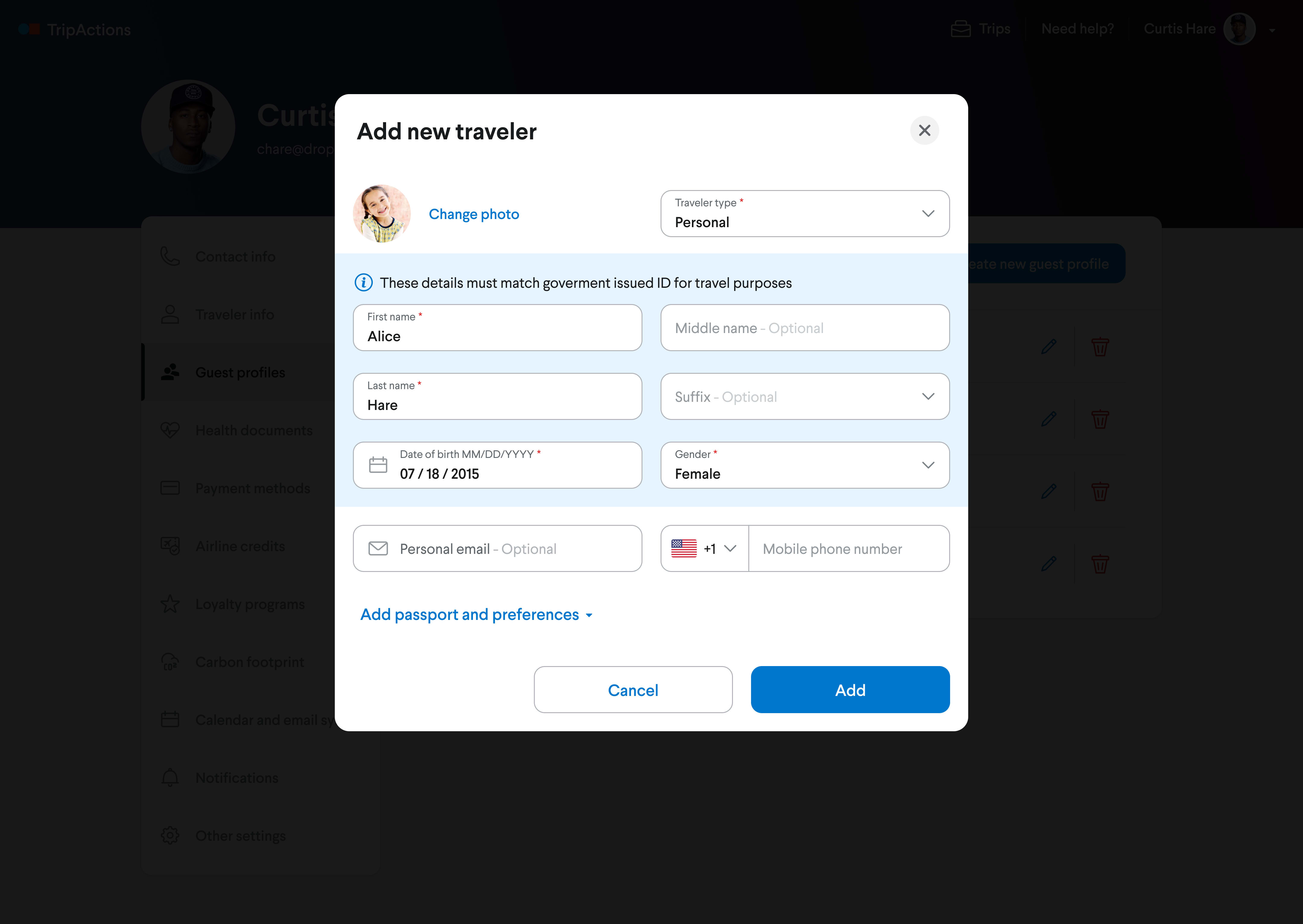 4. Guest Profile Association
All Navan customers have a unique profile that stores travel preferences, loyalty programs, carbon impact, calendar integrations, and more. With the rise of family travel on the Navan platform, users now have the ability to build profiles for each of their family members — offering them the flexibility and control to monitor and update the preferences of all users, guests, family members, and children.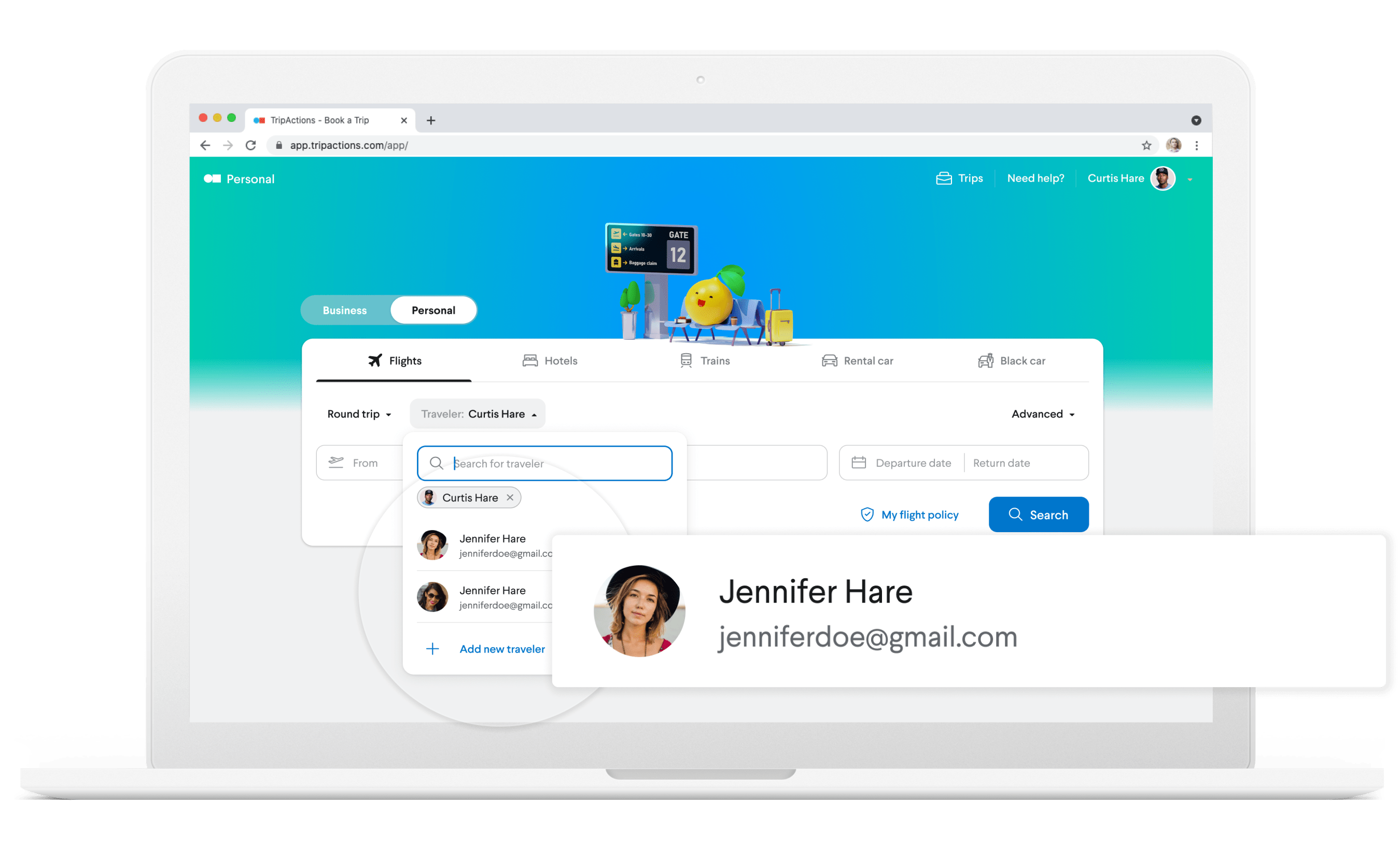 With the latest Guest Profile Association updates, business travelers now also have the ability to manage all guests they personally load into the Navan platform — making it simple to book for guests, manage preferences, and more. Users who are granted "delegate" permission (typically executive assistants, recruiters, and office managers), can book on behalf of their appointed guests and manage their preferences with ease.
Whether you're booking travel for your work family, biological family, or your chosen family, Navan has all the tools you need at your fingertips, keeping you in the know while you're on the go this holiday season.