Power suit? Check. Bathing suit? Check. If only packing for a bleisure trip was as simple as that.
Navan has made it easy to combine business and leisure travel, but packing for a dual-purpose trip can quickly lead to overstuffed luggage. Follow these tips to simplify your suitcase on your next bleisure journey.
1. Wardrobe flexibility is key
Any clothes that can do double duty will help keep your luggage from becoming cumbersome. Aim to pack versatile items that you can mix and match as you switch between business and leisure activities.
Business casual clothes that you can dress up or down typically fit both bills. You could pair a collared shirt with a blazer for a business meeting or wear it with a sweater, vest, or statement necklace for a night out. Similarly, you can don a classic pair of khakis on a plane, at a business meeting, or on a hike. Whatever you pick, make sure you fill your suitcase with items that make you feel confident and comfortable.
2. Think in layers
Have you ever seen a seasoned traveler living out of a backpack or carry-on bag and wondered how they do it? The secret is simple: Learn to layer clothing, and you'll be able to create outfit combinations that you can mix and match for any climate or occasion.
Lightweight, wrinkle-free items that you can layer are typically good choices. It may be tempting to bring a bulky sweater or coat if you're traveling to a mild- or cold-weather destination. But by thinking in layers, you may find that a cardigan and a fleece jacket give you more versatility—and take up less space in your suitcase.
3. Simplify colors and prints
Sticking to a simplified color palette can also help you mix and match like a pro. Think of the individual pieces of clothing like building blocks: The more combinations you can pair, the more ensembles you can create. And if you choose items that work for both business and leisure activities, you'll be able to create countless looks out of just a few clothing items.
In other words, it's not just enough to layer: All your layers should work together and be versatile. Of course, this doesn't mean your travel wardrobe should be void of personality. You can still add pops of color or patterns—but you might want to leave those shoes that only go with one outfit at home.
4. Choose your business clothes first
Keeping the above tips in mind, a surefire way to suit up for your bleisure trip is to determine the dress code for the work portion of the trip, lay out the clothes you'll need, and then build the wardrobe for the leisure portion of your journey from there.
This packing method ensures that you'll have everything you need for your business trip, and it gives you an idea of which clothes can perform double duties. You might find you need to pack fewer items than you thought!
5. Don't forget the necessities
It may seem obvious, but remember to pack anything besides clothing that you may need on either portion of your trip. The true purpose of your trip is for business, so don't forget any gadgets or essentials: computer, chargers, business cards, or a pen and notebook.
The packing list for the leisure portion of your trip will vary depending on your destination, of course, and what activities you plan to do. You may need sandals, ski goggles, or hiking boots. Think ahead and pack accordingly.
And for both portions of the trip, there are a few essentials you don't want to forget: This might include a passport, an umbrella, or a water bottle. And, of course, you don't want to forget personal items such as any medicine, toiletries, undergarments, and sleepwear.
6. Pick the right luggage
Now that you've gathered everything you need for your combined business and leisure trip, it's time to find the right luggage. Be sure to look into the company travel policy around checking bags, or else you may have to pay a fee.
If you've taken these tips into account, all of the items you need for your bleisure trip will likely fit into a carry-on bag. It may be worth investing in a lightweight, rolling bag that can help you speed through the airport. The less time you spend in transit, the more time you'll have to explore!
Just getting started with bleisure travel? See more tips for planning bleisure trips.
---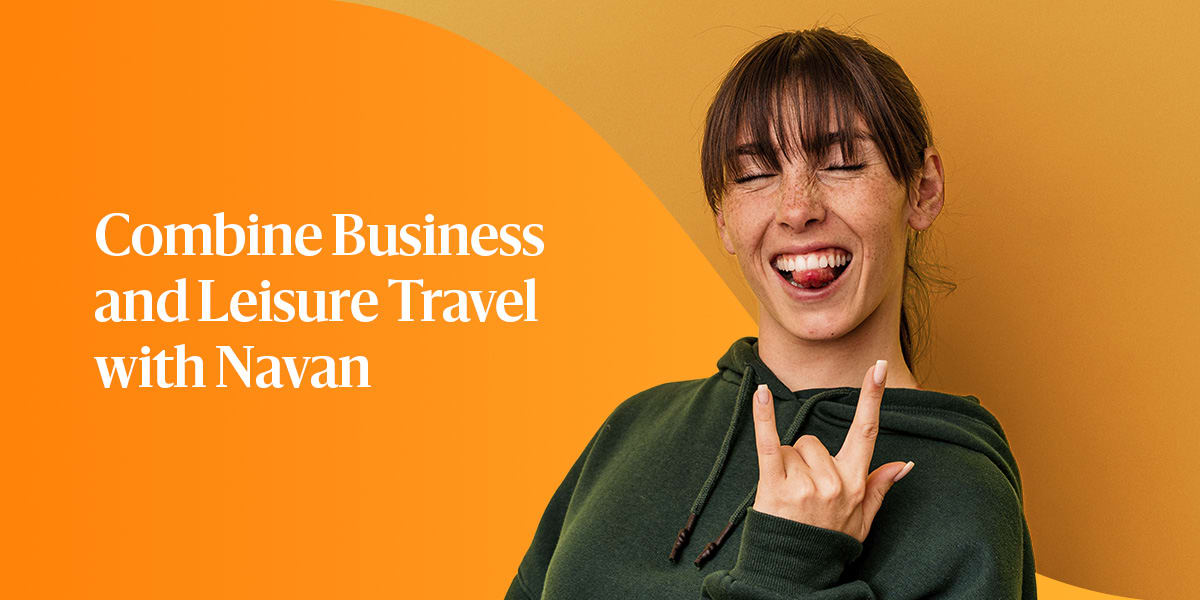 Travelers around the world book business, personal, and bleisure travel with Navan for a trusted, quality experience. Schedule a demo or get up and running with Navan in just 5 minutes.
Essential reading: