How common is bleisure travel—the blending of business and leisure travel—becoming? Consider this:
Since 2019, Navan has seen the share of business trips that include a weekend increase 23%, now representing 38% of all business bookings.
A growing number of companies are embracing bleisure travel as a perk that supports employees' work-life balance and encourages the use of vacation days.
A Phocuswright study found that 66% of companies allow or plan to allow leisure extensions to business trips.
Anyone hopping on the bleisure trend for the first time or navigating the process with a new company likely has questions. Below is a step-by-step guide on how to mix business and leisure travel for a successful bleisure trip—and hopefully, how to set you up for more mini-vacations in the future!
Review Your Company's Travel Policy
Before you start organizing your trip, carefully review any company rules around leisure extensions. Pay special attention to reimbursement: You'll want to understand exactly what your company will reimburse you for, and how the process works. Although the company travel policy may not directly address bleisure travel, it's common for companies to forbid reimbursing expenses that could be viewed as personal. In other words, your leisure time is typically your financial responsibility.
The biggest headache when planning the logistics of a combined business/leisure trip is figuring out how to pay for the separate aspects of the trip. Fortunately, Navan Expense simplifies this process for employees and companies by using built-in controls to ensure spend compliance. As travelers use virtual or physical cards on their trips, only in-policy transactions will be approved, eliminating the need for expense reporting.
Make Sure You're Protected
When taking your first bleisure trip, it's also important to understand what your company's duty of care obligations are during both the business and leisure portions of the trip. Almost one third (31%) of companies do not extend their corporate travel risk policy to leisure time. This is noteworthy, because a Global Business Travel Association study found that 12% of travelers experienced an issue where they needed assistance from their company while on a bleisure trip. You can book personal travel through the Navan platform, which ensures that throughout the trip you'll have access to the same 24/7/365 support as a business traveler, should any trouble arise.
To protect your personal finances, be aware of any travel and lodging cancellation policies. If your business trip gets canceled, you'll want to make sure you can get refunded for the leisure portion of your bookings. Navan clearly labels prices and cancellation policies and recently introduced a one-click trip change feature that allows travelers to quickly and easily rebook after major schedule changes.
Think About Scheduling
Taking advantage of a leisure extension to a business trip is all about timing. If your business trip begins on a Monday or ends on a Friday, you can easily tack on a weekend. Many business travelers also take advantage of public holidays that create 3-day weekends (e.g., Memorial Day or Martin Luther King, Jr. Day) to further extend the leisure portion of their trip without needing to give up a paid vacation day.
If your business trip doesn't coincide with a weekend or holiday, there's always the option to use paid time off, too, if you want an extra day or few at the destination.
If you're bringing one or more companions on your trip, you'll also want to figure out if you should travel separately or together. For example, they might time their arrival at the end of your business trip so you can stay focused.
Book Your Trip
Saving money on flights and hotels is the biggest benefit to employees when combining business and leisure travel. The cost savings can make it more affordable to take a companion or even the entire family on the trip. And there are time savings, too, since planning often takes less work than organizing a trip from scratch.
To avoid excess fees or losing your money, know what the change or cancellation policies are before you make any personal bookings. Look for bookings that are flexible, changeable, and/or refundable—these policies are clearly outlined when you search on Navan.
Whether you're in the business or leisure portion of your trip, the Navan digital trip itinerary helps you track the details. All your booking information is in one place, eliminating the need to search your email for flight information, confirmation numbers, hotel phone numbers, check-in times, and whatever else lives in your inbox.
Tell Your Superiors and Colleagues
It isn't wise to keep your bleisure trip a secret. Any time you plan to add some personal time on a business trip, it's a good idea to be open and honest with your colleagues about your plans. If you're taking a day off as part of the leisure portion of your trip, giving your colleagues a heads up will also make it clear that you will be unavailable. For example, simply say, "I'm going to Los Angeles on business from February 21–23, and then I'm taking off February 24 and 25."
Being transparent with your colleagues will encourage them to do the same with you in the future, and it can help foster a company culture where bleisure trips are openly supported. This is also why upon your return, you'll want to present bleisure as a positive. Don't just tell colleagues all about your amazing weekend at the beach—make it clear that you also met your business objectives.
Get Smart About Packing
When packing for a bleisure trip, aim for versatile clothes that you can mix and match for both the business and leisure portions of your trip. This list will vary depending on the purpose of your trip and the destination, but business casual clothes that can be dressed up or down typically fit both bills. A good method when packing for bleisure is to determine the dress code for the work portion of the trip, lay out what you'll need, and then build the wardrobe for the leisure portion of your trip from there.
Read More: 6 Packing Tips for Bleisure Trips
Be sure to check the company travel policy around checking bags and pack accordingly—or else you may end up paying a fee for checked luggage yourself. It may be worth investing in a lightweight suitcase on wheels that easily fits in the overhead compartment of an airplane.
Build Your Itinerary
When you plan your itinerary, it's best if you split up the business days and vacation days. This clear delineation will help you—and your boss or travel manager—know when to use your company's daily allowance and when to pay for yourself. For example, you'll need to book lodging separately for any days you extend for vacation; switching hotels or booking rooms separately will reduce any friction or confusion about how to split the costs.
Of course, you don't need to plan every last detail before you go. Consider asking the clients and colleagues that you're meeting with to recommend some places to eat and things to do in the area. It can be a great conversation starter, and you'll get some insider tips!
Check Any Travel Restrictions
Whether traveling for business, pleasure, or a combination of the two, it's important to understand any COVID-19 travel restrictions in place at your destination. With vaccination and testing requirements constantly changing, it can be difficult to keep track. But the Navan app makes it easy, by providing real-time details on local restrictions and regulations. After booking a trip, the app's notifications will inform travelers of any changes to travel restrictions.
Write Your Bleisure Out-of-Office Message
Composing an out-of-office message is often the last thing we do before we leave the office, but especially on a bleisure trip, its importance should not be taken lightly. Even if you've perfected your automatic response for vacation and mastered your away message for business trips, it can be challenging to combine the two—especially while keeping it succinct.
An out-of-office message for a bleisure trip has a few key differences from an average automatic reply because it must clearly outline all of the need-to-know information for the two separate parts of your trip. It should include the exact dates for each portion of your trip, as well as details on who can help while you're away and when the sender can expect a response—which could vary depending on which part of the trip you're on. Learn how to write an effective out-of-office message for a bleisure trip—and see examples.
Enjoy Your Trip!
Business is the purpose of your trip and should be your main focus, but the rest of the time is yours. The ability to take a bleisure trip is a benefit you receive as an employee, so recharge and enjoy your vacation!
---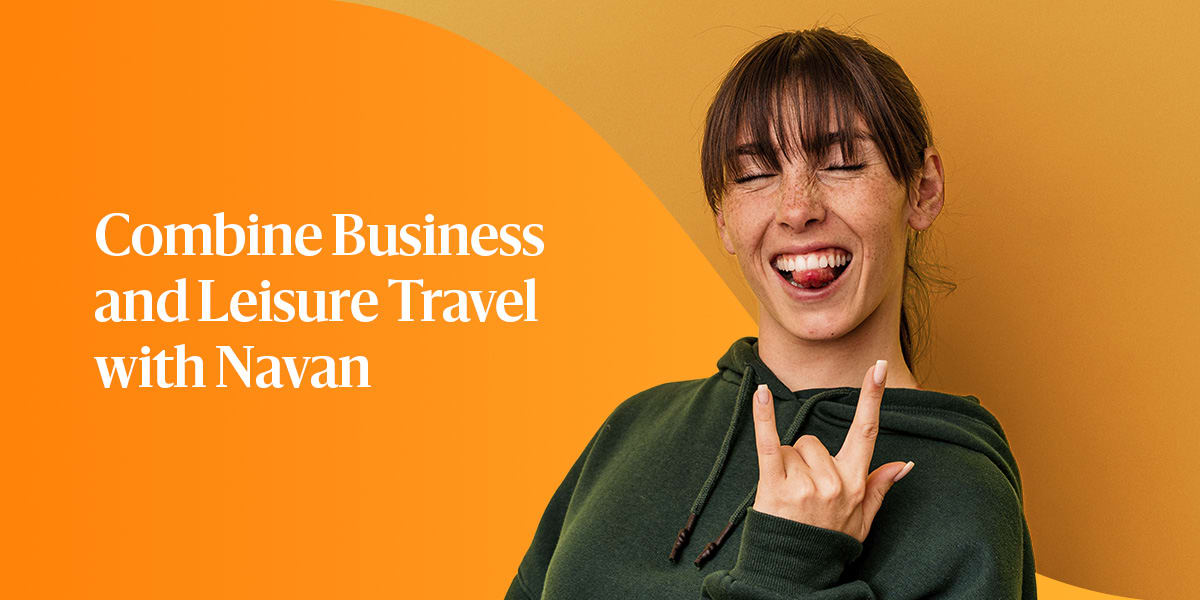 Travelers around the world book business, personal, and bleisure travel with Navan for a trusted, quality experience. Schedule a demo or get up and running with Navan in just 5 minutes.
Essential reading: