Taylor Swift's Eras Tour has established quite the, uh, reputation: The cross-country tour is expected to gross a whopping $1.6 billion across the 52 U.S. shows. With tens to hundreds of thousands of Swifties attending each Eras show, we knew "all too well" that the tour would increase hotel booking prices — so we dove into Navan's personal travel data to find which destinations would be impacted the most.
Cities Most Impacted by the Eras Tour (Are You Ready for It?)
With fewer than 20 shows left on the North American leg of the tour, we looked at the cities on the Eras Tour to see where hotel booking prices skyrocketed the most. 
Navan data reveals that the average booking price of a hotel room on the night(s) of an Eras Tour show is 50.28% higher ($99 on average) than the equivalent day(s) the following week. 
Cities in the Midwest and East Coast saw the largest increase in hotel booking prices during tour nights, including Cincinnati (+270%), Pittsburgh (+120%), Minneapolis (+93%), and Philadelphia (+80%). 
Larger metros, which see more popularity year-round — such as Las Vegas (+70%), Tampa (+49%), and Chicago (+34%) — still saw an increase in hotel booking prices, though a slightly less dramatic one.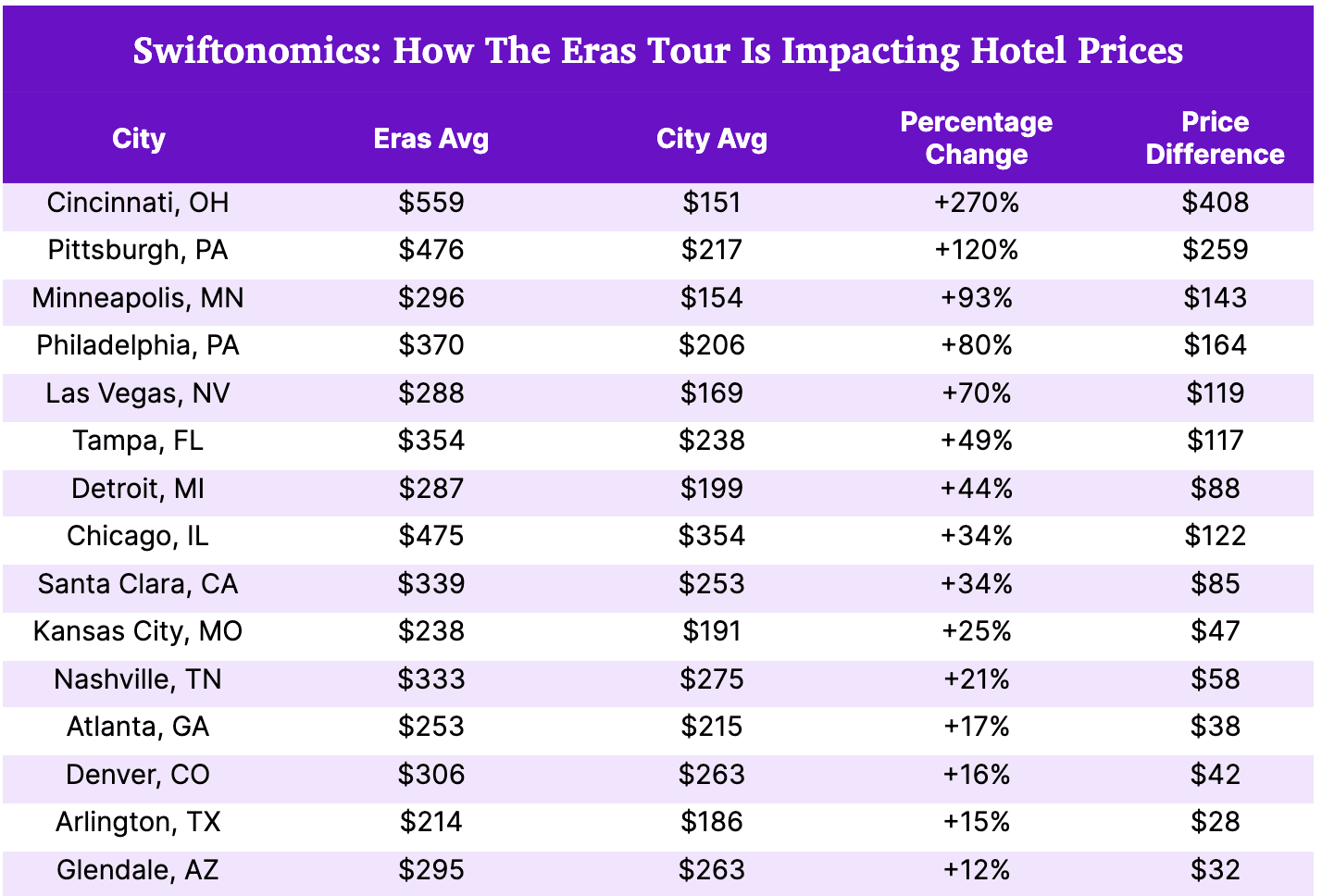 Conclusion
With Swifties spending an average of $1,300 between tickets, travel, and outfits, it's no surprise that hotels in cities where the Eras Tour is taking place are experiencing a "gold rush."
But we're not the "anti-hero;" Navan is here to help. Travelers who book through Navan can save on hotel bookings through exclusive access to corporate negotiated rates that typically are only available to business travelers. And if your company uses Navan to book business travel, dynamic policy capabilities adjust to active market conditions — like when Taylor is in town.
Whether you're a Swiftie or not, see for yourself how Navan makes it possible to tap into benefits to make booking your next trip easier and more convenient.
---
Methodology
Navan analyzed the average hotel booking price in the cities and on the dates where Taylor Swift's Eras Tour is taking place, and compared that to the average hotel booking price for the equivalent city/day on the week following, with a booking window of Nov 1, 2022 – Jun 13, 2023.