Today's workforce is globally distributed. An estimated 43.9 million workers made up the worldwide employment rate of U.S. multinational enterprises in 2019, according to the Bureau of Economic Analysis. That number is estimated to grow as companies deploy team-uniting technology and a greater portion of the workforce travels internationally.
But with the increase in the global workforce comes the need for solutions that travel seamlessly with these global employees. Alone, slow reimbursements, disjointed reconciliation, and limited spend controls slow down employees every day. Now escalate that to an international level and employees worldwide need to grapple with legacy systems that refuse to scale.
To counter these roadblocks, Navan is building innovative features that make the entire travel and expense journey more seamless and relevant to how employees work today.
A global force to be reckoned with
If the modern company is taking on a "default global" approach, Navan is ready to deploy the travel and expense solutions to pair with it. Whether organizations have a sole office offshore or a hundred locations across the globe, how each business controls and guides its T&E matters on every scale.
To help Navan's current customers or those looking for a new solution, below are some of the more recent ways in which the company is handling the global future.
Global Rapid Reimbursements
After out-of-pocket spend occurs, it could take months to get that money back into the employee's hands. Roughly 40% of employees have experienced cash flow issues due to slow expense reimbursements.
For many countries, payroll is the only way to reimburse employees because traditional expense solutions can't support quicker disbursement. And for finance teams, processing out-of-pocket spend this way can require manual entries that take time and leave room for errors.
Now, Navan can support reimbursements for out-of-pocket spend directly into an employee's bank account in two days or less in nearly 50 countries and 27 currencies. With this new capability, Navan is now the only T&E solution that delivers this measure of currency support for reimbursements.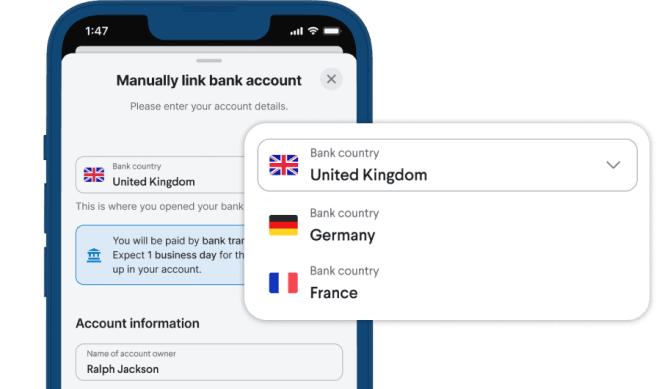 Employees can conveniently submit an out-of-pocket expense through the Navan Expense mobile app when paying for business expenses with personal funds. For ease, employees can snap a picture of the receipt, import a transaction from a personal card, or manually enter transaction details. Once created, expenses can then be automatically categorized and submitted.
"There's a world outside of America...The fact that you can get reimbursed in local currency is huge for us," said Crystal Ryu, Senior Director of Financial Operations, Patreon.
Employees can track their reimbursement from the moment the receipt is submitted to the time the cash hits their bank account. By connecting their Navan Expense mobile app with their personal bank accounts, they'll receive rapid reimbursements in their local currency in two days or less —making Navan Expense the only expense management solution with this capability.
As Navan scales its global processes, it will continue to expand its breadth of country and currency support for direct reimbursements.
VAT/GST for Expenses
Value-added tax (VAT), also known in some countries as a goods and services tax (GST), is a consumption tax applied throughout the supply chain that exists in more than 170 countries.
If finance teams have no way of tracking and reporting on VAT, they could be missing out on reclaiming up to 25% of their expenses. According to Navan VAT reclamation partner, VAT IT, roughly 16 billion pounds (~17.4 billion USD) of VAT is left unclaimed every year.
With Navan VAT for Expenses solution, finance leaders can create policies for tax details based on the country of the transaction, type of transaction, and more. Employees will only see the VAT section on their transactions if required to input VAT information.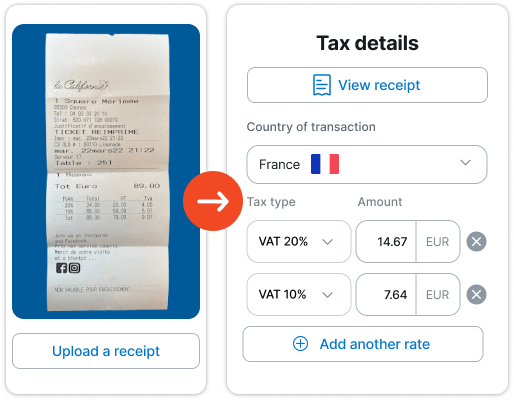 Now, global employees can simply take a picture of their receipt, upload it to the Navan app, and auto-populate tax details that are ready for submission immediately. No more chasing down receipts, attempting to calculate international taxes, or losing out on refunds due to a lack of VAT reporting tools.
VAT-Compliant Invoicing for Travel
Any company traveling in Europe can save up to 25% by reclaiming/refunding the VAT paid for specific travel options. To reclaim or refund VAT from the local tax authority, customers need to have:
VAT-compliant invoices for business travel
Custom transaction exports with itemized VAT for their accounting integration
To make sure no money is left on the table, Navan launched VAT-Compliant Invoicing for travel in Europe. Accounting teams can download the transactional data with itemized VAT and upload it to their ERP.
More International Expansion Opportunities
The Navan Expense App is also now available in German and French. More language integration is planned for the future so employees can navigate Navan's solutions more comfortably in their native language.
Worldwide adoption with Navan
T&E is not always sexy. But when companies adopt a solution that changes their approach to global travel and finance, there is a positive effect on cost savings and productivity.
"As a global employee for a US-based company, the addition of Navan for expense has made working overseas so much easier," says Netherlands-based José Martin at Amplitude. "Navan has made expense management quick and easy, giving me more time to focus on my actual work — not busywork."
Navan is the modern, all-in-one travel, corporate card, and expense management solution, providing 8,000+ customers around the globe with unprecedented visibility and control over spend. This single, global platform delivers real-time data and cost savings unlike any other contemporary solution—future-proofing the way organizations handle expenses and scale worldwide.
---
Ready to streamline company spending and implement an all-in-one travel and expense management solution? Schedule a demo to see how our spend solutions work, or get up and running with Navan in just 5 minutes.