Here's an eye-popping statistic: Sixty-six percent of companies already allow or plan to allow leisure extensions on business trips, according to Phocuswright. Forward-thinking companies are not only embracing the growing trend of bleisure travel but also leveraging it as a work perk to attract and retain talent in this competitive job market.
The kicker is that supporting this trend can actually save companies money.
As travelers look to reinvent the traditional business trip, here are five reasons why companies would be wise to start positioning and promoting bleisure travel as an employee benefit.
---
1. Bleisure Travel Can Save Companies Money
Encouraging the practice of bleisure travel can benefit a company's travel budget. Here's how:
Airfare savings: According to Navan data, 46% of business travel has a departure date on a Monday or a Tuesday*— which can drive up airfare on those days. In turn, allowing business travelers to extend trips for leisure could lead to them flying on less popular—and less expensive—days.
Hotel savings: Many business travelers select hotels with little or no regard for the price—or they may even choose expensive hotels simply because they can. Since 82% of bleisure travelers stay at the same hotel for both the business and leisure portions of their trips, it stands to reason that they would be more economical with their choices.
And on the subject of cost savings: As companies work overtime to recruit talent and ensure they have the right perks in their arsenals, encouraging bleisure travel provides additional value at no added cost.
Additionally, promoting a personal travel platform like Navan can help transform company culture around using paid vacation—whether employees are adding leisure days to a business trip or simply taking PTO.
---
2. Employees Value Bleisure Travel
For employees, the ability to build in some leisure time can turn the extra work of a business trip into a job perk.
Recent surveys of business travelers have found that:
The evidence shows that traveling employees want to combine work and play. It follows that companies supporting bleisure travel will stand out during the recruiting process and can give prospective employees the sense that company values align with their own.
And when it comes to retention, research suggests that employees are more likely to stay at jobs that enable them to pursue their passions outside of work.
---
3. Bleisure Travel Can Improve Company Culture
The rise in bleisure travel comes at a time when work-life balance is top of mind for both employees and companies.
A recent survey found that 55% of business travelers plan to take more bleisure trips after the pandemic to improve their work-life balance.
Companies looking to attract and retain talent should understand that young professionals are particularly eager to hop on the bleisure trend:
However, 45% of Millennials feel they should avoid telling coworkers about taking time for fun or personal activities while on business trips.
Companies aiming to foster a culture that values work-life balance should consider incorporating a leisure component into their corporate travel policy and openly encourage the practice of bleisure travel.
One way companies can do this is to adopt a travel management software that makes booking personal travel easy and practical for employees—while ensuring that business and personal expenses are kept separate.
---
4. Adding Leisure Time Can Increase Productivity
Allowing business travelers to take some time to recharge their batteries can be a vital step in avoiding burnout. After all, if the trip itself meets all of the company's goals, encouraging the addition of some leisure time can only lead to healthier, happier, and more productive employees.
The Global Business Travel Association surveyed North American business travelers and found:
84% say the quality of their business travel experience impacts their business results.
79% say their business travel experience impacts their overall job satisfaction.
In industries where travel is a job necessity, openly allowing bleisure travel can turn travel from an obligation into an incentive. ​​And allowing weary business travelers some time to relax and recharge can help them perform at their best on and off the road.
---
5. It's Never Been Easier To Tack On Leisure Time
Navan makes it easy for employees to add personal time to business trips—and there are no fees for personal bookings.
Employees can use the platform to take advantage of perks that are typically only available to corporate travelers, by:
Accessing direct and corporate negotiated hotel rates
Earning loyalty points and organizing search results based on loyalty preferences
Managing trip changes with a click of a button
Chatting with a live agent when they need travel support
Plus, all personal bookings made with Navan are kept confidential from employers, and payments are completely separate—making the line between business and personal travel clear-cut.
---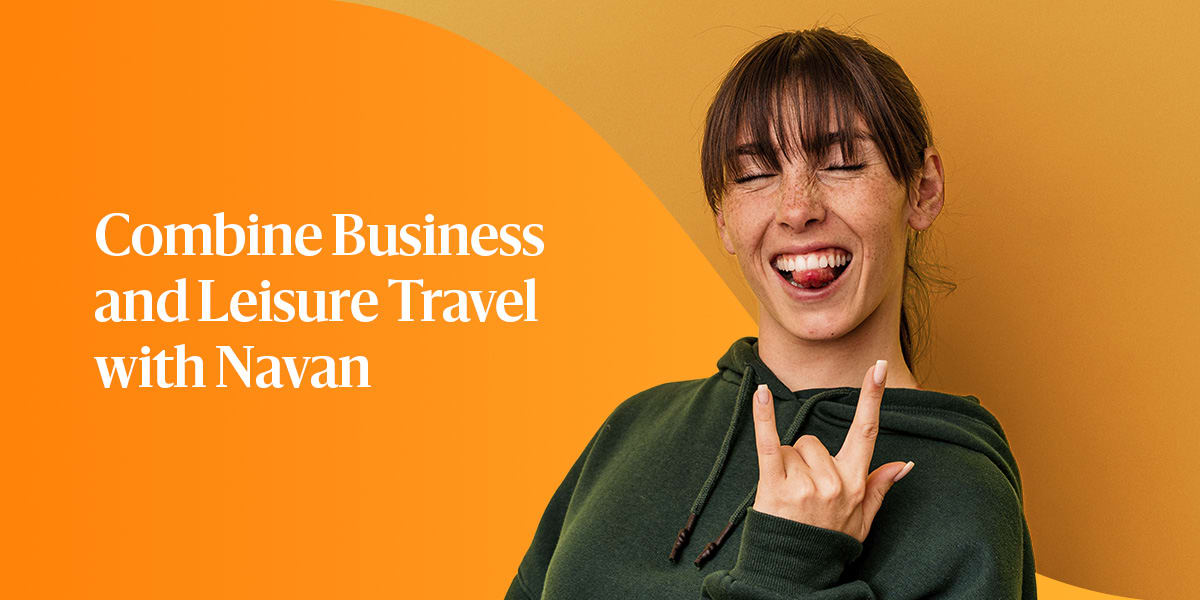 Learn more about how Navan makes it possible to seamlessly combine personal trips with business travel, and how employees can tap into corporate travel benefits—making bleisure trips easier and more convenient.
*According to booking data from Jan 1 – Jun 30, 2022.
---
Essential reading: