Entrepreneurs, small business owners, and their teams often get buried under a mountain of paper receipts or saddled by Excel spreadsheets and clunky accounting software. But tracking business expenses doesn't need to be difficult or time-consuming.
Through expense automation, companies can streamline the entire reconciliation process. Doing so can decrease the time required for to process expenses from days to seconds. As a bonus, companies can also gain real-time transaction visibility. The result turns business expense tracking from a strain into a strength and helps businesses grow.
Keep reading to understand how Navan, an all-in-one travel, expense, and corporate card solution, can make tracking expenses for small businesses trouble-free.
---
6 Ways Navan Makes Tracking Small Business Expenses Easy
Below are six ways Navan helps startups and small businesses get a handle on tracking business expenses.
1. Take advantage of a separate small business credit card
Some challenges that new small business owners face are in separating business and personal expenses, undergoing personal credit checks to get a business credit card, and attaining high credit limits. With Navan, small businesses can clearly define business-related expenses, onboard in no time without a personal credit check, and get 10–20x higher limits.
When compared to business bank accounts, business credit cards have some surprising benefits: Business credit cards can help small businesses build better credit scores, stay protected in the event of fraud, and even collect rewards. For example, in the past year alone, Premier Talent Partners received more than $10,000 back from the Navan corporate card rebate.
Read More: Why Smart Corporate Cards Are a Critical Tool For Startups
---
2. Set and automate policy controls
Navan enables admins to set policy controls upfront, which prevents policy violations before they happen. Through the custom policy builder, admins can tailor policies and approval workflows based on role, expense category, business context, and more.
Expense policies are always visible to employees in the Navan mobile app, rather than living in a static, written document. This accessibility helps employees understand and comply with policy rules; it also helps administrators keep policies comprehensive and up-to-date.
Read More: Why Small Businesses Need Spend Controls For Expenses
---
3. Issue smart cards to small business employees
With policies configured, small businesses can begin issuing both physical and virtual smart cards with built-in controls to employees. And they can distribute the cards with confidence, knowing that transactions will be automatically approved, flagged as out-of-policy, or declined at the point of purchase.
As a small business grows, more employees will need to make business purchases. Adopting Navan early ensures that employees will spend responsibly on behalf of the business, whether they are purchasing office supplies, submitting travel expenses, or paying vendors, including self-employed contractors and freelancers.
If employees need to use their personal debit card, credit card, or bank account to make a purchase, they can receive rapid reimbursements in 1–2 business days. Whether they are claiming a business dinner or submitting mileage tracking, employees won't need to wait for reimbursements and administrators won't need to chase them down for receipts.
Read More: Five Functionalities Small Businesses Need in an Expense Management Solution
---
4. Automate tracking and eliminate expense reports
With policies built in and employees armed with smart cards, the best expense experience possible is in motion. Navan automatically categorizes and reconciles expenses, which means there's no need to complete time-consuming expense reports. And with integrations for QuickBooks online, Netsuite, Xero, and Sage, small business owners and their teams can close the books in no time.
Forrester Consulting created a composite organization based on Navan customers and analyzed what that company could save over the course of 3 years by using the Navan solution; they found that employees saved 30 minutes per expense report with the solution. So not only can the Navan solution transform the bookkeeping processes for small businesses — it will also give small business owners and their teams valuable hours back to help grow the company.
Read More: How Small Businesses Can Automate Expense Tracking
---
5. Understand small business finances in real time
Since the reconciliation of approved expenses with Navan is instantaneous, admins can see all financial reporting in real-time dashboards. They can also slice and dice the data to understand the company's cash flow and to make predictions about business income and spend. As a result, program managers will be able to better:
Understand current business finances
See how monthly or annual spend is trending
Dive into individual expense categories
Spot outliers and identify cost savings
Make financial predictions
Gain insights into policy compliance
Companies simply cannot glean these types of insights from antiquated business expense trackers or rudimentary Excel templates.
Read More: 5 Ways All-in-One T&E Software Sets Small Businesses Up to Scale
---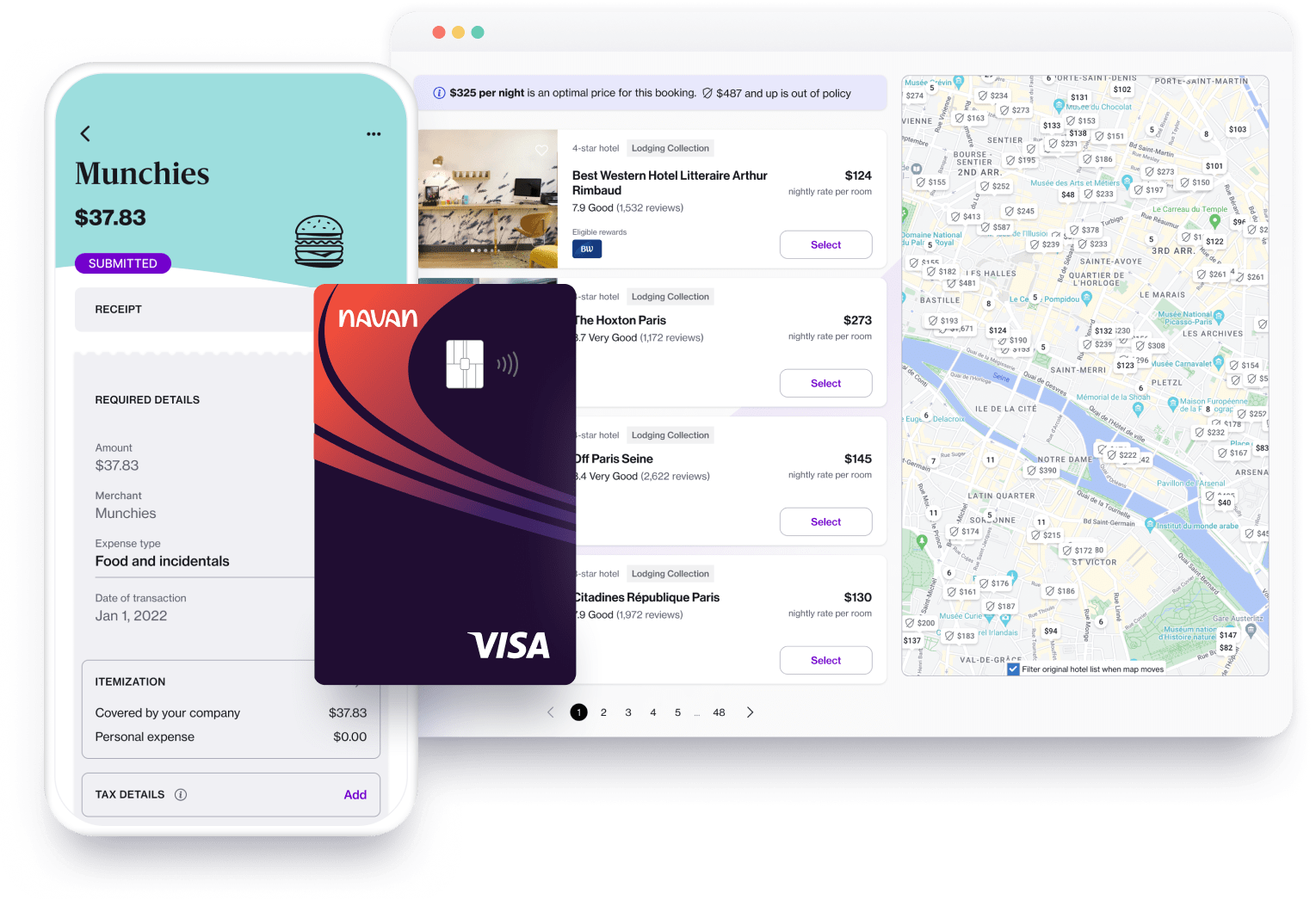 6. Manage and save on travel expenses, too
Navan is so much more than an expense tracker app. It's an all-in-one travel, expense management, and corporate card solution. Employees can book and manage flights, hotels, cars, and trains through the platform. Just like any other expense, all travel is automatically reconciled.
Small businesses can also save on travel by:
Accessing up to 15% off the best available rates at thousands of hotels globally through special Navan-negotiated corporate discounts
Driving cost savings through employee incentive programs, which challenge travelers to book hotels priced lower than the fair market price in exchange for rewards
Employees will also have access to travel agent support via chat, email, and phone. Best of all: Navan will help companies build, manage, and scale a world-class corporate travel management program as the company grows. 
Read More: How Small Businesses Can Get Big Corporate Hotel Discounts with Navan
---
More Expense Tracking Resources for Small Businesses
---
Ready to streamline company spending and eliminate expense reports? Schedule a demo to see how our spend solutions work, or get up and running with Navan in just 5 minutes.