You're flying all expenses paid to a new city — but not for a vacation. You're on an employer-sponsored trip. But your time away doesn't need to be all work and no play. There are plenty of fun things to do on a business trip!
Visiting a new place presents an opportunity to explore and have new experiences. If it's your first time traveling for business, you're probably wondering how to have a good time while balancing your obligations to your employer.
Having fun and staying efficient on your business trip comes down to good planning and time management. With these tactics in mind, you can get organized ahead of your trip, find fun and unique experiences, and maximize your time. 
---
How to Get Organized Before Your Trip
Finding a balance between work and enjoyment will ensure a productive and satisfying experience on your next business trip. Before you travel for work, here are a few ways to prepare yourself to maximize efficiency while also finding time for fun.
1. Find Gaps in Your Schedule
Before your business trip, review your schedule and note where and when business activities will occur and when you'll have downtime. The more you know about your itinerary ahead of time, the better. You can build in time for leisure activities before, after, and between work activities. 
If you only have an hour or two between meetings, a quick activity like a walk around the block or some souvenir shopping can help you stay within schedule. If you have an entire afternoon or evening free, use the opportunity to try out a local restaurant or explore attractions. The key is to plan ahead so you can find time for fun.
2. Choose Your Accommodations Wisely
Companies often recommend hotels near conference centers, airports, or offices — but not necessarily near fun activities. Staying in a hotel closer to the city center or points of interest may be beneficial. 
Choosing a hotel with easy access to attractions, dining options, cultural sites, or entertainment venues can help you have a more enjoyable experience outside business hours. Alternatively, some people prefer to stay in a residential neighborhood and experience life as a local. Doing so can provide a richer and more authentic travel experience than a conference hotel might.
If you plan to take public transportation, find a place within walking distance of a subway, bus, or tram station.
Of course, staying near the hub of business activity could have advantages. If your schedule is jam-packed or networking with colleagues is important to you, a hotel near the work or conference area may be a better choice.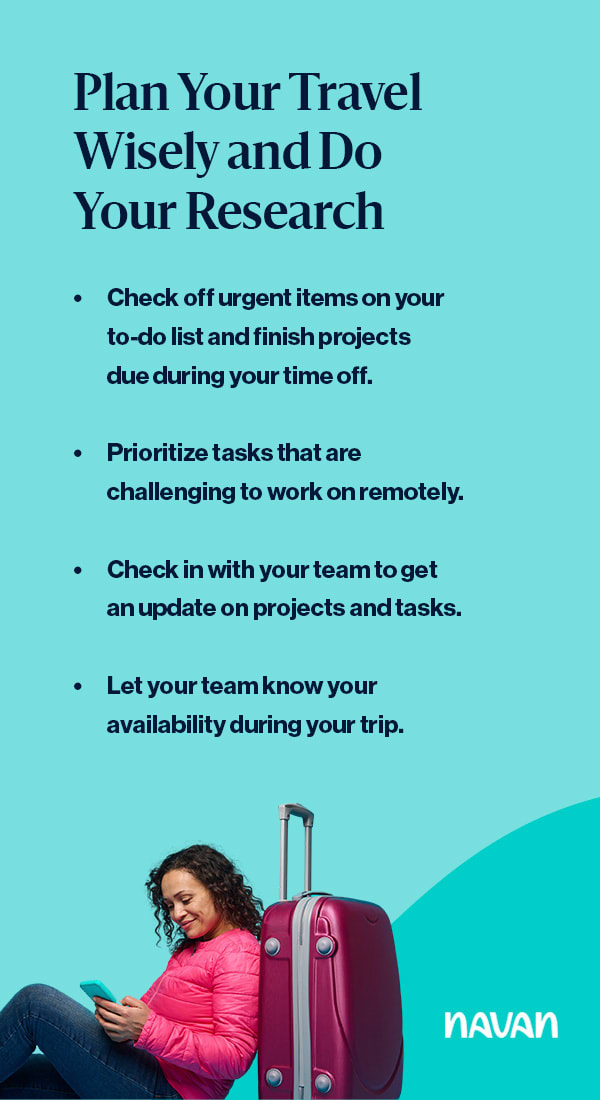 3. Prepare Your Team for Time Away
Before you embark on your trip, wrap up as much work as possible at the office by doing the following:
Check off urgent items on your to-do list and finish projects due during your time off.
Prioritize tasks that are challenging to work on remotely.
Check in with your team for updates on projects and tasks.
Let your team know your availability during your trip.
Being away from the office will be much less stressful if you leave with as many tasks finalized as possible. And don't forget to set your out-of-office message: Here are examples of out-of-office messages for combined business and leisure trips.
4. Add An Extra Day — Or More
Ask your boss if you can fly in earlier or leave later than your business dates for some extra time to explore. You could extend the trip through a weekend or use paid time off.
There are several benefits of adding personal travel to a business trip. Extra time can let you rest and adjust to a new time zone before a conference or help you return to work refreshed. Moving the dates could also save your company money. If there's a large conference in town, demand could cause airlines and hotels to raise prices. Saving money on travel is a great way to pitch moving your dates to your boss. 
Adding extra days will also relieve the pressure to fit fun activities into your work schedule. If you can't add additional days, book earlier and later flights that enable you to explore and maximize your time in the city.
5. Bring a Family Member or Friend
A business trip can also be an opportunity to create memories with a friend or family member. While you attend to your work responsibilities, your significant other can explore the city independently. And then, during your free time, you can spend quality time together and discover new places, engage in activities, or simply enjoy your time away from home.
Most companies are okay with employees bringing along a travel partner as long as they don't distract from work and the company doesn't pay any of their expenses. If you've added additional leisure days to your trip, you'll have time to explore and have fun together, turning your trip into a mini-vacation.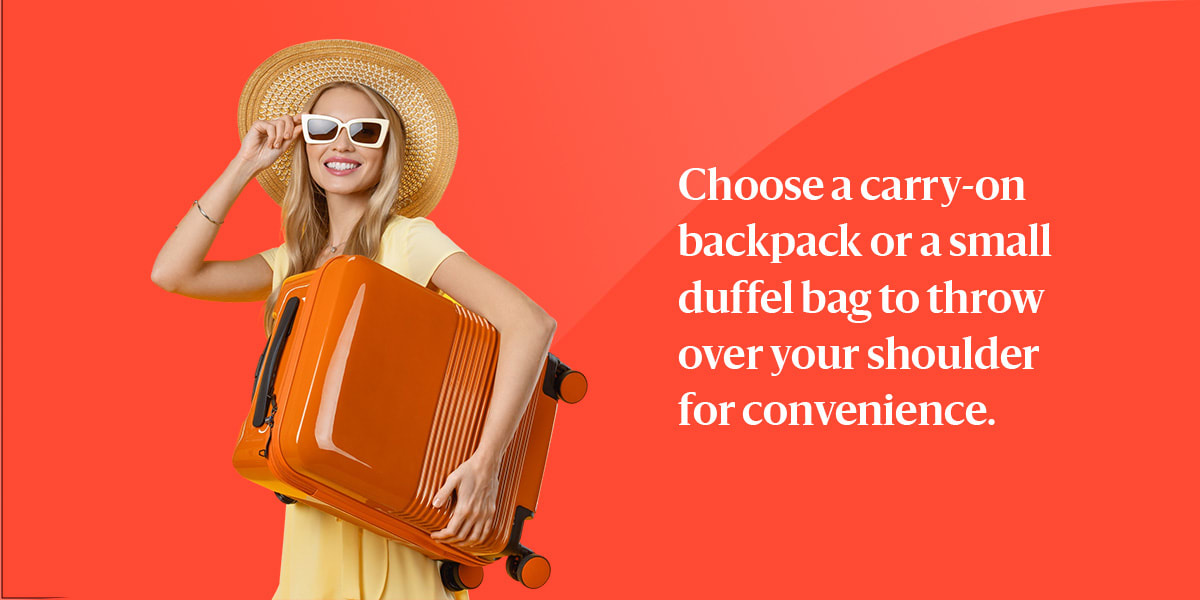 6. Pack Light
When you have limited time and want to maximize your stay, a large suitcase can hold you back. Choose a carry-on backpack or a small duffel bag to throw over your shoulder for convenience. It will save you from waiting for a checked bag at the airport and racing to your accommodation to drop it off when you arrive. You can move freely from one activity to the next without worrying about a large suitcase. 
Read more about how to pack for a trip that combines business and leisure.
7. Make the Most of Transit Time
While flying to the destination, make the most of your time by preparing for the business trip. Check and write emails, perfect your presentation, or finalize any details. You can also get caught up on anything you may be missing during your time away — after all, your regular work doesn't stop just because you're on a business trip.
If the flight doesn't have an Internet connection, download the necessary files and documents so you can work offline. When you're organized and prepared for the business part of your trip, you'll be able to use your time efficiently and have more time for fun. 
Take some entertainment with you, too. If you're all set for work, using your travel time for an activity you enjoy can help you relax. Read a book or magazine, listen to a podcast, or play a game. 
---
7 Ways to Have Fun on a Business Trip
Having fun on a business trip can help make your experience more enjoyable and memorable. Who wouldn't want to turn a business trip into a mini-vacation? Below are seven tips to help you have fun on a business trip.
1. Eat Local
One of the best ways to get acquainted with the culture of a destination is through the food. Sample the local cuisine instead of settling for the convenience of the hotel food or sticking to well-known restaurant chains. 
Most destinations have unique cuisines and delicacies influenced by geography, climate, cultural heritage, and available ingredients. For example, you'll want to seek out gumbo in New Orleans, brisket in Austin, or deep-dish pizza in Chicago. Each city or region has its distinct culinary traditions and flavors.
In the days before your travel, research the best local restaurants and unique food spots that locals love. It's even better to ask friends and colleagues who live in or have visited the area for recommendations. Checking out new restaurants is an excellent opportunity to try new foods, explore the area, and meet new people. You can also impress clients or colleagues by choosing a local hot spot for a scheduled work dinner. 
Make reservations well in advance, especially if you are traveling for a conference with many attendees. And if you're traveling abroad, research the country's tipping and dining etiquette.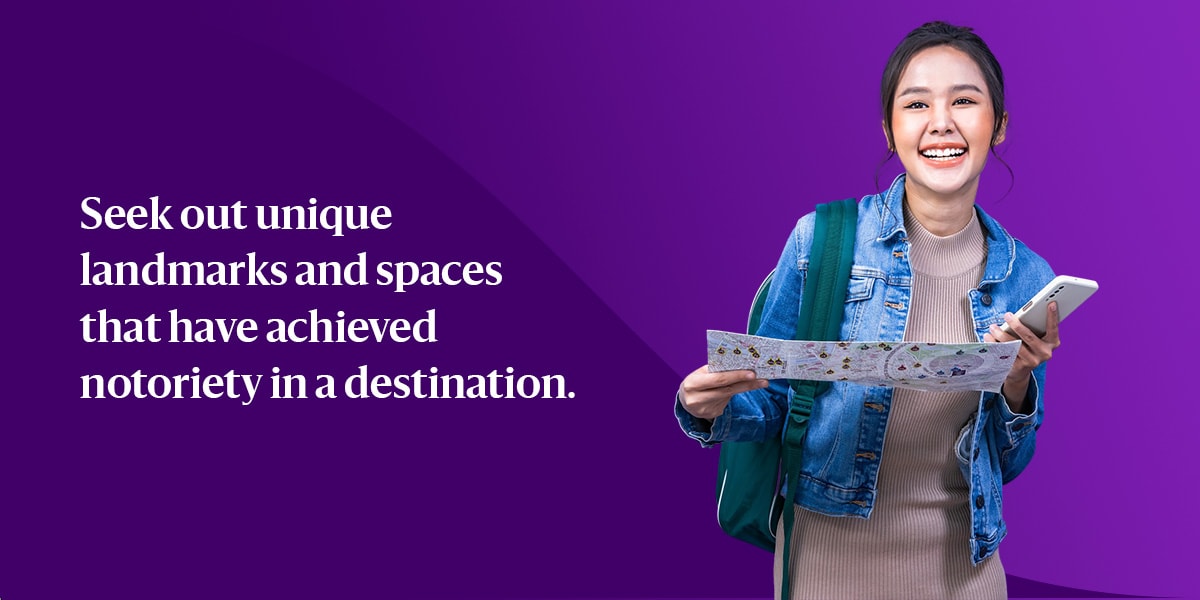 2. See Local Landmarks 
Cities are often characterized by their unique landmarks, which serve as iconic symbols and significant points of interest. If you've always wanted to see New York City's Statue of Liberty or Seattle's Space Needle, a business trip is the perfect opportunity.
Seek out unique landmarks and spaces that have achieved notoriety in a destination. Some memorable points of interest could be historical sites, like the Freedom Trail in Boston, or locations from your favorite books and movies, like The Plaza Hotel in New York City for fans of F. Scott Fitzgerald's novel The Great Gatsby.
Not all attractions and landmarks need to be famous. To find activities that will take you off the beaten path, research online, read travel blogs, or visit websites like Atlas Obscura for unusual finds. 
3. Engage in Recreational Activities
Why run on the hotel treadmill when you can explore the landscape around the city? Before starting work, plan a morning run, walk, or hike. If you're still getting familiar with the area, download an app that suggests running and hiking routes along with the difficulty level.
Renting a bike is another fantastic way to explore and break a sweat. Many cities now have public bike rental programs, and if not, you can ask the hotel for recommendations on nearby bike rental shops. Similarly, you could rent a stand-up paddleboard or kayak to see the city from the water. 
Other ways to exercise outside your hotel while taking in the local scenery include playing basketball or soccer at a public park or signing up for an outdoor fitness class. Yoga or dance classes can provide a structured workout while allowing you to meet new people. 
4. Watch the Sun Rise or Set
Making time to watch the sun come up might be the last thing on your mind if you aren't a morning person — but when was the last time you enjoyed a sunrise? 
Our lives are usually so busy with work and other commitments that we must be intentional about carving out moments to be still. Watching the sunrise from a beautiful spot is an often overlooked way to appreciate the beauty around you and be present. 
Watching the sunset can also help you feel connected to the natural world. Find an overlook or a rooftop bar to enjoy the evening with a view. Precious moments like this will add delight and joy to your trip and create lasting memories.
5. Get Creative With Meetings
Stuffy meeting rooms are the usual go-to for business gatherings, but being in a new city lets you get creative. People have meetings in coffee shops and on the golf course all the time. Why not make the get-together an enjoyable experience for your colleagues or client? 
Consider informal activities with clients and colleagues, such as after-work dinners or drinks. Discuss business over lunch at a local restaurant or a museum with a private room. Host a meeting in an outdoor setting like a park, garden, or rooftop terrace. The change in scenery will help everyone relax and make for a great talking point and a good time. 
6. Attend Local Events
Before your trip, research local listings on websites or social media platforms to find out what events are happening during your stay. Look for festivals, concerts, art exhibitions, theater performances, sporting events, or anything that aligns with your interests.
Attending these events provides entertainment and  a glimpse into the local culture and can be a memorable experience. You may even be able to attend cultural events that showcase the local community's traditions, music, dance, or food. 
7. Get Out of Town
If you have extra downtime, consider taking a break to enjoy nature in the countryside or a national park. After a hectic business trip, you likely want to clear your head. Spending time in nature enjoying the fresh air and inspiring surroundings can be invigorating and rejuvenating. Get outside city limits and spend time hiking, swimming, picnicking, or simply soaking in the scenic beauty. 
And here's another idea: If your business meeting or conference is within driving distance of your home, turn your business travel into a road trip! Add a few days before and after, and take the scenic route. You'll see places you wouldn't usually visit while de-stressing and taking  in your surroundings. Bonus: Your company may even give you a mileage reimbursement.
---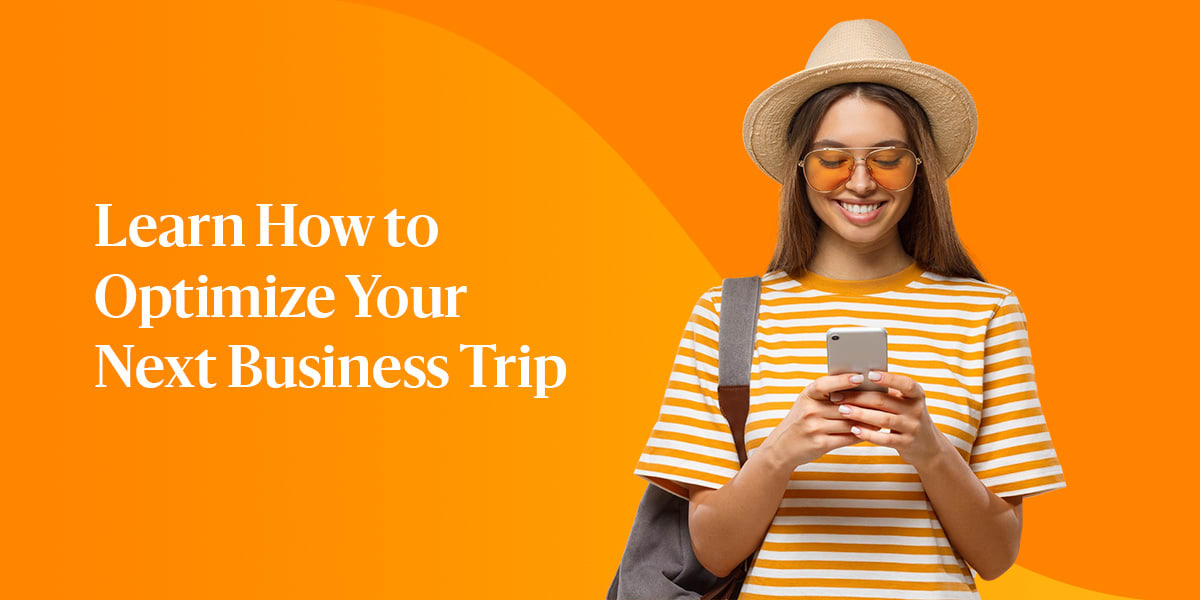 Learn How to Optimize Your Next Business Trip
Time is precious on a business trip. With Navan, combining business and leisure travel is easy and efficient. You can manage both types of travel seamlessly. Even on your personal outing, you can tap into corporate travel benefits such as:
Accessing direct and corporate-negotiated hotel rates
Earning loyalty points and organizing search results based on loyalty preferences
Managing trip changes with a click of a button
Chatting with a live agent when you need travel support
Plus, all personal bookings made with Navan are kept confidential from employers, and payments are completely separate — making it easy to combine business and leisure travel seamlessly.
To optimize your next bleisure trip, get started for free today.
---
Essential reading: