It's never been more important for teams to start seeing one another again in person.
COVID-19 forced companies and employees around the world to go virtual and miss out on the coveted in-person brainstorms, meetings, and happy hours that make work more productive and enjoyable.
As travel restarts, employees are eager to get back on the road and reconnect with colleagues. In a recent Navan customer survey, 76% of respondents said they miss in-person interaction with their teams. And even though 72% of companies plan to adopt a hybrid working model moving forward, 49% expect teams to travel more than before, all to foster in-person collaboration.
Bringing distributed team members together will be critical in the coming months to increase collaboration and strengthen company culture. But with changing regulations and more distributed workforces, event organizers are facing a unique situation. They need to keep travelers safe and guide them through health procedures and country restrictions; at the same time, they need to ensure compliance with company policy and provide visibility into the environmental impact of their travel.
Enter Navan Team Travel. This innovative new solution offers customers an intuitive booking platform that takes these considerations into account, helping users make the best decisions for their team's travel while streamlining the booking process.
"Team Travel is a game-changer," says Sammit Khandeparker, Global Travel Manager of Springer Nature Group. "It will revolutionize the way we manage our small meetings and events. The ability to seamlessly create an event online—and then monitor and plan the event through a comprehensive dashboard from start to finish—will drive so many efficiencies in our business."
"It's just like Navan says, 'In-person connections are super important.' You can't shake hands or give someone a hug on Zoom. A more collaborative team effort requires you to be in person," explains Emmett Bamba, Corporate Travel Manager at Twitch.
Key team travel features include:
Event Creation
Create and customize events for up to 20 participants in just a few clicks, based on preferences. Effortlessly select a destination, event start and end dates, participants, preferred hotels, payment methods, and more. Rich content integrations provide the insights and real-time data event organizers need to make the most informed decisions and safely bring teams together based on COVID-19 destination data, carbon emissions, country restrictions, and health guidelines.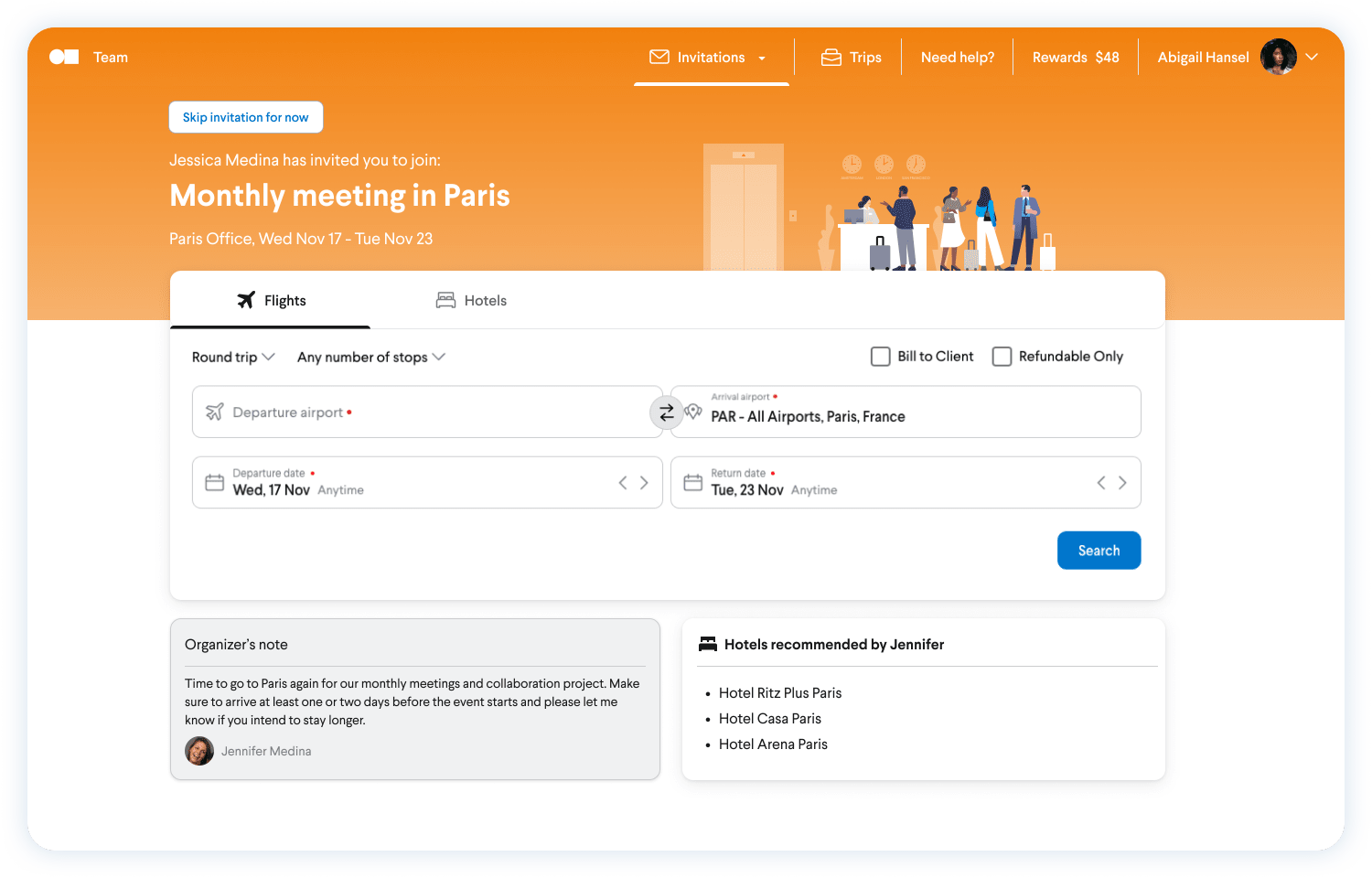 Estimated Event Travel Budgets
Navan AI algorithms help estimate the overall event travel cost with a high level of accuracy using Navan tools like median price calculations and the price-to-beat technology. This helps event organizers and financial teams get further financial visibility. The Team Travel solution also supports cost centers, individual departments, and custom fields, to ensure organizations have the most granular real-time data related to their events' travel spend.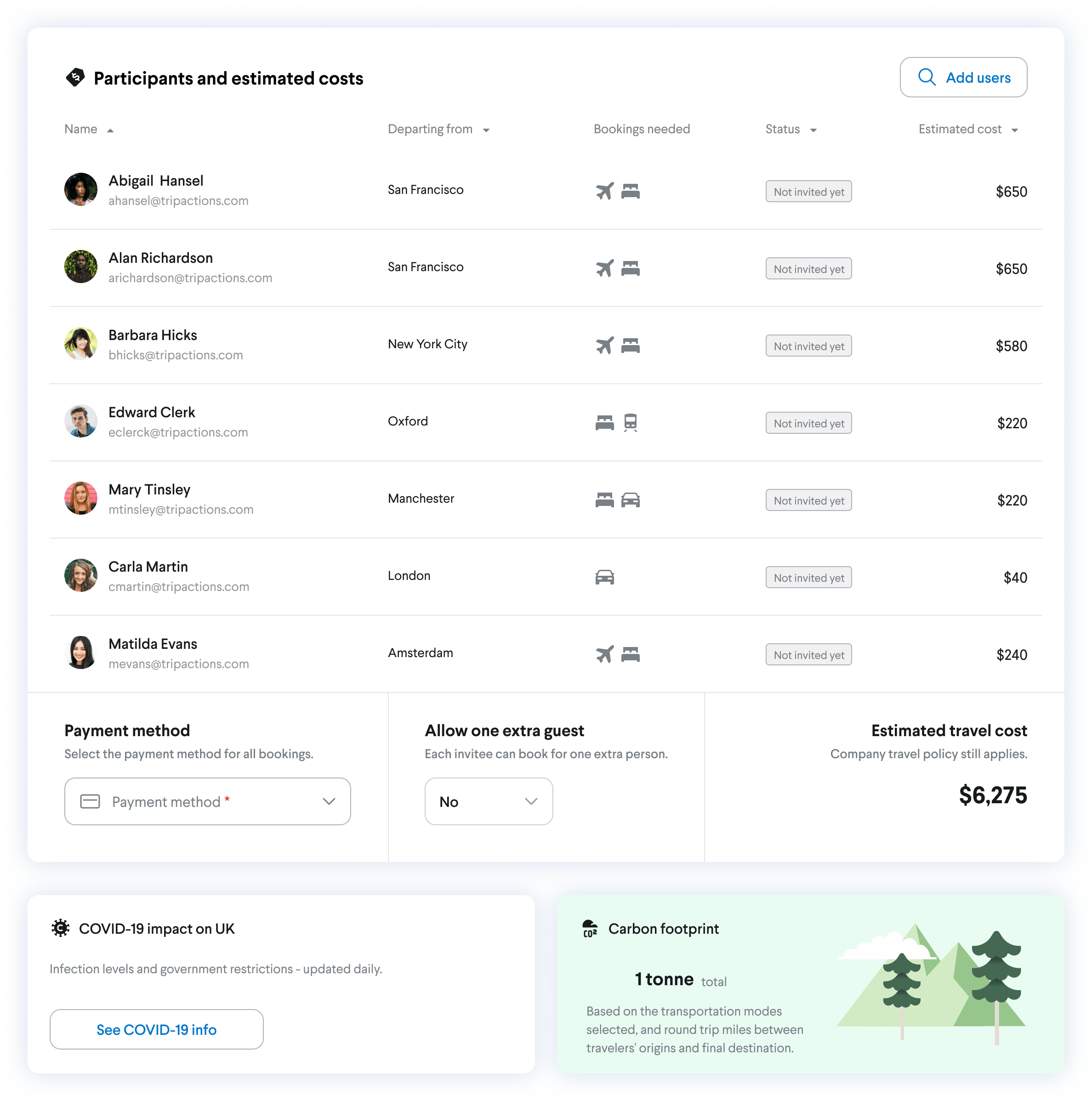 Seamless Guided Self-Serve Experience
Meeting and event organizers can configure their events and invite participants directly from the event creation page, notifying and guiding them through the entire travel booking process. Travelers know what to book and when, according to their company policy and event preferences. Participants can also learn country restrictions, visa requirements, and health procedures during the booking process, ensuring a smooth travel experience.
Smart Handoff for Room Blocks
Meeting and event organizers can request support from the Meetings & Events team at Navan to secure a hotel room block and meeting space directly in the event creation process. If the room block is already secured, admins can seamlessly notify all participants using the admin dashboard.
Guest Invite
Empower participants to invite an extra guest and book on their behalf. Guests are notified with all of their itinerary information. Navan has launched more than 45 new global product enhancements and capabilities since March 2020, but Team Travel has generated one of the highest levels of excitement. It signals a return to normal while empowering team members to meet in person once again while maintaining visibility, safety, and cost control.
Jean-Baptiste Pivard, Head of Indirect Procurement at Nilfisk, summed it up perfectly: "Navan's Team Travel will simplify the organization of internal meetings, give us more autonomy, and help us budget the cost of traveling for meetings more efficiently."
Download the Guide to Team Travel to see how the technology can benefit your program.