Corporate travel is already increasing in 2022 and subsequently causing an uptick in bleisure travel with employees adding vacations onto corporate trips to maximize their travel time.
This is a winning combination: Research shows that vacation makes employees happier, healthier, and more productive. Hybrid work arrangements allowing employees to work from anywhere help create an optimal environment for bleisure travel.
With more employees taking advantage of extending business trips to go on vacation, companies need updated policies and tools to keep the fusion of business and leisure trips compliant and easy. Modern spend management tools simplify this process for employees and companies alike.
Build Proactive Controls Into Travel Management Systems
Automation is required to meet modern travel management demands. Eliminating manual and disparate systems is critical to streamline processes, tighten controls, and improve adherence to company policies.
Nearly half of companies surveyed by Deloitte plan to manage travel by requiring strict travel policy compliance and using pre-approved tools. Instead of using handbooks to communicate fluid policies to employees, modern software offers policy integration into spend. Coding policies into existing travel management systems reduces confusion and allows real-time policy updates.
Proactive controls remind employees what they can charge to company expense and what they should pay out of pocket by using smart virtual cards to flag out-of-policy spending,
With advanced travel management, companies have access to automated workflows for faster approval, better cost visibility, and real-time reports on travel spending.
Allow Employees to Personalize Business Travel
According to Navan data, one-third of business travelers already combine personal and business travel. These travelers consider the flexibility to choose travel dates, accommodations, and transportation as the most pressing needs after getting vaccinated against COVID-19. Using a self-service system where employees have more control over business trips starts with effective travel policies.
Company travel policies need to address gray areas that could cause travel spending confusion, such as booking windows and market-aligned pricing. For example, dynamic travel policies that automatically create fair market value costs provide benchmarks for reasonable booking prices.
Watertight travel policies should support cost control but also be agile enough to accommodate unpredictable situations like border closings. A unified travel booking and spend management system implements dynamic travel policies, empowers employees with choice, and reduces rogue spending.
Easily Separate Business and Personal Expenses
Most companies provide corporate cards to cover expenses for business trips. At the end of the trip, employees have to submit expense reports and provide details for purchases made using the company card and/or reimbursement requests to get refunded for out-of-pocket costs.
As more employees combine business with leisure trips, expense reports become even harder to complete accurately. A receipt for a personal expense might accidentally get caught up in the mix. Asset misappropriation makes up 86% of all occupational fraud cases—and of these cases, 15% are related to expense reimbursements. The median loss for expense reimbursement is $33,000, and it takes about two years to discover the fraud.
Using smart cards tied to expense management systems reduces rogue spending and eliminates expense reports altogether. Companies further reduce fraud, errors, and mistakes by providing controls at the point of purchase and requiring charges to undergo automated approval.
Another advantage in using smart expense management platforms is that they provide better management of per diem, mileage allowances, and out-of-pocket costs. Using expense management tools to cover all aspects of travel reduces out-of-policy spending, making it less complicated to separate company costs from personal expenses.
Use a Travel Management Platform That Supports Personal Trips
Giving employees time to unplug helps improve productivity. Companies encourage and support a flexible lifestyle by deploying a travel management platform that allows employees to book and account for personal trips separately.
Navan Personal Travel extends business-style travel to personal vacations while separating payment and accounting from Navan Expense, the all-in-one enterprise-level travel and expense management solution. Companies establish clear boundaries for personal trip expenses and employees tap into corporate travel benefits—making bleisure trips more convenient.
Using Navan Personal Travel, travelers have access to dedicated global travel deals and discounted rates, 24/7 travel support, trip suggestions, a mobile health passport, a digital itinerary, and real-time information on health and safety accessible within the app.
Keep up with shifting travel priorities in the post-pandemic era while delivering higher employee satisfaction and more effective cost control: Travelers around the world book business, personal, and bleisure travel with Navan for a trusted, quality experience. Schedule a demo or get up and running with Navan in just 5 minutes.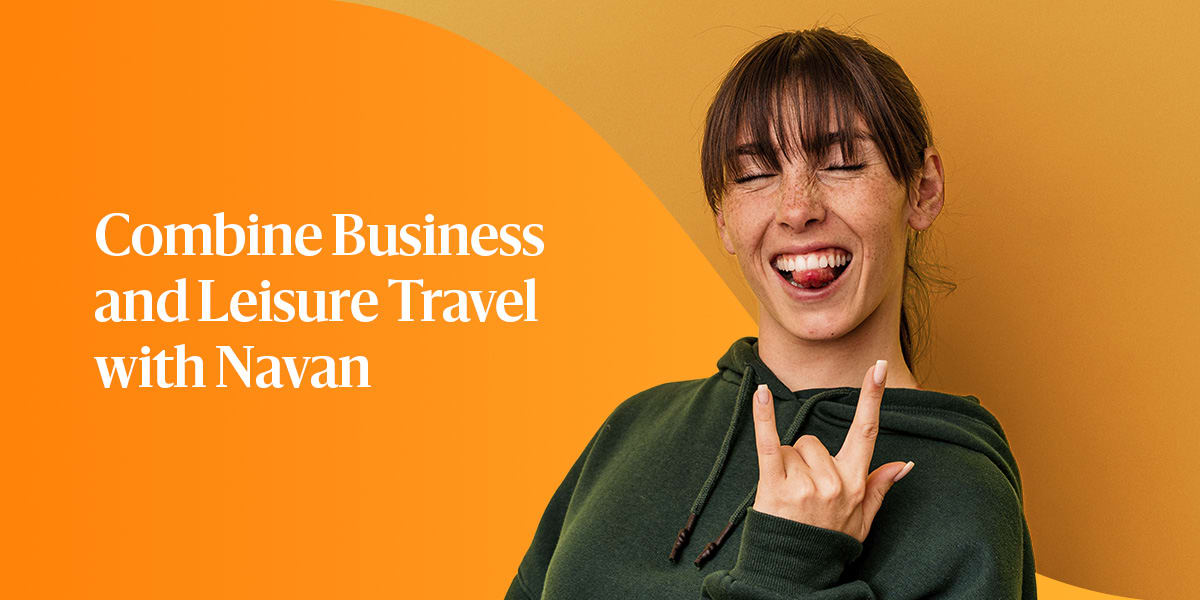 Essential reading: