TechCrunch Disrupt, an institution in the tech sphere, continued its legacy this year with a spotlight on the current epicenter of the tech landscape — fintech.
The event, held September 19–21 in San Fransisco, brought the Navan team out in full force to collaborate, chat, and learn from peers. Navan Expense leaders took the stage to share our hard-won insights.
Navan Expense's VP of Product Yuval Refua was the first of the Navan Expense team to speak on Tuesday morning, diving deep into the prerequisites and challenges of powering the economy on a panel discussion titled, "What Will it Take to Fuel the Next Economy?"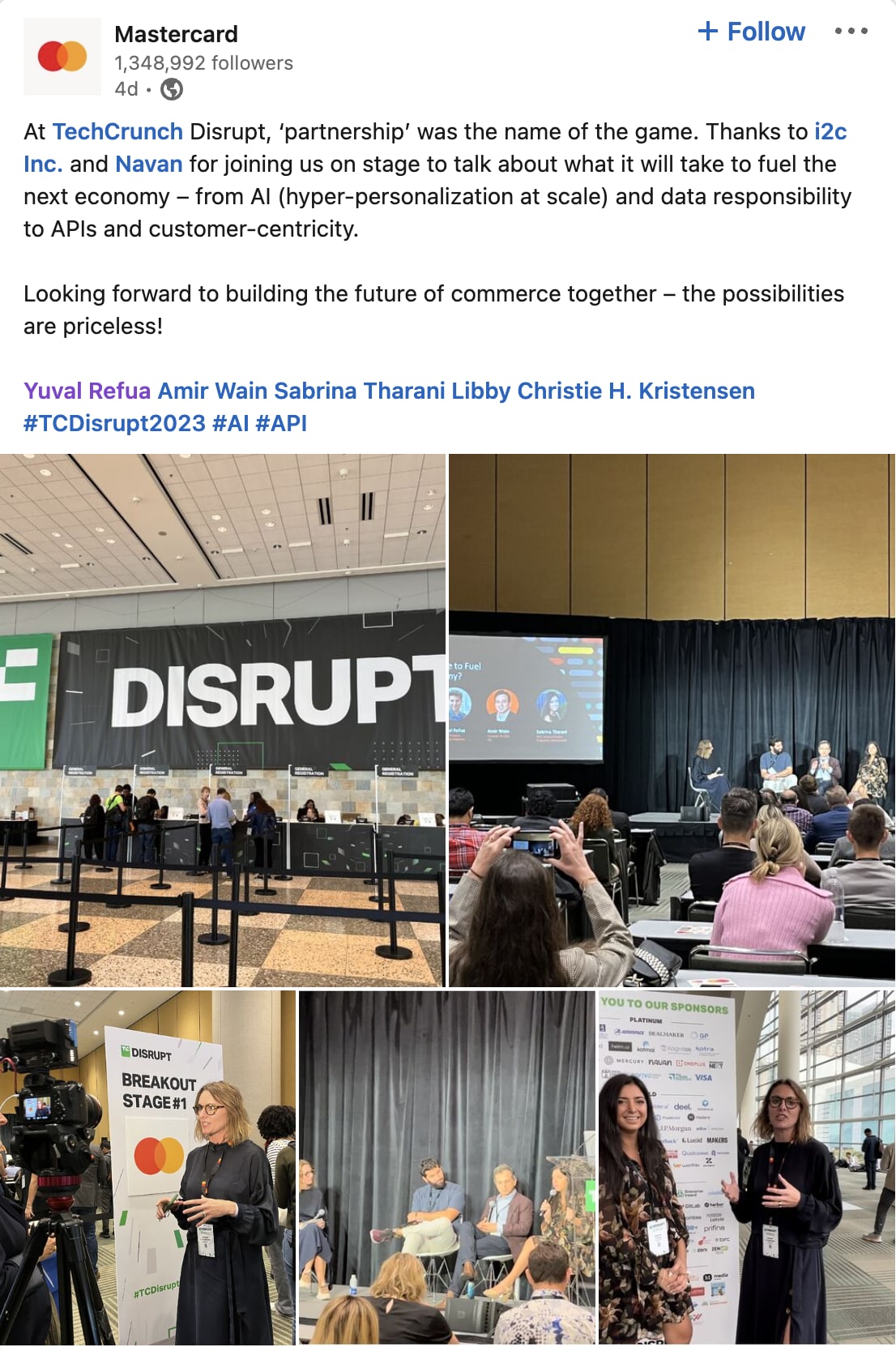 That afternoon, Navan EVP and GM of Navan Expense, Michael Sindicich, illuminated the essence of collaborative growth in a panel discussion called"The Power of Partnerships: Accelerating Innovation Through Strategic Partnerships." 
He spoke alongside Veronica Fernandez, SVP, North America head of business solutions at Visa, and Rujul Zaparde, co-founder and CEO at Zip, in a conversation moderated by Zach Anderson Pettet, U.S. Content Director at Money20/20 and the voice behind the Fintech Family Hour Podcast.
The conversation brought to the surface Navan's unique approach to partnerships and collaborations. Michael illustrated how Navan's philosophy transcends traditional mindsets in the business world.
"A good strategic partnership is one where both parties have complementary strengths, shared goals, and aligned values," Michael said. "At Navan, we don't restrict ourselves to the traditional 'build-versus-buy' mindset. We embrace both."
Underlining the specifics of Navan's approach, Michael offered insights into our collaborations with intake-to-procure solution Zip and Visa through Navan Connect. 
"Before we commit, we evaluate whether the partnership aligns with our core objectives, leverages our potential partner's strengths, widens our access to fresh markets, and births innovative solutions," he said. "But most importantly, does it uplift the customer experience?"
He also called on the broader fintech sector to rethink its approach to achieve more innovative, value-driven relationships moving forward.
"In this rapidly changing fintech landscape, it's not about chasing disruption for its own sake," he said. "Instead, it's about fostering collaborations and cherishing partnerships that fuel true innovation." 
Watch the full talk below.
The win-win attitude prioritizes mutually beneficial relationships that change industries.
The Navan Expense team recently released 10 features in 10 days. Explore them all and sign up for a demo to transform your company's approach to expense management and payments today.