Let's face it: Having to track business expenses is one of the least enjoyable aspects of managing a small business. This list of the best expense tracker apps explores the pros and cons of some popular solutions so you can make the best choice for your company.
Note: Pros and cons were taken from real user reviews on G2 and TrustRadius, and have been edited for length and clarity.
---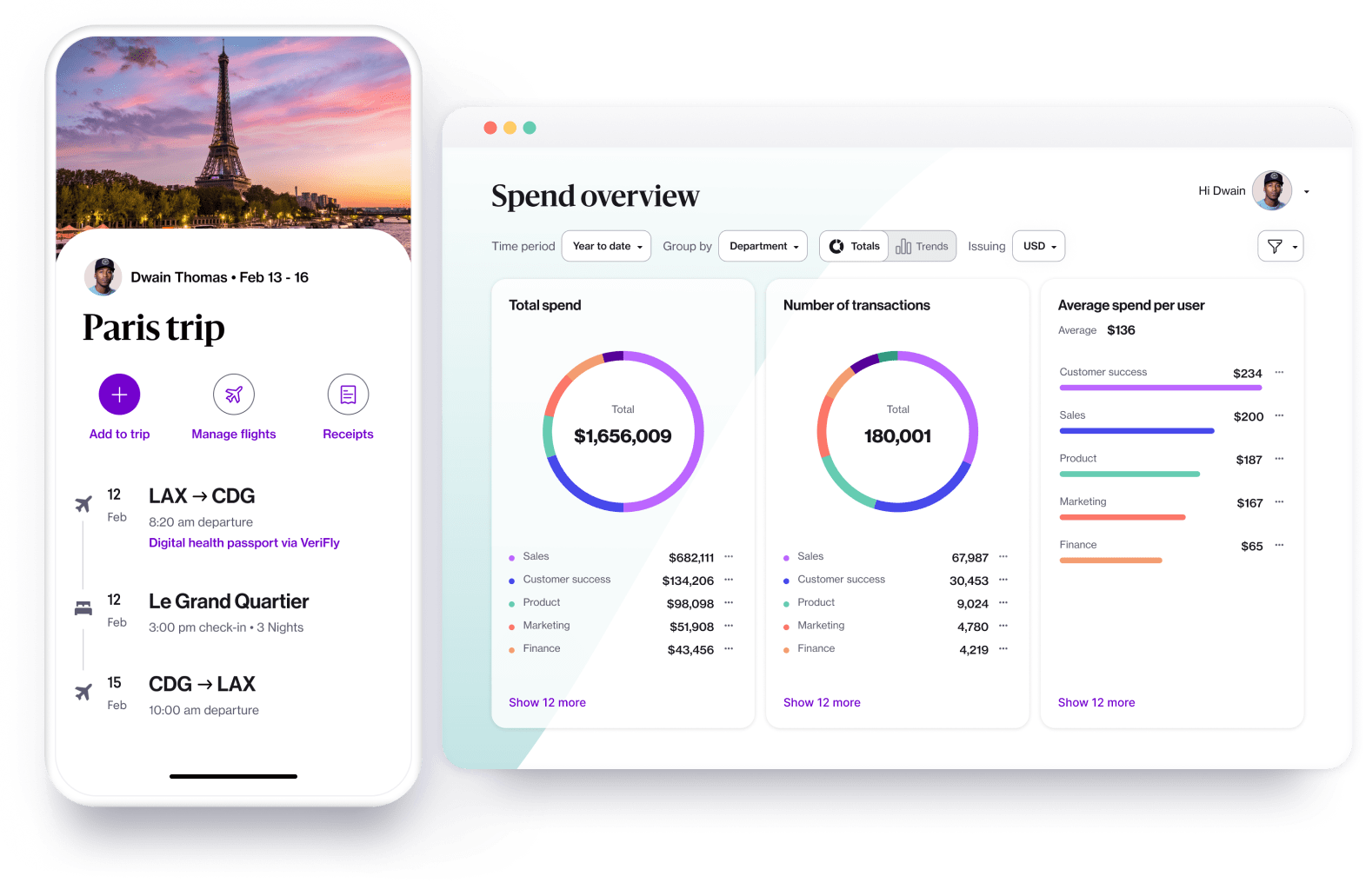 Navan (formerly TripActions)
Navan helps small business owners and their teams save countless hours with an all-in-one platform for business travel, corporate card, and expense management.
Admins can build hyper-custom expense policies into the platform, which helps proactively communicate expense policies to employees and eliminate out-of-policy spend before it happens.
Simply use a policy-enabled corporate card or snap a photo of a receipt, and Navan will take care of the rest. Expenses are automatically submitted and reconciled in seconds — eliminating the need to complete expense reports.
Noteworthy features:
Issue unlimited smart credit cards with built-in controls
Visualize all company spend in real-time dashboards
Integrate Navan with accounting software (e.g., Quickbooks online, Certify, Xero)
Receive easy reimbursements in multiple currencies
Book and manage travel with 24/7 support
Intuitive mobile app available for iOS and Android
Pros:
Automate expense management from swipe to reconciliation — no data entry required
Earn a 1% rebate on eligible spend through corporate cards
Easy onboarding and a user-friendly platform
Book business travel and manage expenses in one place
Support available 24/7/365 via chat or phone
Cons:
Despite extensive travel inventory, booking on Airbnb is not available
Navan Rewards are only offered for hotel stays and car rentals
Bottom Line
This solution does it all, and it's offered at small business-friendly pricing. Navan was rated No. 1 in satisfaction in the most recent G2 ratings for expense management software.
---
Expensify
Expensify is an expense-tracking app that automates business expense tracking and the submission of expense reports. It allows employees to scan and upload receipt images, track expenses, and submit reports for expense approval from their mobile devices.
Noteworthy features:
Unlimited receipt scanning and mileage tracking
Next-day reimbursements
Codes and submits card transactions for approval
Automatically syncs with accounting software
Pros:
Easy to enter an expense, categorize expenses, enter dollar amounts, and submit
Simple employee reimbursement process
Supports multiple currencies
Cons:
Smartscan receipt scanning software often fails or freezes
Confusing pricing model that changes often
Cannot see visual of spend vs. budget
Limited support hours
Bottom Line
Expensify is a good tool for keeping track of business receipts and reimbursing employees. But it lacks the functionality an expense management software should have for small businesses looking to scale.
---
Concur Expense
Concur Expense is an expense report app with travel booking, expense tracking, and invoice management tools.
Noteworthy features:
Integrates with HR and accounting software
Take photos of receipts on a mobile device
Receipt and reimbursement management
Approval process and spend controls
Pros:
Submit and manage expenses via mobile app
Clear trail of where expense reports are in the approval/reimbursement cycle
Reduces expense processing time
Cons:
Complex to set up and configure
Users must submit expense reports to admins/managers
Every expense transaction and report must be reviewed by admins/managers
App downtime is a common problem at month end
Bottom Line
On the surface, Concur Expense does everything that an expense management application should do. But as a legacy expense management app, it is limited by outdated technology and struggles to keep up with modern solutions.
---
Emburse Certify
Emburse Certify is a cloud-based expense report app that helps companies track and report expenses. It includes paper receipt capture and approval workflows on both desktop and mobile interfaces.
Noteworthy features:
Receipt upload and management in a mobile app
Create and approve expense reports
Integrates with some accounting software
Pros:
Easy to upload receipts and match to expenses
Provides history of all expense report activity
Web-based desktop interface is user-friendly
Cons:
Uploading receipts doesn't always work accurately
Unsophisticated system is too simple for complex accounting
After-sales support is limited; can be difficult to bypass chatbot and talk to a real person
Mobile interface is not intuitive compared to major competitors
Platform can become slow on busy expense days
Bottom Line
Overall, Certify Expense offers a range of features to help organizations with bookkeeping. While it is a step up from using an Excel spreadsheet, it lacks the sophistication small businesses need to grow efficiently and effectively.
---
Zoho Expense
Zoho Expense is an expense report app that allows employees to submit expense reports and managers to approve them. It includes features like mileage tracking, receipt scanning, and autogenerating expense reports. 
Noteworthy features:
Integrates with HR and accounting software
Receipt capture available on mobile devices
Direct reimbursements in 3–5 business days
Notifications can be configured for approval reminders
Pros:
Straightforward and easy to use
Eliminates the need to manually scan receipts
Connect bank accounts for corporate card reconciliation
Cons:
No built-in policy controls
Managers can't see direct reports' spend in analytics module
Must book travel via a separate vendor and add details to trip requests
Must pay to use live chat support
Bottom Line:
Bottom Line
Zoho Expense is a basic tool to help track and record company expenses. It is intuitive and simple for the end user, however, it lacks features and functionality that admins desire. Admins frequently report having to undertake a large volume of manual work with this product and wish to gain insights from comprehensive reporting.
---
Comparing Expense Report Apps
It's wise to do your research when weighing which expense management software to implement for your small business. In the end, the right software will help the business improve its expense process for both end users and administrators, make better-informed decisions about finances and cash flow, and ultimately save time and money.
When reviewing expense tracker apps, keep the questions below in mind.
Will the business save time?
Many expense report apps are basically receipt scanners that masquerade as expense management software. Administrators will still need to do manual work if the software does not fully automate the process.
Will the business save money?
Incorporating expense software into your business should be an investment that pays for itself — easily. Does the software help you identify areas where you can cut costs and optimize spending?
Will policy compliance improve?
One surefire way to save time and money is to ensure the software helps employees understand and comply with policy rules. When administrators can set policy rules based on role, expense category, business context, and more, they can prevent policy violations before they happen and eliminate the need to reconcile expenses.
Is the platform user-friendly?
Implementing expense management software means little if employees don't bother to use it in the first place. Your employees will expect a consumer-friendly experience available on a mobile app. The more intuitive, the better: Your administrators will spend less time training employees and fielding questions.
What data insights are available?
By clearly understanding expenses, small business owners can make better-informed decisions about finances. Ask the vendor what data is available and take a look at the versatility of dashboards in the product.
Will the expense software scale with the company?
Consider whether the app can scale as the business grows. The app should be able to accommodate an increasing number of users, expenses, and integrations.
After carefully considering these questions, the business should be able to choose an expense tracker app that meets its specific needs and helps the business manage its expenses efficiently and effectively.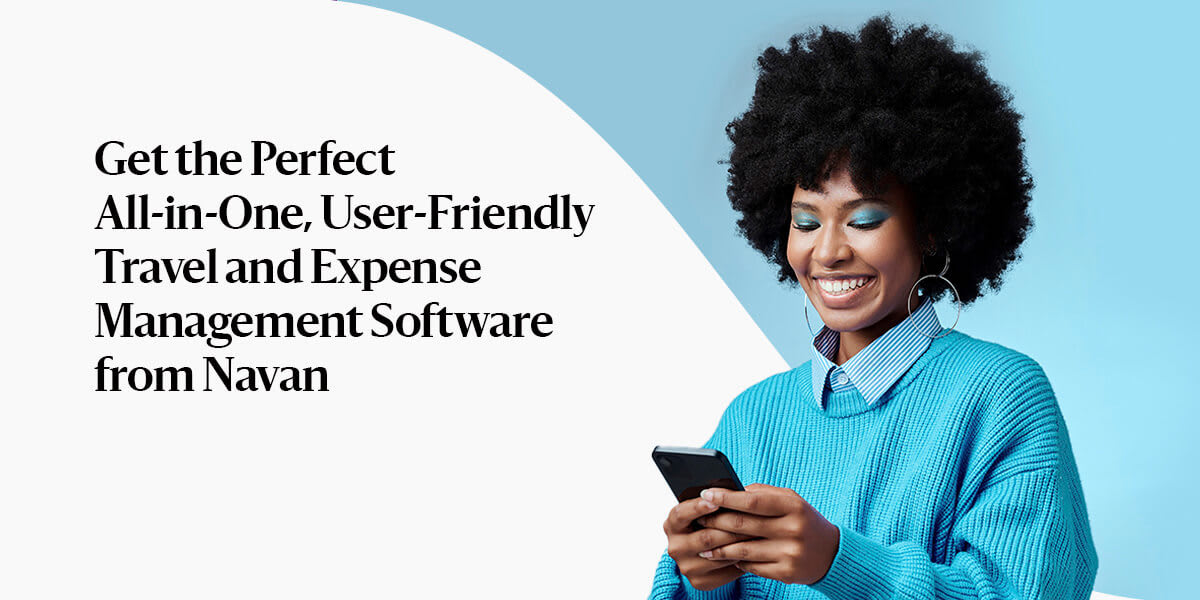 Is your business ready to get started with the all-in-one solution that makes travel and expense easy? Get started in just five minutes today.